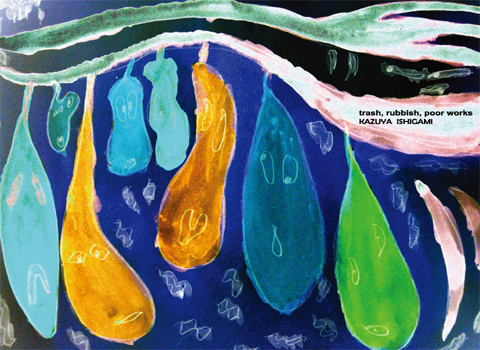 Artist:
KAZUYA ISHIGAMI
Title:
trash, rubbish, poor works
Format:
CD
Label:
NEUS
(@)
Rated:
Despite its title this one is far from being cheap, rubbish and above all trash music, Ishigami is a smart musician and even thought this one is not exactly accessible I can bet many of the know it all out there will find intensity and a sense of melody. I've found many of the characteristics I've always found in some of the japanese weirdoes dealing with electronic music, I mean there's both this crazy side of electronic music and at the same time their deep spirituality. This works starts by showing some glitchy tracks with a strange structure, can still be interesting but I beg you to avoid mistaking it for a dance-electronic work, this' experimental music with crescendos, tensions, field-recordings a strong experimental savor but at the same time this' not so cold. Some tracks of this cd reminded me of the collaboration involving KK Null and Deison, just a bit more minimalistic and a bit more naive, but not less suggestive: believe me. "Trash, rubbish, poor works" is adopting a sharp electronic profile to plunge in a evocative experimental journey, and I can assure you the music of mister Ishigami can be really suggestive (Story of Assaji for example). These tracks ranges from 2004 to 2006 but the whole release is quite homogeneous since this artist has developed his own style. We're not taliking exactly of japanese electronic for all ears, but if you're into experimental works with a great sound definition and a strong idea I'm sure you will agree Ishigami has his own personality. Give it a try.

image not
available
anymore
For what concerns this nice work on Schraum, I can't but grant we're dealing with an interesting couple of performers that will surprise many listeners thinking a duo release involving a cellist and guitarist wouldn't add anything new to the small/big world of experimental music. The fact is Jihannes Trondle and Andreas Trobollowitsch have been able to put together some interesting tracks of modern music with a deep contemporary/experimental taste by throwing in some varied but really focused influences. From the dramatic feel of the second composition you'll pass to a quiet but still fragmented song, at the same time it's nice to hear how they combined electronic-interventions, melodic solutions and tension-building crescendos. "(also known as) acker velt" sails exactly on the verge between electronic music with a contemporary classic feel and experimental music with a post-ambient, avant-garde flavor. Sometimes its really hard to associate this cd with a cellist and a guitarist since, despite some clean interventions and some elctro-acustic pastiches, the majority of the symphonies have been subjected to a heavy use of electronic. I imagine some will find it really rarefied and simple, but I've found it has been a really intriguing listening, you just need the time and the patience to let it grow on you. Even if it has blossomed listening after listening I swear this cd captured my attention from the very early play and it has a lot to do with its subtle melodic essence.


image not
available
anymore
Artist:
VV.AA.
Title:
Il Circolo Della Vela Vol.6
Format:
CD
Label:
Il Circolo Della Vela
Rated:
Used as a card of a mysterious club called Il Circolo Della Vela, the sixth volume of the compilation with the same name offers twelve bands/tracks of the Italian industrial/wave/experimental scenes. The major change from the old volumes is that this time participated also bands that have already released different albums or who are kinda historical (see Rinf, MGZ and Maurizio Bianchi). The compilations opens with a new Rinf track: "Panic trotter". Their sound is always tense and nervous and someway it recalled me a bit the late Einsturzende Neubauten. Next we have a great electro ambient track by Keith, a dark e.b.m. tune by Klonavenus and an experimental feedback/guitar based track by Carlomargot. Ius Primae Noctis with "Change forever" give their version of electro aggro grind. Condanna is next with "Cranio loop", a track based on a noisy loop with variations. Next we have Spargle In Grey & Maurizio Bianchi with a live track recorded in Graz titled "The sky gets grey" which is based on violins, samples and guitars. Sandro Codazzi with "Aftermath" proposes a nice retro electro tune titled "Aftermath". Teatrino Elettrico with "Senza titolo" pass from experimental acoustic noises to semi power electronics sounds. DJ Pellegrino Ernetti with "Fuori day musei" gives his idea of sampleism as musical art creating a sort of reverse sounding 80's electro tune which didn't impressed me that much. Sinclair is next with "The routine song (London dub factory mix)", a nice pop electronic tune with dub intuitions. MGZ closes the compilation with a remix of his "Non basta mai" coming from "Ho visto tempi migliori" album.
Artist:
Zeromancer
Title:
The Death Of Romance
Format:
CD
Label:
Trisol
(@)
Distributor:
Soulfood
Rated:
I don't think this talented Norwegian band needs any particular introduction as some colleague already interviewed them after getting surprised by their superb workout entitled Sinners International and after the enthusiastic feedbacks they received by reviewers and audiences related to their issues, but we surely like to imagine them playing with sophisticated machinery in order to grab influences from American bands and European ones as they stylistically are a sort of bridge between the gorgeous and glorious years of the American goth-rock and "European" EBM and industrial rock without being too obsessively apocalyptic or becoming sclerotized on tips & tricks! I'll run the risk to be repetitive by highlighting their remarkable compositional skills (even in those parts they looks like to imitate some famous bands, but reviewers need to make quotations to help readers understand!) and their perfect balance between electronic slopes and a robust drumming reminding the one by Rev.Manson and Rev.Reznor - probably the most influential music neuromancers ideally fostering this zeromancer...- and the candid coarseness of greenhorn-like sensual voice by Alex Møklebust, whose silver-tonguing intonation is going to drive every cutie suicide little girl crazier, and even if maybe they needed more time to refine some lyrics (tracks such as Murder Sound or Revengefunk slightly suffer from this genetical defect, but it could be considered just as an aesthetical neo on a sweet oval face... and even attempts of being original could be avoided... word trickeries in The Hate Alphabet seems to be too close to the cogent dialetics by a group of majorettes..gimme an H, gimme an A, gimme a T, gimme an E!) as it seems less wordy than their previous album and some sporadic lack of originality (A Plynth could be easily skipped), it will surely delight their fans and all those who still don't know their musical melting of mystery, semantic beams, anguished melancholy, rancorous sadness and powerful rhythmical pills propelling that kind of desperation, able to add a tragic grip to the whole climax! But it's like looking for a needle in a haystack as tracks such as the floor-filler Industry People, the tingling ambientish The Pygmalion Effect or the brightest V – the best song of the album in my modest opinion! – and even the more vintagesque and classy tunes such as the tilte-track will annihilate any doubts about Zeromancer's skills so as you could argue that romance is dead just in order to resurrect! Really brilliant piece of music!
Artist:
DEISON, KK NULL
(@)
Title:
into
Format:
CD
Label:
Silentes
Rated:
I'm sure many of you have already both the musicians but for those lucky (or unlucky) readers under thirty, we must remember that Cristiano Deison beside being involved directly with Final Muzik and after having put out a good amount of interesting releases during his solo career, has also been a member of those Meathead where one of his band mates was mighty Mauro Theo Teardo. KK Null for those who don't know him is one of the three Zenigeva heroes: noise masters, industrial rockers and famous for having records out on Neurot, Alternative Tentacles and with Steve Albini. This is a freak power work, you can get it right from the cover, I was sure it would have been an interesting collaboration but it really blew me away. I'm sure many of you could have expected both of them would have gone along with the peculiarities of each other. If you add their characteristics are quite complementary you can imagine the result could have been easily guessed, infact if the japanese musician was more oriented toward cold electronic sounds, the italian was more drone oriented. This collaborative recording gave us a dense blend of music that instead of following the noise route like everyone else is doing drifts voluntarily toward electronic music. Cold electronic music, sure, but at the same time really expressive, I'm tented to mention Panasonic above all for their audio profile and not exactly for the music they play, heavy and dense electronic shapes that you usually expect on labels like Touch. An high profile release, listen carefully to the production and to the recording where every frequency doesn't cross the scene with leaving a sign. Every track is meant with the clear idea to put out something that sounds differently if compared to the plethora of releases overwhelming the experimental musical scene. This all happens without becoming one of those self-indulging work searching for "originality" at every cost, every song has its own identity both individually that as a whole. The title track itself is the epitome of this cd, but the sharp sounds, the digital layers and the crepuscular drones leave room to some quasi melodic solutions there to alleviate the listening difficulties. A real orgy of good taste that moves linearly in suspension between the finnish forests and the twilight zone and at the same time able to be "warm": amazing release!.