Artist:
Nitzer Ebb
Title:
Industrial Complex
Format:
CD
Label:
MAJOR RECORDS (GSA, SCANDINAVIA, UK, EASTERN EUROPE, SPAIN,PORTUGAL)
Distributor:
AL!VE
Rated:
It was back in 1982 when Bon Harris and Douglas McCarthy started recording their first demos. Their equipment was very limited: drums, a sequencer and McCarthy's charismatic voice; all in the vein of the punk culture that was still big in those days. The upshot of those recording was that NE became the flag ship of a new music genre, later labeled as Electronic Body MusicEBM.
NE as a trio featuring Bon Harris, Douglas McCarthy and Jason Payne is responsible for recording such classic albums that innovated the music scene like "That Total Age", "Belief" and "Ebbhead" which every true EBM fan should be familiar with. "Big Hit" of 1995 was the last full length NB album released before the band decided to go separate ways. I think it is clear that "Industrial Complex" is THE most anticipated reunion album of the current year.
My personal impression of the album is throughout positive. NE succeeded to record an up-to-date sounding CD and yet remain loyal to their typical old sound. Another good thing worth mentioning is that McCarthy actually sings on this album unlike the usual case with his other project Fixmer and McCarthy where he mainly shouts.
The opener "Promises" strikes the listener right away with that familiar old-school EBM sound and the lyrics make you deliberate about the time you've got on your hands and what to do with it. "The time is not on your side" – how true.
"Going Away" is actually a ballad, believe it or not. Piano leads the melody and the use of electronic effects is absolutely minimal. The lyrics are about realizing how the gap between you and a person you love grows which will eventually end up in a separation.
"Hit you Back" is about rejection. "No matter what you do, I'm not in love with you" – who has never heard those words?
"Down on your Knees" has got some Depeche Mode touch to its sound, in my opinion. Really slightly. "I don't Know You" is a nice mid-tempo song you can dance to without getting out of your breath. Actually, the lyrics do fit a place full of young adults. "Travelling" is a song about getting to know yourself and discovering things you were not aware of. Well, like Socrates used to say; know thyself.
There is a number of further songs truly worth to be checked out: "Kiss Kiss Bang Bang", My Door is Open" and a powerful "Payroll".
Unless The Sisters of Mercy unexpectedly come up with a brand new record, this is the re-union album of the year.

image not
available
anymore
Artist:
BLACK SUN PRODUCTION AND BAHNTIER
Title:
Enoeraew
Format:
CD
Label:
Rustblade
(@)
Distributor:
Masterpiece Distribution
Rated:
Limited to 499 copies (plus a deluxe edition of 99 boxes containing also a bonus MCD and a DVD plus other gadgets) ENOERAEW is the collaborative project of Massimo & Pierce (Black Sun Productions, Anarcocks, Queen Lear) and Stefano Rossello (:Bahntier//, Detune-X, Ketvector). Black Sun Production in the past have collaborated with Coil (they performed live with them during their later period and collaborated also with Lydia Lunch, Val Denham, Sudden infant, Niko Skorpio, Sonne Hagal and Andrew Zealley to name few) while Stefano has Justin Bennet (live drummer of Skinny Puppy, My Life With The Thrill Kill Kult, Peter Murphy, and many others) collaborating with him in :Bahntier// since 2005. ENOERAEW sees the trio creating ten original tunes (some born reworking older tunes) plus a cover of Virgin Prunes' "Sweet home under white clouds" which ideally are inspired by the work that Coil did since their early years filtered through Stefano's electro industrial bleeps and rich rhythmical layers and the theatrical experimentalism of the Swiss duo. The result is a ritualistic hypnotizing moment made of melodies, chants and rhythms. Love/desire, magic/death themes are the core of the tracks and make of ENOERAEW an album you'll gladly check...
Still rocking after twenty six years Circus Joy are releasing their latest album on Old Europa Cafe. Dedicated to their friend Letizia, who died recently,LAETITIA contains nine tracks in balance from Jesus & Mary Chain/Sonic Youth feedbacks, Velvet Underground ballads and spoken word in Italian language. Behind a certain noise/psychedelic approach that seem born from improvisations, Circus Joy aren't interested into giving a polished sound to audience and on tracks like "Nudo e crudo" or "Il tuo frutto" they sound like a recording of an art-pop event more than a rock band. With upfront vocals that sometimes sound also saturated, Circus Joy wrote poems where human perversion and decay is mixed with a certain "couldn't-care-less" punk attitude.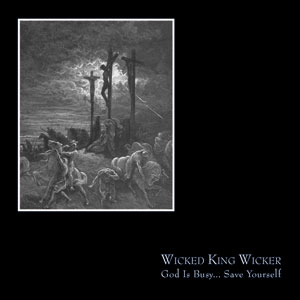 Artist:
WICKED KING WICKER
Title:
God Is Busy... Save Yourself
Format:
CD
Label:
Cold Spring
(@)
Rated:
Wicked King Wicker play doom metal. Wicked King Wicker play industrial noise. Wicked King Wicker sound like a crushing bones machine. Lately I listened to a lot of extreme doom bands such as Moss, Monarch, Atavist, Ascend or Thou and I like the way they deal with guitar noise and with tension. Each of them have their way to play with the different elements of rock and metal and try to reach the extreme keeping some kind of control over the noise. Wicked King Wicker, with their sixth album GOD IS BUSY... SAVE YOURSELF, seem to go over the concept of playing with rock/metal elements. They filtered the rock melodies from their music and kept the rest, which basically is pain. If for many bands the tribal slowly drumming is a call to a sort of ritual, Wicked King Wicker barely have drum sounds. Here and there you have a snare drum hit that sounds like a machete hitting a piece of wood. On "Call My Name Sweet Demon, So I Know I Am Not Alone" distorted bass guitar and vocals are mixed to something sounding like digital loops of guitar feedbacks. Already at the beginning of the track you are supposing that they already reached a good level of chaos but after ten minutes you discover that you were wrong and that the band reserved something more for you. Behind the wall of noise you will find minimal melodies hiding themselves fearing for their existence. After listening to this album I think that Wicked King Wicker have found a new way of playing psychedelia and I'm saying this because of their way of dealing with noise as it sounds like coming from space. Listen to "So Easily Lead Astray" and I think that you'll agree with me.
Artist:
Pulcher Femina
Title:
Darkness Prevails
Format:
CD
Label:
Decadance Records
Distributor:
Broken Silence
Rated:
In 1998 Roberto Conforti recorded the first output of Pulcher Femina ("pretty woman" in Latin) which was released via the label Decadance Records same as all subsequent PF releases. A duo turned into a one-man-project later on but it did not stop Roberto from working on this project and developing its sound. "Darkness Prevails" is an electro popish sounding album, but not of a dull happy-chappy kind. The songs tell of personal and painful experiences or contemplations that do not give much reason for cheerfulness, while Roberto hints at love as the way out. Some may find the sound of "Darkness Prevails" too soft. Well, Roberto is does not write songs about dangerous viruses that would contain samples from catastrophe movies. Neither does he sing about bar-coded cyborgs and such. And by "sings" I mean singing with clear vocals and not shouting from the top of his lungs. Fans of Elegant Machinery may very well be interested to check this CD out. Most songs on this album fit probably better to be played at home than at a party with the exception of "Holy War" and "Face the Fear" that closes the album. Perhaps more energetic numbers would do no evil to the overall work. "Love you to Death" is a very beautiful song about the power of love and the strength it may give the sides involved. It also includes some oboe and piano passages (it is by keyboards actually).
"Darkness Prevails" is about people not seeing the light, as Roberto explains. It is not about one depressive guy sitting alone in darkness. The whole record is rather easy-light sounding and has lyrics worth listening to. Volker Lutz (Evil's Toy-T.O.Y.) is the co-producer of this album which was recorded, mixed and mastered in three different studios in three different countries in order to achieve best result possible. The effort was worthwhile from the technical point of view. From the artistic point of view this is probably best work by Roberto up to now. One thing is certain: Roberto has an unmistakable sound.