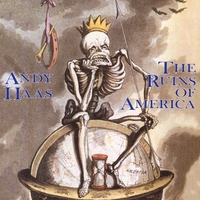 Artist:
Andy Haas
Title:
The Ruins of America
Format:
CDS (CD Single)
Distributor:
CDBaby
Rated:
Andy Haas, past sax player for Toronto band Martha and the Muffins, and afterward avant-garde NY artist regales us with 15 tracks of processed sax, fife, electronics and prepared loops centered around the theme of a ruined America using the hymn "Materna" as a foundation. It all sounds a bit spooky and sad which probably gives us insight to his political leanings. Lament and mourning are all well and good but sooner or later you have to get over it and start making things better. I see this as part of the mourning process. Regardless of all the talk this is a highly imaginative sonic journey using all kinds of recording tricks to create a specific sound bed for each track.
Artist:
Flesh For Frank
(@)
Title:
RAW
Format:
CD
Label:
Brown Coffee Records
(@)
Rated:
Ten tracks from noise, cut-up artist Francois Marceau from Montreal. Armed with a laptop, some free computer programs and a crappy microphone he bewails the chaotic state of the universe with ditties like "Gimme a beer and shuddup," "Paranoid malfunction," and "noise under construction." Not just wall to wall screeching, but actual sound manipulation, just on the distorted, shredded side of things. It doesn't hurt that he has a Frank Zappa sense of humor going for him as well. If that kind of thing interests you, go for it.
image not
available
anymore
A guitar-based dark ambient project by this Polish musician. Keyboards and other sounds are added to fill up the sonic terrain in an attempt to create atmosphere. For the most part it works, but as with a lot of music these days, this has been done before. There truly is nothing new under the sun, especially with Myspace and the Internet crammed full of aspiring musicians who have been ransacking the last fifty years of music history. Things improve with the fourth track which moves away from the chimey delayed guitar tones to something a bit more menacing, but we're back again to the chimes again after that track. This may be the major fault of the disk. There's not much change in guitar sounds throughout. A bit less subtlety might help in the long run. Subtlety can be good but there's always the danger of flying right up your own backside as well. This is not bad, just not all that original. If you like musical wallpaper you'll like this. Play it quietly on a Sunday afternoon when it's raining. But I expect you'll be sad when you're done, which may be the point here.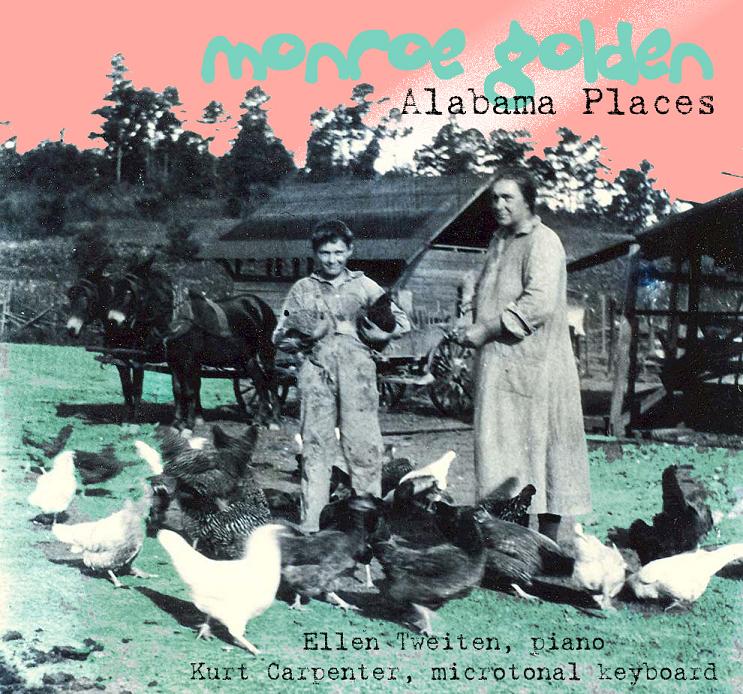 Artist:
Monroe Golden
Title:
Alabama Places
Format:
CD
Label:
Innova
(@)
Rated:
Duo of Ellen Tweiten on piano and Kurt Carpenter on microtonal keyboard. As you would expect there are some glaring sonic collisions when putting the equal tempered piano together with a microtonal keyboard. Considering the mention of geographic locations it seems to me that the musicians might be trying to express the juxtaposition of past and present? The past represented by the thin microtonal keyboard, sounds reminiscent of the supposed music of dead cultures using whatever was at hand, dramatic when compared to the full sound of the regularly tuned piano. An interesting experiment but is it worthy of 16 tracks (17 if you count the mp3 bonus track)? The sound can really grate on the nerves after a while. I even had to quit listening to music for a while to get my calm back and give my irritated eardrums a rest.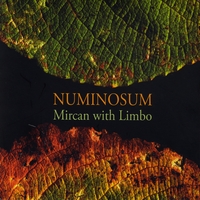 Artist:
Mircan with Limbo
(@)
Title:
Numinosum
Format:
CD
Label:
UCM
(@)
Distributor:
CDBaby
Rated:
Mircan Kaya (vocals) and the jazz ensemble Limbo as accompaniment. Semi-whispered songs of love, sadness and longing played for maximum impact. Most track lead into the next without a break. After 5 tracks of semi-impressionist ethereal sounds and vocals track 6, with its jazz bar vocals totally breaks the mood, after which we return to the nature-girl sounds of buzzing insects and rain followed by the previous musical type. Enjoyable for those who like the tree-hugger message with a bit of jazzy accompaniment to appeal to the hipster/coffee bar crowd. Standout track #9 "Water and Wine" with its dark, hypnotic pagan trance-inducing beat and gong exoticism.