Artist:
BACHI DA PIETRA
Title:
insect tracks
Format:
CD + DVD
Label:
Wallace
(@)
Rated:
I'm sure many of you non Italian readers don't know that much about Bachi da Pietra for the simple fact except for the music they sing, think, breath in Italian or at the least the way Italian should be, but I'll explain it later, said that they've been featured with a track in the soundtrack of the tv series "Son Of Anarchy" with Henry Rollins therefore power to them!. This project involved mainly the band, a sound engineer Francesco Donadello and a video maker Luigi Conte. For what concern the live vinyl and the audio exhibit of the project it's recorded in analog in a theater and sounds damn good, if you don't know the band, despite the live sound profile the characteristic skeletal-acoustic blues, post-eighties noise rock, theatrical reading mixture comes out vividly. If you need names to get a picture of if you put together Rowland S. Howard, Nick Cave, Massimo Volume, Thalia Zadek's Come and why not a little bit of Jeffrey Lee Pierce, some depression and the game is done. As I've said the live vinyl is great but I still think the most interesting part of the project is the live video since it freezes in time the whole atmosphere and the basic idea of the concept. The confidential feel of the live performance, the "back to analog" profile of the recording and the "making of" that lays behind this double format release come out more clearly than a thousand review could illustrate. The fourth album of the band is about to be released and we're talking about one of the most well known duos of the italian undergound scene featuring former ex singer of Madrigali Magri and Bruno Dorella who's the man behind Bar La Muerte and current member of Ovo and Ronin.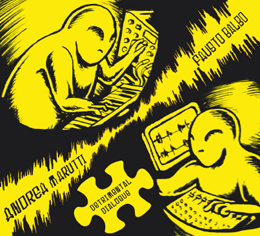 Artist:
ANDREA MARUTTI, FAUSTO BALBO
Title:
Detrimental dialogue
Format:
CD
Label:
Boring Machine, Fratto 9 Under the Sky
(@)
Rated:
This collaborative effort puts together ambient, dark ambient, electronic hero and Afe records head-chief Andrea Marutti and Fausto Balbo that maybe some of you remember for having played in a hardcore band called Jesus Went to Jerusalem and later in the electronic-metal duo Der Tod. During the last years Balbo has produced and played some electronic music made out of synths, samples, incredible self made kalimbas and a full load of great taste, so no surprise he musically tied the know with Marutti. Even if the length of the tracks may suggest an heavy influence of the ambient musician, I think many of the sounds crossing the scene will show how this collaboration is the result of a mutual work. The first synth driven suite start as an ambient piece to leave room to some unexpressive white noises and sounds and to se resurface a simple fragmented keyboard melody, as the rest of the music the track is hyper arranged and not so immediate. The second episode offers the same kind of cocktail you will sip for the whole length of the cd, but beside the ambient frameworks coming in and going and together with these sharp and/or fragmented electronic noises the used some bass lines, sometimes the impression is they put together some old IDM, Pan Sonic and cold experimental electronics, also thanks to its structure this track is my personal favorite. With the closing tracks the atmosphere of the release becomes more rarefied and abstract, bringing in the "space is the place" element to the music, so if you're into that "we're floating in the universe" feel you love these closing chapters, above all the last one where this dynamic duo hypnotizes and scares the shit out of the listener, avoiding dark or gothic influences which it's a result itself. An electronic post-ambient, post-kraut, cold but yet analog-sounding release...can you imagine that?! A listen may help above all If you consider this' definitely interesting and not a conventional output.



image not
available
anymore
Artist:
Sutekh
Title:
On Bach
Format:
CD
Label:
Creaked Records
Rated:
Active since the late 90s with the Sutekh moniker, Seth Horvitz has many releases at his active on a lot of record labels such as Leaf (UK), Soul Jazz, Force Inc./Mille Plateaux, M_nus and his own Context Free Media. ON BACH is his fourth album and it is a follow up to the work he presented in February of 2009 at the historic Théâtre du Châtelet in Paris, where Sutekh was invited to perform at a special event entitled "Bach to the Moon". Sutekh were the only electronic act in the program, which included an incredible roster of classical musicians. Having the freedom to chose how to inspire his compositions having as reference the music composed by Bach, Seth opted for a complex web of pulsating sounds which in balance from experimental intuitions, rhythmical and melodic references to the original scores which surface here and there, create a particular mood. It's surprising how mixing minimal techno, experimental ambient and chaotic moments, Sutekh have been able to honor a classical music composer without making the open minded listener shouting "what is this stuff?", but this is what happened. You can preview the album at this page http://soundcloud.com/cloudcreaked/sets/sutekh-on-bach
Artist:
Marc Houle
Title:
Drift
Format:
CDS (CD Single)
Label:
Minus
Distributor:
Rough Trade
Rated:
In the filmic intro of this 'seasonal' album by the Canadian techno-maker Marc Houle aka Run Stop Restore in duet with Troy Pierce (I'm a big fan of their mono-page web site!), one of the most talented protégé of Richie Hawtin (Marc has gained a certain notoriety at Hawtin's club 13 Below for his New Wave night, where he delighted clubbers by spreading refined tunes as well as vintage video games to entertain them) and one of the flagships of Minus pithy roster, you're going to listen to the heavy pattering of some unknown person coming back home shocked by the harshness of Berlin winter ' the one between 2009 and 2010 was the source for inspiration for Marc'¦and I can confirm it can be considered one of the harshest Berlin ever experienced as I expected some iceberg falling down from the sky when my face was slapped by chilling breeze at almost -20°C'¦ - and compelled to stay at home in a sort of voluntary self-confinement. During the listening, you could imagine this sort of fictional character in the act of perceiving a frozen reality beyond windows, totally misted up by frost (Inside), getting depressed by the vision of leaden sky (Seeing In The Dark), daydreaming warmer days in the well-heated coshering cosiness of domestic place (Sweet), flowing and falling headlong into and onto mental gorges induced by freezing wintertime (Drift'¦definitively the most stomping track and my favorite one for the immersive experience Marc is able to give to the listener) and so on towards dilatations and contractions of perception of time resolving in the final moments (Melting, Hammering) where it clearly appears that Marc's bluesy pain melts as the springtime sun begins irradiating Berlin streets. Even if Drift doesn't stand as a revolution of techno scene, the vivid experience Marc offers throughout an immersive as well as stylish sound ' deep-rooted onto Detroit fertile ground but with its dry branches pointing to the contemporary cerebral techno coming from the heart of Germany'¦ - and the seasonal contextualization are going to whet the appetite of different kind of listeners, including those ones which still don't know Minus precious furrows on electronic music encyclopedia! If you don't want to drift off next winter, I warmly suggest to let Marc Houle's sound drift!
Artist:
Zeller
Title:
Turbulences
Format:
CD
Label:
Tympanik Audio
(@)
Distributor:
Tympanik Audio
Rated:
Another Tympanik release fresh to the dissecting table is the French electronic music project Zeller, with 'Turbulences,' an aptly named album. Zeller fuses space music with complexly programmed Industrial percussion, and does it very, very well. If ever an album could be called 'Futuristic Industrial,' it has to be this one. If this is the future though, be afraid, be very afraid. The depths of space are very cold indeed.

'Turbulences' is a helter-skelter starship ride through a wormhole in the spacetime continuum. The exotic matter of the particles of sound employed along with the propulsion of percussion jettisons the listener through universes at warp speed. Although there is a lot going on in the spatiality is incredible. Sounds don't compete with each other; they compliment and buffer each other to maximum effect. There is cohesion to this work that makes it compelling. You can easily get lost in it. Some tracks might be ideally suitable for a video game.

There is a quite a bit of echo effect on some sonic elements, but appropriately utilized, enhancing the cosmic ambience. Sometimes the percussion resembles that of an alien machine, while other times is some of the most effective IDM techno-industrial I've ever heard . The shifts in atmosphere are sometimes striking; just when you get acclimated to one environment, another comes along and sweeps away the previous. Nothing is ever static. Motifs are simple in a Kraftwerkian sort of way, but not kitschy or trite. The sophistication of form and construction is remarkable. At every turn there is something to dazzle your aural perception. The music is sometimes reminiscent of Future Sound of London; could this be Future Sound of Paris?

While many of the sounds may be things you've heard before, you've never heard them put together quite like this. Maybe if Amon Tobin was to drop acid and then ride Space Mountain at Disneyworld a few dozen times, he might come up with something like 'Turbulences,' (and I hear he's working on a space album) but Zeller beat him to the punch, and this punch packs a wallop.