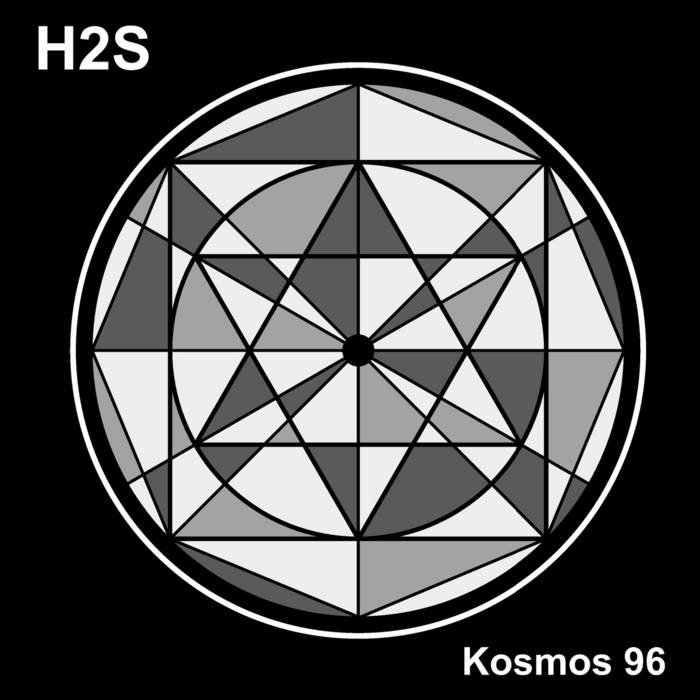 Artist:
H2S
Title:
Kosmos 96
Format:
MCD (Mini CD)
Label:
Biotasi Records
Rated:
Eleven years after the latest album titled "Proteus Soundtracks", H2S, solo project of Fabio Degiorgi, is back with a new mini album and a new sound. In 2007 we left Fabio dealing with "tracks always in balance between experimental intuitions, industrial sounds and also a bit of post punk/new wave", quoting my own review I wrote back then. What we have now? For "Kosmos 96", Fabio composed five new instrumental tracks which are sounding more cinematic and melodic. Somehow is like on this new release he gathered all his past musical experiences (he plays bass guitar with the wave band Vidi Aquam and played for the hardcore band Crash Box, for the garage psychedelic band Four By Art, etc.), packed them and decided to take a trip to Venus (the title track is inspired by the Soviet space probe part of the Venera project which was shoot into space in November 1965, just to fall back to earth in pieces two weeks after). Fabio in the presentation sheet named as main references the 70's cosmic travellers coming from Germany (Cluster, Tangerine Dream, Popol Vuh, early Kraftwerk, etc.) and also the most experimental wave bands of the 80's of the likes of Tuxedomoon or Eyeless In Gaza. Well, with "Il terrazzo di Glottertal", "Fontange De Donis", "Organia", "Kosmos 96" and "Kopli" he succeeded into creating his personal soundtrack which is not only able to lead you to an imaginary travel through melancholic landscapes but it's also able to allow yourself to let you loose into synth suites enriched by clean guitar arpeggios and treated bass guitar lines... no drums allowed! Really nice release which can be yours for 5€, if you want to own one of the fifty CDrs or only 2€ for the Bandcamp download!
Artist:
Wolfgang Mitterer
Title:
Nine In One
Format:
CD
Label:
Col Legno
Taking all of Beethoven's nine symphonies (performed by the Haydn Orchestra of Bolzano and Trento) and compressing it into one 55-minute 'greatest hits' that's twisted with loops, cuts, backwards elements, electronic bends, sparse and sometimes raw-edged extra electronic noises and bold rearrangements- it's a supremely bold move, some would say very arrogant, especially when you spot the booklet tagline "you really can listen to Beethoven!". It feels like it ought not to be endorsed, or maybe not even listenable- yet for better or worse it works.

The most melodic themes- both the overplayed best-known ones and the less popular-culture-exhausted ones- are treated with a certain degree of reverence, but it's their dynamism, and the bridges between the peaks, that are driven further thanks to speed changes and more complex drops and builds. At times it feels truly complimentary- though Beethoven-academics are likely to disagree.

Large chunks are left intact, without electronic decoration- "Satz 2" being a strong example of where the editing is so subtle that only people who've memorised the original work will be conscious of the changes, while other pieces like "Intermezzo" are more explicit deconstructions, heavy speed-shifting and sharp glitching transforming some of the less dynamic source material into avantgarde electronica that at times borders on difficult digital jazz.

Despite it being rather deftly handled for the most part, traditionalists will still find this reworking of the so-called 'new testament of music' undoubtedly sacrilegious, but if you're looking for a piece of surprisingly fresh-sounding classical music that brings a little bit of electronic wizardry into play around established strong themes, and if you're not going to be too precious about it, this is surprisingly enjoyable.
Artist:
Sun Through Eyelids
(@)
Title:
Hyperborea
Format:
CD
Label:
Black Mara
(@)
Rated:
un Through Eyelids is the duo of Tom Necklen and Meghan Wood which use traditional instruments, e.g., didgeirdoo, clarinet, violin, chimes, in a predominately dark ambient, so electronic, environment. The result is something in between dark ambient and ritual music as they try a sort of musical development rather than a contemplation of sound. The use of traditional instruments is perhaps tied to the link to spiritual themes as the concept of Hyperborea that gives a name to this release.
The framework of "Weightlessness On The Red Tide" is closer to ritual music rather than dark ambient as it revolves around harmonic chant, a clocking beat and sparse bells while "Collapsing Cities" is almost canonical dark ambient based on atmospheric drone and working on the building of an atmosphere. "Fading Valley" is static and focused on small field recordings and a barely audible drone while a quiet line of synth peeks out. "Quiet Canyon" raises the bar of complexity with a layered track where drone, ritual element and atmosphere with ethnic samples are present; while this is a quiet and bright track, "The Riphean Passage" uses the same structure with a darker atmosphere obtained with effective use of bass frequencies. Varying an element in all track the album flows with ease: "The Sigh Of Winter" uses a sort of flute which is enhanced by the static background, "Eternal Course Of The Sun" features field recordings, "The Solipsist" has a sort of synth crescendo in the final part, "Hyperborean's Lineage" uses wind instruments and "Everything Must Have Its End" closes this release with a drone which slowly evolves using a noisy element.
Even in the context of a canonical form, this album shows a project with a reasonable identity which set a difference in a scene where the vast majority of releases sounds the same. It's really worth a listen.
Artist:
Alberto Nemo (@)
Title:
6x0
Format:
CD
Label:
Dimora Records
(@)
Rated:
When you pull the CD out of his case for the minimal limited edition (150 copies only) of "6 x 0", you can read a sentence "etsise non ehc otrebla nu otama oh", the reverse for "ho amato un alberto che non esiste" (Italian for "I loved an Alberto who doesn't exist"). The Alberto, who surely exists, has a distinguishing mark/natural gift, a remarkably piercing voice, whose trembling timber on high tones is not that easy to find between male voices, the Alberto who shouldn't exist or the one existing within an imaginary mirror is the one you can listen on this interesting album, where the Venetian vocalist recorded six track (played on reverse -!-, the style fluctuates between contemporary classical, sacred music, minimal electronica and drone music) before recording their reverse on the studio. A guessed precedent he quoted to render an idea of what you're going to listen is the extraordinary soundtrack of Stanley Kubrick's "Eyes Wide Shut" by British composer Jocelyn Pook as well as some experiments by notorious bands such as Dead Can Dance or Coil (and I'd also add the first outputs by Enigma as well as the ones by many intimistic modern Greek singers). I won't label this output as a merely formal exercise, as I think it's consistent with the intrinsic duality of the sound where his voice, encrusted like a shining diamond reflecting unnatural obscure beams, such as the last track "Emama" (a sort of reversed invitation to love him...), a breaching palindromic counterpoint to the above-mentioned assertion.
Eric Maltz offers up a 12" four-pack of introspective, melodic techno here. The titular 'estuary' is supposed to be symbolic of the convergence of electronic and acoustic elements, but if that's the case that it's the electronic music that's the dominant tide and the acoustic elements (such as some piano on the title track) that contribute to, but are broadly subsumed into, a predominantly digital pack of steady-rhythmed, lightweight techno tunes.

"Mind Stretch" has a particularly enjoyable mellowness, playing the classic trick of counterpointing long slow synth pads against a steady clap-heavy rhythm so your head is in the clouds while you're tapping your feet. "Low Knee Cutter" is a bit darker and more driven, with building looping synths underpinning a basic but engaging two-note melody pattern in a manner that's quite Underworld-esque but without the heavy low end.

The title track's combination of laidback reverb-heavy piano and dubby bassline makes it the most relaxed offering of the bunch, that blend of techno and chill-out that ought not to work, but does, before "Messin Around You" steps it up a little, wandering about in familiar and unremarkable techno territory but adopting its own character thanks to some unusual choices of percussive sounds and effects.

It's a very high quality 12", not something that's going to set your heart alight but really well produced and just a little bit inspiring.