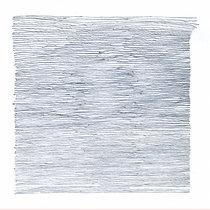 Artist:
Gintas K
(@)
Title:
Low
Format:
CD
Label:
Opa Loka Records
Rated:
This release from Gintas K is an exploration of a form that could be vaguely defined as glitch but with a sharp sense for the construction of song. The track of this release are short pieces where sound elements which are usually used in long composition are deconstructed into miniatures that could be even enjoyable by listeners of more conventional music.
Upon a context of small noises, "pri" exposes an almost pop melody while "pazr" relies on a slow theme and "git" is almost a noise song focused on sharp sounds. The accumulation of sounds makes "tas" a track which start quietly and ends in a surrounding way while "geras" is based on sustained sounds. In his complexity, "po" sounds as a minimalistic piece and "jodds" oscillated between clean sounds and distorted ones. "gg2" uses the amplitude envelop to creates oscillating masses of sounds and "ziu" uses noises without creating a thick mass of sound but instead generating a sort of melancholic melody while "arsi" is an aggressive track constructed with the same elements and "zrtQEW" closes this release with a quiet ambient watercolor.
This album is a nice example of hijacking an experimental genre into a vague form of pop music without being trivial and with an impressive sense of measure. It's really worth a listening.
image not
available
anymore
Artist:
Ugasanie
(@)
Title:
Border of Worlds
Format:
CD
Label:
Cryo Chamber
(@)
Rated:
According to the liner notes, the Ugasanie's release is focused on the beliefs of the people of the Tundra at whose center there's the shaman and his reborn after eating the Amanita Mushroom. To narrate the ability, after this experience, to traverse between worlds with his spirit, Pavel Malyshkin makes a great use of samples to create a sort of cinematic experience and, with this narrative element, unify the tracks.
The first seconds of "White Death" immediately depict a cold atmosphere where samples upon the drone create a sense of impending menace, while "Over the Tundra" is more descriptive of a vast and uninhabited landscape. The deep bass frequencies of "Obfuscation" create the context for the final samples which create a narrative hook while "My Mother-Beast" are "On the Branches of the Sacred Larch" are almost canonical dark ambient tracks acting as an interlude to "Initiation" where the use of the voices in the background are truly evocative and continues the description of the place pictured in the cover art. "North Breath" seems to be based on a discernible little melody with isolated resonances of piano tones. "Way of Amanita" is a timbre's crescendo which quietly starts and ends after an endless accumulation. The narrative element returns in "In Cold Arctic Winds" where the samples are carefully hidden in the soundscape and "Endless Winter" closes this release with even an hint of melody hidden in the drones.
Even if someone could find this release a little too adherent to the genre's canonical form, the Ugasanie's writing makes this album something that unfolds upon repeated listening to enjoy all the subtle nuances of the sound. Recommended for fans of the genre.
Artist:
Krishna
(@)
Title:
Ascend To Nothing
Format:
CD
Label:
Silken Tofu
Rated:
Some seconds of electronic lubrication - a sort of very quick auto-tune - and the 36 minutes lasting drone-like ascensional track by Krishna, a newly signed project by experimental techno maker Vincent Koreman aka Drvg Cvltvre - and the bicephalous jazzy grind noisy duo Dead Neanderthals by Otto Kokke (saxophone) and Renè Aquarius (drums), turns its thrusters on. The intake by these Neandertals is somehow dead, as Aquarius just adds a 4/4 muffled beat while Kokke plays a single almost constant (effected) sax tone - he opens gain just after ten minutes, closes it back after further three minutes and plays this game till the end of the session -. The primary varying element is the electronic bleeps that Vincent makes boiling and bubbling over the whole drone - these gurgling input sometimes sound like the noise of those plastic calling cards, when they got beaten after a slight bending -. The final result of this almost static interaction is something in between a supposedly psychedelic session by Fuck Buttons and the first seconds of the cartoon theme song of the Italian version Great Mazinger (I admit that I repeated 'Mazingaaaaa' during the listening of "Ascend To Nothing"! Check it here, if you want to have an idea of what I'm talking about: https://youtu.be/bMI8RCVXsno !). After their propulsion reaches the acme around 32-33 minutes, the fuel starts getting lower and lower... that's how this ascension to nothing, recorded at the Extrapool studio in Nijmegen (the oldest city in the Netherlands) in July 2015, tragically finishes its enjoyable ride.
If robots would ever "perfectly" emulate humans, they should be conveniently imperfect. For instance, they would get exposed to the risk of heart attack and other human diseases. Well, this brief releases including five tracks developed by Italian duo Garaliya (Andrea Belloni and Michelangelo Roberti are their names at the registry office) could get matched to imaginary significant cardiac diseases of a robot. The robotic atrial fibrillations of the opening "Ventricle", the decaying blips in the elastic electromechanical loops of "Z-Clones", the buzzing anomalies in the silicon glue of "Serpenter", the imperfect delay on the dystopian piercing tones of "The Roboteer" (close to some outputs by other past entries of Italian electro projects such as Monomorph or Dynamic Wave) or the chest-thumping alien race of the morbid synth sequences on the final "Replicant" could be the soundtrack for a non-existent branch of cardiology in a supposedly forthcoming cyber age. Another juicy sonic pill from the top-playing Ukrainian Wien-based label Kvitnu. Available on CDr as well.
Artist:
Mia Zabelka
(@)
Title:
Monday Sessions
Format:
CD
Label:
Creative Sources
(@)
Rated:
5th January, 12th January, 19th January, 4th February of the year 2015 have a thin red line (or I'd rather say a black line, considering their color on a calendar). They occurred on Monday, the first five Mondays of that year to be precise during which Mia Zabelka decided to record these ten improvisations at Klanghaus in Untergrieth, a small village in southern Austrian Styria using her acoustic violin. I don't know if she got somehow influenced by the typical aversion (if not real idiosyncrasy) that working people are generally supposed to feel against the first day of the week, as part of the dramatic stages she masterfully manages to evoke by the awesome way she plays violin or her voice (one of the funniest moment of this release is the vocal track "Oscillations", a whirlpool of mourns, sneers, suffocated wails, choked shrieks, neighs, hiccups, whose extreme and fast-rolling changes could let you think a jester having some epileptic fit) sound perfect for the mindset of people, who got influenced by such a figment of calendar-related imagination. It's pretty bizarre a cliche got evoked by a performing style, the one by Zabelka, which completely avoids cliches, as highlighted by the introductory words of the inner meaning of Mia's improvising by well-known guitarist John Russel printed on the inlay: "We are improvisers to the core, acknowledging an 'everthen that everwas' while constantly trying to subvert and go beyond the mundane. The core of the music is found at any point and is completely malleable making the musical choices that provide a 'narrative' a uniquely personal experience.". Violin tones could get matched to wood-shavings during a sawmilling intended to turn a log into sawdust in "Concentring Circles" or 'flavour enhancers' for the staggering pace of some performative escalations - in tracks like "Imminent Disaster", "Papagei" (German for 'parrots', a funny tracks where Mia seems to emulate those cute birds by the integrated use of violin and voice) or the opening "Dunkles zu sagen" - or tonal expectorating of introspections and mental convolutions ("Stream of Consciousness", "Remembrance"). They sometimes disappear to acquire a percussive functions in tracks where Mia seems to exploits the 'hidden' percussive or noisy features of violin, as it happens on "Stroemungen," "Entfremdung" (a German word whose translation could describe such an extended use of violin, as it could be translated both as alienation or estrangement and as an exception of the destination for purposes that are different from the intended one!). Mia's outputs can also be listened and enjoyed during other days of the week.