"Nothing living should ever be treated with contempt. Whatever it is that lives, a man, a tree, or a bird, should be touched gently, because the time is short". The medley of the thought-provoking track "Civilization", opening "Circus of Outrageous" (some sonorities could vaguely resemble another notorious circus by Death In Vegas) by Kuhl - an interesting musical idea by Cas Greenfield and Mikey Cooling -, quotes "Green Dolphin Street", an old movie by Saville, inspired by a novel of Elizabeth Goudge. In spite of the excessively lovey-dovey tone of some moments of this movie, the quotation seems to be a sort of manifesto for the aesthetic self-assigned mission by this band (later on, they sing "There is power in beauty in the songs we have bought/Bringing order to chaos, we create not destroy/We fight hatred with love/What we learn makes us strong/We crush the spirit in the rivers of blood"). Maybe they took themselves too seriously, but the fact we live at the peak of a really decadent age, where someone like Kuhl (maybe they're not that original) could invite to a violently delicate riot, is almost unquestionable. A delicate riot, we said, as the ones that some 80ies pop bands that could have inspired Kuhl's sound (Yello, Pet Shop Boys, Spandau Ballet) as well as some nostalgic contemporary actors (such as Blue States - check tracks like "Headrush" to feel some similarities with the very last outputs by that pleasing bath of British nostalgia - or other pushers of lazy space or contemporary folk grooves of the 90ies) were maybe dreaming. I wouldn't consider "Circus of Outrageous" a genial album, but it's a multifaceted emotional pack, where the meaningful moments prevail even when they intentionally explore seemingly kitsch or cliched styles ("Uber", Kashablankha" or "You, Me, The Start and Love" - one of those song where a featuring by Louie Austen could be perfect! -). The way of singing some songs like "Zsa Zsa" or "Space Cake" managed to resemble the style by Earl Zinger. Nicely eclectic stuff.
Artist:
Marcus Fischer & Simon Scott
Title:
Shape Memory
Format:
CD + Download
Label:
12K
"Shape Memory" is the result of a refreshingly old school experimental collaboration between Fischer and Scott, who both collected field recordings, processed acoustic sounds and synthetic noises and then brought them along to a studio called S1/Synth Library in the form of tape loops, which they then played back in collaboration, all the whole overdubbing live elements- predominantly guitar and cymbals (Scott is the drummer for Slowdive) but a smattering of other bits and pieces too.

The outcome is a mellow, warm acoustic soundscape of hums and long, melodic tones that hybridise guitar and soft organ-like synthetic tones, around which bubble various atmospheric clicks, tiny bell noises, woodland sounds and the aforementioned arhythmic waves of percussion.

Officially split into three parts, it stands and plays as one 36-minute work that at times feels like the dictionary definition of ambient music, as solidified in the 90's. It's richly textured, always giving you some detail to hear without ever causing surprise. As such, straight onto my sleep-time playlist it went.

A very pleasant slice of acoustic-leaning ambient.
Calling this an 'EP' is a misnomer- it's two conventional soft instrumental house tracks, both clocking in just under seven minutes, with gentle, slightly broken beats and soft organic percussive sounds running under gentle jazzy keys, sweet plinky noises and skittish little sci-fi sounds. The two tracks have most of their elements in common, with "Aku" having a marginally greater sense of urgency in its groove, but barely so.

Sweet, faintly quirky but a little bit nothing-y, it's a slick but quite forgettable bit of tempered mid-set mellowness.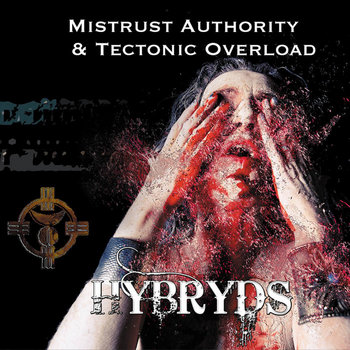 Artist:
Hybryds
(@)
Title:
Mistrust Authority & Tectonic Overload
Format:
2 x CD (double CD)
Label:
Zoharum
(@)
Distributor:
Alchembria
Rated:
Zoharum continues his reissue plans for Hybryds with a collection of two works "Mistrust Authority Promote Decentralization" originally released 1996 and bundled here with the bonus of a live recording of the same year and "Tectonic Overload" released in 1998. While the previous release were prevalently based on evocative ritual music with vague oriental influences, this are more aggressive music closer to industrial EBM influence by cyberpunk themes.
So, as "noise2trance" starts the listener is overwhelmed by the intensity of the sound barrage based on loops and rhythmic cages and this lasts for all the release featuring also quotes from writers as Timothy Leary to further clarify the message. While it's particularly noisy "dead zombie dance", there's a small return to their distinctive style in "I walk alone" even if the overall sonic impact is due to the questionable remastering by TraumaSutra where large part of it is characterized by an over compression. It should be noted, as "Tectonic Overload" is not labelled as remastered, that the high volumes and compressed sound were probably part of the sound construction of that period. So, while there are even better ideas, the musical result is characterized by a dried out sound which now sound a little bit outdate and trivial in his research of physical impact.
Fans of the band and collectors will have a release with takes with it a part of the zeitgeist of the period were cyberpunk ideas had great currency and so will have a little bit of nostalgia. The others could perhaps avoid it for its lousy sound yield and orient themselves for the others reissues.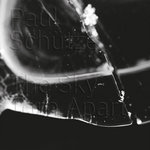 Artist:
Paul Schütze
Title:
The Sky Torn Apart
Format:
CD
Label:
Glacial Movements
(@)
Rated:
While it seems just another record of the genre as it's introduced by the usual liner notes speaking about more or less apocalyptic visions of worlds at the edge of destruction, it should be noted that the difference between important and avoidable release is how this idea is tied to the result. The idea of circularity between destruction and reconstruction here is depicted in a clear structure enhanced by the use of dynamics.
Small noises introduce a drone which ebbs and flows through the audial field and it's juxtaposed gradually by an emerging drone which acts as a canvas while the former acts a sort of time keeper. This lasts until a deep bass enters as a separator to a part where the elements begin to fade until a wide spectrum drone takes the listener's attention and underlines the small noises that continues and acts as a glueing elements of the whole composition. Then, the second part of the track is a gradual descending towards silence which is only broken by the small noises which close the track in a perfect circle.
The clear structure of the track highlights the remarkable work on the sound details which introduces the listener into a realistic and immersive environment without any indulgence to a trivial evocativeness of a special effect. Recommended.