Artist:
Torn From Beyond
(@)
Title:
If The View Freezes
Format:
CD
Label:
Krater Recordings
(@)
Rated:
If you've never heard of Torn From Beyond, then maybe you've heard of Bert Lehmann's other project, Mortaja, which has had a couple of releases since 2011 on the Audiophob label. I've never heard of either before but no matter; it's what's now that counts. Like Mortaja, Torn From Beyond is dark ambient, although a little different from Mortaja from what I understand. The music on 'If The View Freezes' sounds simultaneously spacey and deep underground, as in chasms and crypts. Here the dead feed off the living, and visa-versa. Here the Elder Gods rub shoulders (or should I say, tentacles) with Dream Daemons in the nightmares of your deep subconscious. It's not apparent until track 2, the title track, that that's the case. Here it's feeding time for some great abominable beast, something beyond Balrog but not quite Cthulhu. No question that cosmic horror is in play. It's the fourth track, "According to Ancient Custom" where the similarities to Raison D'Être begin to emerge, at first with some repetitious evil worshipers chanting, and later in "The End Begins" with monkish Gregorian chants. In fact, if you heard the latter track by itself, you'd swear it was Raison D'Être. There is quite a variety of ambiences and atmospheres on this album, and it's as dark as dark can get. The only concession to something that isn't totally steeped in ancient evil is the last few minutes of the eighth and final track, "Finis Terrae," with it's classical piano and mild seagull squawking. A highly unusual way to end a dark ambient album of this nature, but quite effective. For a debut album this is absolutely amazing. Highly recommended!
Artist:
Spherical Disrupted
(@)
Title:
Periapsis
Format:
CD
Label:
Krater Recordings
(@)
Rated:
No stranger to Chain D. L. K., the German electronic project Spherical Distrupted has been around since the early 1990's with numerous releases, but it's been awhile since their prior one ('Nature Unlamited') back in 2010. I use "them" loosely as Spherical Disrupted is actually Mirko Hentrich, also having releases under the names M. Sigma, Capsular and Sick En For. Sorry to say I haven't heard anything by any of them before. The astronomical concept behind 'Periapsis' is the twin star system Eta Carinae, one of the biggest high mass and very extraordinary constellations in our galaxy. The term 'Periapsis' refers to a concept used to calculate its orbit. Ah, space music you must be thinking, and with titles such as "Observatory," "X-Ray Flare," "Eta Carinea OUtburst" and "Orbitary Eccentricity," you'd almost be right. This space music though is grounded in old school synth rhythms much of the time though. From the beginning with the first "Observatory," slow, rhythmic, deep bell tones herald a processional picked up by an old school analogue juicy rez-filter bass. (Man, it's been awhile since I heard that sound.) In the background spooky there are layers of eerie synth. There's a lot of repetition in the structure, and I'm reminded of early Delerium. That similarity will continue thoughout the album. Construction is simple and repetitive, but there's something hypnotic about it I quite enjoy. Granted, there are layers, and at times the music seems dense. The spacey aspects are grounded by old school synth sounds and rhythms, and though there may be a slight touch of dark ambient, the music has much more in common with Tangerine Dream than Lustmord. (None of that 16th-note hyper-sequencing though.) Pacing is slow to medium throughout. One of the more interesting juxtapositions is the track "Orbitary Eccentricity" which is basically a 2-chord mood piece that is largely a spooky atmosphere with some measured rhythm accents. Only toward the end does that juicy rez-bass make an appearance incidentally. On the Mortaja Remix of this track, the rhythm is more pronounced, and an 8th note arpeggiated sequenced bass is added, along with that juicy rez-bass coming in much earlier. If we weren't in Tangerine Dream territory before, we surely are now. If you like your electronic space music uncomplicated and hypnotic with an old school vibe grounded in EBM type rhythms, or if you yean for early Delerium ('cause Leeb is never going back there again) then Spherical Disrupted's 'Periapsis' is for you.
Artist:
Post Scriptum
Title:
Year Zero EP
Format:
12"
Label:
Post Scriptum
(@)
Rated:
After getting discovered by Function, launching some hot techno drops over a couple of Berghain focused Ostgut Ton compilations and throwing a very good self-named debut album for Function's and Inland's imprint Infrastructure New York, Berlin-based faceless techno maker Post Scriptum (he got hooded and masked during the occasional live-sets he held) ignited his self-named imprint by a release which manages to divert from current mainstream techno. "Year Zero" gets closer to late 90ies industrial techno (do some of you remember Riou Tomita?) by melting slippery noises, heavy clangs, obsessive percussions and a guessed set of industrial noises that manages to sound both banging and somehow anxious (a combination that meet the expectations of many lovers of this branch of techno). "Nuestra Planeta" is even darker and suffocating than the previous track by combining a certain apocalyptic halo, robotic female alerting vocals, grey mists and assaults of obsessive rhythmical patterns. Both tracks got remixed by a certain 9T9T - I have no idea what or who it is... -, who sped BMP up for "Year Zero" by highlighting the obsessive aspect of the original track and reduced BPMs for the remix of "Nuestra Planeta", which got enriched by amazing flipping computational regurgitations and piercing laser rays.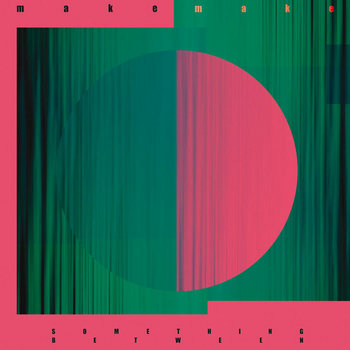 Artist:
Makemake
(@)
Title:
Something Between
Format:
CD
Label:
Zoharum
(@)
Distributor:
Alchembria
Rated:
Makemake is the musical project of ukasz Marciniak and Rafal Blacha, both using guitar and electronics. Their music is essentially EAI so the album is a series of "open compositions" recorded in the CK Agora theatre hall in Wroclaw trying to obtain a spatial sound using different microphone and a careful mix made by Micha Kupicz.
The first track, "Suspiria", starts as rock jam but suddenly it became a dialogue between the two guitars where they tries to resonate each other rather than simply do a call and response. This approach is further confirmed by "A-Bow" where, for large a part of the track, they construct a drone until they starts to play some musical lines above it. In "Dry Water" one guitar acts as a percussive element while the other develops his melodies so it's closer than a canonical tune than expected at this time of the release. "Visions" is perhaps the track where the electronic element is more present and it a form that reminds even to some cartoons. This easy elements is further confirmed in "Dinner at Home" with his distorted guitar sounding like a relative of the banjo while "Flight over the Rubble" returns to more experimental and free form sounds. The drones and the sustained tones of "As I Look Back" close this release in a dreamy atmosphere almost in opposition to the austere atmosphere of his beginning.
The main characteristic of this release is his departure from a certain austere environment which is now the main cul-de-sac of this genre and the constant mutation of the timbres that makes possible a journey into sounds. It could be a surprise for fans of the genre.
Artist:
Im Wald
(@)
Title:
Orion
Format:
CD
Label:
Wide Ear Records
(@)
Rated:
Even if it's not so brand new, this entry by Im Wald (German for 'in the wood') on Swiss label Wide Ear could be considered as a sort of programmatic statement. You could listen to it as a sort of gradual elevation from the short intro "Flachen" (meaning 'surface' or 'ground') to the longest suite 'Orion', where the suite in between - "Nebulae" - could be perceived as a sort of narrow interstice before the sound of this ensemble, made up of Tobias Meier (alto saxophone), Matthias Spillmann (trumpet), Frantz Loriot (viola), Nicola Romano (cello) and Raffaele Bossard (bass), spreads his sight out or above the in-between cage-like space of the just mentioned track. Phrasing in this stage sounds truncated and it seems that the intricate wooden web of low-lying branches and the dense brush frustrates any attempt of sketching a tune: the feverish and sometimes convulsive brushing on strings often turns into exhausted chirping or sinister buzzing, single strokes on bass chords evokes a sort of occasional acceptance of such an insuperable hurdle, the air into the saxophone often results into choked breaths and such a sequence of attempts last over the full length of the suite (around 11 minutes). The sound opens on the mentioned final suite "Orion", but it's a gradual process as the first half of the suite seems to mirror a phase of a troublesome and still sorrowful recovery, but I prefer not to say how the sound will evolve in the second half. I said this output could be programmatic for the presence of a long introductory article (title The Space Of Music) by Berni Doesseger, who made an interesting historical excursus tracing back possible forerunners of the style that this label keeps on exploring. Have a check.