It's a lot of time that I didn't check Skullflower's music. I think that the last of their records I own is the 1994 Helter Skelter Records 7", so I had to document myself, as usual, to be able to do a decent review. Skullflower for whom of you who aren't keen on music based on guitar noise, is a band born from when Bower joined up with Stefan Jaworzyn and Stuart Dennison (all three were playing together in Pure) in 1987. They had their first record out in 1988 on Gary Mundy's (a.k.a. Ramleh) label Broken Flag, which at the time, was the most relevant power noise label in the UK along with Come Organisation. Since then Skullflower based their music on noise suites but with the years they left the psychedelic influences aside and became more and more noisy. Their latest CD, FUCKED ON A PILE OF CORPSES, has just been released on Cold Spring Records and it's a matter of fact that now the band formed by Bower, Davies, Stokoe and Proctor is totally devoted to noise. The seven tracks of the CD, which have been recorded between 2009 and 2011 and the rear cover reports a phrase that could be revealing: sonik blasphemy invoked. For 36 minutes you'll be subjected to grinding power noise mixed with lo-fi guitar blasts. Hisses, constant streams of noise and guitar feedback will be an hard playground for every noise lover and under all that chaos you'll hear tiny signs of melody (like on "Sleipnir"). Brutal, primitive and devastating, FUCKED ON A PILE OF CORPSES is a record that, I admit, I won't listen again anytime soon. Now the challenge is on you...
image not
available
anymore
Active during the late 80s/early 90s, Nostalgie Eternelle were a German duo formed by Stefan Heinze (aka Inox Kapell) and Dieter Mauson from Delta-Sleep-Inducing-Peptide. During that span of time they released different tapes and participated to many tape compilations. As far as I know they never had nothing released on vinyl until now that EE Tapes decided to make their music revive in the form of a four track 7" EP. Gathering four 1988 compilation tracks, EP, let the lovers of minimal synth sounds get acquainted with Nostalgie Eternelle's style. The 7" opens with "Without You", a track originally released on "Suoni Distorti", a compilation released back then by the Italian label Stella Mars. It is a sort of love/despair song which musically sounds like an early The Fall track (mainly because of the vocals), based on a bass line, synth monophonic bleeps and a drum machine. "Too Late To Be Sad" is an instrumental track with only synth sounds and based on an obsessive drumming/synth line with analog synth noises. Later a post punk bass line is added. Its atmospheres are kinda melancholic. "Conquest" is a synth wave/post punk tune with theatrical vocal interpretation where despair is the main element. "Just Darkness" was originally released on "Decline Vol.1" by the Italian label Discipline Prod (label run by Gianfranco Santoro, guy who is releasing in these days for his Final Muzik label a Nostalgie Eternelle CD compilation) and it is a minimal experimental synth tunes with monophonic noises, simple melodic lines and dissonant parts. Nice release...
Artist:
Falko Brocksieper
(@)
Title:
Alkem Nukem EP
Format:
CD EP
Label:
False Industries
(@)
Distributor:
i-tunes
Rated:
False Industries' folks are keeping their promise to the listeners about stocking their catalogue to a line of action inspired by the purpose of upkeeping the highest qualitative levels they can reach and this 4th release, signed by Falko Brocksieper, one of the father of the so-called sound of Cologne and founder of Sub Static (together with Mia Grobelny) and Karloff - two important brands in electronic music nowadays - bragging about a plenty of releases for renowned labels such as Resopal, Tongut, Tribstoff, Tuning Spork, Dumb Unit, whose style based on the hybridization of minimal techno with analog sound with an immediate hypnotical hook - I could reccomend to listen to his second album Heavy Day on Sub Static to have an idea of his sound -, which many other notorious producers (Sid Le Rock, Akufen, Gabriel Ananda, Benjamin Fehr, just to name a few) who asked remixes to him, corroborates such a noble purpose. In order to pursue the label's intent, Falko didn't assemble any techno tune, but leant towards some sonic solutions between computational textures and broken ambient paracentesis (the astonishingly cinematic wet catharsis of Westfalia with his powerful ultra-low frequencies and the hypnotical clicking of the beat-blemished Mellica - my favorite track - are great examples of this crossbreed) as well as an experimental approach, where he mixed together in an intriguing way different sonic elements such as in the title-track, Alkem Nukem (it's eloquent the fact Falko choosed the names of two German companies, who build atomic reactors, to give a name to this issue), where he inserted dripping bleeps and padded pulses inside the sulphuric cloud evaporating from a sort of processed white noise, and The Boy Who Turned Yellow, where he assembled a sort of orchestra from miniaturized and "muted" sounds including a "dirty" snare drum, some vocal syllabic samples - turned into percussive elements - and woods, a kind of musical cryonics who reminded to me some past tracks by Riou Tomita. This EP also includes two remixes of Westfalia - the former by NY-based Morgan Packard (Anticipate) where the original track sounds desiccated before injected in the chilling micro-dub groove, while in the latter Mark Van Hoen aka Locust (my favorite remix) manages to tighten the strings through a downbeat stepping on highly tense analog sequences - and two remixes of Mellica - a delicious arctic dubbed silent riding by the Canadian brothers Thibideau aka Repair and a sort of weird and nightmarish childplay by Benjamin Fehr and Lenique -.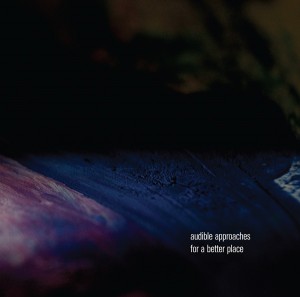 Artist:
VV.AA.
Title:
Audible Approaches For A Better Place
Format:
2 x CD (double CD)
Label:
C.Sides
Rated:
AUDIBLE APPROACHES FOR A BETTER PLACE is a project headed by the label C.Sides. The first part of this project took place on May 12th when Gold Panda, Brandt Brauer, Frick Ensemble feat. Ketan Bhatti, Casper Clausen and Mads Brauer (of EFTERKLANG) feat. Karim Ghahwagi, Christian Löffler, Eliad Wagner, Glitterbug & Ronni, Shendar feat. Enas Massalha, Jasmina Maschina feat. Liz Albee (trumpet) & Boris Hauf (saxophones), John Kameel Farah and Khan did short performances. Then, the label, asked them and to Brandt Brauer Frick to create new works, all sharing one goal: to make a humble contribution toward making this world a better, more just and beautiful place simply by doing what they can do best, make art and create music! The double CD compilation, which will be released on September 12th, offer ten exclusive long tracks. The first one is by the German electronic producer Glitterbug and Israeli-Palestinian Arabic soprano opera singer Enas Massalha. "The Sky Fell Silent" is a passionate chant with light drones on background, where Enas Massalha's vocal overdubs mesmerize the listener. Israeli musician Eliad Wagner, composed a bleeping suite recording different tracks with the classic analog synthesizer Arp 2600, creating a suspended in time atmospheric piece (if you like Philip Glass, you have to check it out). Christian LoÌffler with "Cast", is here with an ambient suite enriched with growing texture made with guitar echoes, sub bass sounds, percussions and tiny melodies. Really nice. Khan presents "Shahane", a pulsating track that mix industrial and electronic melodies (synths, treated vocals, etc) creating hypnotic atmospheres. Gold Panda's "Air" is a fragmented cold experimental i.d.m. tune with feedbacks, drones, digital noises and vocal humming. Sometimes melodic and then noisy, the track will lead you toward dreamy landscapes. The trio Brand Brauer Frick with "Schwan" open the second CD with a ten minutes tune that mix jazzy experimentalism, dubstep and electronica. John Kameel Farah's "Mountain Hymn" is a musical improvisation made using computer sequencing, piano, vocals and synths. Jasmina Maschina's "Romantic Rebellion" is a recording of a live performance where she gave to the musicians the freedom to perform variations around the E, G, A and B notes. It sounds like a jazz orchestra performing a Glenn Branca suite. After this one there's another edit (the vocal edit) of Glitterbug feat. Enas Massalah's "The Sky Fell Silent". Caspar Clausen (Efterklang's singer) & Mads Brauer recorded a soundtrack to a short film shot by Karim Ghahwagi. "The Figment Notebook" has different moments: piano melancholic atmospheres are followed by orchestral upbeat moments with the add of a choir just to be back to the piano melodies. The track is present in two variations: with and without Sara Davis narration.
image not
available
anymore
Artist:
LASZLO
Title:
Radial Nerve
Format:
CD
Label:
Lydian Label
Rated:
Laszlo is the moniker of Aaron Frederick Wheeler, composer/producer based in London. His music blends many genres like IDM/Electronica/Experimental and Jazz/World/Folk/Classical. His first album, which will be released on Lydian Label the 5th of September, is titled RADIAL NERVE. He decided for such a title after he broke his radial nerve and once recovered, succeeded into composing new tracks even if doctors were thinking it would have been impossible to. The eleven tracks of the album shows really well Laszlo's wide musical interests that spans from Balearic atmospheres passing through jazz and techno. Many different instruments have been used on each track and if fusion sounding "Satori" has piano, mandolin, flute and vocals with i.d.m. rhythms, the short opening "Radial Nerve" to me sounds like a techno version of "Tubular Bells" and it sounds great. Percussions, dulcimer, piano, percussions and gongs are the main elements on "Musicbox Vs Dulcimer" while piano (sometimes reversed), vocals, jazzy drums, synth bass, flute and classic guitar are the ones of "Lydia's Dream". Sounding sometimes dreamy and others cinematic RADIAL NERVE will please the lovers of sophisticated chill out music.