image not
available
anymore
Latvia's most influential dark Electronica-label Sturm comes out with a new and awesome looking DCD set, which presents once again the who is who of this genre hailing out this small Eastern European country. By having a more detailed look and listening the label roster, it once again astonishes, how far away from any hypes and how diverse the provided music got spread. It seems to be quite natural for the responsible people behind this label, that the listener gets thrown into styles of abstract experimental Electronica side by side with Neo-Folk influences and harshest Powernoise efforts. A genre boundary is seemingly a foreign word for them, as this label has to offer a lot of undiscovered and never heard before music stuff. 'Stürmer IV' finally sorts and collects the most influential acts out this country, and it too collaborates also with artists, which have decided to release on their own, or are signed to other labels. As I mentioned above, the package of this DCD set is a feast for the eyes. It's a heavy-weight digipack-like packaging, but a bit bigger than normal in size, consisting of a robust, serrated black cardboard work. The silver-colored script, for example used for the track list, which got hidden as a special gimmick under both CD's, and the imprints are offering a glossy and beautiful contrast ' in short, to hold this DCD set in your hands suggests a rewarding feeling to any listener. Which form of a downloading procedure can rival with this? Musically you'll get a relatively strict separation of music styles by the choice between a black- and silver-colored CD.
Starting with the silver edition, you'll get the rather straight, harsh and rhythmic music assaults with band projects/artists like ROSEWATER, which are maybe the international most recognized act out of Latvia. All of you listeners, who have thrown them into the straight Hellectro-like drawer because of their contribution to Johan van Roy's NTP-label will be astonished by this dark and haunting instrumental tune, which is filled with ominous voice samples and opulent orchestral-like string sounds ' relatively unexpected from them, but atmospherically thick produced. HEZZEL is another fine solo project presenting with 'Magnets' a straight-forward moving track, which has been the title-track of one of the previously freely downloadable releases of this artist (signed to the Russian Absetzer / Alter-X Promotion group). TETSUO SHIMA sounds from its name like an uncompromising Japanese Noise-artist, but offers a steady slashing tune somewhere comparable to SONAR meets ARZT + PFUSCH. To produce rather distorted and rhythmic oriented tracks on the edge between the Harsh-EBM and very near to the Powernoise genre seems to be generally a specialty for most of the artists presented here, the tunes of NAV SAULES, NARKOSE-X ('Masturbators', how delicious'¦), or G-SHOWER (what a band-name'¦) are some excellent references for this dedication. Also PIXEL HERO are thrown into this harder kind, although this has happened because of the choice of the contributing track, as this project normally produces C64-related Electronica music following veterans like KRAFTWERK, or DEVO. Another highlight I would like to point out with SYMMETRY OF ASYMMETRY, whose track is a real, classic arranged Dark Electro tune with reduced noisy ingredients, but with a hopeless sounding male vocalist. Another 'thumbs up' also for CYBERPUNK for offering DIVE-like minimal Electro/Industrial structures. 18 tracks not only to warm your socks in your boots, it is also stuff worth to listen to.
The black and second CD edition of this DCD set then offers the more abstract and experimental-minded kind of music, featuring some more or less known names like SCRIPTA SENSUS, KNAUZERS, CLAUSTRUM, or ANTARKTIDA. The music ranges between the darkest Ambient tunes (SEASNSFDSPAIR, SCRIPTA SENSUS, CLAUSTRUM, MACABRO), to ominous Ritual-Industrial tracks featuring confusing voice samples (SVAMPKOKS, KNAUZERS, POSTS), to seemingly uncontrollable sound experiments (CLAUSTHOME offering some abrasive drone sounds, while ANTARKTIDA convince with percussive metallic noises thrown in a monotonous environment). Stylistically very far away from any norm, here you'll find that stuff, you couldn't imagine to experience it. The music presented here is well-suited to get checked out under a good pair of headphones, while you should be warned, that also this stuff presented on this black CD isn't suited for the faint-hearted listeners.
What a diverse sound experience provided by these 36 artists and pressed on 2 full-length CD's! This one is remarkable and a nice introduction to all newbies to check out the dark conditions of the Eastern European territory. To live a life in Latvia must be a hard one, as you won't find any tendency for lighter and smoother sounds, as styles like Synth- or Futurepop are generally left out at the Sturm label. Released under Strumamndat No. 29, this DCD set is strictly limited to 666 numbered exemplars and you should save your bucks to purchase it directly from the source.

CD 1 : Black
1 SeasnsFDspair - Tai ZiemÄ
2 Scripta Sensus - DvÄseļu Putenis
3 Swamp Koks - Murgs Visupirms
4 Veerot - Shvakais Uzpariht Marsch
5 Knauzers - MelnÄ SÄga
6 Claustrum - Melanhola
7 BÄdu VÄstnesis - Å Ä·irotava
8 Antarktīda - Katorga
9 Macabro - Black Moon Rising
10 Darba Dienests - PornodiÄta
11 Mortarum - Sonar
12 ApÄtijas Process - Slave Boy
13 Celmlauzis - Nelifts
14 Posts - AicinÄjums
15 Clausthome - Sieben.Drei.Zwolf
16 Meld - Mechabuddha
17 V.S.K.B. - Aiz Muguras
18 AutogÄns - Par VÄlu


CD2 : Silver

1 Rosewater - Cerihbu Juhra
2 Nav Saules - Noizexperience
3 Anacodaine - PieskÄriens
4 Hezzel - Magnets 5:01
5 Tetsuo Shima - Plumbum
6 Pixel Hero - The Warp / Raiders
7 Purva Pihschli - Disciplīna
8 G-Shower - Maizes Dziesma
9 Narkose X - Masturbators
10 Tec 17 - NeÄrstÄjams
11 Symmetry Of Asymmetry - Burning Footsteps
12 Lenoras SapÅi - Stigmata Plague
13 W.O.M.B. - Dead Undead
14 Cyberpunk - Trust Yourself
15 Ls Tur - Trachrakts
16 Thinner - Curriculum Vitae
17 Oyaarss - Holeage
18 Audioscope - Lasting

image not
available
anymore
Artist:
Runes Order
Title:
Disco Nero
Format:
CD
Label:
HR! SPQR
(@)
Rated:
In 2007 when I reviewed " X: Final Solution" I thought that it was their very last Runes Order release, so I was surprised to receive DISCO NERO. Listening to the twelve tracks of the album I can say that the project hit a new phase (their fourth, maybe? Their first was the one with the improvised synth suites of the tapes on Allegorical Tapes, the second, the one of their first albums on CD and then the third, the one with Dondo and Trevor). Teaming up with members of Egida Aurea (Diego Banchero, Carolina Cecchinato, Davide Bruzzi, etc), Claudio Dondo is giving to Runes Order a new sound which doesn't reflect the one of Egida Aurea but the one of another Diego Banchero's bands: Il Segno Del Comando. Inspired by the sound of Italian progressive rock and of Goblin in particular, now, Runes Order expand their synthesizers based sound thanks to guitar solos, deep bass lines, a drum section and Carolina's vocals. Also songwriting has been affected by this collaboration as Diego wrote "Voci dal Profondo", "Terra dell'Amore e della Morte" and "Lucida Follia". Talking with him he told me that he wanted to analyze these days with the eyes of different people's psychology, so, if "Voci dal Profondo" talks about an antisocial narcissistic profile, "Terra dell'Amore e della Morte" is about the experience of two old people who are about to leave because death is approaching and "Lucida Follia" is about a psychopath who's between a state of madness and illumination. Claudio Dondo wrote most of the music (but I think that the arrangements have been a team work) and the lyrics of "Chiave Quadra", a track about Donato Bilancia, serial killer who murdered 17 people (nine women and eight men) on the Italian Riviera in the seven months from October, 1997 to May, 1998. Musically, the album sounds epic and mysterious with obscure atmospheres that explode here and there with psychedelic rock phrases. A really nice one!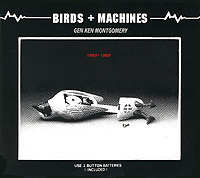 Artist:
GEN KEN MONTGOMERY
(@)
Title:
birds + machines
Format:
CD
Label:
Pogus
(@)
Rated:
Every time I receive a cd from Pogus it's like a small ray of light made his way through the darkness of my ignorance. This time it's the turn of Gen Ken Montgomery I didn't know anything about while he's an incredible biography as amusician. This collection of works ranges from 1980 to 1989 and the composition selected here offer some great contemporary electronic composition many of you could dig even if not coming from a "modern classic electronic" training. No Maderna or Stockhausen here given the fact the most of the track have een recorded or composed during the Eighties the sound is quite modern and at the same tim eI'm tented to say Montgomery was also filtering the sound of his time. Some composition are really close to sound like soft harsh noise or intellectualized power noise, some other have that learned electronic feel mixed with what could be quasi industrial music, the samples of birds and electronic birds voices help creating this strange atmosphere that is there from the first to the last second of the cd. What to say about it, but intentional or not the compositions recorded in Germany have a more serious feel, the atmosphere gets way heavier, be it they all have been recorded in Berlin but hard to deny that. Some other tracks remind me of the experimental electronic scene close to the border of industrial music: John Waterman, Coil, Francisco Lopez, Hefler Trio but sure take this comparison with a grain of salt. This' an incredibly heterogeneous collection of tracks for example consider "Crema di Roma" is a quasi drone-shaped track and the following pair of composition have a power noise and mechanic-rhytmycal beat. With the closing song we can taste Montogomery at the present time and it's still a tasty banquet since it resembles many steps of his early career with a contemporary aesthetic. Great work!.


Artist:
DONATO EPIRO
(@)
Title:
Supercontinent
Format:
CD
Label:
Stunned
(@)
Rated:
This italian guy with a weird name is at his second release on Stunned records and beside several splits with artists like Black Eagle Child, Albero Rovesciato he also has the time to run an interesting cdr label Sturm und Drugs mostly weird folk oriented. As you can judge yourself not exactly a newjack and his curriculum is not explicit enough just give a try to one fo his releases, I think it's the fourth or fifth one I review and I still haven't been disappointed. Differently from his recent split vinyl with Black Eagle Child this tape presents his more freaky side and is in line with his previous cdr on the same label. It all means he's left his acoustic guitar back home in place for a banjo (or something with a similar sound) an analog keyboard, and many other acoustic and non-acoustic devices painting it all of a kraut/prog folk-seventies colour, but at the same time he's far from a vintage sound. Delays and loops have been dragged around like ghosts of past summer seasons during a sunny August day. While some parts of this record are heavily psychedelic, some others are a bit more obsessive and hypnotic in a more odd way and you can perceive this guy knows pretty well what's going on in today's musical world by his sound. The B side of the tape follows the same soft delirium directory and offers that kind of repetitive loop where lot's of projects tend to be dead boring, but he's nor boring nor that predictable. Donato Epiro has an incredible taste and goes far beyond the boarder of neo-psychedelia, to say it as the mighty Bad Brains would have said: "he's got the supertouch!!!".
Artist:
Aidons La Norvege
(@)
Title:
Ostaggi
Format:
CD
Label:
Oltre La Nebbia Il Mare
(@)
Rated:
Born in 1982 in Perugia, Aidons La Norvege were a post punk band that on their early days were deeply influenced by bands like Play Dead just to personalize their style soon after. The result of this process is available on their only release, "La fida", a MLP issued by Label Service (a Spittle Records sub label) in 1984 and available here along with four demos and two live songs. The four tracks of that EP were still influenced by post punk thanks to razor blade like guitar sound and slapping bass lines but there was much more on Aidons La Norvege's music: they sung in Italian language and despite that, they also played outside Italy and also they were able to compose choral songs where epic melodies, acoustic guitar riffs were the right counterparts of tribal drumming, synth pads and nervous vocals. When you listen to "Per un soldato" or the piano intro of "Il massacro di Parigi" (on OSTAGGI you can find also its instrumental demo version) is evident that those guys knew how to create dramatic atmospheres and powerful songs. To check the steps that brought the guys from Umbia to that result, here you can check "Ostaggi", "Brown boveri", "Dopo la tristezza" (there are tense tribal songs with dark atmosphere and syncopated rhythms and the latter two shows really well the energy the band had on live gigs) and "La morte viene dall'alto" (this one plays a little more with mid tempos and guitar riffs/arpeggios). Don't miss the opportunity to check Aidons La Norvege and even if you had the reissue double CD of "Goot from the boot" (that extended version had "La sfida") you have to get this one and not only because of the six extra tracks but also because the other edition had a fault into the master (you can hear the recording that skips).
P.s. Aidons La Norvege reunited and they are playing gigs, so watch out if they'll visit your town!