Anyone reading the title of this album and expecting a novelty tribute album to Doctor Who and K-9 And Company are going to be left confused and surprised by the barren, experimental, deconstructed art-pop that Stephanie Pan offers up here. Slow, plaintive, folky vocals, frequently multi-tracked, drift loosely over crisp and often sparse soundscaping built up of very stretched pad sounds, short-spaced electronic texturing, and fragile bell-like keys and tones- and there's not a hint of the Ron Grainer theme tune in sight.

The vocal exercise work here is both curious and impressive at times, with the stuttering evolving vowel sounds of "Songs For Words Unsaid" an entertaining disassembly of language, while the theatrics of 11-minute opus "Beast" bring to mind Kate Bush at her wildest and beyond.

"Arbitrary Failures" stands out as slightly anachronistic, as its electric squeaks and bleeps spontaneously form into a steady and workable groove that's rather Funkstörung-ish- it works, and hints at what Pan's appeal could be with a gentle step towards more commercial electronica. Final track "Ron Adams", by contrast, sees Pan propagate a unique and distinct sonic world all of her own.

For gentle introspective listening, this really is something new, a recipe that teases together elements that you're very familiar with but with a method and a performance ethos that makes it a really refreshing listen that draws you in to its boldly empty space.
Artist:
Populäre Mechanik
Title:
Hi-Fi Is Sweeping the Country!
Format:
2 x 12" vinyl
Label:
Edition Telemark
Wolfgang Seidel was in a short-lived band PopulÄre Mechanik which disbanded in the 1980's, then in 2005 formed a new band with the same name, but where he was the only member in common. This is a double LP compilation of material from between 2005 and 2014, from that incarnation of the band. However when listening to it, you could readily believe that some of these hard-edged prog and experimental pieces could have been recorded in the late '60's or the '70s, with long wigged-out works coupling electric guitar, complex live percussion and evocative gritty vocals making this psychedelic prog rock writ underground or garage rock writ pretentiously, depending on how you look at it.

The apparently improvised vocals are mostly German, with occasional exceptions such as the English "Abstract Days" and "Blooming Carpet", but it's not for that reason that those track are highlights- the groove and progression on it is notably more engaging than some of the others. The ordering is unclear but it's easy to assume from the listening order that you're listening chronologically and that the move to English came towards the end of the period.

In some tracks, like the rather unrepresentative opener "20 Ways To Improve Your Home", there's a strong showing for samples, loops and tape trickery. At points it sounds a little like the tape-bending experiments of the 1960's that George Martin helped to popularise, at other points it's more structured and has some slight shadows of the 90's bigbeat era of sample eclecticism. It's across the minority of the tracks though, more's the pity as it represents some of the most innovative elements of it. Again if this is a chronological collection, about which I'm unclear, it would seem that the band moved away from it- which is a shame.

The nearly-eighteen-minute long closer "Psychedelic Mechanics" functions well as both the end to the journey, and as a self-contained unfolding work in its own right, showing a defter sense of dynamism and melody than was exposed in some of the earlier, more raucous pieces.

With its title and artwork referencing the '50's and since I've mentioned every other decade from the second half of the twentieth century onwards, this is clearly a release that crosses time- but does seem to be rather focussed on looking backwards. Lovers of psychedelic rock who want to hear something new that sounds old have come to the right place.
This is the first time I've reviewed a towel, and unsurprisingly, ChainDLK's system doesn't list "towel + download" as a known music format, but that's what this is- a limited edition hand towel, where the download code has been printed onto the washing instructions. As a promo item I only received the MP3s, not the actual towel, so sadly while I would like to comment on the quality of its fabric, its absorbency and its resilience to frequent washing, unfortunately I can only comment on the music.

The music that's reminiscent of towels. Specifically, large beach towels draped across sun loungers by a pool which you relax on while a DJ plays a steady and relaxing selection of steady, light electronic house which is kicky enough to dance to but melodic enough to wash over you if you prefer. "Dreams" epitomises this, even adding some birdsong for good measure, with a gentle hummable melody, while "Eurostar" is obviously intended to imply more of a travelling theme yet mood-wise it certainly leaves you inclined to sit back and let other people do the work.

"Pool Shark" refers to a different kind of pool, of course, with the EP's only vocal sample, a spoken-word affair which is, like the track itself, slightly sleazier than the rest, while "Prelude" is just a touch more dramatic, with a nice building, synthwave-ish intro that will serve as a great set-opener for just a hint of the music-storytelling intro that the title suggests, without going too ostentatious.

A velvety sonic towel of gentle house, certainly not too musically threadbare.
Artist: Marlon Hoffstadt
Title: Laws Of Attraction (Parts One And Two)
Format: 12" vinyl + Download
Label: Midnight Themes

"Laws Of Attraction" is being released as two separate 12" 4-track EP's, one blue labelled, one orange labelled, but I'm going to lump them together here as they work well as an 8-track package, practically an album, of fairly gentle instrumental house music with a serious business-like undercurrent.

The first EP has a slightly more leisurely feel to it. "The Overground", with its US-style vocal 'we are…' loop, is rather plinky-plonky. "She Is My Hero" has a gentle, particularly Balearic afternoon feel to it, before "131 MPB" [sic] raises both the pulsing and the tempo to give a nice arpeggiated sense of purpose. "Child Of The Universe" takes things in a slightly more electro-synthwave direction with a toothy lead line that seems to border on tongue-in-cheek.

The second EP adopts a more driving tone, with "Digital Desire" and "Parallel Thoughts" both tracing fairly straightforward techno-light patterns with Underworld-esque long synth pads over light drum patterns, a mood which continues with the slightly rumblier "I Ride With The Stars". "Into The Deeper Vibe" ends on a high, a simple series of trance-tastic minor chords that strike that simple but emotive balance between heart and head that has driven the feels in dance music for a few decades now.

If you like your house music light, vaguely synthwave-y, clean and positive, these 12"s will definitely appeal.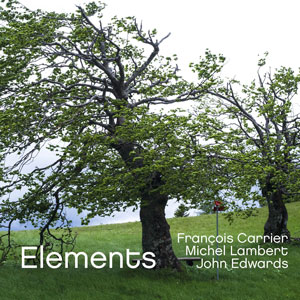 Artist:
Francois Carrier, Michel Lambert, John Edwards
(@)
Title:
Elements
Format:
CD
Label:
FMR Records
(@)
Rated:
The saxophonist Francois Carrier returns with a new release featuring his usual collaborator Michel Lambert on percussions and John Edwards on double bass. As we are talking about improvised music this is a live recordings from two different concerts: one at the l'Klectik Art Lab, The Horse Improv Music Club in London and the other at the 20th Festival Jazz Cerkno.
The first concert, done in 2016, is represented by two tracks: "Elements" which starts, after a quiet introduction with the bass sounding almost like a cello, with the alto sax conducting the improvisation with the rhythmic section sustaining it until the double bass begins to escape his rhythmic role to have a melodic one and so the sax use more melodic phrases and there's more use of silence in a second part where the percussion is used with remarkable restraint. "Roar of joy" is instead essentially an alto sax solo with the rhythmic section underlining the atmosphere rather than doing time beats. "Wilderness" is instead from the other concert, made in 2015, and starts as a prosecution of the previous track as it has more or less the same structure but, in this occasion, the sax lines are more continuous and less fragmented. The second section of the track is based on the interplay between the musician with small, even noisy, sound from the sax immersed in silence with quiet accompaniment by the other instruments until the use of the bow by John Edwards introduces the second part of the concert where there's the alternation between frenetic parts, when the sax use longer lines, and quiet ones, when the language is more fragmented.
The readability of the whole structure of the concerts denotes the amalgam between the three musician, so that there's no hint that this is an improvisation, and the idea of movement behind the performance. Recommended for fans of free jazz.