image not
available
anymore
Artist:
TOMCRAFT
Title:
Disco Erection
Format:
MCD (Mini CD)
Label:
Craft Music
Rated:
Two years have passed from the release of the latest Tomcraft album "For the queen". I knew Tomcraft with the "Hyper sexy conscious" album and since then I kept an eye on his productions because on those albums he has been able to blend techno sounds, electro melodies and a bit of house where songs and dancefloor tunes found a great place to be. This new mini CD titled DISCO ERECTION gathers the tracks released on vinyl on "Disco erection Pt.1" and "Disco erection Pt.2" and are focused mainly on Tomcraft's ability to make the dance-floors bleed. On these seven tracks you won't find the electro side of his music but only bouncing rhythms, techno sounds , a bit of melody (check the cool vocals on "Something's wrong") and house intuitions. Of the lot I liked most the three tracks coming from "Disco erection Pt.2" because they have a certain dark feeling that I appreciated. A funny note: "Car thief" sounds like a techno version of Siouxsie & The Banshees' "Happy house". Available from November the 23rd.
Artist:
VV.AA.
Title:
Captain Woof Woofs Guitar
Format:
CD
Label:
Bearsuit Records
CAPTAIN WOOF WOOFS' GUITAR is an international low price compilation released by Bearsuit Records. It gathers fourteen bands/tracks that play songs in balance from pop experimentalism (check The Artificial Sea's "Gloryhole" where you find a mix of early Cocteau Twins, digital noises and a great female voice or Milenka's "Atta atta remix" where a voice similar to Bjork sing a particular dissonant tune made with acoustic guitar, violins, synths and a sound similar to a fretless bass), extravagant music (see the instrumental piano/guitar melancholic "I've heard giants" by Harold Nono, the tribal ride made of distorted bass/guitar, percussions and accordion of the opening Port Mone's "River" or the cut-up pop craziness of Kirameki and the opera experimental mix on Per Olund's "The crippled court jester") and shoegaze music (check the Japanese/English Anata Wa Sukkari Tsukarete Shimai tune). A nice compilation where melody and experimentation meet, which will introduce you to new bands. Check some tunes at the label's myspace page.
Artist:
Kommando XY
Title:
Welcome To Gestrikland
Format:
CD
Label:
Electric Tremor
(@)
Distributor:
Black Rain
Rated:
Another new Darling for the short-haired old-school EBM elite-league hails out of a special landscape of Sweden, Gestrikland. KOMMANDO XY is the name of this outfit, consisting of Gustav Jansson (STURM CAFÉ) and Jocke Mohlund. The activity of STURM CAFÉ was rather limited during the past 2 years after the debut album released by the uprising Swedish label Progress Productions. This limitation happened because Gustav's band-mate Jonatan Löfstedt has left Sweden to work for his daily income in Poland. Due to this circumstances, STURM CAFÉ had at least to call its quit during June 2009. But after listening to "Welcome To Gestrikland" I don't have any doubts, that STURM CAFÉ won't be missed too much. The music of KOMMANDO XY follows of course that minimal EBM-related structures already discovered from Gustav, but the vocals of Jocke are the sensation of this release. Jocke offers an angry deep-male bawling pretty much in vein of old POUPPEE FABRIKK. A track like "Gruvarbetare" with its most minimal arrangements (kick + snare + hi-q + bass line) available here, gets seriously pushed to a high appealing EBM stomper. As for a special property, all lyrics got provided in Swedish language. This duo likes to introduce us their area in the eastern part of Sweden and tips on problems and things of the daily life itself. I don't understand Swedish, but a track relying on computer and console games "Genesis Does (What Nintendon't)" can be easily discovered. Do I have to take some lessons? Well, I would and take this album as a reference! Get it!
Artist:
Aphorism
(@)
Title:
Surge
Format:
CD
Label:
Tympanik Audio
(@)
Distributor:
Ant-Zen
Rated:
This is a newcomer-project for Tympanik Audio and musically based in the wide field of IDM/Ambient/Electronica music. Tympanik strives the whole world in search of authentic sounding acts presenting this demanding music style. APHORISM isn't an exception of this label dedication, although I had some initial problems by consuming this album. It may belongs that Tympanik has scored previously intense with acts like ZENTRIERT INS ANTLITZ, ESA or TOTAKEKE and in the first instance, APHORISM seemed to be dull and rather like a copy of the best horses in the label stable. But no, "Surge" has to offer some pearls to warm the hearts and ears of the interested listener. The tracks of Josh Pyle (music and production) and his partner Kris Rosentrater draw a well-done balance between melodic, but dark sounding pads and sweeps mixed with an attractive IDM-related rhythm programming, which often adds cuts'n' break elements to keep it bizarre but interesting. The label comrade STENDECK would be musically an option to draw some comparisons. 12 original tracks are available, from which I tend to rate "Chrysanthemums For Carrion" (remarkable synth arrangement, a lighter-minded Breakbeat rhythm foundation and interesting breaks thrown in), "Msect" (featuring exchanging synth layers for the catchy main theme) and "Two Sides Of The Bullet" (includes authorized voice samples by Martin Luther King – no, not the often used "I Have a dream..." platitude) as being the best tunes on here. Three additional remix works by the beloved label comrades TOTAKEKE ("Negative Two"), the high-skilled newcomer ACCESS TO ARASAKA ("What We See Now") and TAPAGE ("Msect") completing this album. The whole talent behind this project cannot be discovered after only 2 – 3 spins, so give this one a chance to grow on you. You'll get rewarded with an addictive IDM/Electronica-album of the upper class.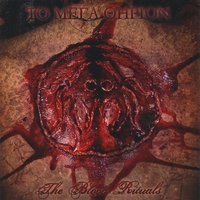 Artist:
To Mega Therion
Title:
The Blood Rituals
Format:
CD
Label:
Vendetta Music
(@)
Distributor:
KGD Media
Rated:
The title doesn't promise anything good. Right on, after his debut on the LA-based seems-to-be-ended label Sistinas. TO MEGA THERION-mastermind Tyler Viscerine returns with 6 new blood-and noise-infiltrated tunes featuring an monstrous and ritual-inspired background. The heavy-weight noise arrangements he produces are stuff to tease the nerves of your neighborhood and are in no way compatible with the faint of hearted. A depressive and deep down the drain-like voice sampling ("We Are Immortal") can't even add light into this ritual and satanic sound outfit. In this merciless and filthy kind, any doubts on Tyler's sound and artistically outfit as being only a play with some evil genres to follow a hype are forbidden – this one seems to be authentic and meant seriously. Asides the 6 original tracks, further remix contributions by well recognized projects and label mates like W.A.S.T.E. (has recently signed too to Vendetta Music – and Tyler has become a permanent member of the live crew of this LA-based Powernoise-act), AH-CAMA SOTZ, VUXNUT, the uprising EMBODI, Tympanik Audio's ENDIF and ALTER DER RUINE (who recently could arrange a deal to Germany's ProNoize label). Of course these remix contributions are rather pressing the TO MEGA THERION tracks into a more dancefloor-friendly sound outfit, since the floor addicts could be generally hardly accept the pure original versions. So this new album features both, purest noise terrorism for the listen-only audience, as well as enough valuable stuff to move to.
In latest news we need to admit, that several prominent web resources censored the original cover art, which you can still see above...