image not
available
anymore
Artist:
Digital Geist
(@)
Title:
Motorcade EP
Format:
Download Only (MP3 + Lossless)
Label:
self-released
Distributor:
CDBaby
Rated:
It's unbelievable, that a new audio sign of life behind the New York-based Electronica-project DIGITAL GEIST has taken 3,5 years in the making, since the last album, the high prolific and awarded "The Zero Engine", has been a promising start into a seemingly bright future for this act. This music project of Alex Kourelis and his partner N3wt offers with this EP 4 new and long-awaited tracks. Still providing the state-of-art regarding sound and recording quality, his newest audio results convince the audience once again with skillful Electronica sequencer works, modern synthesizer sounds and a straight and steady beating rhythm section. Mainly active in an attractive form of Techno-/Trance-related sound environment, this EP is an appetizer for an upcoming new album as well as a promotional tool for live performances. The opening track "Aeroplane" may works as being the best tune here, especially its deep drilling synth bass lines approving Alex' and N3wt's talent to create modern sounding arrangements, which also entertain the listener under a pair of headphones. Second and third track is "Luna Patrol" in two parts, which both push the speed to a higher and more dancefloor-oriented level. Since both parts got right in time separated into two versions, this track – consumed in one spin – gets a bit too repetitive. Last, but not least, they present us the title tracks of this EP, which continues with a comparable bpm number, as well as with a guest appearance of Bill Boulden/Spruke for the vocals. This guy also provided some guitar riffs to back up the depth of the arrangements for this track, which means a relatively new form to express music for DIGITAL GEIST. Only 4 tracks and 21 minutes aren't enough, to catch an impression of the whole DIGITAL GEIST sound empire – no wonder, since "The Zero Engine" is still in mind. This EP sounds promising enough, to bridge easily the time for the next full-length album.
Someone argues that remix album are starving the music market out of its better crops, maybe as their quality is sometimes arguable, but listening to releases like the first (of 2) step by a crowded troop of djs and musicians remixing some of the most exquisite tracks by the Argentinean band Alien Produkt, which gained a considerable notoriety by proposing a powerful mix of harsch electronics combined with hyper-propelled corrosive rhythms reminding the style by Hocico and Suicide Commando by just two release on the American renowned label BLC, is going to refute this thesis by music market analysts, even if the one related to this genre is spreading its tentacles in such a fast way it's not so easy to follow its development. Some of the remixes included in this collection are really well-forged, having successfully reached what seems to be the main aim of the so-called "remix art" (i.e. manipulating the original track giving its own personal imprint) by highlighting the creepy atmospheres saturated by noisy thunders and foggy sounds these wary chicos explored mainly on their album entitled Ignorance: even if some of them are not so impressive – if you already know some of the lads involved in this 14-tracks EP (more than 70 minutes long...), Mechanical Moth's banal maquillage of Slander, Retractor's treatment of electronic oscillating trumpets and hackneyed EBm sound processing on New Concentration Camps' remix, Y-Luk-O's drooling vocals on Dark Visions (it seems they hired the main character of Cronenberg's The Fly to record it) and even the hitting horrified-industrial re-assembly of Slander by Obszön Geschöpf (one of the most famous name amidst this army of remixers) could disappoint your expectations, but Asptie's beat-fury on Into The Abyss (that kind of stuff you'll easily enjoy in a party crowded by face-powdered and toxic blood-like cosmetics people propelled by blood corrected by tomato juice and red Campari), Drained Scorn's nice remix of Involution as well as some make-up arts on Oscilacion Parasita (in particular those by G-Pro and Sintetik – really a good work on vocals surgical dissection! –ones) and other noticeable head-banging bounces together with the title-track, Honour Vs Falsehood (classic but well-balanced lines adding nothing but a good-manner sample to EBM encyclopedia... ) act as counterweights for their quality. A Second Step – a promising rehabilitation center hiring some renowned sound-therapists such as Dolls Of Pain and Wynardtage- has already been announced and it's going to be issued by the Hungarian label Advoxya Records – "thanksgive" them for this nice return by Alien Produkt... -. Embellish your headphones for this forthcoming step!
image not
available
anymore
Artist:
PLAYDOE
Title:
Bubble & Freeze
Format:
Download Only (MP3 + Lossless)
Label:
Leonizer Records
Rated:
Distributed by Juno Digital, BUBBLE & FREEZE is the newest Playdoe release. It contains two new tunes by the South African duo, I interviewed some months ago, plus nine remixes of the main song. "Ice cream" is an upbeat electro tune with hip hop vocals and grime bass/drums rhythms. It's refrain will stick into your head and make it perfect for a sunny ride near the seaside while surfists cover the horizon. Also the female/male duets are making of this a really catchy song. "Champoon" is more focused on electro hop standards with its mid tempo rhythms and dark atmospheres. With these new tracks Playdoe confirm themselves a great band that for sure are ready for releazing an album that for sure will be a blast. Last but not least on this digital release you'll find nine remixes of "Ice scream" that are able to enhance its melodies or change it in particular ways (check Kaptain Cadillac dry version where picked guitar samples change the song in a nice way). Riot Kid, Kaptain Cadillac, Zôl & Illstm, Square Tune Magician, Digital Fighter, Club Cheval, D.L.i.d and Chris de Luca are giving their best to entertain you and make you dance... a great song for great remixes.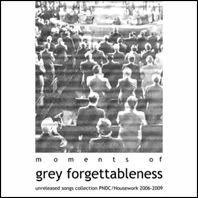 Artist:
PNDC / HOUSEWORK
Title:
Moments Of Grey Forgettableness
Format:
CD
Label:
Listen Loudest Records
Rated:
Like thieves that return always on their steps also PNDC/Housework went to their vaults and found that they had a lot of unreleased material as well as remixes, demos, etc. MOMENTS OF GREY FORGETTABLENESS gathers twelve of these tracks where you can appreciate the experimental approach of the project applied to the electronic/wave/rock formula (check the guitar solo on the unreleased track "Properties", for example). Electronic arrangements and pop sensibility meet guitar riffs and the personal vocals of Housework giving to the listener a wide choice: orchestral craziness meet vocal introversion on "Binocular / Oh my God, it's true" or rock cover-ism is mixed with guitar noise on the "Inagaddadavida / Dream about love" medley. There are also demos like "Unless" or "Pink cave" where you can check sounds similar to the previous two albums produced by the Serbian / Greek duo.
image not
available
anymore
Artist:
QUARTERSIZED
Title:
Industrial cliche
Format:
Download Only (MP3 only)
Label:
MOMT
(@)
Rated:
INDUSTRIAL CLICHE is the third E.P. by Ian and its four tracks kinda play with the industrial music topics of all times without sounding industrial at all. TV evangelists, military industrial complex and its influence on consumer technology, the Westboro Baptist Church and the world of religious cults are the themes of the mini album that Quartersized deal with. Musically Ian produced four electronic energetic tunes where guitar riffs are mixed with samples and upbeat rhythms. Sometimes influenced by breakbeat (for the rhythms) and by Tackhead (for the guitars) the tracks sound interesting and fresh. Personally I found more convincing the first two E.P.s but also INDUSTRIAL CLICHE is capable to catch the listener's attention.