Artist:
KAZUYA ISHIGAMI / MIKE SHITFLET
(@)
Title:
Might is right, but truth is truth
Format:
CD
Label:
Neus-318
(@)
Rated:
Kazuya Ishigami is back and again with an interesting collaboration. For those who don't know him we're speaking about the musician behind Neus records, this new cdr presents a couple of composition not so far from the style of other works involving this japanese. Minimal electronic music assembled in a couple of compositions slowly developed to bring every sound to its natural evolution. As I've said every track has been developed in a way that some of you will find traces of some classic electronic composer of the last years. There's no doubt both Ishigami an Shitlet are patient the consequent result is the fact that during the half an hour of the first movement it's really hard to avoid getting stoned, it sounds like a cerebral overdose. With a similar length the second composition brings forth some sort of melody all seems in suspension, by some means this could give some hints there's a japanese influence. The closing track from ecstatic becomes odd.
Artist:
FLUTWACHT
(@)
Title:
Mit Nichts
Format:
CD
Label:
Licht Und Stahl
(@)
Rated:
It's a while I don't hear anything from this german band and here we go with this new release which shows me they've kept following their path. Industrial music, you can't beat the feeling and if this sentence fulfills your expectation this release it's probably addressed to you. Here and there the sound of this release reminded me influences from Deutsch Nepal and a bit of Brither Death Now, but just a few segments of the song, nothing more than that. The sound definition of the band has become quite good, and they managed to reach a discrete know how in changing the atmosphere from soft to extra heavy and back with slow progressions and the first track is a good example of this modus operandi. Despite the many harsh noise crescendos Fluwart maintain a constant balance between industrial music and dark ambient feeling so the end result is a certain hypnotic feel that helps you relax easily to their style. Sure, probably we're speaking about hard ambient or I0d better say soft industrial style, by the way that's the name of today spacial. An old school feel and a bunch of analog sources involved in the process.
image not
available
anymore
Ages ago I've reviewed another releases involving Michael Renkel and here he is, back with a brand new work but the quality is still the the same. With this Active Center project , Renkel and Burkhard Beins have been using guitar and objects creating a bunch of damn interesting electro-acostic tracks, what surprises me about both is the fact despite their apparently inexpressive/abstract musical style they haaven't lost a sort of melodic edge and that is not a natural consequence of the fact there's a string instrument, in fact the reach the shape of a song even while playing non melodic part with the shade of a structure. When dealing with this structure thing we encounter some of the most interesting characteristic of Renkel plus Beins' cd, a good example of that could be represented by the ideas floating in the opening track where they pass from electro-acoustic to quasi contemporary classic influence to what sounds like ambient music. In some way this work brings my mind to "All cracked medias" from Dean Roberts but it's more difficult, dead serious, if Berlin was still the grey town it used to be we cold speak about the influence of the architecture. Another things that here and there resurfaces quite easily from the music is a Seventies aura even. Three long tracks and two short intervals and the usual Absinthesque-7"format. The strength of this duo and their music lays in composition.

image not
available
anymore
Artist:
NO SURRENDER
Title:
medicine babies
Format:
CD
Label:
Zerokilled
(@)
Weird, I think that's the first time I review a cd so blatantly dance oriented and that's a real pity, probably it has to do with the fact the majority of the music I review (and the majority of the materials I write about in Chaindlk) stands somewhere else. Electro-house production 4/4 tempo with male female vocals as it's supposed to be, a a good production but still not as boombastic as someone may expect from a cd like that. The music is cathcy, really dance till you drop with a poppy vein pulsing underneath and your usual "back to the eighties" sensation. Synths, a bit of guitar, vocal driving the tracks and a hell of a taste for melodies and that's probably the best quality of this project. The fact No Surrender are able to put together well written tracks can be demostrated by the fact while listening to the cd I was moving my feet to the rhythm of the music. Somewhere else they have a bit of rap music melted in the cocktail and it also reminded me of Beam and some Anti Pop Consortium, but this definitley more dancy. Still to be refined but a good start.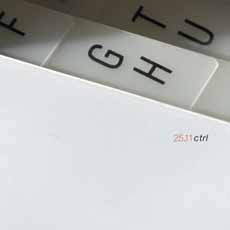 Artist:
CTTRL
Title:
25.11
Format:
CD
Label:
Creative Sources
(@)
Rated:
Even if during the last year Creative Sources has exponentially augmented the number of its electronic oriented releases it's still a label mostly renowned for its electro-acoustic/improvisative rooster. This cd is exactly located there in the free republic of improvisers: piano guitar, double bass a pair of flutes involved into the creation of nine sketches of extemporary composition. This ensemble from Vienna works in a quite traditional way even thought the ability of the players demonstrates they're really able to work together. Considering the kind of ensemble and the way the play together it also reminded me of Civil War. If you imagine one of those recording where you have an over abundance of silence you're on the wrong lane, they cross the field of improvisation with no hesitation and that without wasting time in notes and extreme loudness, Interesting.