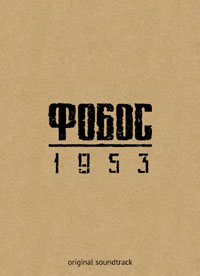 Artist:
Anthesteria
(@)
Title:
Phobos 1953 (OST)
Format:
CD
Label:
Zhelezobeton
(@)
Rated:
George Belogazlov, the mind behind this album, is also a computer game creator and this album is a soundtrack for a videogame about a soviet bunker theatre of experiments on human psyche. The result is a "classic" post-industrial music that is focused on textures and production rather than innovation or experimentations, just because it's more focused on ambient creation for the game that being a self standing record on his own.
The music has, however, some good points also because it hasn't sonic assaults to easily take the listener's attention: "inside the bunker" has an atmosphere closely related to the package pictures of abandoned offices illuminated by neon. "Mercurial shower facility" relies on a heavy sustain and bell-like noise evoking landscapes of isolations. "Black March" is, perhaps, the best track on the album with slowly moving ethereal synths (3 minutes of beauty). "Shortwave solitudes" features a surprisingly sample of violin.
The packaging is carefully done with few pages, fragments pd a book about mental suggestions, printed in old-style paper unfortunately only in russian and two videos of the video game that gives a more precise view about the whole operation (there's even an old-style tone generator in the gameplay video and pages similar to the one printed in the booklet).
Not the album of the year but a nice record carefully produced.
Artist:
ANBB: Alva Noto & Blixa Bargeld
(@)
Title:
Mimikry
Format:
CD
Label:
Raster-Noton
(@)
Rated:
The creative person should have no other biography than his works'¦ Even if I break the conventional rules of good manners, I decided to butt in when Carsten Nicolai aka Alva Noto, the renowned and talented equerry of Raster-Noton, and Blixa Bargeld, the expressive and deep voice inside the noisy jungle of industrial rattles by the legendary band Einsturzende Neubaten as well as guitarist for Nick Cave and The Bad Seeds, were handshaking the mysterious identity of Ret Marut, signing himself under the pseudonym B.Traven (it's still disputed the real identity of this moniker, author of some novels and short stories issued in the beginning of the last century and mainly issued in German and then translated in English ' the analogy with Blixa's attitude in preserving German lyrics is immediate! -, showing a stern criticism against capitalism'¦) just to highlight not only the evidence that these composer doesn't need any introduction, but also to remark that their interesting musical and artistic paths don't really need boring biographies!

Those paths have cut each other in September 2007, when they performed together at Recombinant Media Labs Studios in San Francisco in order to take concrete form (maybe an inappropriate expression if you know some of their workouts) recently throughout a project named from their initials ANBB, anticipated by a sort of preliminary EP entitled 'Ret Marut Handshake' as well, which provocatively seems to eulogize an author without a reliable identity ycleped B.Traven (aka Ret Marut aka Hal Croves aka Otto Freige aka Bruno Marhut aka Hugo Kronthal aka Kraus Martinez aka Adolf Rudolph, etc etc'¦. The only certain piece of information about this writer is just his sex even if some researchers think that this author was a German/Polish rebel, who needed to hide his real name!) in our times, when identity has become a sort of obsession for the controllers of the NOW according to many contemporary thinkers!

Identity, or it's better saying Identitaetlichkeiten, its convulsive convolutions, its annihilation cycled with different mimesis and transmutations seem to be the conceptual framework of this interesting collaboration, based according to the melting musical personalities which signed it on the combination of improvisation and abstraction (a 'mixed' duality reflected even in the booklet containing lyrics, where words are transcribed together with sound punctuation, a bizarre notation used by Blixa during the recording process similar to the one normally used to draw electronic circuits and wave forms) and featuring many peaks of pure lyricism since the beginning: Fall looks like a wandering poem about the lost of identity, starting with a torn shriek, in different chapters and showing really catching and sudden change of setting, superbly interpreted by Blixa.

Filled with pathos, any track has a powerfully dramatic wit, where even single sounds and self-shaping noises play an active role like disclosing strokes of a brush with many expressive peaks, among which I'd like to mention the astonishing cover of One (originally written by Harry Nilsson) and I Wish I Was A Mole, an Old American folk song, already remade by Bob Dylan, treated in a really eccentric way, Once Again, a track tracing the route of a journey towards an undefined goal and an undefined sense of inadequacy (I bitterly smiled after hearing the nice trait of Italian people mood, sometimes resigning to their fate, when after his distraught complaint inserted the repetition of the Italian word 'pazienza', meaning patience'¦), the title-track Mimikry, the disquieting Berghain (maybe a track which is intimately connected to Einsturzende Neubaten's Weil Weil Weil'¦a sort of link with due respect for that astonishingly impressive and meaningful repertoire) and the final track Katze, featuring the mewing vocals and spoken word by the model Verushka, the spider-like fascinating woman pictured on the cover, famous for her appearance on Michelangelo Antonioni's Blow Up. I don't exaggerate if I say that this work is close to masterwork, folks!
image not
available
anymore
Artist:
Mystified
(@)
Title:
Passing through the outer gates
Format:
CD
Label:
First Fallen Star
(@)
Rated:
Mystified is the musical project of Thomas Park, an actively recording but unknown (at least for me) act. The eulogy series is the first volume of a series of installements based around the idea of sonically describing the death and the events around what is known as the passing. The result, in the Mistified intents, is non to make another drone record but to move toward a sort of "Dark New Age". The good news is that is a fulfilled result: beginning with "Eulogy for Thomas Park" this is not the classic noise records but has a sense of movements that express a true sense of peace and meditation. "Dark Transition" lives by the battle from loops, drones and orchestral samples. "Lost My Body" is a beat driven track that drive to "Up down and Out", an ambient-drone track that is the the soundtrack of the cover image of series of funeral torch. After his ethereal intro "Approaching Something" starts with beats conducting to "Soul in Motion", an ambient track made out of violins samples and a sorts of dance beats. "The Final Gate" is a meditative ambient track of a really relaxing beauty and sorrow. "The Soul's Resting Place" is a final drone closing the album.
The variety and compositional strength of this album made this record a recommended release for all drone fans.
Artist:
SCORPION VIOLENTE
Title:
Uberschleiss
Format:
12"
Label:
Avant! Records
(@)
Rated:
The first time I talked about the French duo Scorpion Violente was when I reviewed their first split 7" issued by Hex Grammofoonplaten (Enfant Terrible sub label) on the summer of 2009. On that record there were the first seeds of what we can find on their first album released by Avant! and titled "Uberschleiss ", which I summed with the phrase "Suicide playing electro punk". Well, the eight tracks of this release don't offer only that: the core sound is made of distorted analog synthesizers, drum machine and filtered vocals but if Suicide were based on synth obsessive loops and raving vocals, Scorpion Violente digested those sounds and made their own which is still son of 80s industrial electronic (Cabaret Voltaire, Chris & Cosey, etc) but processed following their twisted vision. Minimal electronic mid tempos run wild on the two sides of this record which finds also a bit of Kraftwerk echoes ("Trans Europe Express" on acid) on the synth melodies of the instrumental "Ray Ov Gold". I liked all the tracks but personally I loved the sick instrumentals (like the main title, the fore mentioned "Ray Ov Gold" and "Fugue De Pute Mineure") which are able to create, with few saturated chords, powerful nightmarish atmospheres without forgetting melodies.
image not
available
anymore
Artist:
Funker Vogt
(@)
Title:
Arising hero
Format:
CD EP
Label:
Metropolis Records
(@)
Distributor:
Metropolis Records
Rated:
A new appetizer released by this German veteran-project with an aptly and nearly expected title. FUNKER VOGT once again continue their career with another story out of their hero-saga and also this new main track out of this 8-track EP includes all known sound ingredients by them. Catchy synth arrangements, a very dancefloor-compatible 4/4-on-the-floor kick-and-snare-work, an easy-to-follow song structure with a singing-along-the-refrain-attitude, and the raspy vocal performance by Jens Kästel. FUNKER VOGT do what they can do best, tacky comments may would turn out into that direction, that they repeat themselves once again, no matter, if machinist Gerrit Thomas can nowadays rely on a new and better equipped studio ' the success-promising ingredients remain nearly the same. If it comes to find differences to their earlier released smasher tunes, well, it may surprises, how calm and smooth 'Arising Hero' turns to be out ' to me a bit too obviously a try to satisfy listeners out of Synth-/Futurepop-genre as well. Asides the expected 'Club Mix' of 'Arising Hero', you'll get two different interpretations by the band itself, plus 3 foreign remix works by ROTERSAND, FADERHEAD, and KOMOR KOMMANDO. As being the b-side, the track 'My Innermost' has found a slot ('Loop Mix') and got featured additionally with a foreign remix contribution by NOBLESSE OBLIGE. No stuff included to get thrown into a trash-can, but also no stuff, which really kicks your body out of the seat for some wild dancefloor movements. Let's hope for a bit more biting stuff provided through their upcoming new album 'Blutzoll'.