image not
available
anymore
Artist:
EELS ON HEELS
Title:
Letters
Format:
Download Only (MP3 + Lossless)
Label:
self-released
Rated:
Coming from Trani, Italy, the Eels On Heels are a band that isn't afraid to beat their instruments. Inspired by no wave, post punk and new wave, the band just released their second EP titled LETTERS. Containing three upbeat noisy tracks trained by tribal drums ("Y", "N" and "G"), the EP shows well the band's will to experiment with sound: distant dreaming vocals are overwhelmed by electronic noises, stabbing guitar riffs where tiny melodies clash on walls of sounds just to start again. At the moment I can't think about a paragon and I think that this is good. Two out of three tracks are available to check at their myspace, so if you like them you can support Eels On Heels by purchasing this self produced release.
Artist:
Wavefall
(@)
Title:
EP-Tronics
Format:
CD EP
Label:
Advoxya Records
(@)
Distributor:
Poponaut
Rated:
I must admit that at times Alzheimer has taken part of me, as I nearly 'forgot' to review this latest EP oof Russia's leading Harsh Electro/Industrial project (Thank you, Slava!). Let's hope, that all responsible people behind artist and label can forgive my slowness. WAVEFALL have collected their own received foreign remix works to establish this new EP, which comes out in this often mentioned unique plastic cases, for which Advoxya Records is known for. Original tracks taken out of both of the projects' last two albums got included, which all got given trustful in the hands of some friends and label colleagues before, to prepare new and own interpretations. The result is generally satisfying, but mostly due to the fact, that WAVEFALL themselves have produced some alternative versions to one or another of their tracks ('Dedication', 'The Shadow', or 'Collider', just to name examples). Regarding the remix works by foreign bands, you can discover a lot of up and coming artists out of the Russian scene. Band projects like SALUSA SECUNDUS, INVALID LOVE, the Techno-Industrial project ID MOLOTOV, REQUIEM FOR FM, or the later to Advoxya signed new Dark Electro-hope NEXUS VI have all found a free slot with their remix contributions. Asides the remix of WAVEFALL's own side-project SKAZKA, the works of their label mates like THE-PULSAR and the Brazilian project DEAD JUMP can be named as being the best and outstanding interpretations here. Mostly this kind of compilation is pretty well suited to execute the dancefloors of the dark clubs, although this EP doesn't definitely not reach the same top-notch quality of an original produced work of WAVEFALL. It may belongs to the fact, that many artists provide a multiple sound outfit full of diversity, that's welcomed, but to reach a real floating unit in kind of a full-length album is hardly recognizable here. Rather stuff to fill the collection and to listen nearer to some or another talent hailing out of Russia's uncontrollable growing scene. Let's hope for a new original recording, because it seems a bit, that WAVEFALL try to bridge the required time to end the production for their hopefully soon to be released next album.
image not
available
anymore
Artist:
STAATSEINDE
Title:
Eindplaneet
Format:
7"
Label:
Enfant Terrible
(@)
Rated:
Present into the Enfant Terrible's "Kamp Holland" compilation with their track "Ruimtevaart Vooruit" (here available remixed by Rude 66 and, for this reason, now sounding like a mix of retro electro with techno and acid inserts), EINDPLANEET is the first solo release by Staatseinde. The two original tracks on the side A of this 7" ("Die Erdball" and "Berlin") sound original and classic at the same time as, first, they sound like a cabaret ensemble and secondly, they remind me the eclectic sound of Der Plan. Nice!
Artist:
LONG DISTANCE ANALOG
Title:
Walk The Night
Format:
Download Only (MP3 + Lossless)
Label:
Mullet Records
(@)
Distributor:
Juno
Rated:
After one year from their debut EP "Plecked Medium", Long Distance Analog are back on Mullet Records with a new EP titled WALK THE NIGHT. Trio coming from Massachusetts, Long Distance Analog are the funkiest band of the Mullet's roster. Mixing rock syncopated drums and guitar solos with deep synth bass lines and Rhodes piano (like on the opening "You Got The Look" and on the following " Need Somebody To Funk") the band goes electronic thanks to a drum machine mid tempo rhythm on Shadow Crawler and on the upbeat "Wayfarer", a song that sounds so warm thanks to its sax inserts duetting with the seducing Curtis Black's vocals. After listening to these four songs, you'll realize that WALK THE NIGHT is a very appropriate title for this EP, as it sound smooth, warm and energetic at the same time.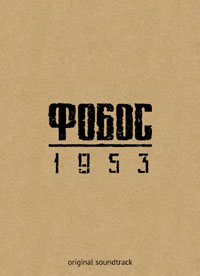 Artist:
Anthesteria
(@)
Title:
Phobos 1953 (OST)
Format:
CD
Label:
Zhelezobeton
(@)
Rated:
George Belogazlov, the mind behind this album, is also a computer game creator and this album is a soundtrack for a videogame about a soviet bunker theatre of experiments on human psyche. The result is a "classic" post-industrial music that is focused on textures and production rather than innovation or experimentations, just because it's more focused on ambient creation for the game that being a self standing record on his own.
The music has, however, some good points also because it hasn't sonic assaults to easily take the listener's attention: "inside the bunker" has an atmosphere closely related to the package pictures of abandoned offices illuminated by neon. "Mercurial shower facility" relies on a heavy sustain and bell-like noise evoking landscapes of isolations. "Black March" is, perhaps, the best track on the album with slowly moving ethereal synths (3 minutes of beauty). "Shortwave solitudes" features a surprisingly sample of violin.
The packaging is carefully done with few pages, fragments pd a book about mental suggestions, printed in old-style paper unfortunately only in russian and two videos of the video game that gives a more precise view about the whole operation (there's even an old-style tone generator in the gameplay video and pages similar to the one printed in the booklet).
Not the album of the year but a nice record carefully produced.