Artist:
M'Lumbo
(@)
Title:
Celestial Ghetto
Format:
CD
Label:
Pursuance Records
(@)
Distributor:
Pursuance Records
Rated:
M'Lumbo is an off-the-wall, over the edge jazz ensemble founded in the mid 80s by Robert 'Mbotto' Ray and 'Zombie Ron Boggs as an escape from commercial music. (They once did a stint in rock band managed by Mick Jagger's manager that included Helmet's Page Hamilton.) After reading their extensive '3 sheet' I learned that their music has been played on over 300 public, college and progressive radio stations worldwide; they've done commercials, films, and work for MTV; they've been compared to Miles Davis, Sun Ra, and the Orb, and gotten praised by big names such as Matt Groening, Brian Eno, DJ Spooky, Neil Young, Tom Waits, yadda, yadda, yadda'¦

Well, okay, that's all fine and dandy, but to the uniniated, what do these guys sound like? Well, for starters, there are 9 musicians including featured player Jane Ira Bloom on this album. There's a hefty woodwind section and trumpet, keyboards, guitar, drums and percussion. The bass seems to be handled by keyboardist Robert Ray (known here as Robert Jordan Ray Flateau). As for the music, take John Zorn, Mothers of Invention, Parliament Funkadelic, and just about any 50's -60's post-bop modal jazz ensemble (I suppose Miles Davis will do), add some concession to hip hop (any dj in the genre that can make beats and toss in samples will do) put it in a blender and you've got M'Lumbo.

'Celestial Ghetto' is my first experience with M'Lumbo, and I wish I had been exposed to them previously to get some sense of what to expect. (I spent a little time previewing some tracks from their earlier albums as a basis of comparison after listening to this one, but more on that later.) From the get-go on opening track 'Grand Funk Railroad' there is a sense of contrived chaos in a funky, spacey urban jazz environment. Vocal and dialogue snippets abound (a growling voice announcing "Grand Funk Railroad' amongst numerous other weird samples) with riffing horns, saxes, organ, etc. over a hip hoppy beat supplemented with Afro-Cubano percussion. There's a central riff, but the entirety comes across as jammy. I have to admit the playing is excellent all the way around, but compositionally, it's lost in the sauce.

The chaos is reined in on 'Terrible Days of the Phonograph' where muted trumpet provided by Cecil Young and soprano sax by Jane Ira Bloom melodically riff over piano and drums. This starts out like something you might hear by McCoy Tyner, Wayne Shorter or some similar jazz ensemble but the sampled vocal snippets are omnipresent once again. 'Terrible days happen to everyone.' Yeah, I got the message brother. By the time you get to 'Sleeping with the Bees' you're steeped in this stuff; a sticky stew of jazzy psychedelia with plenty of disparate sampled vocal/dialogue snippets. I suppose M'Lumbo doesn't know my pet peeve is this technique, more used and abused by EBM bands than any other of late, although a signature of the Orb and their ilk.

The thing is, there are some nice themes developed, like on 'Miss X,' and I don't mind an occasional vocal/dialogue snippet, as long as they're used sparingly. I even like M'Lumbo's semi-free form style of meandering through some of their compositions. The last vocal sample I ever wanted to hear though is Obama on 'Yes We Can'. Oh brother!

In melding M'Lumbo's bizarro jazziphonics with an urban contemporary vibe, the band may have inadvertently turned off some of their previous fans who may not have been expecting them to go down this road. Then again, a whole new audience might open up to them, but it's unlikely to be Chain D. L. K. readers. I much prefer some of their earlier work such as 'Sacrifice to the Neon Gods' (where they paid homage to TV show themes ala Bonzo Dog Band), or the spaced-out 'Spinning Tourists in a City of Ghosts,' or even their more esoteric 'The Angel Wars'. Don't get me wrong, there are some nice moments on 'Celestial Ghetto' but it's kind of like trying to pick the lima beans and cauliflower out of the mixed vegetables at Thanksgiving dinner. (Maybe you like lima beans and cauliflower, but I don't.) The playing is impressive but I really only like a littkle more than half of what is going on. All the music on 'Celestial Ghetto is by M'Lumbo with the exception of 'Crepuscule with Nellie' by Thelonius Monk, where they almost play it straight.

If you're at least interested in the band but never heard them before, I'd recommend one of the other albums I mentioned above to start with. They've even got some tracks off this one and a couple of others on their MySpace site you can check out free. Their albums (most of them anyway) seem to be available at most of your mainstream outlets such as iTunes, Amazon ,etc. I'd be interested in hearing their next disc, especially if they chill on the spoken samples a bit and get out of the ghetto.

image not
available
anymore
Artist:
NOSTALGIE ETERNELLE (@)
Title:
Notre Debut
Format:
CD
Label:
Final Muzik Eighties
Rated:
About a month ago I reviewed the first Nostalgie Eternelle reissue of their music which was a 7" EP released by EE Tapes. Now, as I anticipated back then, Final Muzik, the label of Gianfranco Santoro, guy who released some of their tracks back on those days with his label Discipline Prod, has just released a CD which gathers twenty band's tracks that have been released during the 1988/1991 period on compilation and tapes. Available on a run of 600 digi slim CDs, NOTRE DEBUT shows really well what was the sound and the attitude of the duo formed by Stefan Heinze and Dieter Mauson: they used monophonic synthesizers to create pulsating drones and noises or noisy bass sounds adding to them sometimes clean reverb guitar, bass guitar, drum machine obsessive pads (which sometimes were treated adding distortion and reverb) and now icy detached or then melancholic vocals. Nostalgie Eternelle, in this way, were balancing their tracks spanning from industrial instrumentals (like "A Chilly Draught") to minimal synth paranoid tunes ("The Oak"), passing through minimal synth wave ("Skin Trade" or "Amazement"). Try to imagine a mix of early Cabaret Voltaire influenced by D.A.F. and Joy Division and add some cold and fog. Of the previous EP you can find only the track "Just Darkness", so if you'll become a fan, you'll have to purchase that one, also. Someone said that they are gonna to come back soon. If it's true, this compilation (which I hope it won't be the only one, since they recorded so many tunes in only four years) it's the right way to prepare yourselves to their new sound. This is the second release of Final Muzik Eighties sublabel. Stay tuned for more delicatessen from the past... P.s. Until the end of October the CD will be sold at a very special low price!
Artist:
Mike Ash/Fleck ESC
Title:
London Tokyo Connection EP
Format:
Download Only (MP3 + Lossless)
Label:
Devine Disorder Records
Rated:
It's hard to be objective when you have to review a release by one of your favourite artists who also happens to be a good friend. Let alone a case like this one, ie a split EP by two of the most talented electro producers of our time, frequent collaborators of the signer and really great guys, UK's Mike Ash and France's (or should i write Japan, as he's based in Tokyo) Franck Collin (aka Fleck E.S.C.)! But i'll try to let aside the echoes of Mike's killer EPs on Binalog Productions, Mars Frequency and his own (short-lived) ElectroCat Records, those of Franck's incredible albums on Ghost Technology and BP, as well my relationship with the fellaz, and write like an impartial reviewer... (ok, you are not convinced, but i can't do nothing more to change that-lol). Oh, dare i say too that Devine Disorder is one of the freshest labels around and that i looove their releases?(!)
Anyway, what we have here is a 4-tracker based on the clever idea of "we're both doing a track each and then remixing each other's track". So, Mike delivers "Mindstate Liberate", a strong obsessive dark electro/acid tune, driven by dope beats and focused on distorted vocals that repeat: "Mindstate/liberate/activate/evacuate/concentrate/eliminate/activate/assassinate", while Franck unleashes his genuine electronics to come up with the minimal vocoded electro "Symptoms Shaping", yet another eccentric Fleck track in which what happens in the background is simply... indescribable! On his remix of "Mindstate Liberate", Franck slows down the tempo and builds an imposing track over a Kraftwerk-ish beat, while Mike transforms "Symptoms Shaping" into a dancefloor monster, destined to rock hard every mutant club over the galaxy!
I can't choose... Really! This is a KILLER EP by two electro masters and it's stuck on my ipod since i received the promo! A must-have, it will be available at your favourite digital stores by Wednesday, September 28, so keep an eye on it ;) (previews here: http://soundcloud.com/devinedisorderrecords/ddr030-mike-ash-fleck-esc)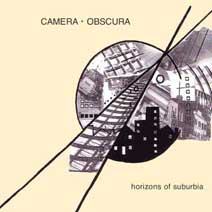 Artist:
CAMERA OBSCURA
Title:
Horizons Of Suburbia
Format:
CD
Label:
Anna Logue Records
(@)
Rated:
Little by little a lot of Anna Logue releases are going out of stock, fortunately all those great recordings won't go in the shades again, so it's time to go for CD extended reissues. The first reissue, as logic, is the first Anna Logue record which was Camera Obscura's HORIZONS OF SUBURBIA. Already reissued once on vinyl, the album, for this CD reissue gathers the ten tracks of the album plus the two of the "Strange Faces" 7" single, a compilation song and three unreleased tracks. Camera Obscura was formed in the winter of 1982 and they had only one single out. Released in 1983 for Small Wonder Records (the same label which released Bauhaus' first 12" "Bela Lugosi's Dead"), the 7" had "Destitution" and "Race In Athens". The same year they participated to a double vinyl compilation released by 101 International with "Village Of Stars" (you can find it on this CD reissue for the first time since then). This song has been their latest to be officially released as after that the band recorded some demos for EMI and Arista, which showed interest into them, but due to budget cuts and change in personnel never made them record anything else. In 2005 Anna Logue's Marc Schaffer decided it was time to make those recordings available and released HORIZONS OF SUBURBIA. The album showed to lovers of electro pop and minimal analog music that the interest of the major labels was more than justified as the duo was able to write mid tempo tracks with pop attitude but with a dark twist. Alternating fast paced tracks like "Escape From The City", "The Mandarin Man" or "Fever Pitch" (a song which thanks to the real drums sound and to echoed guitar riffs, had a cool synth wave sound) to mid tempo semi ballad like "Vincent Van Gogh", "Horizons Of Suburbia" or "Horizons Of Suburbia" Camera Obscura were creating a nice feeling made of energy, nostalgia and a bit of mistery. Their single for sure at the time sounded cool to Orchestral Manoeuvres In The Dark fans because "Destitution" sounded like a sort of synth version of Joy Division and "Race In Anthens" (both presented into their unreleased extended demo versions) was sounding likea mix of Ultravox and O.M.D. The three unreleased track of this CD are a great trio of dark intriguing upbeat minimal electronic tunes titled "Coloured Glass" "Conscience" and the hidden track "The Insect" (this one sounds a little like a dark version of Blancmange) which starts few minutes after "Conscience". If you missed the first two vinyl releases make sure you won't miss Camera Obscura again!
image not
available
anymore
Artist:
Electric Breathing
(@)
Title:
Sounds Of Psychosis
Format:
Download Only (MP3 + Lossless)
Label:
Twisted Flesh Recordings
(@)
Distributor:
Amazon
Rated:
Another new coming German harsh EBM-project signed the Swedish Twisted Flesh Recordings label, Electric Breathing give a further addition out of the Hellectro army-camp to our attention. Consisting of Maik Grohs (Defcon-one) as being the one and only mastermind behind this project, I can attest him, that he is capable enough to satisfy all of your inner needs, if you look for a fast-paced, harsh and uncompromising sound-design for your next body-party. 'Sounds of Psychosis', already the 4th release after some own released demos of this project, is an action-driven 11-track digital-album in the typical and expected kind, but which leaves too seldom space to take a deep breath. Hard-hitting tracks like 'Killer Instinct' don't leave any wishes open for dancefloor-addicts, also the idea, to provide some drastic German lyrics in 'Zerfall' comes out pleasant. But generally this album lacks a bit of more maturity. Some tracks really appear to be rather inhibited, than being produced in a clear manner and it becomes a bit strenuous to listening this fast-paced Harsh-EBM onslaught at the full length. Maybe more tracks like 'Possession', which features more distinctive synth sweeps, would help out of this misery. With that in mind, it needs to be said, that all things around the production of this 11-track album are filled with professionalism. Fredrik Croona (Project Rotten, label-owner of Twisted Flesh Recording) acts as producer, while the notorious guys of the German Stahlblack Production are responsible for the mastering. Pixelbreed provides a stunning cover artwork, and this band project doesn't play hide and seek in their studio and storms from to time the stages. Good and useful stuff to let out inner aggressions, while still with enough space for musically development. Please note: this isn't a free download, it needs to be purchased by official downloading resources (Amazon, iTunes, and alike'¦).

In recent news we have to inform you, that Twisted Flesh Recordings as being the partner label for Electric Breathing, has seemingly closed its doors. The website is down, and this label acts in the future as being the home base for Project Rotten only.