Artist:
Lucio Capece
Title:
Zero Plus Zero
Format:
CD
Label:
Potlatch
(@)
Distributor:
Metamkine
Rated:
"If two quantum channels each have a transmission capacity of zero, they may still have a nonzero capacity when used together". Such a scientific observation, taken from an article issued on scientific web-zine PHYSorg about a study about so-called superactivation which is going to pave way for new interesting developments in communication sciences and schematized in the diagram used as a cover, emphasize the concept at the basis of this release by Lucio Capece, Berlin-based Argentinean musician having a fad for tone-colour sonic experiments and prepared instruments as well as for music with no underlying narration (zero premises, zero lyrics, zero plots, zero praecepts don't imply something should be considered nonsensical). After the entrancing opening track "Some move upward uncertainly", dedicated to Harley Gaber (our collaborator Steve Mecca recently spoke about him while reviewing "In Memoriam 22010", issued two weeks before his suicide) where he just plays the Indian Sruti box, a sort of harmonium whose ascending and hypnotic sound is getting quite popular between Western musicians, listeners can appreciate Capece's skills in preparing instrument since the following title track where he extracts some nice effects from his soprano saxophone after preparation with different objects, which could persuade some saxophone players to look for hidden pop-corn machines or little metal shredder inside your saxophone, whilein the three parts of "Inside the outside", it seems that Lucio's focused on breath, which has been musically observed and overstressed not only for its wide performative range relkated to time stretching (like in the first part, where there's a wise alternation of silence in between chords before he switch ring modulator on), but it seems he's also interested in catching snapshots of his elemental monads, so that cardboard tubes he uses for the recording of the second and third (as well as my favorite one) part could be thought as a musical surrogate of a tubular particle accelerator. In this release, he also included a track, "Spectrum of One", inspired by the 50th anniversary of the first photograph of our planet taken from the deep space, based just on single sine waves, which looks like transmissionary signals, launched over the cosmic void.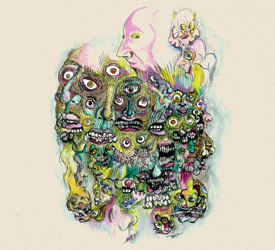 Until the day I heard this record, I considered myself quite far out in the musical world. But that was then - Now I know I have a long way to go, if I want to see just the horizon of where musical projects can bring you. On this record, Philip Gayle has put together compositions in the same overdubbing way as on his guitar based records, slicing up sounds and merging them together to form interesting combinations of new structures and textures. But one thing differs a lot from his past records: The guitars and string instruments are replaced by body sounds, gibberish speech, burps, snoring, sneezing and sounds on the fringe of what you can recall as vocals. All from his own body.

Gayle has recorded body sounds for eight years, from 2000 till 2008, and put them together in both interesting and challenging ways, leaving most of the material in it's original form without processing, or any doubt about how the sounds are made or where they come from. Because the concrete sounds are so familiar to us as listeners, this record is a bit more challenging than other pieces of concrete music. It makes it harder to listen to the songs in a pure musical way, since your'e always reminded of the origin of the sound. That challenge is also why I like this record, it's a perfect test in so called acousmatic listening: Trying to listen to the acoustic parameters of the sound itself, and reject the associations we get to the source. I think John Cage and Pierre Schaeffer would appreciate this record, as it both challenge and extend their thoughts on what can be considered as musical elements or not.
I'm not sure if Gayle think of this record as an attempt to widen the conception of what we can call musical sounds or not, but I needed to concentrate to hear the sounds itself, and not the sources. (A good example of that is the song merkin identity crisis, where the question appears: Is he jogging now, or is that the sound of an intercourse?).

When it comes to the musical content, the record has a wide range of compositions and sound material, from deep growling drones and static darth vader breathing to chaotic, high pitched ''donald duck'' performances and heavily panned gibberish cacophonies. You don't feel anything is repeated unnecessary, or just placed there without a reason, it's just the content itself that makes everything, eh.. something else.

This record is by far the weirdest record I've ever heard, and I'm glad to see that musical boundaries still can be moved, challenged and even broken, in a postmodern time we tend to think that nothing can surprise us anymore. This is pure madness, in it's most creative and inventive way. But I should still warn you - it is far, far out.
Artist:
Berangere Maximin
(@)
Title:
No one is an Island
Format:
CD
Label:
Sub Rosa
(@)
Rated:
One of the most interesting aspect of this collaborative release by Berangere Maximin, a talented beatnik coming from the acousmatic scene and the electroacoustic classroom of Denis Dufour at the Perpignan Conservatoire, born in Reunion (an heavenly French overseas dominion in the Indian Ocean, surrounded by sharks and luxury hotels), an isle from which she moved when she was just fifteen - a biographical note, which looks like certified by the title of this release! -, lies in the prismatic plating of the sounds she intertwines with melodic rashes on instruments by four renowned musicians. It seems she coats some noisy tunnels with random objects and electronic expectorations, which have been holed by lovely strains, as if each song tells some tales about the steadfast struggle between inner universe and casual extrusions from outer world, so that for instance it seems that Frederic D.Oberland's sweet phrasing on guitar gets unnerved by chirping electronic hums and sizzles and its first neatness rots away towards more lopsided tonal declensions in the initial track "How Warm Is Our Love" as well as in "Bicephale Ballade", the second collaborative track with Christian Fennesz. After the tonal drying up of the pretty cameo "Un Jour, Mes Restes Au Soleil", this release, included in the Sub Rosa's series Framework, intended to spread some unusual conceptions of sound material mainly composed by young unknown sound artists, offers good food for hungry ears: my favorite ones are the first collaborative track with Christian Fennesz, "Knitting In The Air" - a lovely tune starting with the noise of some knitting needles and bird chirps, ascending over an entrancing effected guitar arpeggio, so that you can imagine those needles sharp clouds as if they were balls of thread whereas Berangere comments on textures coming from their unwinding with adjectives like "gorgeous", "marvellous", "fantastic", "terrific" by accentuating the last consonant sound of each word -, the giddy sonic monument she assembles with Richard Pinhas in "Carnaval Cannibale" and the entrancing and maddened setting of "Where the Skin meets the Bone" featuring the great trumpet-player Rhys Chatham, who seems to have combined his first approach on the instrument based on distortion with the more mystical and laid back one of his recent issues.
Artist:
Ekra
(@)
Title:
Pills For An Ill Silly Heart
Format:
CD
Label:
Disques de Lapin
(@)
Rated:
Ekra is the denomination chosen by Albireon's Davide Borghi for a project, which has been focused on personal memories by his own admission, a musical attempt to protect some moments of his childish and teeny moments from the dusts of oblivion. Guided by the titles acting as captions, plunging in the author's nostalgic reverie isn't so difficult for the listener so that this release soundscatchy in spite of lo-fi sound equipment, based on the combination of tubular sounds and voices recorded through a broken microphone, airy sonic entities coming from empty seashells (even if sometimes it reminded me that regurgitation coming from the bottom of a sink after when the last residue of washing liquids get swallowed), which amplify the feeling of melancholy, surrounding the whole release, by adding that light distorsion which renders the role played by time while bringing some images back, a sort of warping lens or filter in every mnemonical process or retrieval, the feeble lights illuminating those mental scene as well as that lukeworm melancholy staring after romanticized reminiscences and that vague feeling of withering, which could strike while in a spleen like it. Rhizomatic melodies which sound somewhat throttled become sharper when soul's eye focuses on well-defined images or mental pictures retrieved from memory such as in the affected reveries of "The Walnuts Still Dream Of Me" or "Catching Dragonflies On The Gravel Road", in the subtle teeny anxiety of "Chrysalis Crisis", in the disturbing chimes of "Your Face In The Coffee Grounds" or "A Pill For An Ill Silly Heart" till the final overflowing melancholy when that reminiscence dramatically gets mixed with a certain awareness of present time, whose nebulas look like pierced by some rays of light from an age of brightful insouciance as evoked by tracks like "Calling All Long Lost Friends" or "My Soul As An Inner Cloud". The general atmosphere of this record sometimes sounds close to some soundtracks of horror 70ies movies, imbued with the emotional strains of some cerebral ambient acts such as Todd Gautreau's Tear Ceremony, Tor Lundvall or Nightmare Lodge.
Artist:
Erdem Helvacioglu
(@)
Title:
Timeless Waves
Format:
CD
Label:
Sub Rosa
(@)
Rated:
At first blush, this release, commissioned by Thyssen-Bornemisza Art Contemporary for The Morning Line - an interdisciplinary art project by Matthew Ritchie, Aranda/Lasch and Arup AGU - and premiered two years ago on the occasion of an exhibition at Emononu Square in Istanbul, could look like some academic offhandedness against some poetic vision about emotional world, a little bit like Roland Barthes' milling of lover's discourses, due to reference marks to a notorious text book by Professor W.Gerrod Parrott, "Emotions In Social Psychology", based on a similarity-sorting study of emotions, so that many ways for referring to different emotions merge into six aggregate (love, joy, surprise, anger, fear, sadness) after some tests, which have been reprised in the titles of the tracks by this Turkish composer. What Erdem Helvacioglu made in "Timelass Waves" is not a pretentious mapping of emotional world or an act of bumptious omniscence, as it's more correct to think about any track as sonic ganglions where many sketches are joined together in order to shape six emotional spheres, which are connected each other by trusses of neural connections and reticular bridges. In keeping with empirical methods which are normally followed for this kind of academic studies and in order to appreciate Erdem's musical skills, you can play a game: without looking at the tracklist, list the above-mentioned categories of emotions and try matching each track with one of them. I'm pretty sure you'll easily guess all matches and I'm certain most of you are going to appreciate sonic processing by Erdam of Togaman GuitarViol and Gibson Les Paul electric guitar as well as sonic acrocatics he imposes to sound frequencies by tapping into electroacoustic, concrete music, noise, drone and minimalism music territories.