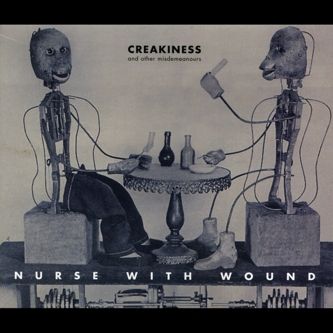 Artist:
Nurse With Wound
Title:
Creakiness and Other Misdemeanors
Format:
CD
Label:
United Jnana
(@)
Distributor:
Midheaven
Rated:
The five tracks that make up Creakiness And Other Misdemeanours will take you on a bizarre voyage, journeying through vintage arcades, through forests and across dark rivers, where jeweled crocodiles and pagan priestesses cavort along the banks, performing obscure rituals for unnamed purposes.

Creakiness... is comprised of rare recordings that span 14 years. "Creakiness" was originally released in 1991, as a split 12" with the group Spasm. For this outing, Nurse with Wound were Stephen Stapleton, Joolie Wood, James Mannox, and Tony Wakeford, and it is a five part sound poem of car horns and Warner Brothers cartoons, Bugs Bunny and Daffy Duck cavorting around the stereo field in a dizzying array, smoothly segueing into a haunted house atmosphere of creaking doors and pagan mantras, and the unearthly beauty of heartfelt mysticism is doubly effective, arising from the goofiness.

"Twisted Mona" and "Mona Twisted" are actually two halves to the same coin, originally released as Salt Women Tragedy, the third installment in the Echo Poeme Sequence series, as a 7" for Klanggalerie in 2005. The original was notoriously plagued by pressing issues, so a proper re-issue makes sense. The two Monas are a meditation on the human voice, a subdued woman's voice incanting in German, slowly panning from left to right, while temple bells that sound like clanking boats give a ghost ship ambiance. It sounds like another world, an alternate reality full of magick and romance, the slow repetitions hypnotic and soothing, pleasant on the ears. It'll have you swaying.

"Little Dipper Minus Two (echo poeme sequence 1) has more siren's song, alluring and seductive, with swelling electronic feedback punctuated by quicksilver stabs of synthesizer, little puffs of steam, and the occasional barking dog. It seems like something is happening, there is some narrative work at here, but it is murky, undefined, mysterious. The ambiance seems to rise and fall in a random fashion, there is a sense of an inner logic, but the structure seems organic, frayed and trailing, yet hanging together, like an auditory ecosystem.

"A Perfectly Natural Explanation" finishes things off; a woman's voice simply repeating the song title, while broken radio static fills the left side of the headphones, and a submerged string quartet takes the right.

Considering the disparate sources of the various tracks, it makes sense that Creakiness would come across as a somewhat disjointed affair but it makes sense, after a fashion. Since the beginning, Stephen Stapleton has described NWW as "surrealist music," citing the likes of Dali and the Comte de Leautremont as influences, right along with fellow wreckers of civilization like Throbbing Gristle and Z' ev. NWW's music has always been expansive and unpredictable, and it has always had more of a sense of humor than the bleak misanthropy of his industrial contemporaries, which just makes the uneasy listening more unsettling. The secret sauce that makes Nurse With Wound's music work, is a familiarity with the roots of electronic music, musique concrete and early synth experiments, and the way that sounds are tuned and placed in the stereo field reveal a master's touch. Nurse With Wound are simultaneously high- and low- brow, goofy and mystical. Complex.

Stapleton's music is most definitely not for everyone, and i don't believe i've ever encountered an artist that has such a polarizing effect on crowds. Chance Meeting On A Dissecting Table..., their infamous first record, will clear out a party faster than a dog fart, possibly annulling marriages in the process. The songs are long and avoid succumbing to the strictures of pop music, like harmony, melody, rhythm. They are works of abstract sound-art. For those disposed towards letting music infect their inner worlds, blossoming like phosphorescent fungal blooms behind closed eyelids, Nurse With Wound is essential listening.
Even though this collaborative release by a strong cast of musicians coming from different stylistical fields, recorded in two different sessions in Sardinia (in TiConZero studio, with the only exception of the second track, recorded live at Signal festival in Cagliari) two years ago, landed on my desk a little bit behind schedule, I'm still in time to introduce it to our beloved readers. This ensemble, made up of Simon Balestrazzi (besides electronics, he cares the preparation of a toy psaltery), Alessandro Olla (label manager of TiConZero, which started as a cultural association aimed at the renewal of musical language through innovative compositional and performative techniques before being a label), Ikue Mori (Japanese talented drummer, which entered in the history of music alongside Arto Lindsay and Tom Wright, the line up of the seminal No Wave band DNA, which coined a number of valuable tracks of that short-lived but important artistic scene, who's dabbling in sonic researches on laptop and drum machines at the moment), Sylvie Courvoiser (skillful Swiss pianist and composer, who collaborated with a plenty of great musicians such as John Zorn, Erik Friedlander, Mark Feldman, Yusef Lateef, Butch Morris, Tom Rainey and many others) and, last but not least, Maja S.K.Ratkje (Norwegian electronic, but above all vocal performer, whose funny vocal moulding is one of the pivotal element for the outcome of this "Treasure Hunt"), sounds like the overlapping of different stylistical maps, where each sonic scout's report converge to one game, whose aim is not really the finding of some trasure, but a metaphorical and somewhat ironic and foolish representation of the dramatic plot of contemporary man and its hectic desire for fulfillment of material needs, when it's too close to forlorn treasure hunts, so that you can imagine this odissey of the mind treads paths that Sylvie's piano retraces with heavy tumbles like in "Tokyo Map" where other elements sounds like squelched while they swirl, primes and emphasizes emotional bombs such as in "So Sorry", whereas the initial tension turns into ghastly peals (wonderfully evoked by Maja), paralyzing melodies and noisy electric storms, becomes a scenic element whereas field recordings or electronics dominate the sonic space such as in "So It Falls", "Anywhere Else" (significantly placed at the end of album, where field recordings which features some children's rowdy yelling, a solitary whistling getting over some confusing crowd's noise and other sonic clues look like marking a sort of blurred arriving point) or "Solanas", or coalesces with other elements of the ensemble such as in "Alive", where the pianist's touches sound like driving any emotional transmutation, wonderfully highlighted by Maja's throat - her vocal malleability as well as some weird or offbeat gimmicks (being my favorite ones those in "So Sorry", where she effects her voice in devilish delays, peeps and suppressed shouts, and in "Alive", where you can imagine her while turning into a gargling mermaid!) are really astonishing! -. The rallying point of the various geographical and emotional provenances has been well depicted by Multiforme's design which included the reproduction of La Carte du Tendre (Map of Tendre), an allegorical map of an imaginary land called Tendre related to the virtous path towards love, which was produced by a number of different authors, just like this protean "Treasure Hunt".
image not
available
anymore
Artist:
Ryan Wildstar
(@)
Title:
A City of Brittle Stars
Format:
CD
Label:
self-released
Rated:
A City of Brittle Stars is a new up and coming project by the late Rozz Williams' ex roommate of 8 years and lead singer of EXP and co-author of The Whorse's Mouth. This cd is so important as It is Ryan Wildstar's newest piece of work for quite some time now. It is available on amazon and iTunes so go check it out after this review. Ryan's other projects are various art pieces, his self expressions and his book, ' What about the Bells, ' a book containing all unreleased poems and lyrics by the late Rozz Williams all compiled in one book available through French publisher Camion Blanc, www.camionblanc.com , a true find for any collector. One thing I want to let the world know Ryan inherited all of Rozz's works and never bought anything from Rozz it was all given to him from Rozz Williams himself and always shares what we can for the world to own through his eBay site due to the fact some of these mementos are just to painful to own.. Please, any Rozz collectors buy something from Ryan, to painful to own and support this cd when it comes out as cds are become a rare find these days and Rozz's mom is 80 or so years old and is still working to stay alive and hasn't seen no money for her late sons projects. Ryan is trying to include Rozz's world to own some of his treasures, his art, collages, poetry and hasn't seen no money for her late sons projects. Ryan is trying to share some of his world. With that said let us progress to his new up and coming cd that will come out on hard copy pressing soon ' A City of Brittle Stars ' is fresh and new and probably I personally can say is where the late Rozz Williams would have left off. Ryan is so Rozzesque, cryptic and all knowing. This is a spiritual ride that leads to a new rebirth for music. Spoken word across the board, beautiful piano ballads to compliment the beauty of the one chosen to speak about the society as we know today. Little bits of trivial bits that the listener shall grasp in the knowledge of truth. Ryan speaks in
one passage, ' Onset by the passage of this grueling life', so profound and so true about the woes of disappointment this life brings. Another line that stuck in my mind, Ryan says, '
She drank the wine and screwed the cool breeze, she surely will go to hell for that, with poison petals on her palette. Tribal drums to back up this unforgettable in sync poetry reminiscent of early Christian Death antics, whimsical bells and even xylophone dirges fill this album to add to the flavor of feeling and sentiment right straight through the heart, making this cd truly unique and cinematic with the soberness that it unveils. There is an undying beautiful ode to oneself and others, A City of Brittle Stars, Ryan calls it, ' octopus highway which leads to the city of brittle stars ' , which taunts and calls to each and everyone of us and wants you to listen and learn. This is the cd that speaks of life experiences that all can relate to. So nice to see a real album that pulls on
our heart strings and won't let go. In one passage, Ryan sings to us, as an anthem for this album, 'We are All Brittle Stars', so true, clever, witty and truthful. This cd is about to pull you under from he that awaits'¦release the Kraken, release this soon. For all
of you to look under the floorboards from the brilliance of this Wildstar.
image not
available
anymore
Artist:
LUST FOR YOUTH / WAR
Title:
The Glass House Etiquette
Format:
7"
Label:
Avant!
Rated:
"The Glass House Etiquette" is a Lust For Youth / War split 7" which have already been issued the last year on tape by Posh Isolation. Lust For Youth, on side A, present "Denial, Veronica", a track recorded into their distinctive low-fi way which mix some simple synth lines and unintelligible vocals. The atmosphere created is obsessive and ghostly. It's like hearing echoes of 80s e.b.m. music played into a distant venue. On side B we have War with "Somme, Maggio". Formed by Elias Bender Ronnenfelt (Iceage frontman) e Loke Rahbek (Sexdrome and runner of the Posh Isolation label), War offer minimal synth lines with a sound similar to Lust For Youth: haunted factories atmospheres where you can ear echoes of clanging metal stamping presses that have been dismantled long time ago... I can't say I've been amazed by these tracks. I'll wait to listen to a whole release for a better judgment... You can check both tracks here: http://avantrecords.bandcamp.com/album/lfy-war-the-glass-house-etiquette-split-7
image not
available
anymore
Artist:
Alien Skin
Title:
Ghost In The Rain
Format:
CD
Label:
self-released
Rated:
Two years from the album "The Unquiet Grave" issued by A Different Drum, Alien Skin is back with a new album titled "Ghost In The Rain". This time George decided to have full control on the album, so, he self released it. Since from its title "Ghost In The Rain" has a feeling of intimacy: it makes me think of gray days and introspection. Well, this is the third time in a row that I listen to it and that feeling is confirmed and it's enriched by all the nice tiny melodic arrangements that George put into the songs. Most of the ten songs are atmospheric mid tempos where George sings and whispers about memories of lost lovers. Take, for example, "Candy Lips". It sounds romantic and nostalgic and the atmosphere is made by groovy soft rhythms, synth pads, light piano chords and windy sounds. The melody kinda explodes into the refrain when George sings: "I hear a noise from afar, it's just your world tapping on your window frame". Also the following, "Vanishing Girl", is a beautiful one. It has a rhythm a little more upbeat compared to "Candy Lips" and lightly distorted bass lines. Just add catchy synth melodies and a good amount of reverb and you'll have a ghostly atmosphere which on the refrain is enriched by a female vocal solo. George Pappas with "Ghost In The Rain" confirmed himself to be a sophisticated songwriter who has a great taste for melody and arrangement. Check it out! Definitely...