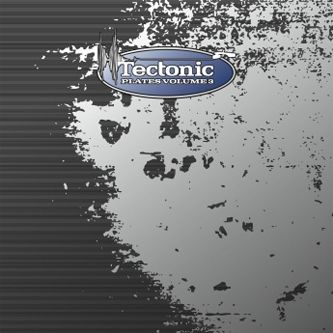 Artist:
VV.AA.
(@)
Title:
Tectonic Plates 3
Format:
CD
Label:
Tectonic Recordings
(@)
Rated:
Tectonic Recordings has had a formative influence on the evolution of Dubstep and its various bass-y tributaries. Run by Rob Ellis, aka DJ Pinch, over they years they have released a slew of classic Dubstep records by the likes of 2562, Distance, Skream! & Benga. It is fitting that on this most recent installment of the Tectonic Plates compilations, that they freeze and take stock of the current state of the bass.

Over the course of 13 tracks, it is possible to hear and identify many mutant strains of late-night LFO tweaking; from the now classic sub-woofer shredding of Kryptic Minds' "The Talisman," through the hypnotic tribalism of Tunnidge's "Universal" to the ends of an ATARI universe of Ginz's "Chrome". It draws a straight line straight from the earliest dubstep sounds, like Burial and Kode 9's wailing ghost divas and half-tempo locked grooves, to Skrillex's laser eyes and monster drops. Most of the tracks keep to the consistent 140 BPM, which makes for a smooth listening experience, well sequenced and well produced. There is also a pervasive mournful mood, brought on by heart-tugging strings, that harken back to the earliest days of dubstep, that sense of melancholy and immanent dread. Easy on the ears. Some of the tracks seem like works in progress, like Kevin McPhee's "Outs," which sounds like a dubplate rushed hot to the presses to someone's DJ friend, which seems like techno in its purest forms, utilitarian jams to make people dance.

In this day and age of media overload, trusted labels and selectors are more important than ever, and Pinch has been on the scene since the get go. Not every track on Tectonic Plates is essential listening, just like any DJ mix anywhere, but any of them would go over the for the late night faithful. Its interesting to speculate on where bass music will go from here.
image not
available
anymore
Artist:
Maurizio Bianchi
Title:
CeltiChants
Format:
CD
Label:
Alone at Last records
(@)
Distributor:
Alone at Last records
Rated:
I think the name of Maurizio Bianchi / MB did not need any introduction here. He is simply one of the great fathers of electronic music in Italy and Europe and is long been considered a cult musician, recognized and enshrined in all our musical environment.
MB is an excellent artist and musician and tight end capable of producing, in over thirty years of activity, real masterpieces of music and ranging experiments at the boundaries between electronic and noise. Many of his records have become genuine landmarks of this genre.
In recent years, Maurizio has also become a point of reference and a friend for the work individual and collective for many of us. Always willing to work with many other artists in the electronic scene, he has managed to create a kind of permanent musical laboratory around them.

Into this second "sonic youth" the great MB gave us a wide range of excellent discs created by several people. And even when such collaborations have not reached the levels of the highest quality of all his previous solo work is still important and valid evidence of the symbiosis possible between his music and the artists who have collaborated with him. This MB work, however, is not in collaboration with others artistis. Maurizio plays alone (at last) and present to us a long and unique suite of sound entitled "Celtichants" that lasts just one hour. But, if you listen this suite, you feel like you take a few moments and you will do everything to try and play it back in the hour immediately following. Even'll be the last hour of your life. Because this "Celtichants" is a very beautiful work. Work i believe is also very, very important. For two different reasons.
The first reason is that, unlike other works of MB more extreme and perhaps less accessible, this work revealed from the beginning in all its splendor. Celtichants represents, for me, really "a new form of beauty" because it not only keeps intact the quality and the best creativity and artistic research of MB's music, that we always used to, but exceeds them instinctively and from the first listen. A real seminal work of which he felt the need after so much noise.
Listen to him with respectful silence then this beautiful "Celtic Songs" by MB! But do not expect human voices or ethnic harmony of the Celtic tradition. Because these Celtic songs come from a sound dreamy and unknown elsewhere and bring us up to the sound of his ethereal and stellar wind. These are our songs of Maldoror for a "fifth dimension", evidence of distant and remote place that belongs to us but in the depths of our being. A place where the spirit of Isidore Ducasse hovers behind every breath of cosmic wind that carries them. I will not say more words on the beauty of this work by Maurizio Bianchi to invite you to buy and listen to this record. But, if the first reason is not enough for a new disk of MB, I will give you a second reason why it fascinates me and I think this album is a masterpiece not to be missed. For fans of the genre but also for the neophyte listen to electronic or industrial music for the first time.
This record I came to me, last week, directly from Moscow. Together with other work which I will label the same way of speaking. The work of MB is the third title included in the catalog of a small fledgling independent label that was for me a revelation.
This label is Russian and is called "Alone at Last" and was born in march this year. On his website (www.alone-at-last.com) looks like a label focused on the realization of very limited editions of artists known and recognized in the electronic scene. It 's also the reason for not accepting demos.
If you visit his site you will sense the line and the painstaking care with which the "Alone at Last" creates their own records.
Rarely in the independent and industrial scene, I got to see this level of packaging. Each disk has a cardboard box, carved on many layers of different dominant color, each designed so as to be then folded by hand on the other in sequence. Each disc is a small gem of paper, carefully close like an ancient Japanese Origami around the jewel it contains. And the first 50 copies of each limited edition is also signed by the artist.
A few meager liner notes accompanying the content. No self-celebration of the label or artist. What is said is used as a theme track for the imaginary linked to each work. And the imagery of this is a poetic song. A deluge text composed by the terms of our technological imaginary. A poem dedicated, as all the work, to Ducasse, Comte de Lautreamont. Each disc also contains within it also precious polychrome photographic prints, based on the work of several photographers. In particular, the three prints that accompany Celtichants, are photographs taken by Siegmar Fricke in the Canary Islands over some beautiful basalt stones of Miocene epoch.
I believe I have nothing more to add. I want to give a final friendly advice: GET FAST THIS WORK by Maurizio Bianchi for Alone at Last Records. You will not regret.

Even if Ergo sounds deeply rooted in jazz, the comparisons of their release "Multitude, Solitude" with sonic germs which have nothing to share with jazz such as Autechre, Sigur Ros, Steve Reich or Radiohead (some occasional listeners travelling in my car while "If not Inertia" was playing from hi-fi system detected even some similaratis with Colleen, Murcof, Efterklang, Sun Ra Arkestra - the most fitted touchstone in my opinion - or Kammerflimmer Kollektief) don't appear so orthogonal to me after the listening of this great album, the most recent act by this combo, founded by trombonist (as well as laptop musician) Brett Sroka, who decided to push his musical boundaries beyond jazz after some training years at Manhattan School of Music by embracing the wide range of compositional possibilities, offered by electronic devices and prompted by many improv and free jazz refluxes. It happened by chance that Ergo's music sublimed my reading of a passage from "Notes from Underground" by Fyodor Dostoyevsky during a dreary afternoon and you could imagine how I wondered when discovering they mentioned that great Russian storyteller (together with Charles Baudelaire, William Bulter Yeats, Joseph Campbell and Mark Gonzales - ! -) amidst their sources of inspiration. Metronome's sob in the initial "Sorrows Of The Moon", followed by wise piano strokes by Sam Harris, sets the mood with a sort of an anguished ballad, where Shawn Baltazor's drumming and Mary Halvorsen's guitar sounds like the adhesive tapes or the musical pebbles thrown into the mental pond where all tormented thoughts by some hard thinker gradually debouch. The sweet melody of a prepared piano sounding like a toy instrument and the ligneous creaks placidly carry the framework of the following track "Two For Joy", a sort of roving digression of melancholic brightening before the imaginary storyteller behind this musical tale starts twirling in the smoke again in the lovely solipsistic hyperboles of "Little Shadow" where trombone's convolutions ascends on steep and crumbly walls, whose bricks look like pressed by drums and piano, till the moment when in the moving title track, "If Not Inertia", those smoke rings seems to turn into something palpable and concrete, whose melodic piano dragging blurs with the lonely whistling, a background silent moan of the wind. The title-track acts as watershed of the album, as the second part better highlights the remarkable inputs given by two guest guitar-player: the talented above-mentioned Mar Halvorsen adds a certain obliqueness on the snare augmented by an electronic pulsation in "The Widening Gyre" and duels with the sliding trombone by Sroka just like they were cool-headed gun fighters in some desert place of the glorious Far West while Sebastian Kruger's acoustic guitar took part in the choral breezy melody of the final "Let's". The release also includes a film by Donya Ravasani on its "making of". I warmly reccomend a listening of this nice musical work out by Ergo.
Artist:
Marek X.Marchoff & MJ Caroline Rider
(@)
Title:
Voxfields
Format:
CD
Label:
Zoharum
(@)
Rated:
The fifth chapter of Zoharum's ongoing IYHHH (anagram of Into Your Hands Hearts Hallucinations) series coincides with the first album by Different State's head Marek Xavier Marchoff, entirely based on field recordings, taken from the east and west bunkers area of Fort Tilden, an abandoned army base, built together with Fort Totten in order to defend NYC from airstrike attacks, whose vestiges are hidden by pines, coastal overgrowth and wonderful dunes, so that it's a sort of surreal paradise nearby New York, where old wartime structures (barracks, nuclear missile silos, underground artillery shelters, observatory outposts and so on) jars on natural coastal set, different from common muddy beaches and murky waters of other American beaches on Atlantic Ocean. Marek and Mj Caroline Rider proposes an immersive guided tour of this strange place just some miles out of the chaotic Big Apple, whose emotional hooks and power of suggestion have been amplified by some inserts, which look like a projection of authors' feelings since the beginning, where an obsessive clinical pulse together with a kind of keen electric buzz and air raid warnings highlight mental images while these sonic grabbers walk at a rattling. Listeners are going to keep on strolling over claustrophobic clashes, chirping birds, seagulls and insects (sometimes getting quite unnatural), rusty tanks, sinister trills, bare echoes, heavy footsteps, rustle of dropped leaves, disquieting gurgling and even human clamours - appearing on stage just in the final track, which features interesting manipulations of them - and other elements, which have been "organized" by Marek and MJ Caroline in a "musical" way, just like notes on a pentagram. Very atmospheric exemplar of sonic psychogeography!
This new release coming from the esteemed Polish label Zoharum, signed by Radoslaw Kaminski aka Ab Intra (Latin for "From Within") is going to tickle tympanic palates of drone and dark-ambient follower. The first sandpapering of the record could vaguely recall more "mystical" branch of ambient-chill such as Asura or other stuff on Ultimae and similar labels, due to some sonic clues such as seraphic choirs, distant thundering and absydal electric storms, then his silent gales migrate towards ritual-ambient fields, recalling some sonic episodes by Kammerheit or Runes Order (particularly in "Supremus IV" and "Supremus II") with distended whistling blows, moving inside electric clouds, sinister bolts and subtle sub-bass tones, whereas it seems that previous dust begins to amalgamate in majestic or epic mirages. You could have the impression that Ab Intra's sound got miniaturizes into many particles in order to pass over any pellicle or membrane before breaking the banks and flood into the sensorial ground in the final moments of the album, in order to share or just inspire great visions in listener's mind by creeping into it throughout ears, so that I could say "Supremus" sounds like a very attractive mind-tuning opera. Have a listen.