Artist:
DANIELE SCARDANELLI
Title:
il buon senso spiegato al mio cane
Format:
CD
Label:
Snowdonia
(@)
Rated:
Another pop recordings on Snowdonia, this label started as a weird mix of pop attitude vs experimental itch and they gradually evolved from the concept even if basically the trajectory they're following is almost the same. An overall good release, honest in its simplicity, sometimes funny and quite ironical that here and there reminded me of Vinicio Capossela and some other funny italian singers. Daniele Scardanelli knows both how to write a song and how to sing, the result is easy to be listened and enjoyable, very well arranged and the recording is ok, sometimes the music is a bit too similar to those who inspired the author, but I repeat the result is quite honest be for that weird "out of tune" sensation there's all around. Some influences from the past have been incorporated in what sometimes sounds as a drunk/stoned vinyl going at the wrong speed and you will agree that's a result itself. I think this guy writing skill is good and he's some interesting qualities, everything has to be focused a little bit but the essence of the work is good. This probably one of those record I will suggest to somebody without humor, but as I've already said, humor has a big part in the history of this sicilian label.
Decree is known for their frontman Chris Peterson, of Front Line Assembly fame, and for a quite relaxed release scheduling: this only their third release in 15 years but this is not a question if the result is a good album. Their sound has his foundation in the crossover between electronics and metal that gives birth to what is called as industrial metal.
This album is slow, heavy and closer to metal than electronics. "Finite years" open the record with the keystone of decree's sound: metal guitars, tribal rhythm and shouted vocals. The basic influence of this band is clearly Ministry but there's enough personal ideas to make the track enjoyable. The titletrack is even more openly classical in his sound. "The pray" is a doomy anthem while "Bloodthirst" reveals the rhythm impact as their key tract and so "Into the light" overwhelms the listener with his powerful drums. "Faded glory" close this album with their classic structure but carefully assembled.
A '90 style powerful industrial sound. It will stay in the iPod of all industrial music fans. Quite nice :)
Artist:
RISK RISK
(@)
Title:
This is 1983
Format:
12"
Label:
Astro Chicken
(@)
Rated:
Since the first release, the compilation "Chicken Accelerator", Astro Chicken showed its full potential as label and after a great Hyboid release now we have the opportunity to check a real 80s influenced gem. I dunno who's behind the Risk Risk monicker and their website doesn't help much in this direction but what I know for sure is that their first album THIS IS 1983 is a blast. Mixing cold wave a la John Foxx (check the first part of "Digital love"), synthpop a la The Twins (check "Adventures in modern lifestyle"), a bit of Italo disco and some early Human League influences, Risk Risk amazed me with the freshness of ten songs that are able to pack catchy melodies and vocals and analogue synth sounds. I like a lot to listen to a successful blend of cold atmospheres, warm sound of analog oscillators and upbeat rhythms and this album is full of all these "delicatessen". If you think about 80s as the years of bubble pop synth pop, well thanks to Risk Risk you'll have to think twice, because this album will make you clean the dust from your classic Ray-Ban sunglasses (a Carrera is on the cover of this album), wear your old creeper shoes, mount an uv black light bulb in the upper right corner of your room and dance in the dark. You can check all the tracks at the label's website. P.s. if you don't have a turntable, you can purchase the digital edition of the album.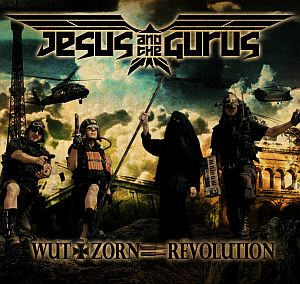 Artist:
Jesus and the Gurus
Title:
Wut + Zorn = Revolution
Format:
CD
Label:
Black Rain
(@)
Rated:
Provocation can be truly effective and clever (Crass for instance), can be funny (Gwar anyone?), and can be useless and stupid (I'm thinking about all those pretend-nazis in the goth scene). It's a triangle Jesus and the Gurus from Switzerland chose to be part of. While in the past they have indulged on a kind of nazisploitation imagery mixing it with religious symbology and a bit of fetish, the new record seems to focus more on the funny side though still a bit silly. For those familiar with 80's metal they remind At War a lot with this war-praise imagery. Music it's coherent as you might expect. It's martial in the way Laibach are. It's a matter of vocals also, not only of drum sounds and patterns, german language suits perfectly for this purpose. It's slightly folk, folk in the sense of songs sung being drunk at the Oktoberfest, "Sag mir wo du stets" is a perfect example. Musically they might remind Laibach as said before, but mostly they remind Rammstein (yes, they are ripping off a Ministry riff just as them) with a more electronic edge and more pumping rhythms, Feindflug is another name coming to my mind. Distorted guitar is an important part of their aggression nonetheless. There are some instrumental short tracks that sometimes show some more interesting sound and research. In the end, I don't know how much serious they are, they remain just a bit cheesy to me, but they are catchy after a few listenings, success is at hand. Nice "no plastic" gatefold packaging for this Cd
Artist:
Flint Glass, Polarlicht 4.1, Transistor
Title:
Zoran's equation
Format:
CD
Label:
Funkwelten
(@)
Rated:
Three monickers for two artists, french Gwenn Tremorin and german Ronny Jaschinski, teaming up together for this rather interesting project. The more two artists are different the more harmonization is difficult, the risk of an oil and water (un)mix grows bigger, but this is not the case. Tremorin and Jaschinski have managed to bring in their own influences and sound, mixing them together, preserving their own identity and giving birth to something new and most definitely interesting. The first has a more industrial/ambient/noise background, you can hear him in the deep drones and noises, in the whole gloomy mood, Ah Cama Sotz! or even Haus Arafna fans might be delighted. On the other rhythmic side there's a pretty much rarefied kind of IDM patterns and sounds. The mix works perfectly along the common path of inspiration by french science fiction writer Renè Barjavel's novel "Le nuits de temps". Remarkable are also the paintings used for the graphic artwork provided by Denis Khokhrin (http://conjunctorium.org). Mission executed.