image not
available
anymore
Artist:
Alien Skin
Title:
Ghost In The Rain
Format:
CD
Label:
self-released
Rated:
Two years from the album "The Unquiet Grave" issued by A Different Drum, Alien Skin is back with a new album titled "Ghost In The Rain". This time George decided to have full control on the album, so, he self released it. Since from its title "Ghost In The Rain" has a feeling of intimacy: it makes me think of gray days and introspection. Well, this is the third time in a row that I listen to it and that feeling is confirmed and it's enriched by all the nice tiny melodic arrangements that George put into the songs. Most of the ten songs are atmospheric mid tempos where George sings and whispers about memories of lost lovers. Take, for example, "Candy Lips". It sounds romantic and nostalgic and the atmosphere is made by groovy soft rhythms, synth pads, light piano chords and windy sounds. The melody kinda explodes into the refrain when George sings: "I hear a noise from afar, it's just your world tapping on your window frame". Also the following, "Vanishing Girl", is a beautiful one. It has a rhythm a little more upbeat compared to "Candy Lips" and lightly distorted bass lines. Just add catchy synth melodies and a good amount of reverb and you'll have a ghostly atmosphere which on the refrain is enriched by a female vocal solo. George Pappas with "Ghost In The Rain" confirmed himself to be a sophisticated songwriter who has a great taste for melody and arrangement. Check it out! Definitely...
Artist:
Fertanish
(@)
Title:
Zero Zero Three
Format:
CD
Label:
Plus Noise Records
(@)
Rated:
Fertanish is an experimental noise project by Bill Murphy from Washington, DC. On this full length debut outing of 12 tracks Fertanish ensures that the listener will be jarred out of complacency and exposed to some highly toxic sonic environments. The cover of this slick CD digipack (a mantis munching on a fly) is perhaps more symbolic than literal, as this isn't a field recording soundtrack for a Discovery Channel show on entomology. Well, there are places that have some of those elements, albeit sounding like they were run through a woodchipper, but more on that later.

'Practitioner' opens with a manic barrage of percussion and effluvia of noise that's akin to what Amon Tobin might sound like if he tried his hand in the noise genre. It morphs into this bouncy little Morse code rhythm for a bit and then the noise changes shape, size and dimension, spiraling ever upward. Fascinating. 'Mud' has a burbling, liquidy quality to it with heavy percussion loops and pounding drums. It moves faster than its title would indicate, but it does have a certain sludgy quality to it. 'Cockroach' makes use of sporadic gated percussion interjected with screeches until a torrent of noise overwhelms everything. Random sample & hold synth melody, chirping birds, other field recordings (then later some simplistic melodic synth) is a weird contrast to the shrieking cacophony that permeates this piece.

'Jetha' starts out with programmed rhythm on cymbals before the grating 'fingernails-on-a-chalkboard' noise takes over. Noise and field recording loops abound interspersed with burst rounds of kick-drum. 'We Wished for an Explosion' is heavy drum pattern and loops of other-worldly noise sonics, gated, backwards, over-under-sideway down. 'Airspace' takes field recordings of nature and environmental sounds and puts them in a blender of sonic distress. Is that jet overhead obliterating everything in its path? 'Grace,' the shortest piece on the album at a little under minute has a barely discernable melody in the background of this steadily harsh noise environment; you can hear a few tweets too, not of the Twitter variety.

'Lamb's Confusion' is more playful in the rhythm aspect, but no less heavy than what's gone on before. Storm giants dance a lumbering jig pummeling each other while gnomes laugh. 'Terminelegy' is ominous dark ambient with processed spoken vocals. 'Tired' has crunchy noise looping and a cuckoo sound descending synth sequence, and the sound of a billion birds gone wild. (The Hitchcock film has nothing on these avians.) Things get even wilder with bits of cleverly employed voice samples and a hundred elements I can't describe adding to the controlled chaos. Final track, 'The World Has Ended and We Have All Passed On' is an epic 14 ½ minute piece that seems to sum up everything that's gone on before it.

For noise enthusiasts, 'Zero Zero Three' is a veritable smorgasbord of turbulent pandemonium, and Fertanish shapes this sound sculpture like a true artist. You can tell a lot has gone into this work. I don't know the artist's vision for the future, but I'd like to hear Fertanish try something that tempers the abrasive side with less harsh sonic environments utilizing the sample and looping techniques that the artist has obviously mastered. (A little noise goes a long way in my world.) The CD seems to be widely available - Amazon, iTunes, CD Baby, etc., etc., so if you're a noise enthusiast, I suggest you pick up a copy as it is quite an engaging listen.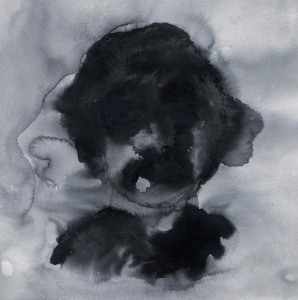 Artist:
M TABE
Title:
solo acoustic guitar
Format:
CD
Label:
self-released
Rated:
Instead of older and bolder I've become older and slower, shame on me, infact I received this work a while ago, right after I've seen this guy playing live before and together with Manuel Mota. The only thing I can say is that in the meanwhile I've been listening to this collection of guitar works repeatedly and considering who many solo recordings I've stumbled into during the last decade the fact itself would help you to figure out this one can't be filed in the "hell boring" category. More than far from boredom, this young guitarist has assembled a series of compositions and improvisations that without indulging in technics and in self complacency brought in some fresh inspiration. M Tabe style, despite his young age is quite mature, hey if you're into Derek Bailey and if you think this' another petty clone of that improvisational hero you're wrong, the style of this italian musician is more classic guitar oriented. These guitar works are soft, warm and quiet...another possible definition could be meditative, whatever this may suggest. The fact is despite its asperity this release has an all-italian taste for melody, don't think we're dealing with some napolitan oriented guitar or whatever, but I dare you to say the music has no mediterranean aftertaste.
Artist:
UGGERI, GIANNICO, MAURI
Title:
Pagetos
Format:
CD
Label:
Boring Machines
(@)
Rated:
This another chapter of the personal saga started a while ago by Matteo Uggeri, but stylistically this work brings the italian musician in what I think is his favorite musical habitat: a nowhere land where melancholy ties the knot with field recordings and melody. Melancholy could be the subtitle of the whole recording, infact Giannico (you probably know for some interesting solo releases) went for some minimal piano playing perfectly arranged by some more than inspired interventions by Luca Mauri (I/O, Luminance Ratio) and by some elegant cello harmonies by Andrea Serrapiglio (Carla Bozulich, Paramount Style). The high emotional impact and the overdose of melody of the cd makes me wonder if instead of ambient music or field recordings, we're simply in front of a minimalist, quasi pop, cinematic series of compositions. Do you really think I'm just exaggerating? So tell me if some of these litanies wouldn't be suitable for some romantic movie? In a way we've something that brings forth that language that some of these post-post-post meets camera music combos on Constellation have been recording during the last ten years and in my book that means elegance plus quality. This' one of those releases so mellow and so catchy that could be dug by a big range of listeners, not exactly a sunny release, I can't say why but it makes me think to autumn's leaves and to the end of the summer. Can you remember that Tears for Fears' line that says "Advice for the young at heart soon we will be older", it kept buzzing into my head for the whole length of the recording.
Artist:
TIZIANO MILANI
Title:
touch
Format:
CD
Label:
Setola di Maiale
(@)
Rated:
Some years ago I've been introduced to the music of Tiziano Milani thanks to the fact in the wonderful homage to Alvin Lucier, Claudio Parodi put out on Extreme records, the musical fragment used as sound source was sampled from Milani. From then on, this italian electronic composer has collected several works under his belt and the most of them have been released on Setola di Maiale (an experimental, avant jazz, uncenventional music label I can't but suggest to taste). Funny, but the title itself could suggest one of the labels suitable for a kind of recording like that, infact due to the compositions and for the amount of concrete-electronic sounds used, it brought to my mind some of the most intense and intriguing composers on Touch label. The framework is a classy collage-patchwork of music performed by several jazzy, classic, contemporary musicians, infact the line up of this recording includes: Koji Nishio on piano, Hiromi Makaino on electronic percussion and rhythms, Lars Musiikki on double bass and guitar, Cristian Corsi on Tenor sax and Lynn Westemberg on viola. After having listened to several of his releases I can say Tiziano Milani's style is clearly distinguishable, infact his magmatic-nightly soup has its own identity. Differently from his previous recordings, Touch has a more contemporary heart and some of the instruments tend to surface from the collage with their own characteristic sounds above all the piano and that's what may confer a conservatory aura to the whole work. An interesting composer/laptop musician with an identity.