Artist:
Forest Walker
Title:
UV Sea
Format:
Tape
Label:
Constellation Tatsu
(@)
Rated:
The listener could be instantly absorbed by the very first seconds of this release, ignited by "Desert Lighthouse", the longest track of this tape by Los Angeles-based composer Forest Walker Christenson, whose only connection to a lighthouse (according to my senses at least) is a bright sound whose fading in/out could resemble the movement on a spot of the beacon of light. Together with this sonic element, there's a slight noise that resemble the noise of a pencil on paper, whose combination with the general atmosphere of the track could let you think the author made a sort of ambient hymn to the creative act, even if Forest prefers to say that his work focuses on "the deconstruction of mythologies of sound". Since the above-mentioned suite, it's clear that Forest draws some meme of the sound he forged for this release both from his remarkable experience in sound engineering and editing for movies and performative arts and from some iconic figures (somehow like myths!) of ambient music, such as Philip Glass and Steve Reich. For instance the dim lights on the mechanical tapping of "Amendment of Fundamental Axiom" is something that could be placed in between Steve Reich and Tor Lundvall, and I would say the same for "Saved Video of a Postcard" (or better its first four minutes, as the climax turns towards so-called space ambient in the last two ones)), the track that opens the B side, while the highest sense of detachment and visionary sight gets reached on the sumptuous "Realtime Lapse" diluted over 12 peaceful minutes. This ultraviolet sea is something that could temporarily freeze the reality surrounding the listener.
Artist:
Riot
Title:
Destroyer EP
Format:
Download Only (MP3 + Lossless)
Label:
Skalator Music
(@)
Rated:
Besides having been overused in many meaningful leaflets and slogans of Femen, no-global, anarchic or similar groups (some of them shuffling the cards in order to manipulate or deviating dissent), the word 'riot' was chosen by Portuguese producer, DJ and musician Rui Pite' for his moniker in the drum'n'bass scene, where he entered by means of a collaborative track ("Control Of People"), pushed by talented Swedish producer Mikal into the catalogue of the renowned Metalheadz label after shaking the ground of Lisbon music scene (and some other clubs out of Portugal) by means of jungle/dnb collective Cooltrain Crew - the first drum'n'bass crew in Portugal, as far as I know - and acclaimed band Buraka Som Sistema (w/Joao 'Branko' barbosa). I could imagine that such a tag (I saw the word 'riot' matched to any kind of things - name of nostalgic pop-rock clubs, brands of crappy chemical drinks and even slogans for tampons) was maybe chosen as it vaguely resembles his real name (Rui and Riot), but I won't say this recent output on Portuguese label features an astonishingly revolutionary sound. By the way, the making of this guy is enjoyable. Some moments could look like a showcase of en vogue ways to frame sounds over mid-tempo rhythmical patterns (such as the female vocals over pokes on synth preceding the stabbing percussive eruption in "Section 9" or those almost disturbing synth clips that ignites "Contradiction" and potentially reaching the red light on the master of your mix by itself), but the way to combine the percussive elements in the mentioned tracks displays a brilliant grasp of the subject. My favourite moments of this release, as you can easily guess, are the other two tracks: even if both the title-track "Destroyer" and "The Weapon" could sound like parts of the OST for a sci-fi video game, they nicely manage to balance jump-up rhythmical streams with acceptable dosages of neurotech ("Destroyer" in particular) and "epic" (mostly "The Weapon"... vaguely resembling some stuff by Fanu) sonic hooks.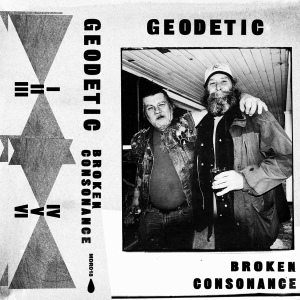 Artist:
Geodetic
Title:
Broken Consonance
Format:
Tape
Label:
Maple Death Records
(@)
Rated:
Geodetic is the project of Claudio Rocchetti and Jukka Reverberi (which need no presentations) that sounds as based on a sort of nostalgia for what was called as 'cassette culture', so the artwork of this tape has that apparent slovenliness typical of the releases of the period. The need to circumvent the technical limits of tape format to self release music has forged entire subgenres and there's the (false?) perception of a more creative era compared to the present when, theoretically, there's could be no differences between DIY and regular releases. Apart from this considerations, the musical form of industrial and dub, centered upon characteristic rhythms, are at the core of this release and recreated with evident respect and knowledge.
When "I" starts, the listener is introduced into a sound field that, rather than the punk rock hinted by the cover, is a sort of post-techno with a noisier sound obtained with the distortion of the beat. "II" is a little more abstract in his initial part to develop in a mechanical rhythm upon the underlining synths. "III" could even be described as a synth pop track that could even be better with a vocal line reminiscent of the canonical 80's sound. The B side of the tape is opened by "IV" based on a sort of trip hop rhythm with hypnotic resonances. "V" is slow and solemn track based on sparse metallic beats and a transparent soundscape in the background. The echoes of "VI" constructs a dub version of a noise track.
This is a sort of time machine with an eye on the future, that will be enjoyed from fans of an era when artists searched for their own distinct voice rather than follow the stream to obtain a fistful of like with a post on the web while the others will listen otherwise anyway. Touching as a postcard from the past.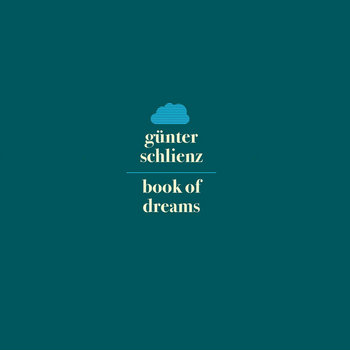 Artist:
Günter Schlienz
(@)
Title:
Book of Dreams
Format:
CD
Label:
Zoharum
(@)
Distributor:
Alchembria
Rated:
A Jack Kerouac's citation introduces this release: "the fact that everybody in the world dreams at night ties all mankind tighter"; "Book of Dreams" is an expanded cd reissue of a vinyl release and is based on a musical form that is based on modular synth and this means that is something familiar to those accustomed to a musical flux spanning from Kosmische Musik to new age. The quietness of the music which should facilitate dreaming is obtained with simple and catchy melodies and the absence of any dissonance, so it's something that requires considerable writing skill to avoid trivial results.
When "Just Silhouettes" starts, the listener is introduced into a sound field as synthetic but warm and organic even if there's any melody to follow but it's something cradling someone so "The Female Coffee Drinking Dwarf" sounds like a lullaby for heads in the clouds with his simple and hypnotic melody. The droning tones of "Kafkaesque Speeches" hugs the listener while "Mushrooming" is more experimental in his reminds of old sci-fi movies. "Stillleben" is a quiet and static ambient tune. The two new tracks, "The Girl with the Cloud Coloured Shirt" and "Diving into the Orange Pool", are a gentle track for cello, the first one, and a minimal pop divertissement, the second one. The hypnotic loops of "Two Big White Dogs" and the nostalgia of "Awaken", closed by the sound of an alarm clock, closes this release with a vague feeling of play again the play track.
While it could be the typical release that could be criticized by the fans of avant-garde with the classification of new age, this is that kind of release whose brilliance of writing let the listener enchanted. Practically recommended to everyone.
Artist:
Psycho & Plastic
Title:
Planet Seductron
Format:
Download Only (MP3 + Lossless)
Label:
GiveUsYourGOLD
"Planet Seductron" is a slice of funky mellow electrohouse, centred around a crisp bit of guitar, a fairly languid beat, and theremin-style high synth melodies. It's around 124bpm with a confident and assured swagger and a bassline that's borderline lazy. Halfway through, a deep and rich male rap starts looping around as the centrepiece. Lyrically it's rather cliché but as the peak rather than the core of the track, it works. It's certainly not the sexiest piece of house I've ever heard.

In a two-track package, you get the original plus a long remix from Der Schmeisser, Tietz & Mano Meter (three names, one remix) which brings a bouncier percussion pattern, more energetic bouncy bassline and stretches the transitions and progressions out into a more spaced-out result. Careful sprinklings of small snippets of the vocal and a rich extra rubbery bassline flow around in a way that stays interesting.

A strong track-and-remix package from GiveUsYourGOLD, and a great advert for the forthcoming Psycho & Plastic album due in October.