Artist: Marja Ahti
Title: Vegetal Negatives
Format: 12" vinyl + Download
Label: Hallow Ground

"Vegetal Negatives" is inspired by a text from René Daumal called "On pataphotograms", which is described as 'quasi-metaphysical essay that toys with breaking the conceived separateness of natural forms through poetic imagination'. And this 36-minute collection of processed environmental found sounds, resonant individual percussive noises and more abstract analogue synthesizer sounds, exemplifies the principle of breaking conceived barriers, to put it all into a melting pot and come out the other side with something that sounds pastoral, organic, yet also unfamiliar.

Warm hums dominate at times, with "Coastal Inversion" imbued with an inexplicable feel-good factor that its more spikey tones can't break. "Rooftop Gardens" feels more 'ordinary', portraying elements of a city-scape- public transport noises and general hubbub- and capitalising on our ability to identify music in the sounds of everyday life. "Symbiogensis" shifts gear, bringing more interior and internal sounds that elicit the most sci-fi moments, blended with muddy rustling sounds that invoke thoughts of scientific gardening. Final piece "Chora" continues into further introspection, providing smaller, more plaintive noises.

It's a rich and compact bit of sonic experimentation that's imbued with character. It reminded me, positively, of John J Campbell works, particularly "40:00", but with a somewhat more open stew recipe. A strangely feel-good and well-textured bit of sonic art.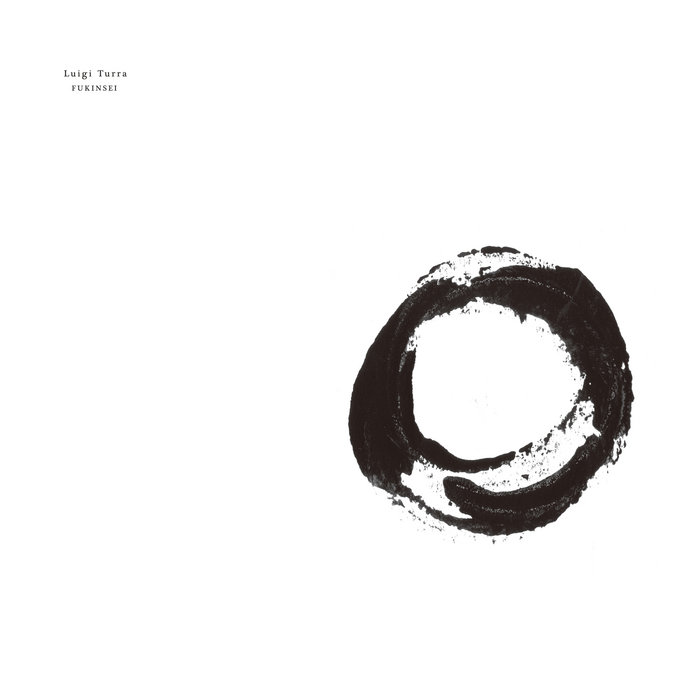 Artist:
Luigi Turra
Title:
Fukinsei
Format:
12"
Label:
Matter
Rated:

The works by Luigi Turra are somehow based on zen concepts and this one is no exception. "Fukinsei", which means roughly 'asymmetry', is one of the seven principles of zen aesthetics and is tied to the idea of an art based on a structure based on the form of the subject rather than on the intellect based concept of proportionality. So balance is something emerging from the act of working the matter rather than from the will of the artist.
This album is divided in three parts: "Imperfection", in two sections, where isolated acoustic sound events are interleaved by episodic electronic ones in a background silence which requires a certain concentration to the listener to understand the criterion behind the sound disposition in time. "Asymetrie", in two sections", proceeds from silence to sound by accumulation until some seconds of silence introduces another iteration of this process. "Abrasivité", in five sections, could be a little misleading in the name as the title doesn't refer, intuitively, to noise but to the disruption of a quiet, and compact, music form, as the continuous tone, using isolated sound events as notes or voices.
This release sounds far more meditated, and polished, than its title, and premises, could suggests, at least for my understanding of zen aesthetic, and results in a remarkable example of lowercase music that bring back sound to its status of sign rather than a percept. Listen with care.
Acting as a sort of companion piece or footnote to their full-length album "Im Tiefenrausch", "Im Tanzrausch", from the still relatively new but profilic mysterious figures of Fred und Luna, is a dancefloor-friendly pack of 4 deep house tunes ("elektrakraut/krautelecktro" if you go by the press release) with an optimistic and bright synth top layers that make them very likeable.

The undoubted highlight is "Compostonikum", which foregrounds some laidback chanting over warm chords and a bunch of lower rubbery squelches in the bass area, into a result that's genuinely entrancing. "People Mambo" adopts a similar approach with similar-ish vocal samples but a more laidback attitude and that's truly effective as well.

Opener "Der Elektrolektor" is a purposeful and driven bit of light electro-house with some nice percussive touches, but without a hook to really set it alight. Third track "Es Ist Heiß" is the weak spot, a somewhat cheeser-sounding affair with a spoken-word German vocal that ends up sounding faintly Yello-ish but a touch on the corny side, lacking the thoughtfulness of the tracks around it.

Leisurely toe-tapping stuff with a definite broad appeal.
Artist: Hvmble
Title: Textures 2/4
Format: Download Only (MP3 + Lossless)
Label: self-released

The second part of Hvmble's "Textures" series evolves slightly from the first pack, with two six-minute-ish instrumental synth-house grooves that are just a little bit harder and more resolute than on the first, but it's not a major shift.

"Deadvlei" starts off with an intent-laden kick over which slightly teethy synth patterns gradually fade in then wander about, curving around fairly undramatically, while "Danxia" is a mellower affair with a hint of the Balearic about it, watery sound effects and silky synths tapping away over a light clapping groove, following a very similar pattern to its predecessor.

Gentle walking-and-working music or afternoon mid-set fodder, it's a simple pairing that's endearing and relatively simple and honest.
Artist: Li Yilei
Title: 0:00
Format: Tape
Label: Ferric:Flux

"0:00" is a hybrid of analogue and digital, highlighted in the fact it's a cassette EP release on the Ferric:Flux label (also available as a download) yet it consists of tracks labelled by timecode. Planetary radio signals are the atmospheric bed of textures over which has been set a variety of freeform synthesizer and guitar noodling that builds up a sci-fi-ish sense of emptiness and space which isn't wholly cold.

The title track (or at least, the track that starts at zero) builds nicely, setting a stall out as though it's going to delve into a long post-rock electronica epic with its guitar elements, then stops rather abruptly. Similarly the second track "5.28" pulls the same trick with a synthetic bell sound which gradually gets louder as though something big is approaching, yet it then fades far quicker than it appears and tails off, like an unfinished idea.

"13.31" broods, like a suspense underscore in a sci-fi game, themes which segue into more paired-back final piece "23:16" which is perhaps the only piece that doesn't tease by building towards something that doesn't appear.

For me, the format here is the problem. A fifteen minute EP on cassette is a restrictive space for ideas that feel like they needed more time to bake and then breathe. It's more of a promise of things to come- which could potentially be very good- than a satisfying work in its own right.