Artist:
Original Past Life
Title:
Inference / Interference
Format:
Download Only (MP3 + Lossless)
Label:
Tone List
Three-piece Original Past Life use a combination of improvisation followed by studio reworking to craft a selection of quite gritty pieces that build thick and electronic atmospheres, drones and manipulations around an instrumental core of guitar, bass and drums to give a result that only hangs my a thin thread of connection to the conventional music those instruments are normally used for.

Michael Caratti's percussion work is fairly organic and live-sounding, complex drumming that provides an anchor to jazz and 'normal' music. Adam Trainer's bass work is generally quite languid, exploring long notes and sustains that work at a slow pace that pulls in interesting ways against the drums, while Warwick Hall's guitar seem to have freer reign to twist itself into odd noises, scratches and impulsive expression.

All three of performers are also credited for 'electronics' and in pieces like "Serpentform", the original instrumental work (if there is any) is so heavily processed as to be unrecognisable in a totally digital-sounding environment of rumbles and pulses. In its calmer and less distortion-washed moments it has shades of a moody M83, while "Blessing The Barn" has dub-like levels of reverb that feel nicely relaxed, compared to some of the other pieces which, while never overtly angry, sometimes come across as agitated.

It's a strong collaborative effort that never really feels like it has struck new territory, but is still rewarding with 43 minutes of moody texture.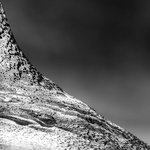 Artist:
Cuts
Title:
A Gradual Decline
Format:
CD
Label:
Village Green
(@)
Rated:
After the EP "A Slow Decay" already reviewed some time ago, Anthony Tombling Jr releases his debut album which is inspired by his concerns about the earth's fragility due to climate changes caused by human actiity. While "A Slow Decay" is something between minimalism and IDM, "A Gradual Decline" shows also ambient influences as there a certain use of drones and textures when there's not the presence of a beat.
"A Gradual Decline" is the only track present in both releases and starts quietly with loops starting sequentially until a beat underlines the rhythmic structure of the track and introducing its impressive melodic breaches. "Shattering Through" develops his synth melodic lines with a slower pace. The sharp distortions of "Polar" underlines its rhythmic structure. "From Here To Nowhere" is an ambient track based on piano chords and filtered female voices upon an ethereal soundscape. "Time Is Not Your Friend" and "Maboroshi" evolve from a drone to a melodic catchy tune. "Pollen" has a suspended atmosphere due to its use of resonances and echoes. "Beauty Collapsing" revolves around a mechanical beat. "Kernel Panic" alternate part based on complex beat to beatless and noisy ones. "Gravitational Loss" is a short drone interlude and "Fear Of Everything" is a long crescendo which proceeds by accumulation of sonic layers to create a soundscape of charming spectral density.
This release confirms the quality of sound construction hinted by the EP and will be enjoyed mainly by fans of IDM and ambient music and could even be listen among the releases of the year. Highly recommended.
Artist: Belp
Title: Crocodile
Format: LP
Label: Jahmoni / SVS Records

"Crocodile" is a playful half-hour mini album spanned by ten short ideas that disassemble electronic dance music production elements- in particular hi-hats and snares, which are a focus- and more organic percussive sounds, pulling the rhythms apart and playing with bending and twisting them into something that sounds like it ought to be danceable, yet defies you to be able to do so.

It's exemplified by "Endless Preparations For A Ceremony", the conscious tripping-up of rhythmic patterns structured akin to avant garde jazz. The title track takes a similar rhythmic approach but with more use of atmospherics and heavily reverb-drenched vocal sounds to give it a moodier and more well-rounded feel, while "Strand", despite being the longest track (at over three and a half minutes!) is a more stripped back and minimal affair.

"One And A Half Years Later" is an example of the more denser tracks, taking some spoken-word music documentary narration and layering it over a bendy and squelchy downtempo groove reminiscent of Wagon Christ, while final track "Catch" is a bold and punchy flourish of untraceable some-kind-of-tribal samples.

Overall it's an unusual collection of exercises in unexpected rhythm programming, but at times it does feel a little bit under-baked, like a collection of incomplete musical sketches- certainly worth a listen though.
Artist: VV.AA.
Title: This Is Frafra Power
Format: CD & Vinyl
Label: Makkum Records

"This Is Frafra Power" a fascinating highlight thrown on a music scene many will be completely unaware of, but which will be well worth your time and money checking out if you like your electronica, hip-hop-light and complex African rhythms all melted up in one pot. Gathering together eight tracks from different artists, but all recorded in Francis Ayamnga's studio in Northern Ghana, it's a polished set of what we might coarsely label as "Afro-pop", but with strong rap elements and deftly light electronic touches that give it more character than that label may suggest.

Despite an apparently small geographical scope and the self-imposed small pool to compile from, there's a good deal of variety here. There's a raw electro-grime edge to tracks like Matala Ligiri's "Ragazeer" and more of a party vibe to Bororiga N Lobema's "I Remember Yesterday" and the quite 80's sounding "Awudu Messenger" by Seero. Some Western-ish pop styles are reconstructed and given unique flavours in tracks like Ndaana Eera Ymah's "Linda Ayupuka" and the bold opener "Fausty Amoa Mabila" from Nosanayine.

For the sake of trying to compare it to known European music, at its most electronics-infused it does occasionally bring to mind Major Lazer (but without the subbass), old M.I.A. or Two Culture Clash, but pieces like Sugri's "Sugri Hajia Zenabu" are more traditional-sounding group-vocal-driven affairs that feel less modernised.

The sound quality is generally good, but with some slightly lo-fi and compressed elements, particularly on some of the vocals, which leave a little unsure whether it's a deliberate effect or a lo-fi consequence of overloaded microphones. The consistency of production between tracks, grown naturally from the single studio source, helps the compilation hang together as a proper listening album.

It's a fascinating and quite leftfield collection of a region and modern musical culture I was completely unaware of, and for that reason alone you should check it out simply as an eye-opener. The fact it's nicely produced and good authentic pop music is certainly a bonus of course.
Artist:
New Tendencies
Title:
Batch0008
Format:
12" vinyl + Download
Label:
SM-LL
After either investing in or expanding his Serge synthesizer system- which Googling tells me is neither small, nor cheap- Matt Nish-Lapidus will get some of his return back through "Batch0008" by turning his learning curve experiments in patch programming and modular tinkering into a half-hour-long digital and 12" release.

The relatively shapeless "Signals" segues into the more structured "Not Insulated", a solid exercise in low-bit-rate techno-light with a slowly shifting, almost simulation-steam-train like percussive crispness that gets more intriguing as the counter-rhythms start to shift and pull against each other towards the end. Halfway through "Steps" we meet a slightly edgier sawtoothed sound that initially feels like it may be building to something, but doesn't. The nicely purist pulses and clicks of "Adapt" are rather refreshing.

An interesting exercise in fairly stripped back, analogue modular synthesizer routines, it does work well as a mini-album, but perhaps lacks the carefully crafted edge that would have lifted it above an exhibition of how nice this particular modular synthesizer sounds.