Artist:
Yani Ani
Title:
Yalla Bo
Format:
12" vinyl + Download
Label:
Unterman
Yani Ani's debut EP on Unterman is a fairly casual and confident affair, taking fairly relaxed beats and organic, natural-sounding guitars and synths into fairly simple, mid-afternoon-slow-dance friendly instrumental grooves.

The title track is a fairly simple affair, relying on a slightly Peter Hook-style guitar riff over a steady house beat for an enjoyable, semi-lo-fi pattern that works, without wowing. The D.Y.O.R. remix of that track is the highlight for me, precisely doubling the length of it and adding a bunch of dynamism and rhythmic energy that makes it shine. The gentle one-chord synth patterning of "Ohevet" is nicely mesmeric, while as the name suggests "Hectic Living Rhythm" is the most urgent-sounding of the set, with a slightly faster BPM and some active bongos adding a bit of breadth.

It's a steady debut, neither a record-breaker nor a ground-shaker but a winner for people who like their mellow house with just a little bit of guitar in it.
Artist: Kratos Himself
Title: Solstice / Part I
Format: Download Only (MP3 + Lossless)
Label: Youngbloods

The first half of a downtempo vocal electronica concept work marking the division of the seasons, the 23 minutes of "Solstice Part I" focus on the transition between winter and spring, and it's a fairly on-the-nose treatment, blending elements such as glacial melodic synth tones and birdsong in a manner that's more prosaically representative than metaphorical.

Though describing itself as 'ancestral soundscapes' it's a more danceable release than that may imply, with steady grooves and basses rolling throughout. The nicely off-step rhythm patterns of "Hibernal" are quite poppy and could potentially be a crossover track, as could the gentle soft-glitch and simple but catchy bassline work of "Luna", where the quirky vocal sampling and fairly dramatic melodic reveals exude a refreshing confidence. The jazziness of "Lonely Ride VII" is rather sweet too and would make good quality library music.

For electronica that's unusually seasonal- and by that, thankfully I really don't mean "Christmas music"- this is an interesting and well-crafted little offering.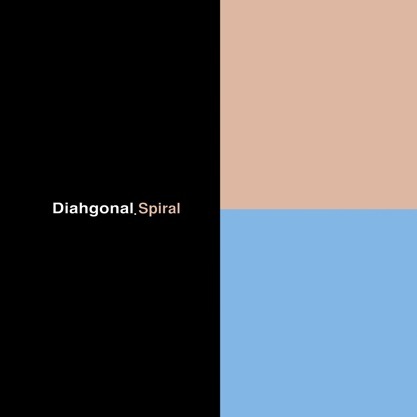 Each track is a pleasant surprise and a stylistic change from the last to a new, unanticipated direction. Despite being electronic, The Spiral Ep has more in common with a pop album than traditional techno variations on a theme or style. In fact, one would listen to the Spiral Ep the way one would watch European cinema; with no expectations, an open mind and an assurance that you won't know what happens next. Styles on Spiral range from deep 'n darker techno, to Industrial, to ambient-drone, to synth-pop that would make Depeche Mode proud to 4AD-esque goth pop and more... Diahgonal is the alias of graphic designer and studio engineer, Ruben Alonso Tamayo who co-founded the Static Disco label and the Cyan Recs netlabel, perhaps better known under the techno moniker, Fax. Opening "Lost" has modulating electro-chirps, then pensive beats while gentle synth lines wash over before a dark and heavy 4/4 trot-beat kicks in with industrial strength. "The Empty Night" follows with twangy, guitar-like textures before a deep, aortic preliminary beat pulsates while Detroit-techno style keyboard hooks with a touch-of-funk interplays with grooving beats. "Horizons" and "Buildings" could be considered the ambient and drone interludes, respectively; the former pierces ambience with beacon signals while the latter is spacious and a more sweeping drone. "Movement A" (and "B") are the more dramatic pieces, the first opens with hypnotic undulating tones as restrained beats fade-in, then a bass-heavy club beat accompanies to rousing synth notes. The latter, "Movement B" is the stand-out track on the Ep. Dramatic yet catchy layered keyboard melodies loop with counter-melodies, then drum machines with a pulse beat combine to make something seductive, moving and memorable; a synth pop hit if there ever was one. "Awakening" concludes, recalling Robin Guthrie (Cocteau Twins) style guitar strumming, while major, Vangelis styles synth tones caps the Ep to a gentler, more tranquil conclusion. Though this is only an EP, it has the depth, variance and complexity of a good, full album and Stasis is adept at providing talent who delivers so much from so little.
Artist:
Silver Dust
(@)
Title:
House 21
Format:
CD + Download
Label:
Fastball Music/Escudero Records
(@)
Rated:
'House 21' is Swiss band Silver Dust's third album, a melange of steam punk, metal, goth and prog rock that is really confounding. If you read through the lyrics in the booklet you'll find that this is a concept album with the story taking place during WWII where a soldier, sickened by the atrocities of war, deserts and flees the battlefield arriving at a creepy refuge (House 21) where the bulk of the story takes place. Certain lyrics are attributed to certain characters in the story, but the band's singer, Lord Campbell sings all of them so without the booklet you really won't know who's saying (singing) what. It's ambitious, but kind of a lot to swallow for the casual listener, but we'll soldier on anyway. After an atmospheric dark cabaret opening instrumental that reminded me of Netflix's "Chilling Adventures of Sabrina" you are thrust into the doom metal of "The Unknown Soldier," (not a cover of The Doors song but an original) heavy with guitar and gothy keyboards and a singer who sounds like a cross between Ozzy and Pete Steele. The spooky-ooky carnival of souls-ish vibe on the title track is all rock & roll sideshow, and to me it sounds like Mr. Bungle for wayward goths and steam punkers. "Forever" dispenses with the circus act but sounds as if it could be any heavy guitar alt-rock band. "Once Upon A Time" is perhaps the most solid track on the album doing what this band sounds like they do best- vocally potent metallic rock with enough gothic touches to appeal to a black-clad crowd. Then they veer off into the ozone with the hardcore wacked and wacky "La La La La" and I feel like I'm in a Bungle nightmare again. Adding insult to injury, the next track is a cover of that Kim Carnes chestnut, "Bette Davis Eyes" featuring the vocal of Mr. Lordi of the Finnish metal band of (nearly) the same name. Of course it's a joke, but this makes as much sense as Thor singing "Total Eclipse of the Heart" during the Infinity War. Perhaps it's ironic that the title of the next song is "This War Is Not Mine," a rather dreary ballad that's supposed to evoke some emotion and compassion, but when Lord Campbell's voice turns falsetto, it triggers an involuntary snicker. I can't help but think of Spinal Tap when it comes to "The Witches Dance," and although Silver Dust doesn't sound much like Nigel Tufnel, David St. Hubbins and Derek Smalls, I picture the lit'l people of Stonehenge, and oh how they danced. Funny though, on the next track ("It's Time") they actually do sound like a parody of a metal band, and uh, isn't that just what Spinal Tap is? Last track, "The Calling" pulls out all the stops to give listeners the big finale they deserve for making it through this metallic phantasmagoria. It seems too much, too little too late though. On the positive side, everything is executed with ultimate precision, and the artwork in the CD booklet is very cool. It all depends on how much you're willing to buy into their concept for 'House 21' to make any sense, and perhaps this may be more apparent in Silver Dust's live show, but chances are only fans of the band are going to get into 'House 21.'
Artist:
Broken Ego
(@)
Title:
Avenue To Wonderland
Format:
CD + Download
Label:
Echozone
(@)
Rated:
Broken Ego is a "glitter-pop" band from Vienna, Austria, led by the charismatic Chris Ego, and 'Avenue To Wonderland' is their debut full album after their 2011 EP, 'Love & Decay in 16 Bit.' While "Glitter Pop" might have American audiences thinking Lady Gaga, Katy Perry or something of that ilk, that's not the case here. Their focus is on the slick electro-pop of the early 1990s, with an emphasis on SLICK. This is miles beyond 'Love & Decay in 16 Bit' in production, execution and songwriting. From what I understand, they came from Goth-Industrial roots but shed that for a [more commercial] electro-pop sound combining synths and complimentary guitars into a dynamically appealing package. Right from the get-go on "Electric Girl" you'll know where this band is coming from, as it grabs your attention and infects your psyche with its well-produced ear candy. Ego's vocals aren't bold or forceful, but they fit the music hand-in-glove and are pleasing enough to keep your ears glued to it. Hooks are bountiful throughout, and lyrics carefully contrived for maximum pop effect. In fact, every bit of the music on 'Avenue To Wonderland' has been crafted with hit potential in mind. There's even a song titled "Everything is Perfect" (which is more about things going right in your life for a change) which may be the mantra of 'Avenue To Wonderland' because everything does sound perfect on it; maybe just a little too perfect. Usually when a band puts out an album of a dozen tracks there's at least one that blows the others away, and at least one that's kind of a dud. Not so much here really. Some of these tunes are a little catchier than others but nothing at all sub-par. Although he had help (Max Cor- bass; "Captain" Mani Strasser- guitar; Jo Marchari- drums; and Depeche Mode's drummer Christian Eigner on one track), Chris Ego is responsible for the bulk of the material on the album, and I guess the production as well, which is sparkly stellar, giving him the right to call this glitter-pop. Rather than compare this retro-wave outfit with bands of the past (the poppier aspects of the Buggles and Tears For Fears come to mind), the closest modern act I can come up with is the Swedish band Melody Club. I think Broken Ego are a little edgier, but if you're familiar with Melody Club you will know exactly what I'm talking about. For all of Broken Ego's excellence and top-of-the-synthpop potential though, there's something a little ephemeral about 'Avenue To Wonderland' in that it's great while it's playing, but when it's done, you're likely to forget most of it. Still, most will never even realize that because of the generally transient nature of modern pop music these days. Likely to become very big in short order.