Artist:
Fred Lonberg-Holm / Adam Golebiewski
(@)
Title:
Relephant
Format:
CD
Label:
Bocian Records
Rated:
In the huge pile of stuff that keeps on reaching impressive heights on my desk, there was this 1-year old awesome output (it was released Polish label Bocian on 18th Nov 2016, but I think it should be possible to find it somewhere on internet or specialized music shops, even if this label drops only 300 copies of each item) by the hyperactive American improv musician and performer Fred Lonberg-Holm and the inventive Polish drummer and percussionist Adam Golebiewski. The CVs and the experiences of both musicians are really impressive: I already heard many Fred's collaborative outputs (particularly on FMR Records), but I discovered that great people of modern music like Morton Feldman, Anthony Braxton and Pauline Oliveros taught him something when he was a student yet and that he also collaborated with likewise appreciated contemporary musicians such as Rob Mazurek, Jim O' Rourke or Peter Brotzmann after a more attentive check of his artistic path; Adam is younger than Fred (he was born 22 years after Fred), but he can brag about a likewise respectable bunch of experiences in improvisational and free jazz scene (including some performances with iconic characters of experimental music such as Yoko Ono and the brilliant American guitarist Thurston Moore). Fred and Adam officially met on a stage in Poznan, in Germany, where they also recorded the four tracks of "Relephant" (recorded on 12th and 13th May 2013 at Club MDX Dragon). The artwork could describe the intricacy and the complexity of the dynamics they forged, featuring a wide set of overlapping frictions and abrasive collisions. A title like "Obviously in the room", but mainly the recipes of its sound (highly distorted and extremely fast bowing over fragments of percussive metallic patterns) could let you think the desperate research of a key to unlock a killing machine by some "player" of Jonathan Kramer aka the Jigsaw's cruel games of the popular horror film series. The shortest track of the fourtet, "Disguised", featues an almost robotic 3-tonal wick melody, repeated by noises getting harscher and harscher, a weird parenthesis preceding the 14-minutes lasting "Being Run Around Inside", the track which has something closer to a proper structure (overlapping with other improvised micro-structures) and where the listener can notice even a sort of gradually cathartic process, but the more surprising track for its concision, its intensity and the impressive way by which the sonic tools by Adam and Fred played symbiotically is maybe the final pne, "Meeting three blind people". Have a check.
Artist:
Spyros Polychronopoulos
Title:
Live Electronic Music
Format:
Download Only (MP3 + Lossless)
Label:
Room40
I've listed the format here as 'download only' here, but it's a little unclear, as I'll now attempt to explain.

"Live Electronic Music" is an arguably cynical deconstruction of what constitutes electronic music performance. It's literally music generated by a computer inside a polycarbonate box, which has been loaded with custom software and a sound effects library, and programmed to randomly select five samples at once and play them in parallel across the stereo landscape, whilst applying alternating randomised filters. There's no "music" in the traditional sense, just a random collection of layered noises. The box could run for thousands of years and logically never repeat itself.

Principally, Room 40 are selling 250 copies of the box itself, for around $75 each. So it's a music-making device you're buying, not a recorded music product, and I'm unclear whether you can also buy recordings of it.

So the recording I was sent is an arbitrary 22-minute slice of the box's output recorded earlier in 2017. Generally with online sound effects libraries you often find a mixture of very long ambiences lasting a minute or more, mixed in with super-short percussive sounds lasting only a second or so, and that library nature is discernible here. At times it's rapid-fire, stupendeously glitchy and harsh- at other times it's a more mellow soundscape of hum and drone, though any single drone never seems to last more than twenty seconds before something else cuts in.

It's an unusual piece of work. It would probably be more appealing to witness the box in situ in a gallery or exhibition space, coupled with the notion that what you're hearing won't ever repeat. Surprisingly the press and publicity material for the release didn't include a picture of the box itself, so it's hard to tell whether it would be nice to look at. As a piece of recorded audio, it has its enticing moments, but devoid of information about the concept behind it, it's arguably a bit too scatterbrained and rough-edged to make it a release you're likely to return to for many repeat listens.
Artist: Justin Robertson's Deadstock 33s
Title: Cyborg Holiday Snaps
Format: 7"
Label: Paradise Palms

Under his well-established Deadstock 33's alias, Justin Robertson offers up "Cyborg Holiday Snaps". It's a 4-track release, though with a full-length mix and bluntly cut 7" edit of each, in a way it's only a 2-track release.

The title track has a driving electro bassline and rhythm with a sense of clockwork confidence, over which some slightly plinky synth notes trace regular patterns- a classic bass for your legs, treble for your arms piece of dance music that seems almost custom-made for breakdancing.

"Numerical Discord Swap" is much quirkier, decorating a steady single-note bassline with looping bleep patterns that morph into a sort of weird digital guitar solo that then reforms itself into rather a catchy, almost Jean-Michel Jarre-esque instrumental lead melody, before a real actual guitar solo of sorts. Being both more off-the-leash and more mellow than the first track works in its favour, strangely.

In a way Robertson seems to be harking back to his Gentleman Thief alias here, producing an interesting blend of house, acid and a sort of post-big-beat electro. It's as well polished as you'd expect and a couple of lovely grooves (if I can call them that) that won't rock your world but which just ooze entertainment.
Artist:
Super Dragon Punch
(@)
Title:
Shatter
Format:
CD EP
Label:
Echozone
(@)
Rated:
Super Dragon Punch? What's that - a martial arts move? An alcoholic party drink with a kick? Nope. It's Belgian artist Jérémie Venganza with the debut release of his synthpunk/8bit/industrial project, an EP titled 'Shatter,' and it does pack a bit of a wallop. Venganza won last year's Dark Demons Night, scoring an opening slot for Belgium's illustrious BIMfest festival, so he's not coming without cred to the scene. Vocally, he reminds me a little of Dirk Ivens (Klinik, Dive, Absolute Body Control) but musically this is highly polished dark dancefloor EBM. His vocal style is more on the punky side than aggrotech or hellectro, which is great because I'm really getting jaded on raspy/distoro/screamy vocals that everybody and their sister has been doing for a spell. Synthwork is very competent but nothing you haven't heard before. The combo of Venganza's enthusiastic rough and ready vocals juxtaposed with slick electronics punctuated with club-heavy beats, good hooks and just the right amount of repetition to drive the point home is surely a "winner takes all" formula. There are four songs and four remixes of two of them for a total of eight tracks. From the outset with "Core," SDP exhibit an urgency with mad fervor that can't be denied. It's a controlled sort of frenzy that is bound to drive goth stompers and riverheads wild. "Pure" sacrifices some momentum in favor of expanding SDP's sonic palette and settling into a groove. Okay, but certainly not the best thing on this EP. "Howl" gets even more atmospheric and I hear an even stronger Ivens influence here with a touch of Suicide Commando. Good stuff, but it even gets better on "Inspire." I didn't pay much attention to the lyrics until this song. Here everything comes together in an ultra-dynamic way with engaging verse and a compelling enigmatic chorus- "I forget how it is to resurrect the needles in my chest...emptiness, staring back to me, turn it off me in my chair" whoa, that's something you don't hear every day. This is a killer track, and not one of the remixes can sabotage it. Speaking of remixes, Assemblage 23 is first up remixing the aforementioned tune. Tom Shear does a credible job, and although not radically different than the original, it does put the vocals more upfront without sacrificing the feel of the original. Terrolokaust remixes "Pure" turning it into more of a heavier industrial stomper with a lot stripped out adding in some squinky effects but makes it sound epic 2/3 of the way through. An interesting job on this one. The Iszoloscope remix of "Inspire" is a distorto noise beat assault that struck me more as novelty than anything essential. Last up is WOTTW's technoy remix of "Inspire." For me, this was the most interesting remix on the EP, which is saying something because you know I'm not a big remix fan.

Super Dragon Punch really has the potential of muscling its way to the top if 'Shatter' is an indication of what Jérémie is capable of. I think he has a handle on what needs to go into making compelling EBM (live though, a little more melodicism and a little less shouting in the vocal dept., as evidenced by the live YouTube vids) and if SDP can keep on cranking out great tracks like this, it will be unstoppable.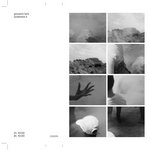 Artist:
Giovanni Lami
(@)
Title:
Hysteresis II
Format:
Tape
Label:
czaszka (rec.)
(@)
Rated:
The second part of this ongoing project was recorded on the volcanic site of Solfatara and, because of the sound similarities of those activities with the hiss of the tape, it's perhaps more organic than its predecessor. For those who missed the previous review, it should be said that this project is a series of field recording manipulated directly on a reel-to-reel tape without any other manipulations except editing.
While "Hysteresis I" was heavily focused on tape noises, the first side of this release starts with a more recognizable field recordings as the voices are in the foreground even if the noises of the tape manipulation are more audible than in the first chapter of this project, then the center of the composition became the tape manipulation to alter the pitch of the recording, then it ends trying to blend the noises of the tape with the noise of the ambience. The second side features even some music while it's not discernible if it's recording on the field or it's a memory of the tape, however it's more focused on the sound development than on the noises disposition in time and this approach creates a more enjoyable release as it's less orthodox in following his premises.
While it's could be viewed as a variation on the scenario of the previous chapter, it reveals how it could unfolds in different directions while sounding the same at first sight for the inattentive listener and this opus is something to be handled with care. Waiting for the next chapter with curiosity.