Artist: HøRD
Title: Bodies
Format: 12" vinyl + Download
Label: Avant! Records

"Bodies" is the third full-length album from French synthwave producer Sebastien Carl's solo alias HøRD. Unlike his previous albums, here the eight tracks are numbered rather than titled, and out of order too, which feels like a statement about the musical manufacturing process- but for the music itself it feels a little unjustified, since each track has lyrics.

Predominantly this is dark synthwave, with grandiose and sawtoothy synth chords, steady attitude-laden drum patterns, rumbles and atmospherics aplenty throughout. It's pitched as 'RIYL' for acts like Tangerine Dream, but while there are arpeggios and slow evolutions at play here, there's also quite a lot of distortion and grit which makes it much darker and more gothic.

"#14" is a strong opener, with a Vieon-style sense of cinematic breadth and a gritty slow drum pattern and a somewhat lethargic pace, before "#16" picks up the energy with purist techno kicks and some synth-toms bordering on cheese. "#02" has a touch more industrial tone in its percussion, and a nicely horror-chaos-tuned organ sound, while "#04" and "#13" are 'the ballads' of sorts, and a little more introspective.

"#15" is one of the strongest tracks, a brooding number with a shade of Depeche Mode about it, and final track "#17" is a good example of electro songwriting, with

But for me, there are some minor general problems that affect all the tracks. The vocal is generally quite low in the mix and washed in so much reverb that it becomes difficult to work out what's being said. Consequently the vocal doesn't fit the epic, bandwidth-filling scale offered up by the synths- which is a shame as what little I can make out lyrically in tracks like "#04" seems quite strong.

Beyond that, for me there isn't enough variation in the sounds, particularly the drums and pads, and the fact the tracks are numbered rather than named gradually starts to feel more explicable because, unfortunately, there sometimes isn't enough to tell them apart. Despite only being a 40-minute album, to an extent there's a little bit too much of one flavour here, a series of tracks with near-identical approaches and only minor variations of tempo and sound.

It's a rich and very polished bit of synthwave but I think it's a little too by-the-numbers.
Artist:
Celer
Title:
Future Predictions
Format:
4 x CD (quadruple CD boxset)
Label:
Two Acorns
Celer is an established name in electronic ambient, and a prominent name on my sleep playlists already. This four-disc set, with one single piece on each disc, adds confidently to the repertoire without throwing in any major surprises.

The press release states that "each piece begins with all layers playing, with minimal additional long-term structural development in order to maintain a state", and frankly it's difficult to either argue or add to that. Each piece is rich, and quite densely layered, with calm and tuneful top ends over soporific bass hums that can wash over you with pleasure.

The warmest is first piece "Merita", a 35-minute concentrated sonic lullaby that pulls you gently out of time. Despite its name, "No Sleep In Medan" is certainly something you can fall asleep to, but a slightly gritter low rumble and a more plaintive slow two-chord alternation do add a sense of loneliness and melancholy.

"Nothing Will Change" has a strongly Eno-like vibe to it, again rotating the chords but with a slightly more acoustic flavour and a velvety tone to it that might or might not be connected with the use of old reel-to-reel tapes for recording. Final piece "Qarauan" adds more of a gradual rise and fall to the slowly evolving melody parts, a stepping process that feels oddly inebriating after a while, playing on the most primitive of psychological effects where rising tones feel optimistic- so there's a certain happiness to the audio drunkenness here.

If I were looking for something to criticise, I would mention one gripe which is more environmental than artistic. The average running time of these pieces is under 40 minutes and despite being a four-disc set, the music on here could easily have fit onto two discs, with room to spare. So in a physical sense, it is a touch wasteful. And if you fell asleep whilst the first track on a disc was playing, and slept through the second piece, would it really matter?

The press release also describes the concept as "a meditation on future events", and while it's hard to discern where the future events lie within this sound- or indeed any events at all, an implication reinforced by the track title "Nothing Will Change"- it certainly is meditative music of the highest order.
Artist:
Benjamin Dwyer, Helen Kindred, Pete Gomes
(@)
Title:
KnowingUnknowing
Format:
CD + DVD
Label:
Farpoint Recordings
(@)
Rated:
'KnowingUnknowing' is a CD and DVD by Irish composer and guitarist Benjamin Dwyer. The release features music by Benjamin Dwyer, guitar/prepared guitar; Pete Gomes, film; and Helen Kindred, dance. the CD features Dwyer's "KnowingUnknowing" trilogy, an exceptional example of Dwyer's guitar work. He also plays compositions by David Fennessy, Judith Ring & Peter Moran and Paul Hayes. The DVD contains 'KnowingUnknowing,' a collaborative film work with dance from Helen Kindred, film by Pete Gomes and music by Benjamin Dwyer. This all comes in a 2-colour heavy card A5 size trifold, with metallic ink printing and contains a 20-page booklet with new essays by Dwyer, Gomes and Kindred, with the CD and DVD mounted to the inside covers.

No doubt the packaging is elaborate and elegant. As for the music and visual, let's start with the CD first. The music is modern acoustic guitar along the classical/avant-garde lines, but not traditional to either. David Fennessy's "Security Blanket" is up first, and the longest track at 17:24. It also sounds closest to what you might associate with conventional modern acoustic classical guitar, employing scales, arpeggios, and even some rasgueados (flamenco strum). Overall, it was fairly engaging, and excellently played by Dwyer, but not what I'd call challenging or novel. Moran & Ring's "Anois Aris" (5:30) delves into more oblique sonic patterns, with microtonal scales derived from ancient Greek music systems, as well as psaltery splicing and layering from tape recordings. Lots of string scraping as well as dissonance highlights this piece. "Enharmonic Harmonics" by Peter Moran juxtaposes very low harmonic strums with mid-to-high range notes played normally first, then on harmonics. There is a good amount of space allotted between phrases to allow the music to sink in, and sometimes the effect comes across as nearly a zen-like orientalism. Several Paul Hayes compositions are next - "Sonata a niente" (6:53); "Non in Fretta" (2:45); "Thirteen Little Things That Touch The Heart" (5:30); and "Prelude for Morton Feldman, 1928-1978" (1:11). Hayes' compositions encompass a wide range of techniques, and often seems like episodic incidental film music, or at least the structure for cinematic purposes. Dramatic tension and pacing are hallmarks of his compositions here. There is also an improvisational quality to numerous passages throughout. While the bulk of the musicality falls closer to traditional playing, there are some techniques that skirt the avant garde. Finally, Dwyer's "KnowingUnknowing" trilogy - Part 1 (9:19), Part 2 (9:40) and Part 3 (8:17) closes out the CD, and it does sound as if it were written for dance. Dwyer employs prepared guitar with attention devoted more to rhythm than melody, although the latter is unavoidable. His compositions are much closer to the avant garde post modernism you might expect, but once again an improvisational quality emerges, throwing some caution to the wind, and going with the flow so to speak. Still, a number of rich inventions are encountered, especially in Part 2, where the form seems less rigidly defined. Even the repetitive parts are curiously engaging, and at one point I thought of Robert Fripp. Part 3 makes prolific use of bowing and scraping, eliciting sounds you wouldn't normally associate with the guitar. Much of it is frenzied and turbulent up to a point until notes become stretched and elongated. But even that morphs into trepidatious territory. Overall, Dwyer presents an interesting, varied and eclectic postmodern acoustic guitar album that is sure to resonate with aficionados of the genre.

The DVD with Helen Kindred's postmodern dance added to "KnowingUnknowing" is something else again. Not only do we see her interpretation of Dwyer's music in physical form, but also Dwyer playing live in the same large room giving a much richer impression of the whole, especially since Pete Gomes filmed this in stark black & white. Part 1 is done blindfolded by both performers, as risky as a highwire act performing without a net. (Okay, no fear of falling to your death, but the possibility of untoward "events" remains.) Actually, the blindfold allows both performers to concentrate solely on their instrument (guitar for Ben, body for Helen) without distraction; an interesting concept, and well-executed by both. Watching Ben play guitar gave me a much fuller appreciation for his techniques, and Helen's flexibility and grace was impressive as well. I noticed that she has certain movements and gestures she likes using that tend to be repeated, and I wonder of this is innate to her style or just the music she is interpreting. As for Gomes' filming, he managed to capture the best of what was happening at any given time throughout in a smooth, artistic way, perhaps more richly and thoroughly than if one were to have witnessed it live.

Although this kind of music (and dance) is not among my personal favorite, I believe it has a vital place now more than ever, as this important art seems to be more and more relegated to the sidelines rather than the influential forefront it should be leading. The First Edition of this work is limited to 500 copies. Reviews of more releases on the Farpoint Recordings label to follow soon.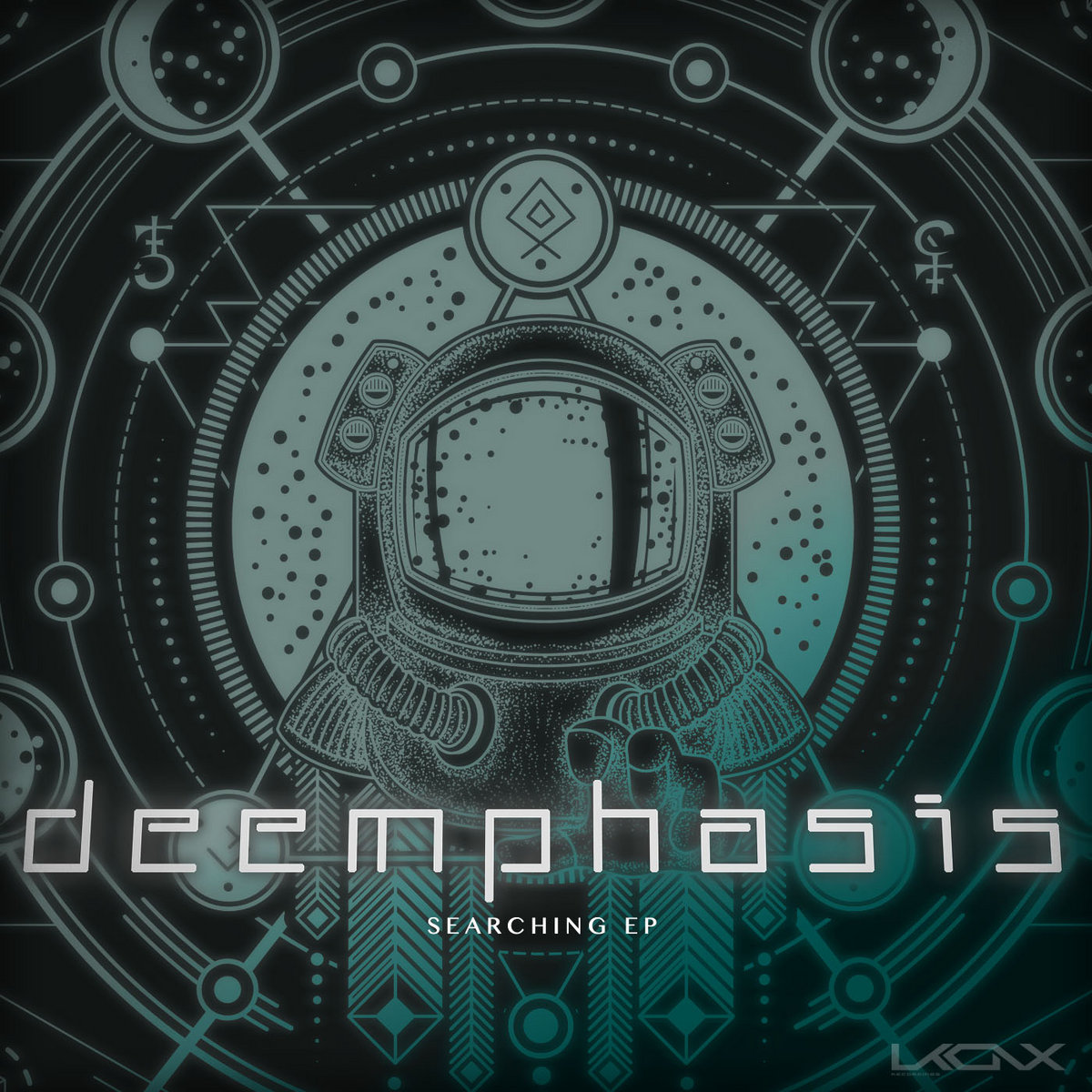 Artist:
Deemphasis
Title:
Searching
Format:
Download Only (MP3 + Lossless)
Label:
Ukonx Recordings
Rated:
Almost one year and a half after the release of the "Organic" EP, Stéphane Bastien a.k.a. Deemphasis is back with a new four-track EP titled "Searching", released on digital format on his own label Ukonx Recordings. All the tracks are developed to give the listener the time to get acquainted with them, as their length is about six minutes each. The idea that I have from the atmosphere, the titles and the graphics of the cover, which has an astronaut wearing his suit and rounded by symbols, is that his on a trip, "Searching" for answers when something happened in "Sector Seven". Something went wrong with the "Harmonic Synchronization". No one is left and he's now alone with the only company of his "Pain". Musically, whatever the trip you'll imagine listening to the EP, Stéphane is mixing electro, a bit of i.d.m. and acid. The track I preferred is the first one as is the one with more variations but all of them have great rhythms/sounds and have a good cinematic feeling.
https://ukonx.bandcamp.com/album/searching-ep
Artist: Laurin Huber
Title: Juncture
Format: 12" vinyl + Download
Label: Hallow Ground

Whilst this album is pitched as experimental, citing Huber's connections to the Swiss experimental music and arts scenes, the four long electronica pieces that make up "Juncture" do not end up feeling very experimental to me. Beautiful, mostly yes, experimental, no.

Instead, these are four mellow instrumental pieces that take certain sonic elements from techno- but no kicks or snares- and layer them up into gradually ebbing waves of sound. Different melodic elements loop on different time structures, creating musical moiré effects that pull you in interesting directions and obfuscate any overall loop point.

More experimental elements do creep in, but at the edges, for example at the end of the first track where some more distorted rustling noise- sounding like a microphone accidentally left recording in a pocket- arrives rather brusquely. These are very rare moments in something that's otherwise quite synth-purist in structure.

The fairly leisurely title track has strong shades of how Tangerine Dream might sound if they were forbidden from arpeggiating, a comparison that becomes stronger in the crisp, soft dubby white noise snares of "Jatkis".

"Hostage To History" has more urgency from the off, faster clicks and hihats and a pulsing bass note switching the comparison over into more Underworld territory. This immediacy drifts away over its nearly twelve minute span, gradually turning into something more spaced out. Short final track "Globus III" goes the other way, keeping things firmly in melodic ambient territory with a lovely warm descending-note bassline that just seems to exude contentment.

Anyone looking for anything cutting-edge, or just edgy, will be nonplussed by this- but if you're open-minded to a bit of very gentle melodic electronica with a strong intelligence behind it, this has a lot of merit.