Artist:
Ramleh/Libertarian Recordings
(@)
Title:
The Return of Slavery/Slaughter at Random
Format:
12"
Label:
Broken Flag
(@)
Rated:
The world turns. Backwards. Why return to the scene of past failure. Lack of new ideas. Lack of imagination forces grasphing at straws. But success can be attained through continuation of discontinued partial success. It is not wrong to look to the past. It is only wrong to mis-read it and to recreate disaster. Less is now permissable. More work is needed to retain what is still left. Celebrate and promote that which remains in order to
built further towards the heights once attained. Music need not be brutal at all times. Sublety also has it's place but we must have originality. It is said that in this day and age nothing is original. Fuck that. It is the view of those resigned to failure whose brains are incapable of anything but recycled garbage. Let the world progress one more. Soon. -The World Turns, Ramleh Mission Statement

A Return to Slavery/Slaughter at Random was the second release from the influential label Broken Flag, pivotal in creating the Power Noise genre in the UK. It was released in 1983, and was a split between Ramleh and Libertarian Recordings, which was a solo outing for Philip Best, who would later go on to be in Consumer Electronics and Whitehouse. This enclave of artists, collective, would re-define industrial music, creating an aesthetic of groddy, mono-chromatic sleeve design and lyrics focused on taboo subjects like serial killers, rape, and genocide. They created the mold for the modern noise-dude, and as such, have done it better than the nearly 3 decades of facsimiles.

The four cuts from Ramley, later compiled on the Awake! box set, are primarily composed of tectonic bass rumble, high-frequency oscillators, field recordings from what sound like Nazi rallies but are actually, upon closer examination, recordings of british politicians, and Gary Mundy, the mastermind of Broken Flag, barking martially. It proved to be an almost eerie simulacrum of my burgeoning sinus infection, with the bass rumble being the blood rushing behind my temples and the sine waves being the pressure behind my eyeballs.

The Libertarian Recordings side, one long track, clocking in at 23 minutes, is entirely instrumental, and sounds like the firebombing of Dresden. Soupy, flanged phased sounds careen across the stereo field, and the whitewash of white noise violence makes for some interesting scenery in the mental mirror, and will produce an eerie, blank calm, if played at high volumes.

It is interesting to hear the early days of Power Noise, Industrial Music in general, before it had become stylized and codified. The people making it were genuine misanthropes, making art for themselves and their group of like-minded cohorts. It was not about fitting in. In case you hadn't noticed, or thought otherwise, the urge to fill a room with paint-peeling static is anti-social behavior. It was not originally intended to win friends and influence people, and making unfriendly music to gain popularity has always struck me as an oxymoron.

Like the mission statement said, quoted at the beginning, it is possible to learn from the past. The concept behind The Return To Slavery was talking about underground music becoming a parody of itself, having its fangs ripped out of its skull, and in the culture in general moving towards the moral majority and repression, from the hedonistic bacchanalia of the '70s. Its not too late to re-write the past, and to create a present that we can live in.
image not
available
anymore
Artist:
THE EXALTICS / GOSUB
Title:
The Exaltics Meets Gosub
Format:
12"
Label:
Solar One Music
Rated:
The Exaltics meets Gosub is the first of a series of split 12"s that will find The Exaltics meeting cool names of the electro scene. The first to celebrate this series is the Miami producer Shade T. Scott, actually active under the monikers of Gosub and Dcast Dynamics. Anyway. A Side contains two The Exaltics tracks: "My Language" and "I.M.O.E.H.". After the last year EP "They Arrive" released by Clone, which contained six tracks that were exploring the experimental side of Robert's music, on this release, he bring to the attention of his fans two electro paced mid tempos which mix ambient pads to a more complex and fast rhythmical structure. Fast bass lines alternates ice keys and warm pads creating a nice mix that sounds alienated but also confortable. Side B contains two new Gosub tracks "Plug In" and "You Can't Escape The Present". I loved so much Shade's album "Watchers From The Black Universe" and "Plug In" is bringing me back to those atmospheres thanks to the classic Gosub's low slung bass lines and that Miami electro flavor. On this one vocally he recalls me also a little Egyptian Lover but a kind of dark one. The second track is a nice electro melodic vocal jam which seems to have been recorded underwater. Do sea-monkeys took control of his studio? Funny one indeed. This is another cool Solar One release and now I'm curious to know who'll be the next The Exaltics' guest...
Artist:
FORETASTE
Title:
Love On Demand
Format:
CD
Label:
Boredom Product
Rated:
I saw them live the last year and I checked some of the new tracks and I already knew that their next album would have been a good one, just like the old ones. Live they had nice videos running behind them and now, listening to Foretaste's LOVE ON DEMAND I recall them. On the album the tracks catch immediately the attention of the listener for their mix of dreamy vocals and powerful synth lines/bouncy rhythms. The album opens with a perfect way: an analog synth arpeggio coupled by a bass wobbling sound and a 4/4 bass drum/snare beat. Since from the song's titled, which is "Alone With People Around", we are introduced to the album's theme: our time's difficulties of sharing emotions with someone who's living with us. The song has a catch phrase that sums it up: "I'm living in a life where everything is fake, I drink away the pain but everything's the same". The following track is "Do What You Can", a really nice mid tempo tune where you can check the contraposition of analog bleeping noises, little distortions and the clean passionate vocals of Lover XX. Musically all the album plays with these sound contrapositions and they work really well but we don't have to forget what's evident since the first listening: Foretaste are able to write cool and catchy synth electro songs that now sound danceable but dreamy and then powerful and melodic. Check the single "Superstar" with its refrain's sound explosion or the distorted synths/pads on "Today". Compared to "Terrorist TV", LOVE ON DEMAND, sounds a bit more varied thanks to its apparent quiet moments that after a while blast into a rich web of snyth pads/leads and drum machine beats but also thanks like "What If". It is a melancholic tune with no drum beats that finds its power into the warm vocals and the bass frequency of the synth pads coupled to other little synth arpeggios. It has the same feeling of the Depeche Mode's tunes sung by Martin Gore. Anyway... LOVE ON DEMAND is an album that is worth your attention and if you're a collector, it is also available as double CD edition, with the add of a live album "Live On Demand".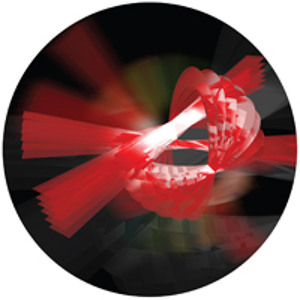 Artist:
MORPHOLOGY
Title:
Information Paradox
Format:
12"
Label:
Cultivated Electronics
Rated:
With a new distribution deal with Clone, Cultivated Electronics is back with the first release of 2012, a new Morphology EP. Coming from Finland, Morphology are a duo which in the last three years they released different vinyl 12" on Zyntax Motorcity, Abstract Forms, AC Records, to name few. The new EP is titled INFORMATION PARADOX and contains three new tracks plus a Sync 24 remix of the title track. The EP opens with the title track, an upbeat syncopated track that recalls me of the best Zerkalo tunes. It mixes Detroit electro and a bit of Miami creating a sort of warm/cold contrast. "Escape Velocity" is a 4/4 electro tune with crisp bass lines and catchy melodies. It kinda grows thanks to the add of floating spooky pads and more rhythmical parts. It sounds nasty and mysterious. B side is opened by Sync 24 with the "Information Paradox" remix. For this one Sync 24 choose to give to it a dark flavor thanks to obsessive fast arpeggios, spacey keys and eerie pads. The 12" is closed by "Tangent Spaces", a track that mixes aquatic and hypnotic atmospheres. It gathers upbeat tempos, dilated pads and melodic catchy piano inserts. This is a quality release that you will gladly check if in love with the electro genre.
Artist:
Koji Asano
(@)
Title:
Solstice Eclipse
Format:
CD
Label:
Solstice
Rated:
According to someone, the agonizing frequencies which sound like unbracing a weak compositional framing, feeble dynamics of a bundle of withering sounds emitting a sort of mournful hum, compressed as it is in a very narrow range of values, a certain grieving aura of doleful dreariness evoked by the slow variations of some sound which looks like coming from corroded organ-pipes performing during solemn obsequies taken and played through overcranking, such a time-stretched fading evaporating during the whole listening experience as well as such a title, Solstice Eclipse, having been Solstice the "trigger" of his weighty discography and the name of Koji Asano's sort of label, together with the remarkable slowing down of issues (this is just second release over 5-year span by this Japanese composer, well-known for his prolificacy) could be interpreted as an elegant way to wriggle out of music scene (rumours denied by the recent issue of "Polar Parliament"). I prefer to consider such a release as the result of influences from our days, so that behind those unrecognizable sound sources due to the abuse of time-stretching (someone could argue it could be an over-expanded guitar tone, even the general sound of Asano's 47 minutes and 48 seconds lasting drone recalls the failing sound some Chinese toy keyboards emit when battery is low!) the sonic translation of a feeble ray of light during eclipse, which in crisis times could be easily considered a metaphor of something slowing or dying or if we bravely associate it to some notorious irritating measures such as ACTA, PIPA or SOPA, it could be thought as the suited metaphor of the fading of free knowledge.