image not
available
anymore
Artist:
RODRIGUEZ, SANTOS, KUCHEN, RODRIGUES
Title:
vinter
Format:
CD
Label:
Creative Sources
(@)
Rated:
When a cd is out on Creative Sources and it involves the Rodrigues you mostly know how it sounds like I don't wonna say it's predictable, in someway that can be true, but they have a distinct sound nobody can deny that. Even if the presence of Martin Kuchen and Carlos Santos adds a saxophone and electronics to the strings of the two portuguese players, the opening track would confirm the idea of predictability but never judge a book by the cover bros!. It's with the second track they throw in what sounds like the body of a melody, thumbs up for me since the cocktail goes really close to many contemporary electronic composition: sharp digital computer sounds, mute saxophone playing and just some odd bowed squeaks. The closing and longest composition of the whole lot sounds much more like many other works in which I've heard these players: unplayed dissonant notes, long pauses and similar tricks. The last track offers a classic contemporary sound, above all when they leave unplayed unsounding jamming for crippled or laud playing, a strange interaction, but still really good.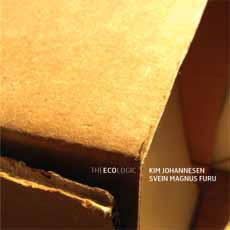 Artist:
KIM JOHANNESEN, SVEIN MAGNUS FURU
(@)
Title:
the ECOlogic
Format:
CD
Label:
Creative Sources
(@)
Rated:
Another guitar plus saxophone duo, just a while ago I've reviewed Rocco-Coxhill and now this nordic pair, beyond the remote possibly also this nordic couple has an avant jazz background I can't see any other similarity. Infact Johannesen and Furu are more contemporary classic oriented in their way of playing and these compositions somehow can be classified that way. The first track opens with what effectively sounds as a long circular drone crossed by some electro-acoustic sounds, a simple idea you may think, but in terms of length they bring this track to a point where they start disgregatin' everything before the end. If one may think that's another ordinary drone driven release the second episode presents a dissonant post Bailey-an impro with a strong intensity and the same idea is repeated here and there in several tracks before the end (tip of hat!). Despite some electro acoustic sketches that's not exactly their cup of tea, therefore when they go for a duo in unison you can bet the proceed shoulder to shoulder. They close the whole narration by returning to a long uniform sound droning even if slightly if compared to the first track, and I think thaat's a wise decision to cerate an interesting tracklist. What I've really appreciated about this cd is the fact differently from many scandinavian improvisers they avoid that repetitive unsound-playing going firmly from pointillism to well played angular notes. Interesting work.
image not
available
anymore
Artist:
PIETRO RIPARBELLI / K11
Title:
Metamorphic Portrait 1230 A. D.
Format:
CD
Label:
Actual Noise
Rated:
During the last year I've been reviewing at least three Ripabelli's releases and I've seen him once live, funny since despite the fact I happened to hear and read his name mentioned several times I didn't know how he sounded like or anything else about him and all of a sudden one listening after the other. This italian artist is quite well known for his activities in the dark ambient-post-industrial esoteric scene and I'm sure you will agree it emerges also by the musical aesthetic of his works. The positive thing about is works is that he's an incredible taste and he's far from the flashy of the genre, another great quality of his solo releases his the great sound quality of his productions so please don't mix him with many lo-quality sci-fi esoteric new-jacks dealing with power-noise or with the dark ambient thing. "Metamorphic Portrait" has been released with sound sources recorded in the lower Nasilica of Assisi and take for granted the esoteric factor of the whole cd is high on top, but as the artist himself writes in the line note of the release that's part of his personal research and explains the enormous religious feel of which this work is imbued. Despite some characteristic dark ambient sound and distortion I will somehow recognize in other works with the moniker K11, this cd is characterized by a large use of delays and echoes and by many vocal sound, gregorian chants, vocal singing and ancient ritual singing like that, but don't think it may resemble Rison D'Etre, everything is less clean, the original shape of the vocals drifts ashore and in some traces they've been submerged by some power distorsions that after a while live space to what sounds like an organ. The cocktail ends sounding really esthetic which is something that definitely lacks to many releases like that, plus you have to consider Ripabelli really knows how to build an emphatic and interesting structure fo tracks like those contained in this cd. If you've never gave him a listen maybe it's time to check how he sounds like.
image not
available
anymore
Artist:
Redrum Alone
(@)
Title:
My First Kernel Panic
Format:
CD EP
Label:
Ufo Solar
Rated:
Redrum Alone is an Italian duo active since 2006, formed by Tommaso "Qzerty" Danisi e Piero "Peet"Pappalettere. MY FIRST KERNEL PANIC is their second EP which follows their first one "Patchcord", released in 2007. The four original tunes of the EP take as reference dance electro and techno music, focusing the mid tempo tunes on catchy melodies, vocorder filtered and clean vocals, bouncing bass lines and 4/4 rhythms. The MCD is opened by "Fractured reality", a convincing song which with the following "Oniricact Part 3", recalled me someway The Presets, a bit of Tomcraft and a bit of Tiga. "Using interface" is nice but is missing something (the vocals don't convince me too much). "Oniricact Part 2" is a nice electro techno atmospheric tune with stops and go and good dance beats. The EP is closed by a remix of "Oniricat Part 3" reworked by Digitalica: they turned the original track into a dance cinematic electro tune thanks to syncopated bass line arpeggios and subtle synth melodies. A nice EP which is available on the major digital tune shops or as CDr directly from the label for 3 euros only.
image not
available
anymore
Artist:
VV.AA.
Title:
Compilation Vol.3
Format:
2 x CD (double CD)
Label:
Solar One Music
Rated:
COMPILATION 3 is the new Solar One Music CDr compilation issued as usual in a 100 copies run. This time, Robert and Nico packed the new release with thirteen new tracks and three remixes (you can find them into the 3" CDr attached to the inner cover of the hand made digipack package). The compilation is opened by an electronic atmospheric great tune titled "R.F.I.D.", by Miami electro techno enthusiast AS1. Atmospheric electro continues with Komarken Electronics with a robotic tune with 8 bit like sounds, titled "Spaciousness". The same atmosphere is produced by Destral, that with "I love your fat ass" produce nice Miami bass driven sounds with bleeps and long pads. =UHU= is here with a remix of "Lyntas jazz", a track which mix minimal techno, house and electro. Aratkilo with "Blood-feud" changes the atmosphere adding darkness (check the menacing vocals) and obsessive synth lines to bouncing bass lines and hard 4/4 beats. Kan3da with "Gbg" ease the atmosphere thanks to robotic sounds and pads arpeggios. Alek Stark with "Am I wrong" is here with an obsessive tune of dark electro with vocoder filtered vocals and techno intuitions. "Planet 3" by Planetwalker is an electronic tune with synth alternating sound, electro funk bass lines and robotic atmospheres. SLF's "Aurora Borealis" is based on a circular melodic mechanical structure almost dreamy. Vagon Brei with "Ascension" present a cinematic electronic mid-tempo with nice melodies. The Exaltics with "Second choice" break the delicate atmosphere of the track before with techno industrial rhythms and epic/dreamy syth lines. Zyntax with "Sunset walk" mix ambient cold atmospheres, techno experimentalism and hypnotic melodies. Crotaphytus with "Bite 6" close the first CD with dreamy atmospheres, grinding rhythmical samples and icy ambient sounds. The MCD is opened by Clatterbox's remix of "Science of the naked men", a dark mid tempo track with early electronic industrial atmospheres (do you remind Portion Control?). Crotaphytus remix "Plug", a track originally by Katelectro Vs. Jauzas The Shining. They made of it a mix of techno industrial and dry electronic music with orchestral inserts. The whole compilation closes with The Exaltics remix of David Rottemeyer's "Logo 81", a nice electro upbeat tempo track with catchy obsessive melodic lines, cold pads and rich rhythmic parts. Make your purchase... quality is here!