Artist:
Hilter
(@)
Title:
A tergo
Format:
CD
Label:
Hikikomori Records
(@)
Rated:
Well this was almost the CD review that wasn't. The CD was misplaced until a few weeks ago (found wedged between two boxes where it must have fallen), then the wrong side of the CD picked up some of the adhesive gum from the plastic sleeve edge of the CD package and wouldn't play because of that, and I had a hell of a time cleaning it off to restore the CD, which I finally did. Lastly, I misplaced the one-sheet that came with the CD, and this was somewhat crucial, as this group is so obscure there is pitifully little info on them on the Internet. Google 'Hilter' and you are given results for 'Hitler' who obviously had nothing to do with this album. Even their label (for this CD), Hikikomori Records only has a description of the album and not much on the group on their website. Hilter doesn't appear to have their own website either (so I had to sub the label's website just so I had something to put in the required space. Just recently I found the one-sheet providing me a little more info on this enigmatic project from Iceland so finally, I'm getting down to it.

Hilter was founded in 2000 by Peter C. Mueller (vocals, programming, words), Rob Perzika (rhythm, drum, composing) and Rhalv Folling (cello, visuals). 'A tergo' is their first album in five years, previous releases being 'Sexfilms' (2004) and 'Prepared' (2005).I haven't heard either of those, so there is no prior frame of reference. Hilter's modus operandi for their brand of experimental avant-gardism is to employ a lot of samples, loops, TV/movie dialogue, bursts of noise and twisted synth sounds with occasional passages of musicality woven throughout the proceedings. Hilter sounds like what you might get if you mixed bits of Autechre, Brume and Brighter Death Now together (and/or similar artists), so you kind of get the idea. In no way though is this any form of IDM, even in in the loosest sense.

This 9 track 50 minute album opens with a spoken word sample, 'Hello Sonny, I suppose you know...' on 'L'affaire de Sonny B.' and quickly churns into a miasma of of dialogue samples, noise, electronic sounds, loops, drones, etc. 'Modus Operandi' which follows (was I subliminally induced to employ this term earlier?) makes copious use of the dialogue sample 'If you shoot somebody in the head with a 45 every time you kill somebody it becomes like your fingerprint, see?' and others from the film 'Henry, Portrait of a Serial Killer,' over eerie, droney atmosphere and heartbeat. There are also other stray sounds and a bit of atmospheric, ominous piano. 'klopf mich ab' has a sense of foreboding malevolence utilizing dark ambient textures, and a girl breathing heavily (trying to escape the killer?, monster?, whatever) with strategically placed staccato beats to heighten the tension. It's the briefest track on the album at only 2:51. The first few seconds of 'Regan No' are a shitstorm of noise but actually becomes the most musical track so far with a rhythm track and piano noted amongst other more twisted sounds. It's 'Triangle of passion' though that is the magnum opus on 'A tergo,' at 18:31 the track is lengthy enough to expound a variety of changes and mutations, mostly on the industrial sinister side. The form is quite varied, but relentlessly bleak. It's almost like some kind of surreal funhouse dark ride through a factory engaged in the manufacture of toxic products. There's a point in this madness where it sounds like some kind of stamping machine is pounding the heads of live babies (they might want to put in a disclaimer, 'no babies were injured in the production of this track') for some nefarious purpose. After awhile though this persistent stomping just becomes a little annoying. I can't deny though that this track was one weird trip.

The rest of the album produces some credible dark ambience in both atmospheric and noisy shades, but the last track 'Persona' has a cool industrial rhythmic structure to it, no less dark but a lot more moving. I was rather impressed with this, and is seemed like the perfect outro. My guess is that there aren't a lot of people who will pick up this release, and limited to only 50 copies (my promo copy doesn't count as one of the 50) , I guess the label didn't think so either. However, if you do manage to acquire one, count yourself lucky because this could possibly become one of those cult items that could soar in price in the future because of its scarcity. 'A tergo' may not be the best thing to come down the pike lately, but it is an intriguingly intense excursion into a peculiar realm of dark ambient dementia.

Artist:
Alfred Harth/Carl Stone
(@)
Title:
Gift Fig
Format:
CD
Label:
Kendra Steiner Editions
(@)
Rated:
Alfred Harth, aka Alfred 23 Harth, or A23H is a German multimedia artist and multi-instrumental musician in the avant-garde field, with a slew of releases (a good number of them being collaborations) going back to 1970 or so. His extensive biography is easy enough to find on the www, so let's just say he's had his fingers in a lot of different pies. Carl Stone is an American composer, primarily working in the field of live electronic music. His works have been performed in the United States, Canada, Europe, Asia, Australia, South America, and the Near East. Stone studied composition with Morton Subotnick and James Tenney at the California Institute of the Arts and has composed electro-acoustic music almost exclusively since 1972. Stone has a dozen or so releases going back to 1983, and probably more if you count collaborations, commissioned works and miscellaneous material. Kendra Steiner Editions is a small label run by poet Bill Shute of Austin, Texas (I reviewed one of his releases a little while ago) consisting primarily of limited CD-R runs. 'Gift Fig' is limited to 133 copies.

Well, no amount of background is necessarily going to prepare you for this collaboration- live performances recorded at Festival ROT, Mousonturm, Frankfurt, Germany (December, 2009) and at Superdeluxe, Tokyo (May, 2010), mixed by Carl Stone at Radio Free Nankano, Japan, and mastered by A23H at LaubhuetteStudio Moonsun, Korea. A23H is credited with Reeds, Con Arco, Kaoss Pad, Taepyeongso, Dojirak, Samples & Voice. Stone is credited with Computer, Max/MSP, Voice and Samples. To say the music on this album is challenging is a gross understatement. The pieces have an improvised nature to them, and what contrived structure there may be was likely born of a sense of randomness and chaos. That's not to say there isn't a method to the madness on 'Gift Fig' (a palindrome, if you haven't already figured it out), but you're going to have a devil of a time figuring it out.

Sonically, much of the album sounds like engaging in non-musical activity- rattling, stretching, scraping, squawking, squawking, muttering, murmuring, hissing, rumbling, clinking, clanking, swooshing, and just about every other onomatopoeiatic word of phrase you could think of. To be fair, A23H's wind instruments do emerge occasionally with some free jazz riffing but for the most part it seems more for effect than alluding to anything conventionally musical. At one point, it sounds like a flock of distressed geese. And there are touches of electronics that do sound...'electronic,' but the total effect in combination is something genuinely bizarre. The tone running throughout the album is an unsettling one; even in the less boisterous passages (of which there are many) there is a sense of uneasiness.

All tracks are titled 'Adler_Kino' and then a suffix- Gu I & II, 1166-1215 (I, II, II, and IV) which seem to serve only as markers for points in time of the whole. For me, though there is plenty of variation in the sound produced, the tracks seemed homogenous as a whole work, in spite of the heterogeneous nature of the sonic components. There are time s that the music takes on a ritualistic character, such as at the end of the last piece, the nearly 22 minute opus, 'Adler_Kino 1166-1215 IV' but the kind of rituals we might imagine here may have more to do with unspeakable Godz than any practices you'd be familiar with.

If you think you've got the capacity to appreciate some really 'out-there' stuff, by all means buy this CD and soak it in. Just remember, you've been warned. You WILL get wet on this ride.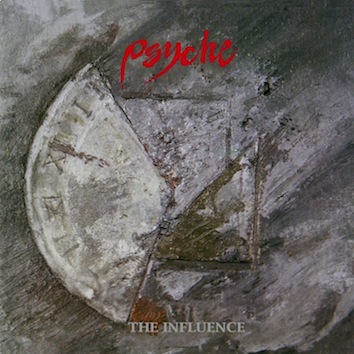 Artist:
Psyche
Title:
The Influence
Format:
CD
Label:
FinalMuzik
Rated:
Born in 1982 in Canada, Psyche formed thanks to brothers Darrin and Stephen Huss . It took a while before preparing some tracks, going into the studio, but in 1985 they self released for their label Malignant Productions, the first album "Insomnia Theatre". The tracks of that album, recently released as three LP box by Vinyl On Demand, paid tribute to Suicide and to a style of minimal electronic which was also dealing with industrial music. Soon after, they got a deal with the French label New Rose, that reissued that album and released "Unveiling The Secret" the year after. Already with this one, Psyche introduced more melody and a sort of r'n'r attitude on tracks like "Screaming Machine" (tracks that is recalling me Alien Sex Fiend a bit) without losing its electronic industrial root. Anyway, something was going on... In 1988 New Rose released "Mystery Hotel", an album that was sounding more pop and which cointained four tracks that had a commercial success in Europe and Canada: "Eternal", "Insatiable", "The Outsider" and "Uncivilized". The year after Darrin teamed up with David Kristian and recorded "The Influence". Originally released by Animalized, label of the SPV group that had on their roster bands of the likes of A Split - Second or Front 242, the album was a sort of creative change for the band thanks to the use of samples performed with the Casio FZ1 keyboard. Containing tracks like "Misery" and "Haunted", which were in continuity with their past releases, on this album the title tracks and mainly the beautiful "Dark Pool", were offering a sound more atmospheric and more complex. They always used 4/4 hard beats, but on the background pads and rhythmic sounds created a tense atmosphere, almost horrorific (see also "Psyche Theme"). Mid tempo tracks with powerful sounds were also winking to pop atmospheres: "Salvation Stranger" or "Secret Angel" are good examples of this new attitude of the band. This new release contains also five bonus tracks: "Haunted (On Hill House Mix)", "The Sundial (Shifting Time)" (this is an acoustic version of the track with chilly sax inserts), "Misery (Acoustic Rhodes)" (another strip to the bone acoustic version a track with a folk wave atmosphere), "Salvation Stranger 2012" (this is a new re-recorded version of the original tune which now sounds like a mix of cyber electronica and dark wave) and "Goodbye Horses (Immortality Mix)" (a nice dreamy electronic pop tune). If you love the band, for sure, you won't miss this release.
Artist:
Richard Pinhas & Merzbow
(@)
Title:
Rhizome
Format:
CD + DVD
Label:
Cuneiform
(@)
Rated:
Another release by Cuneiform landed on my deck with a certain delay is this astonishing collaboration by French trail-blazing guitarist Richard Pinhas and Japanese noisy sorcerer Merzbow. I already appreciated their sonic mongrel on the occasion of the issue of Keio Line, which occurred four years ago. The amalgamation between these the sonic elements sounds even more disorienting than its predecessor as there are many moments of the listening experience where it's quite difficult to discriminate between laptop and guitar, due to wise DSP by Merzbow who recorded in real time some harmonics by Richard while flooding sonic space by ceaseless billows of hisses, frizzling pulses, hypnotic fibrillation, wobbles, screeches and binaural beats interbreeding with performative technique by Pinhas, based on an overlayered and heavy orchestration of guitar loops, even if in some moments of the performance it seems exploring those reverb-driven primitive forms, which are going to be appreciated by Pink Floyd or Fripp's fans. In order to have a visualization of their sound, you could get the inspiration by its nice cover artwork, whereas a gentle geisha girl looks like threatened by a demonic freak of a piggy bear, arguably a metaphorical translation of the seemingly dissonant siege of harmony by noise, but I assigned different parts to playing elements while listening to their aural soundscapes: it seems to me that in the first moments of their performance (Rhizome comes as a recording of their live show at La Maison Francaise in Washington D.C. on 24th Septemeber 2010) Merzbow laser guns and other sonic weaponry have been set to remove any possible fastener or tier of the listener, which could thwart Pinhas'propulsion for listener's mental flights , and step by step they melt together in unison by emphasizing a sort of involving chorale. The listening experience has not weighed down with unuseful preciosities, as some tricks and the whirling assortment of sonic tricks make it everything but boring all over the four rhizomes and the additional one - the one I prefer -, which look like the highest level the gradual ascension their sound could reach. In spite of the delay, I think some copies are still available. They include a DVD, recorded live during the above-mentioned performance, a document which gives the possibility to have a visual approach to these surprising music minds.
Artist:
Life in Sodom
(@)
Title:
The Hollow and Haunted House
Format:
CDS (CD Single)
Label:
Nutrix Recordings
(@)
Rated:
Life in Sodom's single, 'The Hollow and Haunted House,' is a simple and catchy Darkwave song that is very well done, and fun to listen to. The lyrics recall that scary old house in the neighborhood that all the kids avoided and told stories about. The house is surrounded by rumors of all the bad things that happened inside. 'What did the Devil leave behind in the hollow and haunted house?'

The production is tight and professional and full of hooks. The CD single has 2 additional versions of the song ' an instrumental, and a remix ' with the original being the strongest version. The more you listen to 'The Hollow and Haunted House,' the more you want to hear more from the band.