Artist:
TWO BANDS AND A LEGEND
Title:
Two Bands And A Legend
Format:
CD
Label:
Smalltown Superjazz
(@)
Distributor:
Wide
Rated:
BUY from
Born from a The Thing with Joe McPhee and Cato Salsa Experience collaboration, Two Bands And A Legend started their musical activities at the Kongsberg Jazzfestival in Norway in 2004, when The Thing was offered the chance to invite their favorite rock band Cato Salsa Experience. Afer releasing the EP "Sounds Like A Sandwich" on Smalltown Superjazzz the label decided that the two bands and the legend should go into studio to record a full length album. Recorded live with no overdubs their self titled CD contains nine tracks where with a bit of difficulty, if not checked in they whole length, you'll track down covers of Pj Harvey's "Who the fuck", an instrumental version the Sonics' "The witch", Chuck Berry's "Louie Louie", "Baby Talk" by James Blood Ulmer and The Cramps' "I can't find my mind" and "Mongezi Feza's "You ain't gonna know me 'cos you think you know me". The combo plays like a free jazz combo on acid who's possessed by the spirits of Screamin' Jay Hawkins and Love's Arthur Lee, so you'll get a really convincing version of "The witch" but before the original song starts you'll get saxophones on fire, battling razor like guitars and gallons of sweat. Also the original tracks "Too much fun", "Tekla loo" and "The nut" are sounding convincing as the band's way of blending free jazz, noise rock and various insanities is a breath of fresh air but being musically accessible.
Artist:
BRILLIG
(@)
Title:
The Plagiarist
Format:
CD EP
Label:
Blackrain
(@)
Distributor:
Audioglobe
Rated:
This new E.P. is a sort of sum of the past and the future of the Brillig's sound as the first two tracks of the CD are coming from the next album "Mirror on the wall" which will be released on May and the other two tracks "Nihilist" and "Escher" are picked up from their 2003 album "Pterodactyls". The opening track "Truth or dare (Radio edit)" made me thought about a merge of Suede and Cure where the alternation of male and female vocals is working really well as much as the alternation of acoustic and electric parts. The second track "The plagiarist" instead is a sort of goth version of the Violent Femmes and it is a good acoustic song. The old tracks are more influenced by Clan Of Xymox sound with drum machine and all. If you already own their old stuff be patient and check their new album but if you purchase this E.P. you'll have also the video of an old song titled "Escher" coming from their 2004 E.P. "Finders keepers, losers weepers".
image not
available
anymore
Artist:
The Dance Inc.
(@)
Title:
Legs And Arms
Format:
CD
Label:
Audiolith Records
(@)
Distributor:
Broken Silence
Rated:
This is the official debut CD of a new German trio – and against to the simple-minded band name a musically quite surprising and unconventional release. It is globally said the try to combine Synthpop/Electronica textures featuring a rather charismatic-sounding male voice (somewhere near to Marc Almond to give a possible comparison...) with edgy and warm sounding acoustic elements found in Rock/Pop music – but without using guitars (okay, I've heard a bass guitar on two tracks). This acoustic elements are caused through the support of real drums, real bass play and a lot of other sound springs which manage hard not to get discovered before. It is the courageous musically mixture out of MESH and NOTHERN LITE – to give you a possible hint – simply delete the guitars! I avoid it to invent for this music a new genre title, let's refer simply on Pop-Art music – in quality to good to grab international top Chart positions, but I fear that the Synthpop-purists will have it really hard to accept this peculiar mixture. Therefore favorites are a bit hard to pick out, it rather belongs on personally preferences. "Slow Heart" maybe because of some catchy synth play, and of course "Don't Run To The Suburbs" featuring a hard-to-get-out-of-the-ear refrain part, a real smasher which also offers club compatibility. Of course, I dig this release a lot – it manages hard to break out of conventional genre-boundaries – be it Chart-oriented Pop-Plastic-Culture, be it the latest Synthpop-Pseudo-80ies-cult – and this is worth to get supported. A fine output designed for some open-minded Synthpop fans.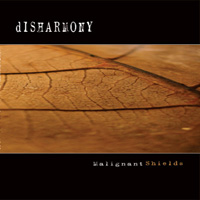 Artist:
DISHARMONY
(@)
Title:
Malignant Shields
Format:
CD
Label:
Aliens Production
(@)
Distributor:
DSBP
Rated:
Slovakia's finest Dark Electro specialists are on returning with a completely new studio album. "Malignant Shields" is herewith more than only a simple new album, it marks a new stylistically episode in the history of this mysterious duo. Their last release "xFrames" was a kind of collection which has compiled mostly some unreleased stuff or outtakes of their first band phase ranging from the debut "Moonflower" to "Collapse". "Malignant Shields" therefore has to be seen as a new chapter and especially musically there can heard some new influences integrated in the still creepy, spooky and artistic-complex song structures. Their typically provided Dark Electro somehow influenced by works of veteran acts like THE KLINIK or MORTAL CONTRAINT is still present – maybe a bit lighter provided than ever before - but it has experienced some more new influences out of IDM and Ambient styles and genres. Somehow the name GRIDLOCK as a possible musically spring for one or another sound idea flies like a buzzard over their previously discovered works. A track like "Gone In Silence" – for sure one of the highlights here – comes out as a really straight track featuring never-heard-before rhythm patterns by them. Also the opener "Drops Or Dust" with its variable vocals between distorting and vocoderizing has to be named in this context – somehow I have the impression that the both DISHARMONY protagonists have taken the wrong pill – a pep pill. Their very authentic Dark Electro style now combined with more complex rhythm patterns and refreshing new sounding synth play textures has not at all lost intensity – it sounds a bit more energetic. And of course – also "Malignant Shields" will heavily cause some brain-damage to people who still prefer the simple-4/4-on-the-floor-oontz-oontz-oontz-formula (Trancewhackedgoregalore – copyright by electrofreak, LOL), because of the wide-ranging complexity and the unforeseeable structures. DISHARMONY 2K7 still stands for the unusual Electro/EBM/Industrial listening – keep it on.


Artist:
VV.AA.
Title:
SYSTEMIC 02
Format:
CD
Label:
Systemic Audio
(@)
Distributor:
Systemic Audio
Rated:
Somehow this one got away from me, and has been kicking around for a while. No matter, I get to it all... eventually. Billed as "The finest the underground has to offer, chock full of industrial, breakcore, idm, dark ambient, drones, and noise." I will agree that it is chock full of all the aforementioned sub-genres. It is a mixed bag however, and with that much variety, it's not going to trip everyone's musical trigger. Rather than run it down track by track, let me tell you what I really liked and why. Axiome set the pace with "zieverdera", beginning with a spiraling electronic wire-ride that morph into a barrage of heavily distorted beats, with an effluvia of electronic sounds & samples, sliced & diced vocals and more that push it into hyperspace. There is so bloody much going on here, I can't even gauge the BPM! It's crazy, raucous, like your best synthware program just freaked out and blew up your computer. Play it loud and make the neighbors move. Xanopticon offer "pscicite", which must be running at 190 BPM or more, in a blinding fury that melds into a spacey tension break, and then resumes the breakneck breakcore with even more fervor until it collapses in exhaustion. Whew! I need a towel. Larvae's "seclusion" (mothboy remix) mixes ambient synth strains with bigbeat-breakcore, distorted bass synth underpinning, then breaks with a mod-vocal loop which morph into a weird repeating feedbacky synth line. I liked the distorto-drums. I thought Subtractivlad's "brokadocious" was going to be pedestrian with it's simple beat beginning, but as it chugged along, there was just so much bizarre sound manipulation to the analog synth sounds they're using that it really became technically impressive. Could almost be used as a demo for T.C. Electronics' Fireworx unit. Mad EP's track," Thievery Is Grand"(Insomnia Remix by Detritus) is one I really liked. Sort of like jazz in purgatory. Drums big and upfront with no mod or distortion (unlike most of the tracks on this disc), occasional jazz riffs, dirty sub-sounds and grit. Song would probably sound great if you had a few drinks too. Exillon's "Hello Pighead" is as good as anything I've heard Autechre do, maybe even better... . All over the map with wild beats and dramatically warped strings. "Lightness" by Visions is a spooky, creepy atmospheric track that sounds like electronically resurrecting ghosts. Maybe the spirits that live inside the circuitry. Very otherworldly. Perhaps the best track on the CD. I'd really like to hear Frédéric Arbour's (the guy who is Visions) full release sometime. EXCELLENT track. Maath gives you a taste of the bleakness of space with "the structure at the end of life", a minimal but highly effective dark ambient track. There are just enough peripheral sounds to keep it interesting. Very nicely done. S.Q.E.'s "epitaph 3" is very strange, maybe the most innovative thing on the whole disc. Zzzizling cymbal crescendos heavily processed echoing unearthly voices, apprehensive swelling pads, - the whole effect is startling. Definitely worth a listen. Last track by Navicon Torture Technologies – "your jealousy has paid off" is very warped. Chipmunk processed voice with an electronic factory background morphing into a noise fest where a disturbed processed voice shouts about something unintelligible. He sounds pissed about something. I'll be reviewing a CD by them soon. Maybe he WILL be pissed... Anyway, there were only about 4 or 5 track on this disc I didn't care for, not bad for such a mixed bag. A good introduction to Systemic Audio artists, and a bargain at only five bucks on their website.