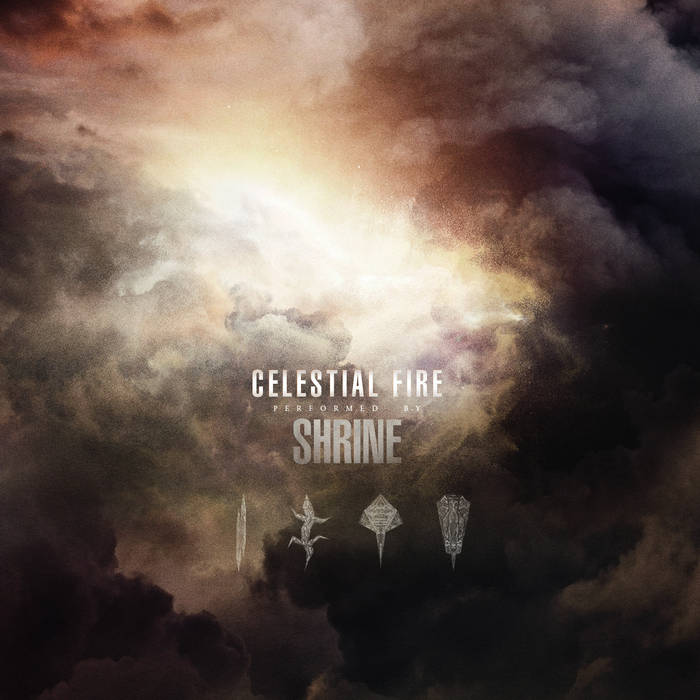 Artist:
Shrine
(@)
Title:
Celestial Fire
Format:
CD
Label:
Cyclic Law
(@)
Rated:
This release from this Bulgarian project is inspired by the fictional story for Tomb Raider III revolving around a meteorite with otherworldly powers. This premise introduces a release less descriptive of a static sonic landscape than the average dark ambient release and more oriented towards an idea of musical movement tied to a more classical approach to writing a path from a point to another.
The noisy drone which opens "Infada Stone" introduces the listener towards an idea of dark ambient quiet distant from the current cliché of the genre for a couple of reason: firstly the use of rolling beat, probably of industrial influence, and secondly a sound development based on loop and samples instead of drone so obtaining far more movement. "Element 115" is slowly evolving hypnotic track based on loops and resonant noises. "The Eye Of Isis" is almost a canonical track based on drone which evolves by his resonances. Introduces by field recordings of water, "Ora Dagger" evolves by the sequence of menacing drone and noises closed by a pulsating metallic beat. "The lost City Of Tinnos" juxtaposes drones not to obtain a thick mass but to achieve movement and color. "Celestial Fire" closes this release with sharp drones with noisy resonances bordering proper noise music.
Quite a surprise in a genre plagued by the adherence to a form, with only the sound nuance to identify the project, has this release has a clear personality and the impulsiveness of a visceral sound. Highly recommended not only for fans of the genre.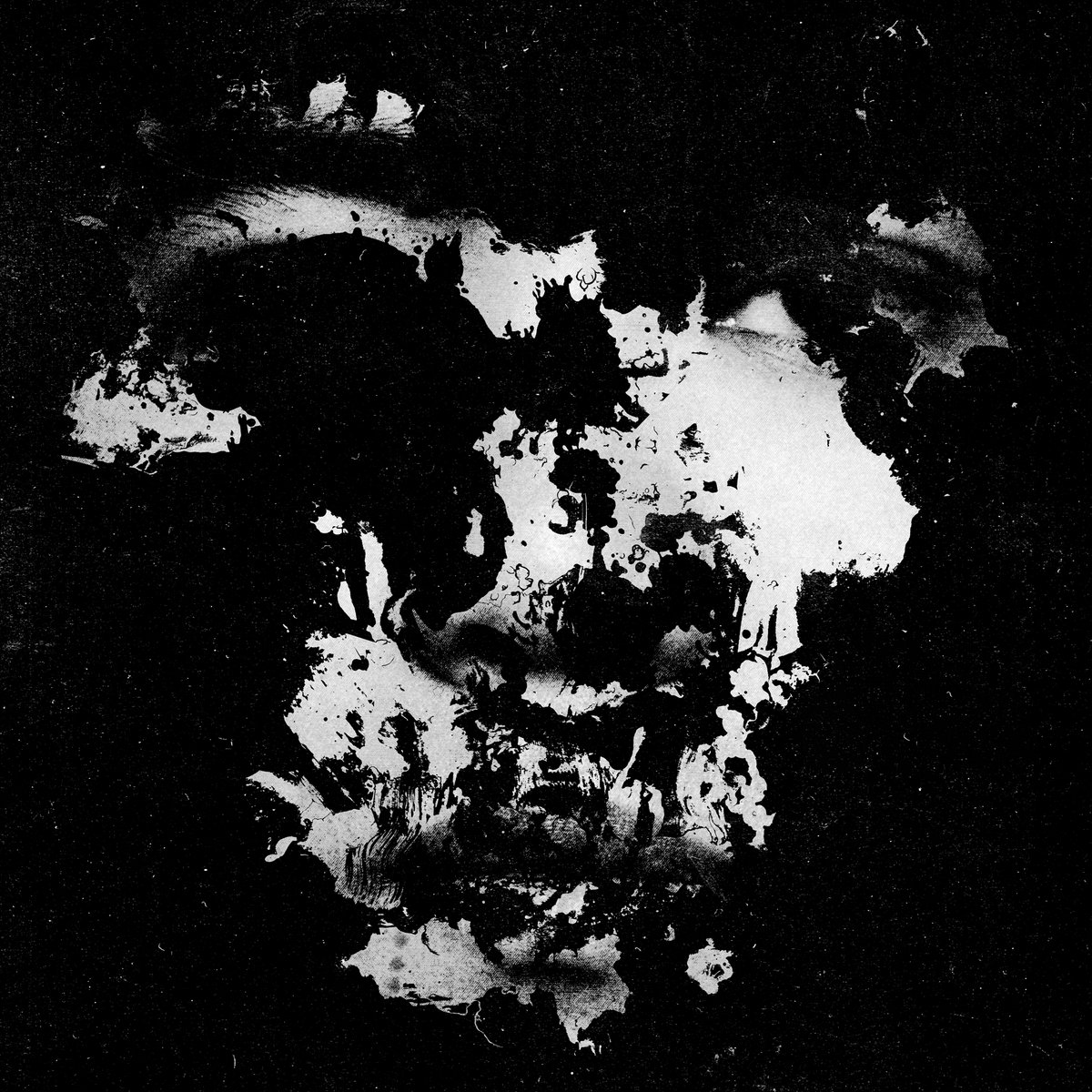 Artist:
Surachai
Title:
Come, Deathless
Format:
12" vinyl + Download
Label:
self-released
Rated:
L.A.-based Surachai elicits contradictions in sound that are nothing short of beautiful in their marriage of assault and assurance. With an aesthetic that rivals AZ-Rotator and HECQ at their most violent, yet with an unusually environmental sensitivity made possible by incorporation of field recordings from Thailand, California, and elsewhere, and all of it nailed into its coffin by participation of drummer Aaron Harris and keyboardist Joey Karam, Surachai ignites the blood of one hybrid organism after another as if it were comprised of flammable liquid. Titles such as "The Shedding Of Useful Skin" and "An Abandoned Throne In The Hall Of Execution" hint at a moribund fantasy epic, unwritten yet resounding with death cries of intense relevance. The latter track, like "Casts Of Broken Timelines" and "Deciphering Whispers From Wind" before it, taps ancient stories to power an electric chair's swan song of self-destructive desire, while "Leaning Into Pain" and "Articulation Of A Dead Tongue" dance to the beat of a sentient drum. Ambient valleys are rare in this landscape of jagged peaks, but of them "Time Splits Every End" (featuring Sara Kendall's subcutaneous wash of ghost chants) touches the face of a metaphysical future. In that respect, the music here smacks of social prophecy minus the cultish fanaticism such a metaphor would imply. The result is a lovingly constructed album whose every detail has been incubated until ready to hatch for willing hosts, warm and pulsing with an inchoate taste for vibration.
Artist:
Lech Nienartowicz
Title:
Wzdłuż Pasma
Format:
CD
Label:
Kosmodrone
(@)
Distributor:
Alchembria
Rated:
Lech Nienartowicz is a Toru-based creator of spatial compositions made of field recordings, noises and scraps of melodies. While he's already active in a number of projects in the field of glitch and improvisation, "Wzdu Pasma" is his first solo release and it's something in between ambient and musique concrète with a certain sense for montage in the structure of the tracks.
After the initial field recordings, "Pónocne Supy" is developed upon bells and a melody for flute; as the bells are doubled by cowbells and bird's singing, the overall result is as meditative, as the minimal melody is in loop, as structured, as there's other elements as noises and samples which has a spot in the track. The first part of "Nowe lady" is based upon vintage sound synth upon field recordings, used as textures, which are the backbone of the second part as a canvas for drone and samples to create a soundscape. "Dwa Kamienie" is a long track starting with a stratification of drones after which there's the juxtaposition of metallic sounds and a third part for abstract sound and samples emerging from silence; the final part of the track starts with a drone and it's developed upon field recordings moving in the aural field.
This is a rather hermetic release which requires an attentive listener that can fully appreciate the blend of organic and synthetic sound sources in a cohesive whole. Fans of experimental music will appreciate the sound construction while the others could be confused by an unorthodox music. It's really worth a listen.
Artist:
The Gentleman Losers
(@)
Title:
Make We Here Our Camp of Winter
Format:
CD + Download
Label:
Sound In Silence Records
(@)
Rated:
The Gentleman Losers is the experimental musical group of brothers Samu and Ville Kuukka, based in Helsinki, Finland. Since their formation in 2004, they have released three albums and one EP on labels such as Büro, City Centre Offices, Grainy Records and Standard Form. 'Make We Here Our Camp Of Winter' is The Gentleman Losers' fourth full-length album, featuring eight new compositions, most of which were written during the summer of 2018 at a cabin by a lake in southern Finland. All in all, this is a much more spontaneous record than previous ones. That's what the label says anyway, and I have to take it on faith since this is my first experience with this project.

Taking in the first track, "Shelter From the Rain," I thought I wasn't going to like this album very much as it predominantly seemed to be spacey, slidey guitar noodling. Boy was I ever wrong! What follow is much more interesting but makes this an extremely difficult album to categorize. While some might pigeon-hole it as experimental (the patently catch-all category for music that's kind of out there and doesn't neatly fit into the prescribed genres), I think the stigma of that term tends to imply a lack of form, a tendency towards noise, and a free-form approach, none of which are germane to this work. Aside from the aforementioned opening track, there is an intense attention to detail, content and atmosphere throughout the next seven tracks. While an aura of ambient can be heard at times, this is by no means an ambient album. With some occasional similarity to Eno's 'Music For Films,' (along with some other projects he's collaborated on) little thematic ideas are expressed through various electro-acoustic environments that seem isolated from the rest of the world. Nowhere is this more apparent to me than on third track, "Book of Leaves." At times on this album you'll hear a sustained guitar with Frippish overtones, but no Frippertronics; piano chordal progressions that don't quite resolve, and fragmented melodies that appear as under-developed musical fragments. The overall tone is gentle and genial, but haunted with a melancholy wistfulness. And yes, there is a wintery feel, readily identifiable to me because it happens now to be winter here, snowy paths, chill winds and all. Repetition plays no small part in some of these pieces, but it's not the kind of repetition that tends to bore you to tears, but rather the kind that draws you in to an inescapable whirlpool of swirling memories. It is soundtrack-like without being cinematic as it lacks the broadness and bombast so often attributed to that term.

The one thing I didn't particularly care for was the rather frigid recitation by Oliver Whitehead on "Fish Roam in Winter Water" although it was thematically consistent with the album in general, to me it just cracked the atmosphere. The album ends rather inconclusively on the track "Bend Low Sweet Branch, Bend Low," which is perhaps the only way it should have ended. Some tracks are more engaging than others, but as a whole 'Make We Here Our Camp Of Winter' is still a worthy work. Limited to 500 CDr copies.

Artist:
Umber
(@)
Title:
This Earth To Another
Format:
CD + Download
Label:
Sound In Silence Records
(@)
Rated:
Umber is Leicestershire, UK musician/composer Alex Steward's ambient project, and 'This Earth To Another' is his second full-length release after his 2013 debut, 'Sunshine Young,' also having several EPs and a remix album to his credit. For the most part, Umber's style is melodic ambient, or what I term Melambient. The melodies aren't as defined as you might hear in a song, but the melodic content is there nevertheless. Melambient is the closest thing to modern New Age, laid back and kind of drifty-dreamy. 'This Earth To Another' begins with shimmering drones ("Altered Fragments") but the melambient aspect kicks in with the title track which follows, subtly creeping in. Percussion, where used tends to be subdued, discreet and minimal. The electronics/keyboards are complimented by ambient acoustic guitar making for some sonic diversity. The blending of elements is possibly the best aspect of this work which flows together in a harmonious musical mandala that easily achieves a calming and restive mood. The one track that seemed most different also happened to be the longest - "Harvest (Slow)," which begins with a nice droney electronic ambience, but then fills up with ambient guitar overtones from the same, producing a trancey sort of meditative psychedelia. It's twelve minutes with little variation once it gets going, but you can close your eyes and imagine just about anything on the plane of tranquility while listening to it. "Grape and Grain" is likely the closest piece resembling a traditional song, largely due to the guitar chording. Closing with "Low Tide," Umber leaves you with a sweet, nostalgic feeling of someplace you know you've been but can't quite put your finger on. Unlike some ambient albums that just pass through you like water, 'This Earth To Another' will leave you with a subconscious wistful feeling that is bound to draw you back again and again. As is the case with most all Sound in Silence releases, this is a limited edition (200 copies) handmade and hand-numbered CDr packaged in a lovely hand-stamped light blue cardboard envelope with the front cover image printed on a polaroid style photo paper and an insert sheet containing tracklist and information. Includes unlimited streaming of the album plus high-quality download in MP3, FLAC and more.