image not
available
anymore
Artist:
LUCIANO MAGGIORE & FRANCESCO BRASINI
Title:
Chàsm' Achanès (huge abyss)
Format:
CD
Label:
Boring Machines
(@)
Rated:
A single track cd that on Boring Machines that comes out almost simultaneously with Petit & Chapeter 24 and Mammuthones which some of you may know for his past duties in Jennifer Gentle. As I've said we have a long long drone driven suite that last for a bit more than half an hour, main instruments are a guitar, tapes and electronic devices. The structure of this suite is quite linear and simple, in some way the evolution of the track is quite ordinary infact in its linearity lays that hypnotic effect due to repetitions. The sound is good and despite its simplicity the recording gives this cd the aural credibility a serious record like this requires. As you probably have guessed yourselves the atmosphere is quite dense and crepuscular but according to the title's meaning the journey into an abyss couldn't different. Despite its obscurity this music has nothing to do with dark ambient meant in a traditional way and it's not just a matter of sounds but the fact in someway it all brings to some old isolationist works like Aura (Plotkins/KK Null), Eclipse or something in the likes. Despite some small changes the most considerable sound variation from the main theme happens around 22 minutes. The fact the guitar sound sometimes resembles the siren of a boat, also brought to my mind an old composition titled Fog Tropes, by underrated American composer Ingram Marshall.




Artist:
L'ENFANCE ROUGE
(@)
Title:
Bar-Bari
Format:
CD
Label:
Wallace Records
(@)
Rated:
New episode from this historical italo-french band involving Chiara Locardi on bass and vocals, Francois Cambuzat on guitar plus vocals and Jacopo Andreini on drums. I think this there's no need for introduction but if this' the first time you read about them, consider the band itself in some way has its own small cult status. Let's say they've remained one of the few bands last from the first generation of french noise/avant rockers, during the years they've gone toward many changes but the noise-rock root of the trio has remained the same above all if you're not exactly young like me. While on their last cd they add some "non rock" instruments and arrangements, Bar-Bari represent a sort of turn toward their rock origin. French singing and the style of Cambuzat have a big part in the economy of the sound and that's exactly what make my mind go to that legendary french noise scene from the late Eighties / early Nineties. The global atmosphere is heavier than before but you can easily perceive it from the layout of the cd and it's post-atomic, "defeat of modern society" scenario, but as you know it that's another characteristic of the Locardi-Cambuzant view on the world. Even if the last recording was interesting, this final step to their original trio sound gives a more vivid portrait of the band (also thanks to a great recording by Fabio Magistrali).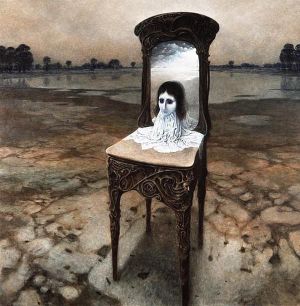 Artist:
VANESSA VAN BASTEN
Title:
Closer To The Small / Dark / Door
Format:
CD
Label:
Robotic Empire
(@)
Rated:
It's been a long wait until this new Vanessa Van Basten release and here it is on Robotic Empire, that means it's out for good!. For those who have never heard the band I can just say they play a blend of power shoegaze a la Jesu mixed with some dream-pop, post-rock influences. Like their previous materials also this cd is deeply influenced by the style of Justin Broadrick but the result is brilliant and more than once I've caught myself thinking their writing skill has become even better than that of dear ol' Justin. Said that there're a couple of elements the brought Bellini and friends one step ahead from the past, they've added a real drummer to their original line up and the song structure did benefit from this solid power trio formula. The other interesting element is the fact the combo has put more and more emphasis on what some music expert would label as "dream pop", that means sometimes they barely resemble bands like Cocteau Twins, materials from 4AD records or some of the production signed by Robin Guthrie. Don't worry you little hardcore kid / post metalhead, this' no "fruity" version of avant metal trying to make it in the heart of indie fans, they still have heavy parts, colossal riffs and loud explosions, they just pass from those that kind of sound to quasi acoustic guitars with keyboards and a those soft long delays or reverbs that give a lot of deepness to the ambience. This' exactly one of those rare records that can put together many different listeners into melancholic music of different kinds but at the same time it hasn't lost an ounce of credibility. Thumbs up for me.
image not
available
anymore
Artist:
PRESTON FLEX
Title:
Little Feller
Format:
Download Only (MP3 + Lossless)
Label:
Mars Frequency
(@)
Distributor:
Juno
Rated:
Mars Frequency is a label coming from Spain and is run by Robert Cosmic (who released under that moniker for his first EP on Shameless Toady). Their third release is an EP titled 'LITTLE FELLER' by an English artist called Preston Flex. Unfortunately I don't have further information about this artist but the music is able to speak for itself. Preston's music is based on deep warm bass lines influenced by electro and 90s electronica. Imagine lush warm pads mixed with deep bass lines/beats where synth leads bounce here and there. Try to imagine a mix of Orb and the latest Gosub. This is the core sound but a nice surprise is awaiting you on the closing. "The Stuff Of Thought" is a nice, robotic, schizoid approach to leads and rhythms with an addition of haunted pads. Everything is well produced and recorded and you can find it at Juno. Though if you want to pay less and you want to support the label directly, make it yours here: http://marsfrequency.bandcamp.com/album/preston-flex-little-feller
(Proofread by Johan Sebastian Bot)
image not
available
anymore
Coming from Vienna, Rotterdam are a duo formed by Susanne Amann (cello, flute, electronics) and Michael Klauser (acoustic guitar, electronics). CAMBODIA is their debut album and it is the result of ten years of sound experiments. The seven tracks of the album born from compression of sound treatments obtained from acoustic instruments mixed with samples. The result is a sort of minimal hypnotic schizophrenia which finds its way out through repetitive loops progressions. The effect is a particular one, because it sounds like a minimal techno album where the only source of rhythm is coming from strings picking, violin squeaking and I don't know what kind of treated sound source, which at the end sounds like a digital beat. The tracks sound obsessive and repetitive but the atmosphere span from melancholy to confusion passing though schizophrenia and isolation. Intense experience but avoid the listening if you are already feeling stressed by your daily life.