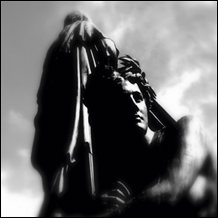 Artist:
Engel Der Vernichtung
Title:
Engel Der Vernichtung
Format:
2 x CD (double CD)
Label:
Oltre La Nebbia Il Mare
(@)
Rated:
Active in Rieti, Italy, from 1985 to 1990 circa, Engel Der Vernichtung took their name from an Einsturzende Neubauten track but without embracing their noise industrial path (even if I read that "L'art De La Mort", their first demo was a mix of "religious noise" and romanticism). They released only two vinyl 12", "L'amour Fou" (a MLP containing six tracks, released thanks to the Roman record shop Disfunzioni Musicali and to their Angel record label) and "Angeli Di Polvere", their only full length which is their most ambitious project, as it was developed on different levels as it was comprehensive of a record and a book, both focused on the same theme: drugs. The intention wasn't to talk about it under a social profile, but as a link to describe feelings or experiences born from its use. Initially the book should contain poems by Antonio Veneziani but they choose to extend the invitation to ten different poets and used their text as lyrics. Along with those poems, the book had more poems of the same poets plus writings about angels by Michelangelo Billi, Francesco Italiani, Sara Italiani and Giancarlo Susanna. About drugs they included a writing by Alberto Abruzzese, an interview with William Burroughs, a short writing by Giancarlo De Cataldo and two Paul Klee paintings donated by his son Felix. Musically the first MLP was in balance from piano suites and energetic but still romantic new wave moments (the long opening track "En Dansant La Fin De La Vie" had them both). Inspired by Wim Mertens and This Mortal Coil music, the trio formed by Daniele Arisi, Roberto Feliciangeli and Federico Festuccia were succeeding into making an interesting record that was showing their potential. This potential, in my opinion, blossomed into "Angeli Di Polvere". The ten songs of that album succeed into express fully the band's ideas and from a trio, they became a quartet with Paolo Campanelli. Tracks like the opening "A Elsa Morante" or "Frammenti" make understand also to the casual listener that this was a quality album where players were expressing their feelings through songs full of energy, melody and passion. Piano, accordion, hard drum beats and vibrating bass lines are the key elements of the first track, while "Frammenti" is more based on seducing/mysterious atmospheres, strings and recitative vocals that deliriously talk about morphine. As I told you, this album was their best. Anyway'¦ Why am I talking about Engel Der Vernichtung? Well, Oltre La Nebbia il mare just reissued their releases on a double CD which, along with the releases I just mentioned, contains eleven tracks which have never been issued. It's a fortune that these tunes aren't being hidden no more, as these could have been issued as their second album. An album which could have been a perfect night album for its atmospheres. The band created a mix of wave, electronic ambient, neo-classic, like it was a sort of mix of David Sylvian, Wim Mertens and Clan Of Xymox (check "Theme I" and "Theme II" on their "Medusa" album) and succeed into creating something that gently rock you and makes you feel anxious at the same time. Really nice release!
Artist:
VV.AA.
Title:
Run Over by an Elevator
Format:
Download Only (MP3 + Lossless)
Label:
Bearsuit records
(@)
Rated:
"Run Over by an Elevator" (people who understand some youngish English slang cannot but chortle about such a choice) could be considered a digest of the lucky and brisk headhunting activity by Scottish label Bearsuit as well as an opportunity to foretaste some of its forthcoming releases by this interesting label, whose driving force seems to be a strong link with (mainly Japanese) producers who keep on spooring the traces of authentic innovators coming from Japanese scene (I could mention a plenty of musicians and non-musicians in the roster of labels such as Schole, Daisyworld Discs, Teichiku, Wieden+Kennedy Tokyo Lab, Toy's Factory, P-Vine and many others), even if there are many tracks which could recall other musical grounds (the track "Descending" by emlp, acronym for "electronic music learning projects", by Edinburgh based musician and composer Mark Rossi - one of the tracks I liked most of this collection - partially recalls Icelandic Mum asa well as "Bees In My Feet" by Haq, collaborative project between Japanese n-qia and Scottish half of Whizz Kid Harold Nono which is going to debut on Bearsuit soon, could remind some moments of Slowdive's "Catch The Breeze") and a geographical connection with Scotland and Northern England, one of the most active musical workshop who gave listeners a lot of mindblowing sonic stuff. It's really hard to rank them, as the stylistical range is quite wide and even lo-fi elements fly high ona quality level, even there are some highlights amidst this jungle of stuffed animals and hunting trophies: the above-mentioned n-qia with the hypnotic voice by Nozomi and fuzzy electro-acoustic textures by Takma, the intriguing feverishness of "Metamorphosis Pt.1" by Polish style-drifter Bartosz Dziadosz aka Pleq, the bizarre toytronics of "Mosquito Bites" by protean anti-nuclear activist Amogano aka Ememe and the amusing and childish one of "People Today Started Runrun" by Takashi Mizukoshi's Suppa Micro Pamchopp, the magnetic abstract J-pop of "Chikyu Wa Mawaru" (Japanese for "Earth is spinning") by Bunny & The Electric Horsemen, the seducing downbeat by Taub, a collaborative project by appreciated Nonine label manager Me Raabenstein and Harold Nono, the sweet melancholy-tinged rustic idyll of "Family" by Japanese vocalist, composer and pianist Hidekazu Wakabayashi and Harold Nono (him again!), and "Comp no.209" by Canadian composer and percussionist Antonio De Braga, the entrancing pastoral awakening of "First Moments" by The Frozen Vaults, forthcoming project of a big ensemble made up of cellist Dave Dhonau, pianist Yuki Murata, violinist Tomasz Mrenca and producers Bartosz Dziadosz (Pleq) and Harry Towell (Spheruleus), the frugal lo-fi lullaby of "The Kennel Club" by Edinburgh-based duo Aging Children, the balanced mixture of rain-inspired mood, soft electronics and indie approach by Anata Wa Sukkari Tsukarete Shimai, the cinematic intro by Welsh experimental musician Nick Auskeur, the desiccate homemade groove by Doug Seidel...I'm just realizing that I've mentioned them all even if my first intention was an attempt to isolate some highlights, a symptomatic "mistake" about how this selection could be mouthwatering. Check it!
Artist:
Death 0f Self
(@)
Title:
Embracing The Things We Hate About Ourselves
Format:
CD
Label:
Bugs Crawling Out Of People
(@)
Rated:
Merciless transcriptions of a personal tormented journey in the most anaesthetized parts of human nature ("emerging from the darkness/clawing from the inside/it whispers in my ear/and tells me/what I must do/and who I must become/to find my way/to find the answer", so says the initial song "No Control"), sung through brutishly distorted cries, which look like duetting with what seems to be the (mostly robotic or spectral) malicious voice of conscience (particularly in songs like "Solitude", "Empty" or "Broken Glass" - the one I musically prefer of the whole album -) or some other foreign body turned into interlocutor/defier (just like it happens in the fierce clattering of "The Machine" focusing on the controversial relation between man and machines, in the woebegone lacerations of "Now You Know", in the piercing lyrics inspired from fresh and pulsating scars of "Meaningless"), a gruelling and anguishing exploration ("was it all for nothing?/it was not supposed to be like this/gasping for air/reaching for the answer/each step becomes more terrifying" words echoed by the above-mentioned second voice with the distraught realization "I'm so tired, I'm tired of trying, I'm tired of the walls, the lies, the fear" in the song "The Edge") which couldn't be but by the disquieting lack of aptitude in understanding other people by society, whose main concern seems to be the blind and constant demonstration of a feigned well-being as suggested by dark humour-tinged sociopath lyrics of "More Interactions With People", written and performed by It-Clings, artistic identity of Squid, the founder of Bugs Crawling Out Of People, the label which supports this release by Death Of Self, whose final moral and enfranchisement have been celebretade in the final song "Realizations", where DOS furiously replies "never mind morality/never mind right or wrong/never mind conscience /never mind insecurity" when the pitched voice ask "so, what have we learned?". Even if it's based on personal experiences of the musician, I don't discard the possibility some listeners could personify or symphatize with one of the two interlocutors due to the gradual involvement in this inner battle. The unwinding of this livid plot runs on punching beats, piercing acute sounds, rough and oscure synth-brass sections as well as many hooks taken from new EBM and electro-industrial canons, which immediately grabbed the attention of this Canadian "bug-busters", which could bet on the possibility "Embracing The Things We Hate About Ourselves" is going to grab attention of many fans of the genre.
Artist:
Fabrice Favriou (@)
Title:
Phases
Format:
CD
Label:
Creative Sources
(@)
Rated:
Even if in the very first seconds of this album, you could think about someone in the act of fixing a broken intercom, this eccentric multi-instrumentist was meddling with an harmonium when he recorded this release at home-garage-studio. Due to its quite high cost of maintenance, the resulting disappearance from chuches (where it was mostly used) and the coming of more cheap electronic or electric instruments, this fascinating instrument close to accordion, but completely different from the technical viewpoint, maybe lost its notoriety, even if many musicians know its particular acoustics, its piercing timbre. Moreover harmonium's feature of keeping distinguashable different tones, even when they are played together, was particularly appreciated by tuning testers. On "Phases", Fabrice Favriou manages to extract six very interesting pieces, mainly based on modulations and microtonal variations through changes of pumping pressure, and you could be astonished by the impressive timbral possibilities as well as by similarities with other instruments which can be emulated by harmonium, so that while listening some of his six phases, you could even think that Fabrice is playing a distorted guitar or a brass. From the stylistical viewpoint, "Phases" sounds consistent with previous collaborations or releases by Monsieur Favriou, who seems to compel listeners to a sort of sound-induced trance through proper drones, untiring perforations or long-lasting dilutions of single note.
Artist:
Tastatur
Title:
Electric Lounge Machine
Format:
CD
Label:
Everest Records
(@)
Distributor:
Broken Silence
Rated:
Another interesting release from snow-capped Swiss higher grounds comes from the sound machines of a couple of friends of long standing, Bern-based producers Jakob Stoller (aka Dj Ramax) and Daniel Wihler, whose releases with aliases Alphatronic and Mustfuzz (or Muzzfuzz, the name I remember the first time this collaborative project with Tom Vedvik landed on my hi-fi system on the occasion of the issue of "Electro Commando 1 - Welcome to Psicity", an opulent compiation by Anthony Rother's Psi49net) could have already reached your headphones. The circumstance they come from relatively different fields and have a different approach to music production (whereas Stoller is more "dance-oriented", Wihler has a taste for more atmosheric music) have repercussions on the direction their co-signed project Tastatur (German word for "computer keyboard") follows. The album could be ideally splitted in two parts as the first tracks sound more "atmospheric" in spite of the insert of deep bass lines and phat slowed beats, so that weird electro and thessaloniki martial electro influences look like tallying with a sonic research whose high quality and dramatic hooks could be vaguely associated to some stuff issued by Ant Zen or Brume (Flint Glass, S:Cage or similar stuff), those sonic epic tales some Greek electronic performers often evoke throughout their music or even some interesting episodes related to the first waves of technoid ambient-trance (Brain Pilot, Model 500, Beaumont Hannant), even if in many track this Swiss project lean towards viscous and pasty sonorities ("Rolldose", "Dandanchak"), which some nice addictions of old-fashioned electronic dub stepping (in tracks such as "Eierkuchen", "Pepadsh" or "Swirell" - one of my favorite track of the whole album -), contemporary dubstep declensions ("Daemmerzustand", the fuzzy gleeful clicks'n'clocks of the title track or the nervously wired "Broadband" - another highlight - ) and occasional mongrels with Teutonic standard minimal techno ("Hausgang", "Bubble Control") make their sound punchier and snappier. Their hybrids include so many elements that some tracks are quite difficult to file under some precisely defined style, but this aspect cannot be considered a defect, but the authentic driving force of Tastatur instead.