image not
available
anymore
Artist:
The Alacrity
(@)
Title:
Shapeshifter
Format:
CD
Label:
Shinto Records
(@)
Rated:
Upon first listen of 'Shapeshifter' by The Alacrity, I was unsure how I felt. At the time I was hearing a LOT of music that really sounded the same, followed the same formula, had the same vibe. I was rather disillusioned with the whole industrial movement as a whole at the time (which isn't to say that I'm not still.) But I felt I my state of mind was an unfair one to be judging music of this nature, so I set it aside for a while and let some time go by. So finally I felt able to objectively listen to the record, and put it on. A very different listen than I recalled having that first time around. There are certainly some thoughts that came to me that were similar, but on the whole, I actually found myself enjoying the record FAR more. It even made me fondly reminisce of my club days. Jason Alacrity, mastermind behind The Alacrity, has an impressive resume including opening for Skinny Puppy, remixes for a variety of acts, and performances with Stromkern, Song of Zarathustra, Babyland and Trance the Sun which fellow Shinto records artist Scarlet Slipping's Dawn Wagner (whose music I've been in love with since the 90's) was at one time a part of. Needless to say, you don't gain these sorts of credentials without producing some worthwhile music. 'Shapeshifter' is an interesting ride through a collection of EBM and industrial tracks, some of which really shine, some of which may be a tad generic, but all of which are certainly well produced and performed. Songs like 'D:soLVE (Original Sin),' 'Shapeshifter,' and 'Wolfs Hook' demonstrate a careful cocktail of darkness evident in the harder beats, aggressive synths and occasional guitars; mixed with the light. A particular gem is 'Graveyards of Empires,' a bit slower, a bit quieter, but still manages to be quite epic, yet emotional. Vocally a lot of the work on this record is rather reminiscent to VNV Nation, but with a bit rougher, a bit more industrial, a little less dance, which is good. On the whole it's a relatively solid release with certain moments better than others, but nothing that drags the album down. Maybe a little less VNV next time around, but that's just my personal opinion.
Artist:
Jeff Carey
Title:
Interrupt-Decay
Format:
CD
Label:
CWnil
(@)
Rated:
One of the best digital noise album which has recently been spilled from my headphones is this sort of debut release by Jeff Carey. It's not so proper to speak about a debut as Jeff is not a newbie at all, as he mainly poured his sonic art in many acclaimed projects - the most known is maybe Skif++, an eclectic abstract sonic and visual project, co-signed by Robert van Heumen and Bas Van Koolwijk, which has been propelled by Jeff's talent and passion on SuperCollider, an open-source dynamic programming language for real-time audio synthesis and Jeff's fad! - and is one of the key musician of Amsterdam-based N-Collective, a pool of musicians which focuses on electronic compositions and improv acoustics, considered as the new frontier of musical research. I'd say the listening of "Interrupt/Decay" is more fascinating as trained listeners will recognise Jeff applies compositional techniques to noises he wisely patterns. The fact there's a placement of noises (and silences as well...it's really fun alternation of noises and silence on the fourth track "Struct") which is not so dissimilar from the placement of punctuation and tones on staff, doesn't mean there are not any sonic spurs for more or less raving mental fancies: the initial "Lag" is quite close to the noise you could hear on a train compartment with wide-open window when it runs under a tunnel, the sounds of the following track "Chop" let me imagine Jeff while preparing a cocktail with an assortment of molten metals and the lucky taster sucking in with a special straw due to some sonic similaraties with the noise you can hear when drawing from an almost empty juice box and other tracks have sounds who reminded some vintage home computers' sounds - some of you could imagine the overhaul of Atari or Commodore F1 car after a road accident while listening to "Step" and its troublesome test on "1F" -, a fancy which could be injected after I read Mr.Carey composed "Interrupt/Decay" by using a gaming keypad and joystick to control his laptop (!)...if you think my associations could validate an admission to mental hospital, I cannot imagine how you are going to label those ones by a friend who occasionally entered into my room while listening to this release, who thought about the attempt at chewing meatballs stuffed with pins by some unlucky person or at immortalizing the wedding between two storm catchers in love by a camera from inside an hurricane. Joking aside, Jeff's precision in cutting frequencies and place them on the pattern is really remarkable. Have a listen.
Artist:
NDE
Title:
Kampfbereit
Format:
CD
Label:
Cold Spring
(@)
Rated:
I'll be frank: I sometimes experienced some problems of comprehension of the literal meaning of this new act by this (really) mysterious Belgian act - it often happens that many projects with the intent of staying hidden gain more visibility than the one many exhibitionists manage to reach, but many clues such as the lack of a proper website and song titles as well as somewhat occult discretion on names and surnames behind it let think NDE (acronym of Near Death Experience?) have mainly chosen darkness for artistic purposes - due to the use of voice, which sounds close to the one of many black metal bands, and the huge load of distorted piercing noises which sometimes overwhelm it, so that it seems the voice must contend for the microphone against swarms of noisy insects and an assortment of obstreperous creatures of the afterworld, but it seems that such a stylistical choice has been pursued on "Kampfbereit". In spite of its title - some Front 242 fans could have been attracted by it -, NDE's style has nothing to share with EBM or electro: their style, which has been cleansed by the martial elements of their previous chapter "Krieg Blut Ehre Asche", focused on a crossbreed between so-called "death industrial" and stifling brutal electronics (you could imagine a beatless version of stuff from artistic identities such as 2nd Gen or Black Lung, revisioned and restyled by some devilish creatures) is so ferocious, extreme and virulent that most of black metal bands, which could come to mind while listening to the above-mentioned corrosive treatment of the voice many kvltists adore, could appear like a group of neatly combed altar boys. The initial track sounds tricky as it's quite similar to the experiments many tape-artists enjoyed with, based on slowdowns during dubbing, but the following tracks are full of very immersive ultra-low frequencies, which sound like grabbed from amplified recordings of explosions, drilling noises and obscure female choirs which are going to chill listener's blood. As you could imagine, the emotional set cannot but focus on misantrophy and the conceptual framework, evoked by some words on the inner side of artwork, where the idea of justice has been linked to the annihilation of mankind as its deserved punishment according to long-lasting and well-known religious beliefs as well as to a plenty of coming-of-age stories, which can easily belong to the collection of most erudite misanthropes, lends itself to the shadowy evoked images.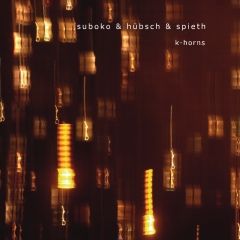 Artist:
Suboko & hubsch & spieth
Title:
k-horns
Format:
CD
Label:
Schraum
(@)
Distributor:
Staalplaat
Rated:
One of the coolest aspects of avant-garde classical music joining forces with experimental music and improvised noise is the way that the various instruments are taken out of context, forced to expand their sonic vocabulary and discovering new nuances and techniques along the way. On 'K-Horns,' Suboko, a trio of French percussionists, are joined by Carl Ludwig Hubsch on tuba and Roland Spieth on trumpet, to create five tracks of rumbling metal, hissing breath, and obscure sci-fi textures from God Knows Where. The overall effect is of listening to some mutant jazz festival in an old warehouse, while rain beats down on the corrugated tin roof, and a flying saucer smoothly descends into the vacant lot next door. Oh yeah, there are mechanical rodents running around in the walls, broadcasting slowed down Hitler speeches through tiny tinny loudspeakers, also. Sounds surreal? It is.

59 minutes of improvised symphonic textures may not be to everybody's liking. There's nary a melody or rhythm to be had. Instead, the players are intent on exploring the lengths and depths of their instruments: Hubsch's tuba blatts border on bass wobble, while Spieth settles on more of a trad jazz freak trumpet flavor, whose conventiality makes the proceedings seem more bizarre. The strength and adventurous spirit of these five musicians makes it seem like they are actually breaking new ground, instead of recycling hashed-over micro-genres, and what we're left with is a mixture of free-jazz fire sermon with a San Fransisco Tape Music Center backing band, or a mariachi quintet covering Lustmord. Its unlike anything you've ever heard; they will ignite odd movies in yr mind, if you give them the time of day.

The production is superb, giving equal time and temperament to both the higher and lower registers, making for a full, lush recording. You are practically transported to the small wooden rooms these recordings were inevitably made in. The blurry light photographs by Axel Haller on the cover are also quite lovely, and set you in the mood to travel to these Teatros Grottesco. If ever you were looking to sneak a peak at what improvised electro-acoustic could sound like, or if yr a classical or jazz buff and you'd like to hear what else yr beloved brass instruments are capable of, look no further. Highly recommended.
image not
available
anymore
Artist:
Rapido De Noir
(@)
Title:
Equidistant Lonelinesses
Format:
CD
Label:
15 Degrees Records
Rated:
Two years after their first EP, the French band Rapido De Noir are finally facing what represents the main step for each musician: the first album. Pat, Samag, Fab and Wil on "Equidistant Lonelinesses" packed ten new tracks that sound fresh and interesting. Influenced by 80s new wave (sometimes I thought that this album won't exists without the Cure album "The Top"), by English psychedelia (well, some people told that "The Top" was the most psychedelic album of the Cure to date) and a bit by electro, but only because of the use of synth sounds, Rapido De Noir on these tracks show their songwriting ability. There are tracks like the "He Could Be" or "Shaun" that are immediate and will make you wish for more. The sound is well balanced thanks to bouncy synth bass lines, dry upbeat rhythms, clean melodic guitar riffs and energetic vocals. The band mix dark atmospheres and pop melodic intuitions succeeding into creating, as I already wrote, a fresh mix. Out the 11th of September "Equidistant Lonelinesses" isn't an album which fits only 80s nostalgics as, in my opinion, could catch also fans of bands of the likes of Editors, Muse, The Killers, etc.