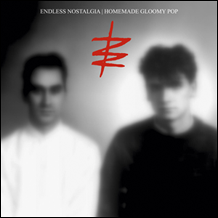 Artist:
Endless Nostalgia
Title:
Home Made Gloomy Pop
Format:
2 x CD (double CD)
Label:
Oltre La Nebbia Il Mare
(@)
Rated:
Endless Nostalgia are one of those bands that had an hard core following but that were unknown to most of the new wave followers of the 80s. The fact is that they released for Anemic Music (IRA Records) only one 12" in 1984, it was containing two tracks ("Me & My Alter Ego" and "Words And Silence") and they didn't exactly show what the duo was really. Those two were two nice italo dance tracks but Endless Nostalgia were also pop, electro and wave. Coming from Verona, Italy, Luca Rigato a.k.a. Bi Nostalgia and David E.H. (I don't know his surname, I only know that his name is Davide), run also their personal tape label called The League Of The Gloomers. With this label they released several Endless Nostalgia tapes as well as a Litfba live tape, an alternative soundtrack to Kenneth Anger's "Lucifer Rising" performed by Thelema, a tape by the Italian counterpart to Psychic TV, Rosemary's Baby, Hat Hat, etc, but most of the label's releases were dedicated to their own projects Endless Nostalgia and Bi Nostalgia. Recording their tracks at home, the duo was free to explore their melancholic feelings by giving an intimate touch to their sound. Using tiny synth sounds, upbeat drum machine rhythms and guitars here and there, they were able to channel their emotions building a particular sound. Sometimes they were recalling me Altered Images, sometimes Scritti Politti, then Paul Haig or Minny Pops. They also experimented Italian and English language mix on tracks like "Some Parts Of Me" or "The Correct Use Of Monuments". This double CD compilation released by Oltre La Nebbia Il Mare give to the band justice and to the listener offer tracks that span from 1982 and 1989 which include tracks from the aforementioned 12", others from "Two Days of Light", "Memories In Heaven", 'Lost" and "The Art of Nothing" tapes plus some unreleased ones. On some tracks you'll appreciate the cold wave atmospheres (check "Life Without Cushons" or "The Advance"), on some others the pop sophisticated approach to sound (see the late Associates) like on "Yellow Leaves Recover To Die", "Write A Letter" or "Tragic Beauty" or the dance freshness of "Memories Of The Night Before" or "Hidden In The Kitchen". This compilation will satisfy your will of sophisticated pop songs and it will do it helped by a nice package and a nice price!
image not
available
anymore
Artist:
ImiAFan
Title:
Neurozone
Format:
12"
Label:
4mg Records
(@)
Rated:
Six years have passed from the last time I reviewed ImiAFan. This time Imrich Vegh, the guy behind the project coming from Slovakia, has produced his first MLP titled "Neurozone". The vinyl is available in a limited print run of 274 copies 12" and as a pay as you want digital release. For this release Imrich collaborated with Keen K, Clive Pierce (ex Hard Corps), Adriana Vegh, Charles Kent, Dario Seraval (Borghesia) and Peter Baarends a.k.a. Sololust. "Neurozone" contains six new tracks and a second version of the opening track "Remember Yourself". All the tracks are based on a dry electronic sound that is influenced by old school e.b.m. sounds as well by minimal wave. The opening "Remember Yourself" is a cool tune with syncopated rhythms, analog squared bass lines and nice pads with the melodic Peter Baarends' vocals. "Is It Fiction" is an upbeat electronic 4/4 track with hard beats and a nice mysterious atmosphere where Sololust melodic vocals enrich the whole result. "She Leaves" mixes throbbing bass frequencies, different cool synth layers that form a catchy web of floating electronic sounds where, again, Sololust sings passionately. "Words Strong As Blood" is the hardest track of the lot, maybe the most e.b.m. sounding, this also thanks to the characteristic Borghesia deep timbre vocals. "Soldier" is a mix from Devo and Die Form but in a kinky way. It sounds cold and sharpened as a knife. The "Utrecht" version of "Remember Yourself" is really different from the other one, more minimal and cold and it's as nice as the original version. The MLP is closed by "Program", an atmospheric track which mix synth noises and effected bass guitar and it's a cool cold wave track. The right way to say goodbye... P.s. You can preview it here http://imiafan.bandcamp.com
Artist:
Murmer
(@)
Title:
What Are The Roots That Clutch
Format:
CD
Label:
The Helen Scarsdale Agency
(@)
Rated:
A certain alternance of natural sounds and silence characterizes the hallucinated and enigmatic poem The Waste Land by T.S.Eliot, which has been quoted not only through the title (whereas the talented English satirist Evelyn Waugh opted for the last line to entitle one of his best novel "A Handful Of Dust", this American sound artist chose the first line, "What are the roots that clutch..." of the same stanza ending the first section of the poem "The Burial Of The Dead"), but also by the structure of this interesting sonic collage of field recordings, divided into five parts (just like Eliot's poem), and its tesseras, which remind some moments of one of the most favorite reading of many brainiacs, so that this sensorial interpretation by Patrick McGinley aka Murmer cast upon the multitude of interpretations and essays, which had been written about that writing. For instance the shuffle of steps over brushwood, the disorienting croaks of frogs, the rusting of leaves, the crackling of burning firewood as well as the underlying buzzing tone, which could remind "that sound high in the air/Murmur of maternal lamentation" mentioned in "What The Thunder Said", the last section of the poem (the definitive proof of its good make could be the slap I gave to the right headphone when a mosquito "appeared" in the sonic space...), in the first part evoke the feeling of confusion of the first part of the poem as well as some notorious references to Dante Alighieri, one of the known source of inspiration for Eliot, likewise the sonic collage of the fifth track which remind many words of the above-mentioned fifth section before the speaking of the thunder - "There is the empty chapel, only the wind's home./It has no windows, and the door swings,/Dry bones can harm no one./Only a cock stood on the rooftree/Co co rico co co rico/In a flash of lightning. Then a damp gust/Bringing rain" - and according to a bizarre alchemy, some words from the second part "A Game Of Chess" ("'What is that noise?' The wind under the door. 'What is that noise now? What is the wind doing?'") seems to refer by sheer coincidence to some biographical lines which deeply influenced the sonic research of this globetrotter, who started his collection of sounds all over the world - there are many found sounds, live room feedbacks and field recordings mainly grabbed while hiking out in wild places of Northern Normandy, Estonia and Finland - after listening to a cavernous tone broadcasting from a ventilator duct in Paris.
Artist:
Harry Pussy
(@)
Title:
Lets Build A Pussy
Format:
2 x 12" vinyl
Label:
Mego
(@)
Rated:
In spite of their short life on the musical stage, Miami-based band Harry Pussy was really influential and left their mark on the noise scene through an aesthatics which was totally irriverent not only to the so-called bourgeios respectability and the vapidity of pop culture, but also to the musical structures of punk song itself: most of their tracks were untitled and sometimes they got fun with other aspects of typical musical publishing "receptacles" such as they did by "Please, Don't Come Back From The Moon / Nazi USA", issued by Blackjack Records in 1994, where they splitted tracks into two halves, a half a side, instead of putting a single track on each side, while their style was focused on headlong dashes over furious, violent and explicit songs and even the interaction between the band and the audience reflected their eruptive elan, mainly propelled by shrill high notes and fast drumming by Adris Hoyos and guitar rapes by Bill Orcutt. The reissue of their "posthumous" and very rare release "Let's Build A Pussy" seems to be related to the retrospective issue of "One Plus One", a double LP issued by Orcutt's label Palilalaia including the 'Vigilance' cassette, the Planet & 2nd Esync singles. When it was released, most of reviewers tended to interpret this release based on the yell by Adris (it "clearly" appears for 2-3 seconds in the first track), which had been computer-processed, thinned and stretched out by Bill over four 15-minutes lasting tracks, which are not so different from audio tracks for those funny toys known as brain machines as the sensation of "giddiness" for your ears is going to be similar to the one you could experience after a "program" on those toys or software wehich works in a similar way like i-Doser, as a certificate of death, but I think that Harry Pussy's last act could have not only a funereal worthiness. The hint at feminine shape in the title could be linked to the association between the curvy feminine body and the sweet undulations of the sonic waves built by Orcutt, but I'd say another possible key for the interpretation of "Lets Build A Pussy" where the initial scream which seems to say "dance" or "death" preceding this mindblowing bunch of frequencies, could be related to the foreseeable direction of musical research (it was issued in 1998), seemingly close to the research of cognitive science, focused on the representation and the induction of artifical emotional states throughout sonic stimulations, the real artistic crime after previous acts of patronage and submission where music gets immolated to the needs of a demanding mass or alternatively of a meekness-demanding elite...
image not
available
anymore
Artist:
Binalog Frequency
(@)
Title:
Cosmic Boogie
Format:
Download Only (MP3 + Lossless)
Label:
Binalog Productions
(@)
Distributor:
Juno
Rated:
'Binalog Frequency', has always been consistent. His high quality musical output, is obvious, through his remixes and solo albums. He has offered many views of his musical personality and some deeper, darker aspects of it, as well (which is always good). His latest two - track 'Cosmic Boogie' single, finds him in a more upbeat mood, though, while staying true to his electrofunk background, as always. 'Cosmic Boogie' starts off slowly with a beat and haunting pads sneaking up on the listener, until the thunderous funky bassline kicks in. From then on is pure infectious electrofunk beauty, with off-beat hi-hats and distorted lead synthlines. There is a 'disco mix' of the track that is equally infectious taking advantage of all the stomping elements of the original version, in a 4/4 manner with extra variations and an 'in your face' attitude that simply works! The production is crisp and straightforward, as always, and the arrangement is kept minimal, for maximum impact. The key element here is 'FUN'. There's even a neon-star on the cover artwork! Try it!