Artist:
Klangwart
Title:
Bogotá
Format:
12" vinyl + Download
Label:
Staubgold
Long-established but not particularly prolific duo Tim Reuber and Markus Detmer, generally labelled as 'neo-krautrock' or 'avant-rock', have travelled somewhat for this Bogotá project. As the name unsubtly suggests, they went to the Colombian capital in 2014 and collaborated with a variety of local musicians who each added a variety of organic elements that fuses well with the krautrock sound. The resulting flavour is a strong fifty-fifty blend of Spanish South American expression with more measured and teutonic rhythm work.

The album bookends "Porro A" and "Porro B" have an upbeat, hints-of-motorik beat that is strongly reminscent of the first Silver Apples releases. Save for a few production touches, most of the rest of the album sounds like it could have been contemporary to that late 60's, wig-out, shades-of-early-prog-rock-and-alt-jazz musical make-up. However some more effects-laden sections, for example the dub-like reverbs in "Chocolate" or the brighter more modern-sounding synths in "Improv 2", give away that it's newer.

"Drum Battle" is a notable highlight, rolling live drum patterns around in an effects-laden space with rather trippy results that results in one of the album's darker but most satisfying moments. This contrasts nicely with the fairly light-footed jazz meandering of longest track "Blind Date", or the very chilled out groove found on "Rico".

It largely sounds a little like it's fallen through a wormhole in time and that the last twenty years of musical history haven't happened, but sometimes that's not a bad thing, and if you're openminded to hearing a genuinely fusion-driven and well-rounded collection of krautrock blended with South American flavours, this will go down a treat.
Iranian Saba Alizadeh's debut album is largely built around his work as a player of the kamancheh, or 'spike fiddle', and on first introduction appears that it is going to be a fairly traditional work, drawing heavily on his country's rich musical culture. But this is also a broader and more ambitious work as well, with the well-travelled Alizadeh obviously influenced by a wide variety of more experimental electro-acoustic works and soft-touch electronics as well, resulting in something that's a genuine fusion of traditional and brand new sounds.

Sometimes it's more of the former, with pieces like "Scattered Drops" drawing on the mesmeric patterning and near-cliché, sitar-style string sounds to build a slowly shifting pattern, that's explored in reasonable length and only book-ended by more abstract sounds at either end. Last track "Fluid" has an expansive, languid feel to it, evocative of hot open plains and emptiness.

On the other hand, pieces like "Ladan Dead End" are handled very differently, with the acoustic instrumentation clearly a starting point, but on tracks which have clearly travelled a long way in production terms, with thick blankets of atmospheres, pads, reverbs, electronic clicks and post sounds that do, at times, bring to mind some Future Sound Of London works- slightly alien-sounding, barren and flute-infused opener "Blood City" being a case in point.

It's a respectful and thickly textured blend of old and new instrumentation that draws on some sources that could sound stereotypical, yet successfully sounds fresh and newsworthy, traversing a path that carefully avoids the various traps of novelty and cultural appropriation to bring you something that you'll certainly enjoy if you're interested in hearing modern Eastern sounds.
Artist: Hvmble
Title: Textures 1/4
Format: 12" vinyl + Download
Label: Hvmble

The first in a four-part "Textures" series offers up two steady six-minute super-light and atmospheric house grooves where a super-polite combination of kick and soft bassline chug along nicely and it's the high-end patterns and atmospherics where the interesting stuff is going on.

With shades of dubby production, "Moeraki" is both the busier and the lighter-sounding of the pair. Processed noise that sounds like a babbling brook fused with digital insects comes and goes in waves, as does a slightly more sawtooth-edged synth pattern that takes things in turns with a much more mellow and 90's ambient house high line. It also has a surprisingly DJ-friendly fade outro, look out for that one.

"Plitvicer" has more of an earnest kick to it, focussing solely on the rhythm for almost two minutes before rolling out an assembly of soft bass notes, synth stabs and claps that got 80's influence written through it like a stick of rock. This one fades too, but leaving the stabs behind in a way that makes cross-fading nice and smooth.

A steady if unremarkable pair of tracks with a smooth and feel-good simplicity to them.
Artist: Standing Waves
Title: The Wave
Format: CD + Download
Label: self-released

Staying fairly close to the comfort zone of 'fusion music', the exotic soundscapes of "The Wave" are a collection of bright instrumental performances that blend Eastern-sounding elements, particularly percussion and tabla, with more Western folksy and jazzy elements, in the piano and often prominent violin. It has an energetic, live, improvised ensemble feel to it for the most part, but later on, some more melancholy-infused pieces such as the two-part title track to give it a sincerity and depth.

The vocal work and 'vocal overtoning' showcased on the misleadingly titled "Frog Chorus" (there's some actual frog ambience at the end, but not even a hint of Paul McCartney here) are quite intriguing, a-linguistic vocal exercises in melody and percussive mouth noises that at times borders on the territory of New Age Music (particularly in "Hildegard's Dream") but for the most part is a workable and refreshing substitute for conventional lyrical singing. It's hard to tell sometimes what's sampled and what's original, with elements like the uncredited throat singing on "The Wave pt. 2" presumably a sample, but fused together with the real performance elements in a very convincing way.

It's certainly a familiar-sounding approach to fusion, and a recipe that shouldn't result in a platter that feels new. However it's carried by the polished composition, performance and production that give it an undeniable richness, vibrancy and class. It also has potential as a stepping stone for listeners of more traditional music who are intrigued by something that's just a shade more experimental without being challenging.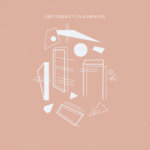 A standout release in any flow of good music that will capture your attention the way an attractive person in a room would. As you spend time with this person, attraction blossoms into a crush. Sketchquiet is the object of affection here and Flashbacks takes you through serene ambient, moody IDM, longing-infused melodic-electronic and dream soaked drone. Opens with "Appreciating through the Window", a slow pensive melody gradually builds into a growing sense of optimism that gradually overwhelms the piece. "Waves from a distance" follows with cinematic tension with periodic bass notes that build into emotional intensity while the following "Chinese Noodles/Candle Light" is a split personality whose first half is catchy electronic that detours midway through into slow, brooding melodic ambient. "Dream Catcher" is a gem of a melodic IDM that kaleidoscopes sunshine moods along to a grooving shuffle beat. "My Only Affair" is a beautiful, immerssive continuous journey infused with a touch of longing that is also bittersweet, yet more the latter than the former. Ambient gives way to field recording fragments, moments of life spill in and dissolve into melifluous fragments of piano notes and the ticks of a distant clock. "I was never there" caps this release with a point/counter-point of moods-slow melancholic tones countered with energetic electronics which compliment one another into a rather emotionally nuanced piece. Flashbacks will haunt you in a good way, invoke repeated listens and seduce you into continuous quality time.