Artist:
GREG DAVIS & JEPH JERMAN
Title:
Ku
Format:
CD
Label:
Room40
Rated:
This collaborative cd by Davis and Jerman could be puzzling if you only know the former's more melodic and electronic works released by Kranky and Carpark, but makes perfect sense if you consider the "Leaves" series (devoted to field recordings and "environmental improvisation") on his own Autumn Records, and of course Jerman's present and past activity (as Hands To and Animist Orchestra). "Ku" features three lengthy track of edited and layered improvisation mostly based on natural objects (sticks, stones, seeds, shells, pine cones... there must be something containing water as well...), plus prepared instruments, some percussion and also electronics, though its presence to the ear remains minimal or barely audible. Things start rather quiet with the first strata, a series of tiny sonic dots which sounds like a warm-up to the chaotic, highly energetic flow of rumblings, falling objects, scrapings and non-conventional drumming (part of Jerman's background, remember) of the second piece. After so much entropy, the third strata puts you in a pensive state with its droning gongs and bowed metals, before returning to a set of more abrasive and convulsed sounds in its second half. Woodland free-jazz, anyone?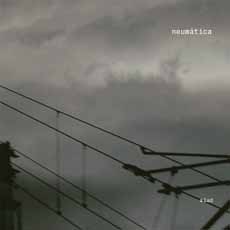 Artist:
NEUMÁTICA
Title:
Alud
Format:
CD
Label:
Creative Sources
Rated:
Alfredo Costa Monteiro, here at "pick-ups on turntable", may well be one of the loudest, meanest improvisers around. Even when he plays a plain accordeon, he manages to raise some serious hell. Here, he teams up with Pablo Rega, at "home made electronic devices", for a wisely short and to the point cd (three tracks, 37'50") documenting a performance given in Barcelona in 2005. If you're familiar with Costa Monteiro's other duo Cremaster, you can have a hint about how "Alud" sounds: a flow of menacing noise, be it hisses, crackles, gurgles or metallic low-end rumbles. It could even be labelled "harsh noise", but bear in mind this has a lot of nuances and microscopic details that are usually lost in full-on noise releases. Again, if you know other releases of Costa Monteiro's, you'll know what to expect, which is the only drawback I see in this powerful and radical performance.
image not
available
anymore
Artist:
VV.AA.
Title:
I, Mute Hummings
Format:
CD
Label:
Ex Ovo
Rated:
Though my review comes awfully late, let's say that this sampler (assembled by the Ex Ovo imprint, run by Mirko Uhlig/Aalfang mit Pferdkopf and Tobias Fischer/Feu Follet) is one of the best assorted collections of drones released last year, and grows with every new spin. The subtitle says "a collection of drone music and dulcet atmospheres", which pretty much sums it up, but possibly doesn't convey its variety. All tracks are unreleased and their quality-wise goes from good to excellent, so this is surely worth your time and money. Contributions range from the angst-ridden stasis of Keith Berry, Dronaement (a brilliant piece, this one!) and Paul Bradley, to the guitar-generated soundscapes of Fear Falls Burning and Troum, from the painful string scraping of Column One (sounding like Organum on a terrible mood), to the well-assembled remix of Jeffrey Roden's bass sounds by Feu Follet. Add two illustrious guests like the former Tangerine Dream member Steve Jolliffe, with flute tones revised by Uhling, and Moog-music pioneer Richard Lainhart, with a remix of his "White Nights", and you'll get a brilliant collection, not necessarily aimed at die-hard drone fans only.
image not
available
anymore
Artist:
HARSHCORE
(@)
Title:
the sybian sorority
Format:
CD
Label:
Rudimentale
(@)
Rated:
No, despite their name these guys have nothing to do with harshcore musicwise, but they deal with noise anyhow. After having heard a couple of old songs I had a split sensation probably due to the fact I was expecting close to Luca Sigurtà solo works but later, after having seen them live, I've had to change my mind about the band since they've something special. Finally this time the recording reflects much more their live performances that means post-industrial-sometimes hip hop rhythms (since in case you didn't noticed mighty Dalek and mighty Techno Animal took the idea from that scene... well, Techno Animal took the idea from themselves), a soft and odd bass plus a good dose of odd noises underneath or choking the rest of the music. Not all of the songs have the same impact but sure some of them have it, above all when they drown in slow-rip-your-ass rhythms and leave ordinary/bass-lines back home. But being a confused reviewer and a contradictory person: the sixth track is probably one of my favourites and it presents a mechanical drum beat that moves like a two hundred Kilos slug with a melancholic but yet depressive bass at the place of the shell. The noisy/sad closure is another really inspired moment that deserve a special attention when you approach to the release. Some of the atmospheres of "sybian sorority" are strange to say it all and Harshcore has something crippled and out of ordinary in the way they play. Probably their best is yet to come but i n the meanwhile they've already floating ashore (if you don't believe me go and give check out what Vital says), the fact many people have problem to classify them is probably another hint they're doing a good job.
Artist:
Robert Ziino
Title:
Eclipse Unmasked
Format:
CD
Label:
Experimental Artists
(@)
Rated:
I'm always suspicious when artists put naked women on their inserts. It's like a stand-up comedian telling dirty jokes. It's too easy to do and is usually an attempt to hide the fact that they have no talent. Well folks, that's what we've got here. A naked girl on the insert artwork and a CD full of electronic beeps and bloops. Now I happen to like bleeps and bloops but it's much more interesting listening to it when this kind of thing was new. The ownership of expensive analog synthesizers and other recording equipment doesn't make one an artist, and while it does have its moments, this is old stuff, in the sense of "been there, done that." This is retro, and I'd rather hear it when it was original. But if this sounds like your cup of tea (including the naked girl on the insert) go for it.