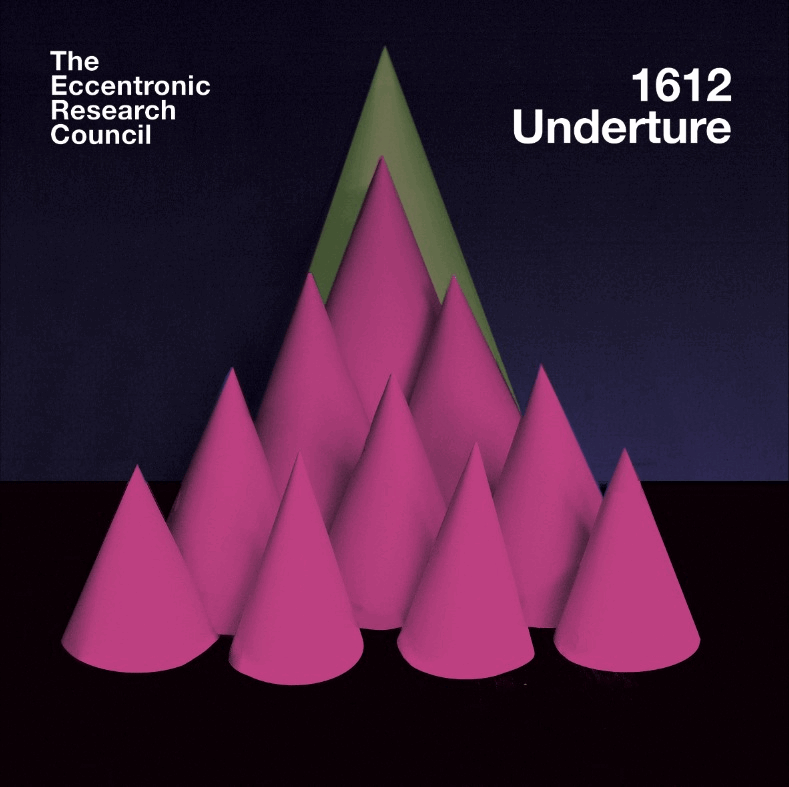 Artist:
The Eccentronic Research Council
Title:
1612 Underture
Format:
CD
Label:
Bird Records
(@)
Distributor:
Finders Keepers
Rated:
1612 Underture, the auspicious debut of The Eccentronic Research Council, is a psychogeographic road trip through Northwestern England. Primarily focused on the borough of Pendle, made famous by its infamous witch trials in 1612, from which this album derives its name and black beating heart. The main audiophonic alchemists, Adrian Flanagan and Dean Honer, are joined by the actess Maxine Peake, who acts as tour guide through the history and buried socio-economic prejudices of the region, in a hilarious and often moving flat Mancunain drawl. The music ranges from Radiophonic synth explorations, like some excerpt from the Quatermass Experiment, to driving krautrock, to drifitng pastoralism. Its an unlikely combination, and used to deadly effect.

We set off on our adventure with 'Autobahn 666 (Travelogue #1)', with its teutonic sequencers and the sound of car engines. It calls upon krautrock's unique ability to simulate the sensation of being in a moving vehicle, to tell the tale of route 666, the so-called Devil's Highway, as the Narrator begins her hilariously droll diatribe against the powers of patriarchy and government. 'This Is The North (travelogue #2)' is a jaunty library tune, like a message from a sardonic city council, describing the local flora and fauna, if the script writer were having a particularly hard opiate withdrawal. The underlying menace becomes apparent with 'Wicked Sister Chant', full of Goblin whispers and de-tuned, atonal electronics, smoothly segueing into tense minor 2nds (think Jaws) accompanying a text by feminist poet Anne Sexton, and witchly shrieking. 'Malkin Cat Trapped Behind A Wall' uses a dystopian aimless tone generator to create an ominous atmosphere of claustrophobic dread, complete with moaning black winds. Its like a castle scene from a '60s Hammer film, grainy grimy and mildewed.

'Curious Morbids (Travelogue #3)' comes in with some unexpected carnivalesque organ and funky Salvation Army breakbeat, while Maxine Peake tells us of the quaint charms of Pendle. It seems that the witch hunts have become big business, and the ten victims continue to fatten the wallets of the reputable denizens of Pendle. The carnival continues with '1612 Underture,' the wheezing organ accompanied by some tasty lo-fi drum machines, then launching into the burning accusation of 'Trial By Jiggery Pokery', the manifesto of the record. 'Unfortunately, for people like us, there has never been a happy ending.' The trio illustrate, with word sound and deed, the underlying prejudice of the status quo, that those with money and the popular perception of life and the world, will always seem more respectable, understandable, relatable. The music of the Eccentronic Research Council goes against this grain, forsaking the rigid, predictable structure of Top 40 techno, in favor of sparking, boot sale keyboards and drum machines. Choosing the unpredictable, analog heart of homemade funkiness, over Apollonian logic and formula.

Its a denouement, from this point forward. The musket has been discharged, the killing blow delivered. We have been affected, infected by the plight of those unfortunates, hung by the necks 401 years ago. 'From The Graves to the Freshcos' sounds like a eulogy, with the most traditional 'music' or at least instrumentation on the record, mournful violin and violin, while the Narrator sits beside the grave of Alice Nutter, petting a dog.

'(i). Pendle Wind (ii). No Hackney Cab to Gallows Hill (iii)Hangman's Song' is an imaginative sonic journey, emulating the last moments of the victims, on the way to have their necks stretched. This track would work well to add ambiance to some antiquated role playing game. 'Device Kids Find A Box Of Chattox Melody' suggests that some local children have dug up Anne Whittle's, aka Chattox, music box, and the ancient magick is unleashed. The sarcastically awesome and surprisingly industrial take on the traditional 'Another Witch Is Dead' shows that while they could kill the dispossessed, the unpopular and eccentric, and grind their bones to dust, the spirit remains undaunted, and it is rising. The final track, 'Ghost Of Old Lizzy Southern Returns', comes on like a promise, like the first ray of sunrise, and is the British equivalent of William Burroughs' scathing 'A Thanksgiving Prayer', as the ghost of Lizzy Southern curses everything foul and tacky of the 20th century.

Here in 2013, we are resurrecting the ancient ways. Wisdom, magick, and intuition will be essential to the healing of our planet, our minds and souls, and our many disparate cultures. The rise of awareness, with electronic bands like Demdike Stare, Pendle Coven, and The Haxan Cloak, drawing their names directly from the Witch Trials, and labels like the magnificent Devon Folklore Tapes assigning innovative modern musicians to explore the local folklore of various regions and locales, the topic is being raised and rife for discussion. Major Props to The Eccentronic Research Council for bringing about the debate in a truly inspired and innovative way, and managing to sound brilliant, all the while.
Artist:
The Spaceape
(@)
Title:
Xorcism
Format:
Download Only (MP3 + Lossless)
Label:
self-released
Rated:
Two of the most memorable situations I experienced during my journeys over our amazing planet are closely related to tribal rites: the first one in a Cuban village between Varadero and Havana was a sort of celebrative Yoruba rite (the people I met there explained there were some Voodoo elements as well) for the oldest member of the community while the second one was an healing Sangoma ritual in a Zulu village in South Africa. This interesting release by Stephen Samuel Gordon aka The Spaceape, whose promising musical path and the visibility he deservedly gained for his impressive collaborations with Kode9 have been suddenly stopped by a 3-years lasting struggle against neurolymphamatosis, a rare form of cancer whose painful and troublesome progress had been mirrored in the lyrics of some tracks of "Black Sun" album - just carefully listen "Black Smoke", "Neon Red Sign" and "The Cure" -, vividly activated those memories. The above-mentioned fight against cancer, which resurface in many moments of this musical little treat (songs like "Your Angel Has Come" and "Palaces" have many references to his period of hospitalization and treatment and many clues of his spiritual clearance have been spread all over the album), gave him new spiritual energy, which permeates his words and emanates from the hypnotical and catchy synthesis of meaningful lyrics and samples taken from traditional ritual musical stuff from Haiti and Kamchaka - Drummers of the Societe Absolument Guinin's "Voodoo Drums", two tracks from "Kamchatka: Tambours de Danse de L'extreme Orient Siberien" by Anastasija Vasileva Gitorovka and irina Khristoforovna Kolegova, a release on Soul Jazz Records about haitian street music and a couple of track from "Rhythms Of Rapture - Sacred Musics Of Haitian Vodouan", an encyclopedic compilation released by Smithsonian Folkways some years ago -, which could awake elemental and hidden forces in the listener. "Xorcism" really sounds like a reinvigorating and healing exorcism, whose effulgent poetic nourishment and synaesthetic sway is so catchy that I really hope there will be a follow up.
Artist:
Moon Wiring Club
Title:
Today's Bread, Tomorrow's Secrets
Format:
CD
Label:
Gecophonic Audio Workshop
Distributor:
A-musik
Rated:
In the misty moors of Northern England, lies the forgotten hamlet of Clinkskell. The trek to get there is one of the loneliest and least hospitable in all of the UK. No neighbors, no flashy attractions, Clinkskell and its inhabitants are remarkably removed from time and place. The people who live there are charmingly anachronistic: crinoline and cravats rub elbows with shirt-sleeves and psychedelic paisley patterns.

And its all in the mind of one Ian Hodgson, aka Moon Wiring Club. (Well, maybe it is, maybe it isn't).

On the header for the Blank Workshop (which acts as the chamber of commerce and welcome wagon for Clinkskell), MWC are described as 'Confusing English Electronic Music'. Elsewhere, Hodgson himself described his output as 'music for Edwardian computer-games'. Using the archaic technology of PS2 and a hand-me-down copy of MTV Music Maker, Hodgson meticulously constructs abstract concrete beat-collages, calling upon an extensive archive of mouldering Spoken Word/Children's/Work-out LPs, spun into a hallucinogenic cobweb of dream logic and refracted memories. Hodgson uses the vocal snippets like a voice over on some otherworldly nature documentary, pushing and pulling the ethereal tones and bouncy rhythms into bizarre auditory fairy tales, referencing this world, but not of it.

The irreality of Hodgson's crate-digging sampledelia goes right along with the ominous Art Deco album sleeves (which he also designs himelf). Vaguely sinister 2D depictions of Victorian women in hats, or cat creatures playing a fife. What, exactly, is going on? You must lose yrself in Hodgson's world, 8 self-released albums thus far, and an avalanche of mixes, magazines, fake advertisements, real advertisements, artificial television series, and perhaps real ones as well. Ian Hodgson is a world builder, pure and simple, and every time anyone on the Gelophonic Audio roster releases a record (blessedly frequent, lately), Clinkskell emerges from the mist, like Brigadoon.

'Today's Bread, Tomorrow's Secrets' is remarkably listenable, given how abstract and confusing it sounds, in print. Hodgson's beats are tight and twitchy, in a way that should appeal to fans of the recent juke/footwork/trap school, and the synths are respectably fierce and burning, that should stroke the furry ears of the devoted dubstep listener. But here, the synths are de-tuned and slightly disoriented; its as if you were listening to legitimate dance music while high on cough syrup at the bottom of a whirlpool. Or perhaps if it were emanating through a portal? Moon Wiring Club hold auditory seances, conjuring spectres from acetate and vinyl from the 120 years of recorded history, and in a way, we are all living in the spectral village, with dead voices whizzing past our ears in unlikely chimerical combinations.

There seems to be a story going on in 'Today's Bread'. The 22 tracks sound like a new adaptation of Algernon Blackwood short stories, if it were to released on Hyperdub. Once you have fallen under Hodgson's scraping knocking table-rapping beat mantras, the soothing British apparitions whisper hints and secrets, luring you further and further into the dark woods outside of the town.

In what is becoming a tradition for MWC, 'TBTS' exists in two forms (its like the daytime and night time versions of the same person). The vinyl release is the dream form of the antiquated techno of the CD. All beats and recognizable touchstones are stripped away, leaving a ghostly gelatinous imprint of yr memory of the original music. It is like a dub poltergeist, possessing yr thoughts. The 'beat version' is intended as 'dinner/party' music, while the vinyl is the after dinner apertif. The crunchy jerky beat-driven side is remarkably conducive to running around, getting things done, but do be careful! This music may be disorienting, and may cause dizziness. It might not be safe to operate heavy machinery, while under the influence.

With his idiosyncratic method of electronic manipulation, encyclopedic knowledge of obscure British ephemera, the consistency of his mythical world, and its place outside of town, listening to Moon Wiring Club is like passing through the Looking Glass. Everything you say may resemble what you have known, aka consensual reality, but its all gone a bit soft around the edges. It gets inside you and it affects you. Ian Hodgson is creating a world, down the road from fellow memory trawlers Ghost Box Records. Together, along with a small but dedicated cabal of shadowy antiquarians, they are making this world a more interesting, less definitive, place. Making mystery.
Artist:
Lynx & Hellrazor ft.Kemo
(@)
Title:
Dive Deep In / Shadowlands
Format:
12"
Label:
Warm Communications
(@)
Distributor:
S.T. Holdings Ltd.
Rated:
After the remarkable juggling on Soul:r with Balloons and Passing Time, which already settled inside many dj bags and has been successfully installed in many hard drives, talented dnb producer Lynx keeps on running on the path of thought-ignited stuff by means of his lomg-lasting cross-lifting collaborations with Jimmy Blitx aka Kemo and Richard Scott aka Hellrazor. Together with the latter one, Lynx really seems to strap a razor by whipping snares, disquieting bell-like tunes, menacing bass, scorched patterns, roaring inserts and an "interlude" which reminds Matrix-like settings and some jams by legendary Ram Trilogy, which perfectly fits to the leathery prophylaxis from a somewhat undefined threat from a numerical controlled world (d'you think it's so distant from reality?) on "Shadowland". Another excellent stylistical dnb jewel comes on the other side: an infectious half time rhythmical pattern and a rolling sitar which could remind some stuff by Fanu builds the pedestal for the poisoned vocal treatments by Kemo, whose track manages to reinforce the sonic soldering of these producers which already jacked many dnb clubs on the planet.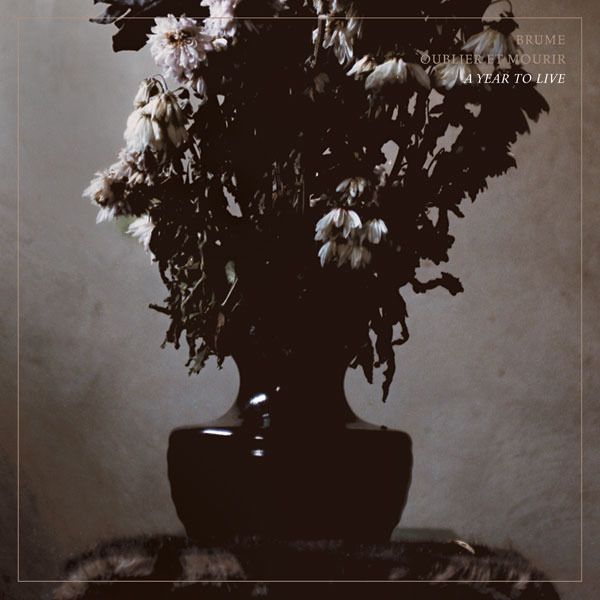 Artist:
Oublier Et Mourir/Brume
(@)
Title:
A Year To Live
Format:
CD
Label:
Silken Tofu
(@)
Rated:
Practitioners of Zen often advise to 'die before you die'. This is the Memento Mori, the contemplation of Death and the Afterlife; it has been known to spur people into enlightenment. The pair of Oublier Et Mourir, the sparse ambient side project of Anenome Tube, and Christian Renou, appearing here as Brume, have taken up the contemplation of finality in two very distinct and interesting ways.

Oublier Et Mourir's side best sonically encapsulates the sharp lithographed artword on the cover of a decaying bouquet. OetM's four tracks sound like a tortured composer, brooding in his mahogany study. Its like the medieval fantasies of John Paul Jones in The Song Remains The Same, if the warlock were reflecting upon memory, oblivion, the cosmos and the devil all at once. 'Ocean of Melodious Songs (Tsangyang Gyatso)' is the stand-out track here, which brings to mind the cosmic reminiscences of Klaus Schulze solo output in the '70s. It stands out like a rainbow against the ink-black dark ambiance, bringing some classic Terry Riley minimalism to the proceedings, and making this record ever-so-much-more interesting than the stereotypical dark ambient record you might expect from the subject matter at hand. There's black wind to be had, for sure, 'A New Thought Is Born, Another Will Arise' and the eponymous track (Oublier Et Mourir means 'to forget and to die') conjure vast digital caverns, that make it seem as if yr floating in eternity, back to the crystaline womb from whence we originated. Its colorful imagery, and lovingly executed; OetM's sound design stands out, with all the pieces hanging in suspended perfection. He stands at the edge of oblivion, unblinking, and notates it all to see. Oublier Et Mourir then acts as a psychopomp to the living, describing the afterlife and all its strange angels with a rich, complex tonal pallet that is more Bach than Bastard Noise. If only every member of the underground had this dedication towards their craft!

Brume's side is a way more eclectic affair. Christian Renou seemed to focus more on the 'First Thought/Best Thought' school of Buddhism, bringing in a track called 'The Simple Way' in 5 parts that bring to mind the pop surrealism of Jim 'Foetus' Thirlwell and Stephen 'Nurse With Wound' Stapleton. Renou's been making music since 1975, and got his start with a 9-piece big band called Uria, and you can hear echoes of that in the disjointed jazz of 'pt. 2', all stark rhythms and tuba blatts that could be a remix of the 'Panic At Year Zero' soundtrack, before surprisingly breaking into an unexpected funky machine bass backed by what sounds like a pressure hose and vocal snippets. 'The Simple Way' has a dream logic all its own, it takes you for a ride, making a series of unlikely connections and correspondences utterly distinctive and alien. Renou's activity in the DIY industrial/noise/electroacoustic cassette world (over 120 releases) have made him a prankster and an experimentalist and an individual, and i, for one, feel like the electronic underground really benefits from this presence. The segues can be abrupt and bizarre, and you truly don't know what's coming, but it gets surprisingly soothing, especially after multiple listens. Both sides of this record create new sonic pathways in the brain, allowing the listener to think fresh about the way they make and hear music, which is probably the ultimate living testament to the assignment.

It takes a rare breed to stare into the void and risk that inevitable return scrutiny, and the downside of this is that most who investigate bleakness and blackness already have an inky pallette, and we, as record listeners, are subjected to millions of hours of vacuous cosmic wind dark-ambient records. It is a rare and precious combination, to have talented and adept composers and sound artists looking into the subtle hues and strata of living and dying; reflecting upon memory, thought, passions. 'A Year To Live' is a valuable addition to any late-night listening library, or for anyone who's burned a hole in their Lustmord or Black Tape For A Blue Girl records, and are looking for a different kind of melancholy.