image not
available
anymore
Artist:
Diamondback Kid
(@)
Title:
Action Reaction
Format:
Download Only (MP3 + Lossless)
Label:
Diamondback Recordings
(@)
Rated:
DBK's 'Action Reaction' is the 3rd release on his own label Diamonback Recordings. EP features 4 brand new tracks and 3 remixes by The Men Who Knew Too Much, Embryonik and the... truly yours ;)
Opening track 'Frontier' is a wonderful piece of electro, built around dreamy pads, clever hooks and solid beats, a perfectly balanced between a sweet dream and a nightmare sonic equivalent. 'Ghosts' is a strange hybrid of hip-hop, p-funk and... new wave. It also features a vocoded nursery rhyme and it's definitely the most charming (and interesting) track in this EP, along with the following one, 'Blue Sky', a new-wavish piece of nu electro, highly addictive after a few listens. 'Action Reaction' is the last of the original DBK tracks, a quite experimental electro-techno instrumental with a little theme that brings echoes of 808 State (at least to the ears of an old man like me-lol).
The Men Who Knew Too Much transform 'Frontier' to a haunted ambient track and this is perhaps the most attractive of the remixes. 'Action Reaction' gets the Embryonik treatment ie a strong electronic disco injection and the result is a truly great club track based in a Moroder-ish groove and built around George's analogue madness. Simply irresistible! Last (but not least ;)) there's a remix of 'Ghosts' by the truly yours and DBK (actually the man added a few but crucial for the consistency of this remix overdubs and i thank him very very much for this!). Take a listen and... review it yourselves ;)
Overall 'Action Reaction' is a truly great EP although not your average electro/bass release (and that's good, very good!). Variety, that's the key word and 'Action Reaction' is a real winner in this field. Available as a digital-only release by Wednesday, Feb 29, first on Junodownload (http://www.junodownload.com/products/action-reaction/1917574-02/), then, by the 7th of March, at all the digital outlets, including DBK's Bandcamp. Grab it!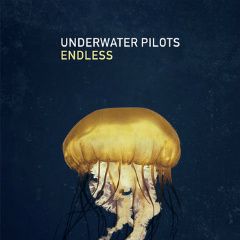 Artist:
Underwater Pilots
Title:
Endless
Format:
Download Only (MP3 + Lossless)
Label:
self-released
Rated:
Underwater Pilots are Manuel G. Richter and Gregoire Vanoli, from Hamburg/Leipzig Germany. They are creating a new, New Romanticism, heavily indebted to classic synth-pop and old-school goth, but revised with a modern sheen. How their press release puts it is, "(Underwater Pilots) create a blend of Synth-Pop with subtile melancholy and a unique trance feeling."

Endless is their first record since 2004's Tranquil Places, although Manuel Richter stays busy with an ambient side project called Xabec; they are not trying to re-invent the hover car, merely calling upon the strengths of the various origins they spawned from, and prone to some of the same genetic defects too, unfortunately. Manuel Richter is eerily reminiscent of early 90s Dave Gahan: same rich tenor and honeyed delivery, a romantic croon over the chrome beats from Gregoire Vanoli. They sound like 'Songs of Faith and Devotion'-era depeche mode, remixed by Ulrich Schnauss, with the slick modern psychedelia they refer to as a 'unique trance feeling'. Seeing as how i like both of these divergent styles, i like this band, it sounds good to my ears, it feels good in my body. Manuel G. Richter is a sound engineer, and has also done remixing work, so his sonic mastery is apparent; the beats are full and rich. In short, the production is sweet on this record. It could use a little grit, in my opinion, the sheen is a little too blinding, but its bound to sound great through a PA! All you DJs out there, grab this one for yr upcoming goth night.

There is nothing horrible about this record, and a few truly outstanding moments, truly great songs. I get the sense of a human being, trying to navigate his way through this perplexing modern world, over-stimulated, over-saturated. Trying to cope. It is romantic and mournful, it is like staring the window of a moving vehicle; emotional, reminiscent, and ultimately, detached. The lyrical content is prone to melodrama, at times, which is a hazard of the trade with gothy music, but the overall effect is worthwhile. They seem like they work hard, putting a great deal of effort into making their records, and making sure that people hear them. That care will continue to pay off, i foresee them honing their craft and finding their own voice, in times to come.

Endless is worth yr time and attention, especially if you already like the romantic New Order/Depeche Mode/Erasure hue of darkness.