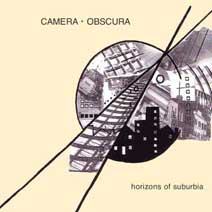 Artist:
CAMERA OBSCURA
Title:
Horizons Of Suburbia
Format:
CD
Label:
Anna Logue Records
(@)
Rated:
Little by little a lot of Anna Logue releases are going out of stock, fortunately all those great recordings won't go in the shades again, so it's time to go for CD extended reissues. The first reissue, as logic, is the first Anna Logue record which was Camera Obscura's HORIZONS OF SUBURBIA. Already reissued once on vinyl, the album, for this CD reissue gathers the ten tracks of the album plus the two of the "Strange Faces" 7" single, a compilation song and three unreleased tracks. Camera Obscura was formed in the winter of 1982 and they had only one single out. Released in 1983 for Small Wonder Records (the same label which released Bauhaus' first 12" "Bela Lugosi's Dead"), the 7" had "Destitution" and "Race In Athens". The same year they participated to a double vinyl compilation released by 101 International with "Village Of Stars" (you can find it on this CD reissue for the first time since then). This song has been their latest to be officially released as after that the band recorded some demos for EMI and Arista, which showed interest into them, but due to budget cuts and change in personnel never made them record anything else. In 2005 Anna Logue's Marc Schaffer decided it was time to make those recordings available and released HORIZONS OF SUBURBIA. The album showed to lovers of electro pop and minimal analog music that the interest of the major labels was more than justified as the duo was able to write mid tempo tracks with pop attitude but with a dark twist. Alternating fast paced tracks like "Escape From The City", "The Mandarin Man" or "Fever Pitch" (a song which thanks to the real drums sound and to echoed guitar riffs, had a cool synth wave sound) to mid tempo semi ballad like "Vincent Van Gogh", "Horizons Of Suburbia" or "Horizons Of Suburbia" Camera Obscura were creating a nice feeling made of energy, nostalgia and a bit of mistery. Their single for sure at the time sounded cool to Orchestral Manoeuvres In The Dark fans because "Destitution" sounded like a sort of synth version of Joy Division and "Race In Anthens" (both presented into their unreleased extended demo versions) was sounding likea mix of Ultravox and O.M.D. The three unreleased track of this CD are a great trio of dark intriguing upbeat minimal electronic tunes titled "Coloured Glass" "Conscience" and the hidden track "The Insect" (this one sounds a little like a dark version of Blancmange) which starts few minutes after "Conscience". If you missed the first two vinyl releases make sure you won't miss Camera Obscura again!
Artist:
Electric Breathing
(@)
Title:
Sounds Of Psychosis
Format:
Download Only (MP3 + Lossless)
Label:
Twisted Flesh Recordings
(@)
Distributor:
Amazon
Rated:
Another new coming German harsh EBM-project signed the Swedish Twisted Flesh Recordings label, Electric Breathing give a further addition out of the Hellectro army-camp to our attention. Consisting of Maik Grohs (Defcon-one) as being the one and only mastermind behind this project, I can attest him, that he is capable enough to satisfy all of your inner needs, if you look for a fast-paced, harsh and uncompromising sound-design for your next body-party. 'Sounds of Psychosis', already the 4th release after some own released demos of this project, is an action-driven 11-track digital-album in the typical and expected kind, but which leaves too seldom space to take a deep breath. Hard-hitting tracks like 'Killer Instinct' don't leave any wishes open for dancefloor-addicts, also the idea, to provide some drastic German lyrics in 'Zerfall' comes out pleasant. But generally this album lacks a bit of more maturity. Some tracks really appear to be rather inhibited, than being produced in a clear manner and it becomes a bit strenuous to listening this fast-paced Harsh-EBM onslaught at the full length. Maybe more tracks like 'Possession', which features more distinctive synth sweeps, would help out of this misery. With that in mind, it needs to be said, that all things around the production of this 11-track album are filled with professionalism. Fredrik Croona (Project Rotten, label-owner of Twisted Flesh Recording) acts as producer, while the notorious guys of the German Stahlblack Production are responsible for the mastering. Pixelbreed provides a stunning cover artwork, and this band project doesn't play hide and seek in their studio and storms from to time the stages. Good and useful stuff to let out inner aggressions, while still with enough space for musically development. Please note: this isn't a free download, it needs to be purchased by official downloading resources (Amazon, iTunes, and alike'¦).

In recent news we have to inform you, that Twisted Flesh Recordings as being the partner label for Electric Breathing, has seemingly closed its doors. The website is down, and this label acts in the future as being the home base for Project Rotten only.
Artist:
Cylix
(@)
Title:
Alpha
Format:
CD
Label:
Life Is Painful Records
(@)
Distributor:
Nova MD
Rated:
Greece gets featured negative in our daily news flash regarding its economic and financial problems. Unfortunately this may alters a bit the concentration on the positive, artistically precious elements out of this country. Also Synth-/Futurepop music made in Greece is a seldom discovered music style ' international recognition are rather gaining the harder Electro/Industrial projects like Iambia, Inline.Sex.Terror, or Siva Six. So the debut release of Cylix is sort of a premiere, and I was about to listen carefully for a special unique trademark behind the music of the duo. Let's say it friendly, because it is hardly possible to discover a glimpse of undiscovered ingredients: Cylix are walking musically on known paths and are still in a developing process to find an own, unique niche. 'Alpha' focuses to install danceable Futurepop-elements in a comparable direction to bands like Culture Kultür or the Swedish Electropop-institution Elegant Machinery. Some of their tracks are moving near to the EBM genre ('Miles Divide', or 'Deepest Fear'), while other tracks like 'Heal Me' and 'Keine Zeit' are rather calm, presenting clear the melodic Synthpop-driven style. Their smooth side offered through these both tracks is the better one. Also important for a debut is the invitation to some better known projects asking for remix contributions. On 'Alpha' you'll get a remix of Germany's Lights Of Euphoria (fair, but unobtrusive remix on 'So Much For Love''¦), and from Psyche ' sometimes a good idea for a well-done remix can be, to reduce a track only on vocals and synthesizer sounds ' congratulations to Darrin Huss for removing the rhythm section of 'Heal Me', which finally proofs, how much depth hides behind this song. 'Alpha' is a good debut, well suited for Synth-/Futurepop-fans, although it leaves space for development. I guess, an imaginary entitled 'Beta' album will already show a step forward for this duo.


image not
available
anymore
Artist:
Dagobert
Title:
S/T
Format:
Download Only (MP3 + Lossless)
Label:
Dominance Electricity
(@)
Rated:
Celebrating the return of Dagobert (with "Astronauten", a split EP with serbian producer Kalson-see Maurizio's review here: http://www.chaindlk.com/reviews/?id=6555 ), Dominance Electricity re-releases their resident artist's self-titled debut album for the first time in digital format. Original LP came out in 1997, on Harzfein Records (a hip-hop/electro label based in Dessau, Germany, also the hometown of Dominance Records, which was apparently the parent company) and it is considered as one of the classic 90s electro records.
An obvious question would be if this album stands the test of time. It took me only a couple of listens to answer: yes, definitely! After 14 years every single track included in the original version still sounds fresh, like it was released sometime during the last couple of years, time in which the electrofunk scene seems to be more active than ever. From the imposing intro track "Jam-Duction (Let's Jam)" to the bouncy closing one "Boomdrummer" (both characterised by mr. Howe's dope vocoder skills), through the pure electrofunk jam "For The Sure Shock Rockers", the speedy dark number "Dark Power", the dreamy "Sliproad To Feel" (love this track!), the laidback beauty of "Bonus Chill" (a nice surprise the inclusion of a chill-out track in this kind of album!), the epic "Bass Invasion" (really great synth work here) and the perfect blending of acid and space electro vibes on "Inharmonic Whispers" (track featured in the german tv series "Space Night - New Frontiers", back in '98), it's all here: 808 beats, breakbeats, synth melodies, vocoded rhymes and, of course, the (((BASS))), blended unmistakably to create one of the very first examples of the (common today, but quite a novelty back then) oldschool/breaks fusion aka nu electro.
Even if you have the original wax you might still want to buy this edition, as all the tracks are remastered and it also contains 3 bonus Dagobert jams ("It's Time", "Get On It" and "Untitled", the first 2 taken from Dagobert & Dj Magic Mayer's 1997 12" "Harzfein Presentz Kingz Of Electro" and the last one taken from the 1996 compilation "DAP (Dessau Action Pack)"-both releases on Harzfein).
Available at all digital stores, this is highly recommended stuff so save your money for a copy ;)
image not
available
anymore
Artist:
NOTIC NASTIC
Title:
Fullscreen
Format:
CD
Label:
Notic Nastic
Distributor:
Shitkatapult
Rated:
After one year from their debut album "It's Dark But It's Ok", Notic Nastic are back with a new album titled FULLSCREEN. Released on their personal label and distributed by Shitkatapult (the label that released their previous one), FULLSCREEN will catch your attention starting from its mesmerizing cover where their female singer has an arrow painted starting from her mouth, pointing to the ground. On all their visual representation she proved herself to be a real performer and also on this album she will convince people both for her visual and vocal performances. Anyway... The album opens with four hits in a row "Cyanide", "Illuminati Bitch", "I Don't Wanna Do It Right" and "Both Eyes Open" and all of them shout out loud the theme/message that the Berlin/N.Y. duo wanted to deal with for this album: FULLSCREEN is a symbol of the frustration that arises because of the sleepy minds of the masses. With their lyrics Notic Nastic shout WAKE UP! Open your eyes wide and see the truth behind the smokescreen. It's a particular thing that into a record which could be considered dancey you can find lyrics like "I was entrapped by lies, in fear that the truth was danger, are you free, if you always have to hide" ("Cyanide"), or "Though I was fucking around and I had to ditch, cause I'm not gonna be some illuminati bitch" ("Illuminati Bitch"). Musically, as for the first album, the duo deliver twelve new tracks which mix analog/digital distorted synth sounds, hard beats and cool melodies. Alternating upbeat tempo tracks (mostly the first half of the tracks) and mid tempo tunes, Notic Nastic produced themselves the album helped by Philip Hansmann on mixing and Stefan Betke on mastering and succeeded into creating a mixture of dark pulsating danceable songs which work so well. Thanks to the vocal performances of the unnamed singer and to their ability to tweak vocals (which are now slowed then pitched and sampled, creating sometimes an effect you can also find on Crystal Castles albums) FULLSCREEN will convince you as much as "It's Dark But It's Ok" did. It will be out on October 21st.