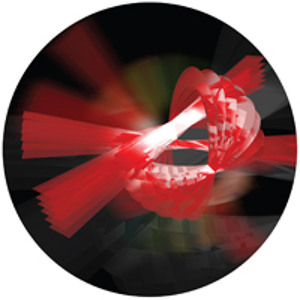 Artist:
MORPHOLOGY
Title:
Information Paradox
Format:
12"
Label:
Cultivated Electronics
Rated:
With a new distribution deal with Clone, Cultivated Electronics is back with the first release of 2012, a new Morphology EP. Coming from Finland, Morphology are a duo which in the last three years they released different vinyl 12" on Zyntax Motorcity, Abstract Forms, AC Records, to name few. The new EP is titled INFORMATION PARADOX and contains three new tracks plus a Sync 24 remix of the title track. The EP opens with the title track, an upbeat syncopated track that recalls me of the best Zerkalo tunes. It mixes Detroit electro and a bit of Miami creating a sort of warm/cold contrast. "Escape Velocity" is a 4/4 electro tune with crisp bass lines and catchy melodies. It kinda grows thanks to the add of floating spooky pads and more rhythmical parts. It sounds nasty and mysterious. B side is opened by Sync 24 with the "Information Paradox" remix. For this one Sync 24 choose to give to it a dark flavor thanks to obsessive fast arpeggios, spacey keys and eerie pads. The 12" is closed by "Tangent Spaces", a track that mixes aquatic and hypnotic atmospheres. It gathers upbeat tempos, dilated pads and melodic catchy piano inserts. This is a quality release that you will gladly check if in love with the electro genre.
Artist:
Koji Asano
(@)
Title:
Solstice Eclipse
Format:
CD
Label:
Solstice
Rated:
According to someone, the agonizing frequencies which sound like unbracing a weak compositional framing, feeble dynamics of a bundle of withering sounds emitting a sort of mournful hum, compressed as it is in a very narrow range of values, a certain grieving aura of doleful dreariness evoked by the slow variations of some sound which looks like coming from corroded organ-pipes performing during solemn obsequies taken and played through overcranking, such a time-stretched fading evaporating during the whole listening experience as well as such a title, Solstice Eclipse, having been Solstice the "trigger" of his weighty discography and the name of Koji Asano's sort of label, together with the remarkable slowing down of issues (this is just second release over 5-year span by this Japanese composer, well-known for his prolificacy) could be interpreted as an elegant way to wriggle out of music scene (rumours denied by the recent issue of "Polar Parliament"). I prefer to consider such a release as the result of influences from our days, so that behind those unrecognizable sound sources due to the abuse of time-stretching (someone could argue it could be an over-expanded guitar tone, even the general sound of Asano's 47 minutes and 48 seconds lasting drone recalls the failing sound some Chinese toy keyboards emit when battery is low!) the sonic translation of a feeble ray of light during eclipse, which in crisis times could be easily considered a metaphor of something slowing or dying or if we bravely associate it to some notorious irritating measures such as ACTA, PIPA or SOPA, it could be thought as the suited metaphor of the fading of free knowledge.
Artist:
EMPIRE STATE HUMAN
Title:
December Rose
Format:
Download Only (MP3 + Lossless)
Label:
House Of Analogue
Rated:
"December Rose" is the newest Empire State Human single and it is the first one for the new label House Of Analogue. The new release contains only two songs but they confirm the band, now a duo, inspired and fresh after more than ten years of activity into the synthpop scene. I want to talk about the "B-side" first. "B For Baby" is an instrumental song that fits the Holiday season just passed by. It gives me the same feelings of a warm fireplace and the same joy of kids playing with snowballs. "December Rose" is an upbeat romantic song with sax inserts that sound just cool. They really gives to the track the spice that is like a nice ribbon on a gift box that will please every synthpop lover. Aidan sounds passionate and energetic as usual, so this is a good comeback that will prepare their fan to the forthcoming new album.
Artist:
Synapscape
Title:
Traits
Format:
CD
Label:
Ant-Zen
(@)
Distributor:
DSBP
Rated:
'The touch of the unexpected' ' this phrase taken out of the label info-sheet features some valuable content, when it comes to describe the long years of Tim Kniep's and Philipp Münch's career under the well-known Synapscape moniker. Synapscape in the year 2K11 are sounding still refreshing and offer still their own signature, where other, comparable promising Industrial-projects have failed meanwhile. 'Traits' gives us again some detailed insight into their musically varied sound-design, which features again diverse rhythm patterns between noisy to smooth installed, intelligent produced synth-drones and ' quite important ' Tim Kniep's vocal performance. They can look back now on more than 16 years of musically activity, but be assured, that they do not offer (Abnutzungserscheinungen). This album is filled with stuff worth to mention: 'Host' opens this album and gives a harsh, Powernoise-driven rhythm-massacre. But the float of the album afterwards turns more to offer progression in their rhythm-textures, 'First Came the Floods' rather more reminds on more subtle produced Electro-Clash-structures than the Noise-formula. 'Downfall' can be pointed out as being one of the highlights here, rather reminds with its rhythm-arrangements as an obvious homage to Dive/Sonar. Deep-drowning Dark Ambient scenarios you'll get additionally presented through tracks like 'condition Sine Qua Non' and 'Hiller', until the album ends after 14 tracks with the wild pounding 'Rise', one out of five tracks featuring Tim Kniep's vocals. 'Traits' stands once again for a highlight in the release-catalogue of the German cult-label Ant-Zen and this productive duo has at least found the ideal path to unite the raw, noisy structures with subtle elements. 16 years of activity under Synapscape and no sign of getting bored by the things they do ' let's keep the fingers crossed to have them much longer in front of this music genre.


Artist:
Organic Cage
(@)
Title:
Kill Your TV
Format:
Download Only (MP3 + Lossless)
Label:
Vendetta Music
(@)
Rated:
Well, I was pretty much euphoric, when the US-based Vendetta Music announced the signing of the young German fellow Tim Kasten alias Organic Cage to be added to the roster. So here comes the first digital-only release of this young and talented Rhythmic Powernoise-project. 'Rhythmic Noize to destroy Industrial dance floors', so it 'screams' out of the label info-sheet. So you know what to get, but unfortunately this first 5-track EP rather follows business-related decisions, instead to offer a fair overview on Tim's abilities. I understand the need to introduce a newcomer act with a presentation of rather dancefloor-oriented and/or nearly radio-station-compatible tracks. These 4 original tracks, including the already before discovered 'Noisebleed', are filled with straight, harsh and distorted produced rhythm-patterns, which should work well to fill the dancefloors. But they definitely do not represent the more detailed and with musically depth rewarded talent of Tim. Also the prominent remix contribution of Xotox on the title track swims with the average level of this release. All in all this release crawls a bit too obviously into pattern repetitions, so that the hopes for a more detailed kind of work lies completely on the release of the album deliciously entitled 'Brain Surgery Machine'.