Artist:
Gina X Performance
Title:
Nice Mover
Format:
12"
Label:
Medical Records
Rated:
Formed in Cologne, Germany, in 1978, the core of Gina X Performance was Gina Kikoine (vocals and lyrics) and writer-producer-musician Zeus B. Held. They produced four albums during the 1979-1984 period "Nice Mover", "X-Traordinaire", "Voyeur" and "Yinglish". Their debut album wasn't available on vinyl since 1980, so Medical Records decided it was time to reissue it and succeed into getting a license directly from Mr. Held (KGBeat Productions). Master recordings provided by Zeus B. Held and remastered by Lafayette Masters, Freiburg, the album is available on limited run of 1000 copies on high quality 180gram 'bone' colored vinyl. "Nice Mover" contains eight tracks of which "No G.D.M." and the main one were major hits on both sides of Atlantic. Mixing wave, italo disco and the characteristic vocals of Gina the album was able to shine into the musical scene of that period. She wasn't a great singer, but the word "Performance" of their band's name should make you think that they weren't based particularly on vocal's capabilities. On Gina X Performance's music, you can find cool synth lines, catchy melodies and a metro atmosphere that was reflected on the lyrics which talked about transgenderism, exhibitionism, and fetishism. See, for example, "Be A Boy', an energetic dancefloor song that illustrates the internal thought processes and daydreams of a female longing to become a male or the following "Exhibitionism", a sensual powerful mid tempo based on synth orchestrations and electric piano lines. "Nice Mover" alternates euro dance tracks a la Moroder and new wave intuitions and if you think that all this have been recorded on late 70s, you'll be astonished. This is your chance to get this gem on vinyl and this release includes a bonus insert with liner notes and interview by Kurt B. Reighley.
image not
available
anymore
Artist:
Éric Normand
Title:
Data (Lo-Fi Duets)
Format:
CD
Label:
MonotypeRec.
(@)
Rated:
This may be a first for me. The release I'm reviewing, 'Data (Lo-Fi Duets)' by Eric Normand is somehow very hard to describe despite being a very simple, very raw (I don't mean quality-wise) record. It is a series of 7 completely improvised duets with 4 people that Eric has come across. Christine Sehnaoui Abdelnour graces two tracks providing alto sax treatments; Martin Tetreault provides 'pick-up, surfaces and rhythm'n sound for guitar' on two pieces; Sebastien Cirotteau contributes amplified trumpet to one piece and 'mic in the mouth' to another; and finally Mario Gauthier makes an appearance on the final track with 'analogic synth & objects.' And of course Eric utilizes homemade 'and domestic' electronics, electric bass and 'mics on fingers' throughout the disc. I really wasn't sure what to expect after reading the credits and the description that is actually part of the cover art, but I was excited to give it a spin nonetheless being a huge fan of improvisation, especially from such basic setups. I wasn't let down in the least. From start to finish 'Data' is a fine record, and a fine example of improve noise. It evolves through feedback and input crackling dancing fleetingly with that alto sax (that Abdelnour manages to somehow, at points make sound like a flute); to almost turntable like noises; to squealing rodent-esque sounds (undoubtedly from that 'mic in the mouth'); back to sax notes that parade around like noisy violins with Normand's echo-y and verbed out bass treatments providing and excellent space for them to cry and scream. The final piece is kind of beyond definition. It may be the most interesting, and probably my favorite of the lot. I failed to come up with a logical description of it, but I managed to scribble just three adjectives down on my notepad while I listened: static-y, blistering, perfect.
Artist:
Break/Eastcolors
Title:
So True VIP/Watch Out (Enei Remix)
Format:
12"
Label:
Symmetry Recordings
(@)
Rated:
On this little kicking knick-knack, Symmetry Records serves the reshuffles of a couple of tracks, which got already released on the label-sampler "The Other Side" I already mentioned on the occasion of the chat with label-owner and composer Charlie Bierman aka Break. On side A, Break himself waxes the roaring engine of "Love So True" in order to make it more luscious by breading sonic golden plastic, tanned skin, elastic percussive slips and a relaxed bassline on original version without tampering with a certain tropical crispness, while talented Russian producer Aleksei Egorchenkov aka Enei nukes "Watch Out", the impressive debut track by Andrey Terekhov aka Eastcolors on Symmetry, by means of cutting extrusions, blown synth and crackling hats which mined the original pattern in an enjoyable manner. An alternative option for all those (many) djs who are massively playing original versions during their sets.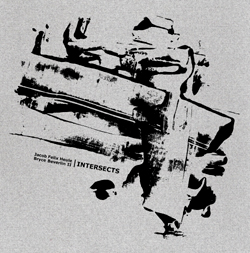 Artist:
Jacob Felix Heule & Bryce Beverlin II
(@)
Title:
Intersects
Format:
CD
Label:
Eh?
(@)
Rated:
This was an interesting one. At first I was concerned about what I was hearing. 'Intersects,' a collaboration between Jacob Felix Heule and Bryce Beverlin II, is a live recording of 2 longform improvisation pieces which begins with sporadic drums and percussion that seem to have little rhyme or reason, which had me reminiscing of a certain scene from 'Joe's Apartment' where Joe makes a less than spectacular drumming debut in a band called 'SHIT.' However, the rocky start is not the only thing this release has to offer. It slowly builds, the percussion tightening and falling in line with Beverlin's random, yet focused arrangement of noises. There is a point where the audio drops to almost complete silence, at which point some electronics are introduced, allowing some droning bass tones to set a backdrop for a little ambient horror, and it's quite wonderful. As time elapses, the noise creeps back in, this time somehow a much more relevant context. The second performance opens with what sounds like a growling bear and an input jack static loop. It grows and grows to a huge monstrosity (using the term in the most endearing of ways I assure you) that fills the senses with waves that bring about a very primal feeling to the core. I think this piece is far stronger than it's counterpoint; at the same time it's also noisier, grimier. It does have its point where it slowly becomes more ambient, and those parts are just as good as the louder movements, however, throughout both pieces, in several spots over the duration of the record, it seems as though volume drops have been employed to suggest a quieter, more ambient atmosphere than perhaps was naturally occurring. I'm not sure if this was on purpose or the fault of a heavy handed compression at mastering, but it can be a bit distracting. That and the intro aside, 'Intersects' is a fine example of longform improve (which I am a huge fan of) that at its peaks doesn't disappoint.
image not
available
anymore
Artist:
The Ebertbrothers
(@)
Title:
Engine Eyes
Format:
CD EP
Label:
Mindwaves Music
Rated:
The Ebertbrothers have put out a release entitled 'Engine Eyes' which contains 4 new songs, and 3 remixes from their 2011 effort 'Susten Pass.' The record gives a solid start with the two new songs 'Sunset Car Chase' and 'Rusty Black Bike' which both have a pretty great sound to them. They manage to combine smart, modern beats and rhythms, which extremely chill synths and pads to create these wide open, airy textures. Some of their synths have a bit of a retro feel, but with modern production value. Sometimes they can feel a bit novel, or even ill conceived (synth line in the latter tune), yet despite that they still manage to have a very appealing, and even comforting sound and feel; very strange in a good way. The next set of songs on display are three remixes by Karsten Pflum, Lackluster and Badun respectively. Pflum takes on 'Black String' and offers a less stark, far more funky yet structured approach. 'Feature Film' is reinvented by Lackluster has created a far more chill, yet somehow (occasionally) more sporadic mix, with more of a groove to it. Then Badun sculpts a smooth, spacey rendition of 'Sympathy Changes.' To close the disc two more new songs remain; but are definitely good, but not really noteworthy in comparison to rest of the disc. 'Engine Eyes' treads a lot of different water, but manages to mix it all together in an overall pretty solid record with funky electrogrooves, chill tones and retro synths, and even a moment or two of sweet Massive Attack vibes.