Kantyze is maybe one of the fiercest dnb duo, consisting of Frederic Bauffe (Feubo) and Igor Denat (Knockoutz), who gave many innovative shakes to French dnb scene by adding to dnb typical doodads a weaponry of dark-techno-oriented primers. On this excellent digital EP, which will be officially released on 10th June, they strenghten their sound by enhancing both dynamics of rhythmical patterns and and grip of sounds. It's possible you will associate their combination of dark shading and hyper-hectic swirls to the sound of other projects such as Cern, The Upbeats, The Sect, Subtone, Stalker, Proktah and similar projects, but one of the distinguishing aspect of Kantyze sound is the fiendish focus on the insertion of psychotropic samples, futuristic roller and sometimes militant beats within their computational reticula. You will find four wicked tunes on this EP, which comes on their own m-Atome imprint, who all have the above-mentioned elements, even if according to my ear and neural response, the abysmal pits and the nervously stretched drum rolling of "Factory Slum" as well as the squishy bouncy "Fish Eye" deserve the purchase of this release by themselves.
image not
available
anymore
This new release from Maciek Szymczuk could represent a classic Zoharum release but, because is filled with guest appearances, the music is changeable and seems a sort of pop-dark ambient. Just to be clear, pop is not a synonymfor commercial but a way to express the fact the key point of this album is the merge of a song structure in a dark ambient sound context.
The voice of Joanna Kunstwan-Szymczuk, with the words of Percy Shelley, clear the sound palette of "Cumulus Congestus (Fresh Showers)", the first track of this album that acts as a sort of intro to the remarkable variety of the sound solutions and the second track, "Cirrus Uncinus (To Watch The Clouds)", is a more refined version of this form. "Altocumulus Floccus" is an atmospherical introduction to "Altostratus" where an almost epic synth are juxtaposed to african beats while "Nimbostratus (ObÅok różany)" is completely centered upon the voice of Maciej Mehring interpreting the words of Tadeusz Micinski. "Cirrocumulus Undulatus" is an etherial song as "Stratocumulus Duplicatus" while "Cumulus Mediocris (SÅoÅce za chmurÄ)" returns to a more solemn form with Mauriusz,Oziu' Orzechowski chanting his own words. "Cumulonimbus Capillatus (Clouds)" is the proper title track of this album as it embodies the principal qualities of this release. "Cumulus Lacunosus" seems a quite chill-out (or idm) track reminiscent of some old records while "Stratus Undulatus (Srebrne chmury)" is open by the spoken words, written by Tadeusz Micinski, of Maciej Mehring introducing the etherial soundscape evoked by the author. "Cirrostratus Fibratus" is a small introduction to "Cumulus Humilis (White Sheep)" where small noises acts as an intro to the voice of Joanna Kunstwan-Szymczuk until a gentle coda ends the track and "Cirrus Vertebratus (Sunny Again)" close this release with the words of Alan Benjamin.
This release has one of the aspects that I consider most in a release: the personality of the musical output as, instead of being a typical release of this label, is one of the most enjoyable albums. Recommanded.
image not
available
anymore
Artist:
A New Life
(@)
Title:
Fright Treasures
Format:
Tape
Label:
Other Voices Records
Distributor:
Bandcamp
Rated:
The truth is, that i have been eagerly waiting for the release of FRIGHT TREASURES, the first 'full length' album by A NEW LIFE. It is finally out! A limited edition release on tape (along with the digital release, of course), on OTHER VOICES records. The fact that it is available on tape, as well, makes the album even more special and highly collectible.
All the songs on the album have been composed, performed and recorded by Maurizio Pustianaz (the mastermind behind A NEW LIFE) between September 2011 / September 2012, and as the title - and the striking cover artwork (by Oleg Galay) - suggest, we're in for a deep, dark, often emotional journey.
Right fro the start, it becomes clear that the artist, has no intention of jumping on any bandwagons or following 'trends'. After playing the album many times i get the feeling that the music making approach and the song constructing process can be described as pure and sincere and the sound ideas, the arrangements of the songs, the vocal performances, are all expertly combined and produced, bringing a sense of sonic unity and a final solid vision of the album, as a whole piece of art.
A NEW LIFE, prefers analogue drums and synthesizers to bring all those dark moments and moods to life, and manages to build up a melancholic vibe that runs through the album. Early 80s synth influences are evident and ever-present on all of the songs, and that only manages to enhance the allure of the album, which by all accounts has a strong sound identity, and an undeniable quality and only leaves the listener wanting more.
For me, FRIGHT TREASURES is one of the best releases of the year.
Artist:
Eastcolours / Quadrant & Iris
Title:
I Don't Know Why (Dabs Remix) / Sparse VIP
Format:
12"
Label:
Avantgarde
Rated:
Even if Italian label Avantgarde doesn't often come into view - since its birth their owners Davide "Dabs" Rustici and Andrea "Grotesque" Valesini dropped just one release a year -, the people who run and support this imprint know the strategies to leave its mark every time it pops up. On the occasion of this third addition to a skimpy catalogue, talented Rome-based Italian dj and producer Dabs, one leg of the label, injected adrenaline (don't try this on yourself or the people you love!) into Eastcolour's track "I Don't Know Why" to its limit, so that it seems that female vocalist of the original version barely attunes her voice as it's immediately overwhelmed by tight rhythmical patterns, electric neurations, bleeping bullets and rumbling spins. The faint revamping of "Sparse" by Texel Quadrant and Karen Iris goes on the same speed of Dabs' remix; it's quite similar to the original version, included in the very first release of the label, as it seems they emphasized the mysterious atmosphere of the tune by "goblinesque" sounds and sharpened percussive elements in order to make it sound harsher. I'm pretty sure that many dnb followers won't expect to wait too long for next Avantgarde drop after listening to this doozy.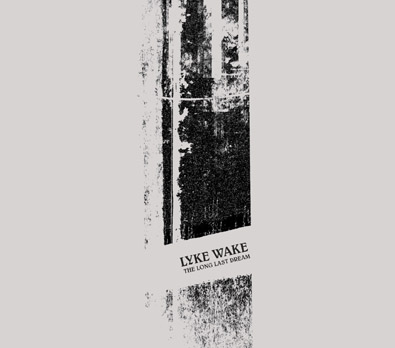 Artist:
Lyke Wake
Title:
The Long Last Dream
Format:
CD
Label:
Final Muzik
(@)
Rated:
Originally released on tape in 1987 for their own Aseptic Noise and then reissued the same year by Misty Circles, Lyke Wake's "The Long Last Dream" was the fourth release of the project headed by Stefano Di Serio. Each of his releases had as key theme a phrase: "Il disagio di chi si trova in un mondo non suo sapendo che il proprio non esiste" (The uneasiness of who finds themselves into a world which isn't theirs, knowing that theirs doesn't exists). Stefano's music has always been true to this manifesto and to created his own sonic world, he was usual to create long suites where synth pads notes (filtered with reverb, most of the times) were enjoyed by drones, sparse drum beats and synth noises. Check for example the second track of "The Long Last Dream" titled "Non Apparent Silent Activities": its wobbling sounds and simple melody make feel the listener fluctuating into a primordial matter. Everything sounds like recorded into your own dream world as it sounds distant, distorted and blurred. This first CD reissue released by Final Muzik, contains both the sides of the original tape with the two aforementioned tracks, plus "Terminal", a track coming from the 1988 split tape with Negativ Person. This track is based on vocal whispers, disturbing hisses and magmatic noises. This does really sounds like the last dream!