Artist:
Lycoriscoris
(@)
Title:
From Beyond The Horizon
Format:
CD
Label:
Moph
(@)
Rated:
When I'm asked to describe the style of some new musician, I don't really like to resort to schematical descriptions but it could be useful for "western" listeners to try a "mathematical" definition of the astonishing sonic syncretism that Tokyo-based musician and composer Lycoriscoris wraps on his album "From Beyond The Horizon". On the enchanted valley of their liquid sonorities, it seems that many rivulets come together after getting swollen by waterfalls of delicate organic ambient, Japanese electronics, contemporary smooth jazz, honeyed dreamlike melodies driven by piano strokes and gleaming sounds and glitch knitting so that you could almost imagine it as a combination of some sweet atmospheres by Pharoah Sanders, Lonnie Liston Smith or some idyllic tunes by Takagi Masakatsu, filtered by means of typical skipped and hopped gaits of glitch music. The fuel additive which rises the pressure of the sonic centrifuge by Lycoriscoris is a subtle oomph which gradually or sprightly surface over the blossoming parade of sounds. While in the first part, where you will also find "Daydreamer", a pretty collaboration with Japanese singer Piana, the music cracks open towards breezy disruptions, many tracks of the second part such as "Amenooto", "Shinonomo" or "Stillness", mantain dreamy flavours intact but seem to pat more intimate strings of soul. A lovely collection of musical fragile potsherds.
image not
available
anymore
It takes almost two years to this polish band to compile the follow-up of their debut release and, in times where there are releases every three or four months, is quite a good news as this is an album of impressive quality. As the reader knows, I've reviewed almost every release of this polish label as, so, I have some reason to claim that this one is amongst the best releases of this label.
"Marble" opens this release as this album were a sort of jam between a jazz band and an ambient one and there was a radio lefts on during the session while "Flesh" is an ambient track with a jazz mood juxtaposed. "Piramidy" instead is based upon a quite strange loop above some small and sparse noises. "Dead Horses' Circus" is a dreamy soundscape while "La Grande Déferlante" is based upon a dark loop and the impressive voice of EmmA WyrD. "Assassins" is a dark ambient interlude colored by an original saxophone line. "Fade Away" is based on Sci-Fi synth line as "La Primavera" is a small interlude based on string instrument and the hiss of an old tape. The quite old recording that opens "Lights & Serpentines" and colored by the bells introduce the listener to the final part of this release. "Sotto il Sole del Mondo" is a sample based track relying on the hypnotic effect of the samples. "As-Sawira" is the dreamy introduction to "La Primavera (My Final Bell)" where Euski gives his touch creating an atmosphere of great suggestion.
As a Nurse With Wound fan I enjoyed the courage of the musical path and the originality and variety of the solutions so this album is in my personal list of albums of the year. Amazing.
Artist:
Gilded
(@)
Title:
Terrane
Format:
CD
Label:
Hidden Shoal Recordings
(@)
Rated:
The suffused and vaguely crepuscolar opening on gentle piano strokes and thin chinks of the initial "Velar" and the charmingly rustic twining of string saw, warm deep tones, accordion and banjo flowerheads, a dainty percussive nixer on the following "String And Stone" embarks listeners on the musical universe of Terrane, whose name comes from a geological term to describe a fragment of a tectonic plate which get "sutured" (normally after a process of subduction) to crust lying on another plate, by Gilded, a West Australian duo by experimental musicians Matt Roesner, whose sonic researches, focused on field recordings and guitars, partially flowed into labels like Room40, Apestaartje, 12K, Meupe and Miatera, and Adam Trainer, one of the founding member of Perth-based post-rock outfit Radarmaker. Ideally lying on the boundaries between the styles by Cinematic Orchestra, Greg Haines, Piano Interrupted and similar august satellites orbiting around conglomerates of minimalism, visionary lyricism and ambient, the sound they carefully mould on this lovely release constantly oscillates between melodic suspensions, emotional tension and pastoral idylls, which sounds like rushing from heaven-given creative sparks ("Dew Cloud", "Straight Crest", "Tyne"), earthly dampers ("Road Movie", "Expanded Contract"), bucolic effusions ("Cluttered Room", "Moth Food"), which evokes a constant feasting by tender sensibilities with contingent halts. This is undoubtedly a recommendable listening for dreamlike personal odysseys.
Artist:
Second Culture
(@)
Title:
Flying Potion
Format:
CD
Label:
self-released
Rated:
Neither roots of mandrakes nor dragon claws inside the flying ointment from the hefty recipe book of Second Culture, a trio from Running Springs, a town on the mountains nearby San Bernardino in California, contrived by Keith McGrew (synthesizers, sequencers, guitars, words), Andy Hutson (vocals, synthesizers, percussion, visuals) and Mark Florin (Chapman Stick, guitar, stomp-box wonderland), as they prefer to draw heavily on psychedelic culture and music. They list instruments, equipment and sources for inspiration in details in the inner part of cd sleeve and as you maybe can surmise they included miliar stones of the so-called enviro-mentalism such as Terence McKenna, Carl Sagan, Cassandra Wilson's "Sankofa" and Inca Shamanism as well as a pattern book of mushrooms, herbs and references to elemental forces, while from the stylistical viewpoint, they propose an interesting crossbreed between structures of shamanic and ritual chants, dub-ambient and space-rock with electronic sonic memes of trance-ambient and even goa-trance. In order to give you an idea of what you're going to listen, you could think about a possible reinterpretation of Ozric Tentacles, Seven That Spells, Farflung or some past bands and musicians from Delerium Records by some sonic alchemist from Ultimae Records with the warm and entrancing vocal guide by the ghost or reincarnation of some guru of psychedelic culture during the mystical path Second Culture try to cobble. I could recommend to toss this sonic mash off and linger on some technical preciosities in order to better appreciate some proper jewels such as "Ancient Astronaut", "Hurricane eyes", "Bardo", "Heart-Centric At The Azure Teleport" and "Super Hero". Put your headphones on and contemplate the eventuality to fly off.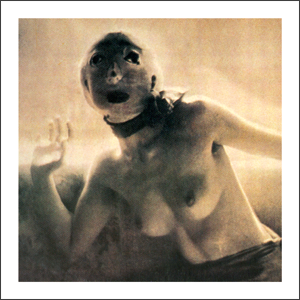 Artist:
Militia
Title:
Folk XII
Format:
CD
Label:
Oltre La Nebbia Il Mare
(@)
Rated:
Perugia, Umbria, Italy. Early 80s. Even if that was a relatively small city, on those years, there, two bands and a club had an important role for the new wave/post punk scene. The two bands were Militia and Aidons La Norvege and the club was the Suburbia. Four years ago Antonella Guerrini, Augusto Croce (member of Militia and Aidons La Norvege), Giovanni Romualdi wrote a book titled "Quelli del Suburbia - Storia di un'amicizia e di un sogno londinese nella provincia umbra" (The people from Suburbia - a story of a friendship and of an Umbria's country London dream) to tell the story of their youth, their bands and their places. Also on places where it was really difficult to have foreign bands playing gigs, a group of kids succeeds into creating something unique. Now, allow me to focus on Militia: the band formed by Dario Bavicchi, Andrea Conversano, Fabrizio Croce and Giovanni Romualdi, recorded some demos and a MLP titled "Folk II" which has been released by Contempo Records in 1985. On late 80s they changed musical direction from post punk to something more influenced by Tuxedo Moon (they also collaborated with Blaine L. Reininger on their first album "Dunnarobba"). "Folk XII", finally reissue the four tracks of "Folk II" adding other seven demo tracks recorded during the 1985/87 period. This material, probably, ends the band's archive of that period as we already had reissued the demo "Scene di caccia" plus other stuff on the "Dathu" CD (bonus CD of the "Namu/Namasthe" album printed by Materiali Sonori back in 2008). "Folk II" contains four gems that after almost thirty years, to me, sound as beautiful as I listened to them the first time. "In Trionfo", "Echi", "Mare Crudele" and "Ritmi" are tracks where tribal drumming, bouncing bass lines, guitars sharpened like razors (balanced by acoustic guitar riffs) and deep sounding vocals where creating scenarios made of despair, echoes of old wars or cries coming from asylums. All this sung in Italian language and sounding like no other band. Already these four track would convince you to purchase this reissue printed by Oltre La Nebbia Il Mare, but also "Giardini Luminosi", "In Disarmo" or "Anaformismo" are tracks that show a band that was willing to experiment with atmospheres by mixing tension, energy (powerful drumming and bass lines where a band's distinction) and dreamy sounds. If you don't know them you must check them and if you already know them, you already know why you should purchase this CD!