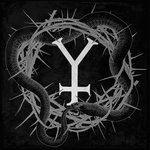 Artist:
MZ.412
Title:
Ulvens Broder
Format:
12"
Label:
Cold Spring
(@)
Rated:
As the last releases of MZ.412 were reissues or live recording, "Infernal Affairs", released in 2005, was considered the creative swan song of the project which has taken Industrial under a more clever use of noise taking inspirations from the most peripheral rivulets of the genre and merging them with a certain personality. Now this EP announces the release of new full length and the first question is how is aged this sound now that the sound which was called 'Black Industrial' has spread its influence.
After an atmospheric intro with almost imperceptible voices "Ulvens Broder" explodes with a monolithic beat and a orchestral loop and a sort of sample from choral music that makes clear that, even without the novelty effect, their craft is able to raise the bar and exhume a sound at the crossroad between surgical precision and physical impact. "The Father Uncreated" starts uninterruptedly and it's more stratified track where noises are juxtaposed not to fill completely the audio spectrum but to create a menacing atmosphere or underline a precise moment of the track where the distorted voice evokes proclaims something until the final crescendo evokes something that rises from the earth. The B side if a reworking of "Algiz (Konvergence Of Life And Death) from "Nordik battle signs" which shows the evolution of their sound as it removes the sharp noises of the original to create more homogeneous passage from the instrumental part to the vocal line of Tomas Pettersson as the musical elements of drones and noises are developed on the whole track while the original was based on the dialectic between the almost silent part of the vocal and the noises of the music.
An event for fans of industrial music as what it could end as a nostalgic reunion reveals itself as another chapter of a journey which has changed the form of industrial. Seems that "Svartmyrkr" is a candidate for album of the year.
Artist:
Fauna
Title:
Infernum
Format:
12" vinyl + Download
Label:
Ventil Records
"This is my second album and it was recorded under dangerous circumstances"- so begins Rana Farahani's second full-length, which unfolds into something sonically much more relaxed and casual than the prelude may suggest. This is gentle synth work, mostly very calm, sometimes bordering on slow old-school trance ("Exit"), sometimes wandering more closely to full-on synthpop ("Death Fly", "Went Home Got Lost"), sometimes more stripped-back and rumbly with glitch and post-dubstep influences but still in perky synthpop soundspace ("Drive-By", "Holle"), sometimes going deeper into rumblier industrial techno structures ("Unbehagen") but never really going 'hard'.

The bitterness is in the lyrics, often sparse and spoken-word affairs infused with a fair amount of cynicism and resentment that plays cleverly against some of the quite optimistic synth sounds running underneath. Apart from the expletive in the chorus, "Lonely At The Top" is a bright, perky, fairly radio-friendly bit of electropop

It's got a healthy blend of variety and consistency in a compact 34-minute, 10-track dark synthpop album that never really shines extremely bright, but still draws you in with some deceptive complexity and authentic emotion that's not writ so large as to be discouraging. Interesting stuff.
Artist:
Tantric Doctors
Title:
Karesansui
Format:
CD + Download
Label:
Focused Silence
"Karesansui" is Sheffield (UK)-based electronic and jazz musician Adam Woolf's single-track, 45-minute improvised work inspired by Japanese stone gardens. Through a process of overdubbing, he lays up freeform clarinet, alto sax and soprano sax lines over electronic pulses, impromptu and often patternless glitches and lumps of low analogue synth noise.

The jazz elements are cold and largely shapeless, and on their own, might become ingratiating over the course of three quarters of an hour. It's the electronic underbelly of this release, counterpointing the jazz elements and shifting them into an alienating environment full of unexpected punches and whirrs, that keeps things ticking along and keeps you engaged for the most part. Even so, the seeming lack of progression, form or chapterisation across the work does begin to get tiring towards the end. Like sitting in a relaxing garden for a long time, the environment itself is only half the experience of being there.

It's intricate in parts but something of a listening commitment- though I don't mean that as harshly as it might sound. It's an unabashed bit of experimental avantgarde jazz coupled with strong electronic sounds, unashamed to be solely what it is, or to be targeted at people already predisposed to appreciating it. It's unlikely to find a broad audience, but hopefully it will reach enough people who will revel in it.
Artist: Semiotics Department Of Heteronyms
Title: s/t
Format: 12" vinyl + Download
Label: Avant! Records

When reviewing recent single "Tell Them", I praised the 3-pack of slightly hard-edged synthwave-synthpop, saying "if an SDH album appears I will definitely check it out". Now that the album's here, my expectations are met, but perhaps not exceeded.

Here you get eight strong bits of synth songwriting, some pop-radio-edit length, others allowed to breathe a little more but never straying too far from conventional song structure. There's a slightly lo-fi, proto-techno analogue feel to the warm analogue low end sounds and the sometimes rather echo-heavy vocal treatment that gives everything a gently raw flavour. Firmly rooted in the sonic values of the synth 80's, it rolls along nicely but a little predictably at times, and by the time you reach "What Did I Come For", you do begin to wonder whether more synth sounds might have been available.

The vocals are quite velvety and confident, but never really pushed very hard, tending towards whispered and even spoken-word vocal lines rather than anything bolder. The PR sheet's comparison of the vocals to Dolores O'Riordan is a little ambitious, though you do hear the same celtic twang in "She Uncovers Before Me".

Perhaps predictably for a first album there's a feeling of defining a sound rather than pushing it here, epitomised by tracks like the strong "Guilty And Gifted". "Mean" is the most ambitious track, a pulsing seven-minute affair with quite a cinematic feel.

A strong, relatively compact bit of dark synthpop with more than one foot facing to the past, SDH's self-titled first full-length album is steady rather than amazing.
Artist:
Glyn Bigga Bush
Title:
Sunken Foal Stories
Format:
LP
Label:
Schamoni Musik / Lion Head Rec.
Glyn Bush's long CV includes Rockers Hi Fi and Original Rockers, but for a release under his own name, he's gone for something a bit bolder and more introspective, concentrating on a very raw and broad-stroked approach to sampling spoken-word broadcast material and musical snippets and building and layering them into short sonic vignettes and brief jazzy grooves.

In a way it's like jumping back to the late 80's or early 90's when wholesale sampling was still a novelty, recalling Negativland works or the interludes in Art Of Noise albums. This is reinforced by details like the speak-and-spell voice on "Theme from The Tincleton Now" and the analogue tape-like quality of some of the spoken word sources.

The strongest tracks include "Teahead Of Time", the TV-sync-friendly "Carnaby Street Caper" and the slightly more conventional electronica formed around string samples in "Speltre Flecks".

The abruptness and edgy construction of these pieces lead to a bit of a patchy experience overall, a release that never really 'gets going' as a half-hour listening experience but which has an endearing energy that will be enjoyed by people with fond memories of those simpler sampling times.