Artist:
Quentin Hiatus
(@)
Title:
Out Here EP
Format:
Download Only (MP3 + Lossless)
Label:
Free Love Digi
(@)
Rated:
2017 has been a very intense and prolific year for Quentin 'Hiatus' McFadden, who added a lot of good releases in his rapidly growing discography - I warmly recommend the tripartite album "I'm Neither Quentin Not Hiatus"if you missed it in the huge cloud of digital releases of bass-driven music -. "Out Here" is the EP, by which Quentin rides off into the sunset of this triumphant creative gallop over the year, that is drawing to a close. The first track of the five included in this EP winks at Juke and Trap sonorities in the first seconds, before unrolling mellow tunes. I'm not sure if the vocal sample that can be heard after a couple of minutes got grabbed by some radio shows or interviews of Dean Edell, a broadcaster and physician, who became very popular in the late 70ies/early 80ies for his radio show on KGO radio and his well-argued opinions against magical beliefs, pseudoscience related to healing methods and some surgical and medical practises (he was against circumcision, hysterectomies and so on). He was also one of the earlier supporters of the medical use of marijuana and other psychedelic drugs. The balance between liquid sci-fi pads, the slightly nervous beat and the title repeated by a soulful female voice on the following "Find Out" sounds like an invitation to the base to acquire an explorative mindset. The way by which Quentin organizes sounds in "Born Woke" looks like a dribbling between a sci-fi melody, electronic fibrillations and percussive elements that he manages to slot into the previous ones. The futuristic hip-hop and the meaningful lyrics of "Kryptomedic Rejection" (a link to the initial Edell (if I guessed references) precede the amusedly alien entrapping game of "Unexpected Guest".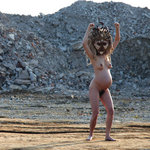 Artist:
Stefano De Ponti | Eleonora Pellegrini
(@)
Title:
Physis
Format:
CD
Label:
manyfeetunderconcrete
(@)
Rated:
With his now considerable output, Stefano De Ponti is perhaps one of the most interesting composers around. Physis, more than his proper new release, is the completion of a project with Eleonora Pellegrini born in 2011. The basic idea of this work is a body and sound performance about the evolution of Nature in an historical line from the beginning to the future.
The first part of this release, "I", quietly starts with "Non dèi invocar" a drone broken by the voice of Eleonora Pellegrini whose intensity increases as time goes by and is underlined by the soundscape in the background until a crash introduces the second part of the track, "Physis", based on stone's noises, or so they sound, upon a quiet resonating background. As the concrète source of the sound emerges, with "The Fishing Ape" the listener is closer to a part based on sharp high tones, "Seirn", paving the way for a song, "Canto", closing this part in which the voice seems at a distance and the noisy background gradually overwhelms everything.
The second part of this release, "II", is based on two movements and it's a more static part: "Grey Desert", a quiet and meditative positioning of sounds generating the sense of being into a primitive but cinematic environment and "Oracle" where the concrète element returns and the voice of Eleonora Pellegrini closes this release without the accompaniment of any sound.
While the first part of this release takes his character by the interaction and the mutual support of voice, words and sound and it one of the finest moments of the year, the second one sounds more like a questionable coda or a sound mimic of the cover than a fully developed piece; it's like it needs a visual counterpart to be effective. As a whole it's probably something than every fans of experimental music should hear.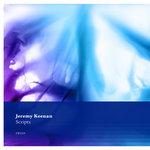 Artist:
Jeremy Keenan
(@)
Title:
Scripts
Format:
Download Only (MP3 + Lossless)
Label:
Forwind Press
(@)
Rated:
While he's a relatively (un)known sound artist, this is the first audio release I heard of by Jeremy Keenan. Most of his output is an exploration and an actualization of the processes used by the avant-garde of the '60s, so his focus in on generative music process and the properties of sound rather than on melody and harmony. To fully appreciate this release it's quite recommended a proper setting e.g., headphone and the concern that a listener should place his attention on sound movements in timbre rather than pitch.
The short drones that open "Scripts" introduce the listener into an apparently static sound field, even if the three parts of the track are sharply delimited, which exposes his form when the listener is aware of the movements either in frequency than in space. "Intone" continues on the same path but with a process of addition and subtraction of the layers of well defined frequencies of the drones. As the elements of "Zapffe" enter and exit from the listener's perception, there's a sense of writing along with the construction of the timbres and this is further confirmed by "We Were Supposed to Drown" which is completely focused upon a single drone which is slightly but continuously modified to escape even the smallest moment of stasis.
This release with his impressive movement to be based mainly on drones is a sure pick for all fans of ambient music and with his wise choice of concision (it lasts only 29 minutes) it could be appreciated also by the casual listener of the genre. Recommended.
Artist:
Sontag Shogun and Moskitoo
(@)
Title:
The Things We Let Fall Apart / The Thunderswan
Format:
7"
Label:
Home Normal
(@)
Rated:
Some storyteller would say that this brief sonic tidbit on Home Normal - Ian Hawgood, its label manager, announced this will be the last release of 2017 - could be made of the same substance that dreams are made of, or I'd better say of the substance of fairytales. It's somehow true, as the two outputs on the tracks of this vynil could be matched to fabulous parallel worlds, due to the musical outfit that New York-based trio Sontag Shogun sewed for the enchanting voice by sound designer and vocalist Sanae Yamasaki, better known as Moskitoo (check her outouts on 12k to focus her style better): Ian Temple's delicate piano melodies, the amazedly guessed electronic entities forged and grasped by Jesse Perlstein (he's also the background voice you can hear in "The Thunderswan") and Jeremy Young, who also added some drops of squeezed oscillators in this balm for listeners' dreams. According to Jeremy's introduction, the idea behind these two tracks blossomed after Sontag Shogun tour with minamo, where they met Moskitoo. The band already appreciated Moskitoo's music, but they tried to give a sort of 'live' touch and put her evocative music out of glitchy and digitally marked sonic webs by drying Sontag's music to highlight the "soft, whispering voice" of the Japanese singer. "The Things We Let Fall Apart" mirrors this process, as they removed "a glitching beat created from chopped grain synthesized bits of radio static" of the initial version of the track. The shape of the sound in the mentioned "The Thunderswan" is similar, but there's a sort of fairytale as a framework for the track. Here it is the explanation of the story by Jeremy: "this piece is about a girl who doesn't belong in the town she's from. She wanders through tall reeds at night to a dark lake where she finds families of ducks and geese. She knows she doesn't belong here either, but they take her in, give her swan's wings, and teach her to fly. Eventually one night, she takes flight and leaves the lake, soaring over it, over the lights of the town, looking down on these places that mean nothing to her, and she gets stuck in a thunderstorm. She battles through some rains and wind, and decides to elevate herself to above the clouds, she breaks through the thick clouds, following the ever-brightening glow of the moon to find clear night skies. Below her are the tops of clouds, above her only stars, she's more alone here and now than she's ever been and starts to doubt that she'll ever find her true home. Just then, in an instant, from behind her and circling all around her, come 200 other boys and girls, flapping their giant swan's wings and gliding through the night air together. She's made it. She's home at last.". They's Home (Normal) at last.
Artist:
Ueno Takashi
Title:
Smoke Under The Water
Format:
CD + Download
Label:
Room40
In seven numbered-but-not-named pieces, guitarist Ueno Takashi offers up a series of lengthy rapid-picked layered guitar pieces that breathe at length into an almost hypnotic but very very odd dream. Imagine if Philip Glass was a virtuoso Mike Oldfield-esque guitarist on a sugar rush going completely solo trying to score a suspense-driven horror movie, and you're in the right area.

The longest track, opener "One", feels as much maths as it does art, a fifteen minute exploration of different discordant arpeggiations that step almost systematically between pleasant melody and more devilled intervals. "Two" is similarly paced but with much milder plucking and less discomfort, before "Three" twists us back into a slower, more drunken wig-out environment, "Four" continuing that theme but with a darker rumbling ambience.

"Five" is like the most sinister music box lullaby pattern you've ever heard, and things just get weirder and weirder in "Six" which adds a relentless electronic hum and almost daft wobbly squeaks. By the time of "Seven", which doesn't do anything I haven't already described, there is a slight sense of going-through-the-motions by the end.

It's a bizarre hour-long head-bender of a listen, not short of character but certainly a bit of a struggle for all but the most dedicated of listener. Modern-day out-there, even by ChainDLK standards.