Artist:
Ernesto Rodrigues, Christine Abdelnour, Axel Doerner
Title:
nie
Format:
CD
Label:
Creative Sources
(@)
Rated:
While Lisbon children were walking around the city, knocking doors to repeat "Pao-por-Deus" (Bread-by-God), asking for chocolates, fruits, candies, food or money on the occasion of a celebration, which could look like Halloween, even if it was born to remember the devastating earthquake, the worst one to hit Lisbon in 1755, on 1st November 2008, a group of improvisers made up of Creative Sources' label manager Ernesto Rodrigues, the talented and somewhat bizarre German trumpet player Axel Doerner and French/Lebanese saxophonist Christine Abdelnour joined together at Tcha3 Studio to record this odd session. In the liner notes, Richard Pinnell says this record confirms his idea of actual improvised music, which recalls to his mind a drawer at his grandmother's house, full of tangled cotton and wool threads, and his children's game in pulling them in order to see how far each thread would unravel before taking "a hold in the enmeshed bundle". Pinnell's nice comparison with his childish memories keeps on focusing on the most relevant aspect of this release, id est the lack of structure, but even if there is no architecture and all canonical aspects of composition appear upside down, behind the interesting experiments on breathe insufflation, string smacking and tonal modulation, some listeners will notice a certain structure from the impression one of the three elements sounds like propping the intimate brittle skeleton of each moment, so that it seems that the intriguing techniques this trio exhibit represent a non-building made up of a pile of sounds, which seems constantly toppling as well as impossible to notate.
Artist:
Hermetic Brotherhood of Lux-Or
(@)
Title:
Ethnographies vol. II - Il deserto e le fabbriche
Format:
2 x CD (double CD)
Label:
Trasponsonic records
(@)
Distributor:
Trasponsonic
Rated:
This island where I live never ceases to amaze me for the richness and creativity of its musical offerings. Especially into our scene of industrial and electronic music, which usually is thought to be restricted and much less busy than other musical genres. What I present is in fact another excellent production of Trasponsonic Records (http://www.trasponsonic.net) a small and interesting independent Italian (and Sardinian) label which turns out to be a source of unexpected little gems of sound. Trasponsonic is little, but very active. The label is founded by our friend and musician Mirko Santoru, that keeps it well hidden into his shelter based in Macomer (a small town in the internal territory of our Sardinia). But sometimes, from this "buen retiro", Mirko with Trasponsonic and his band of musicians seem suddenly exploding, in the silence of the countryside around, all the crash of masterpieces like this album which is titled "Il deserto e le fabbriche' (in english: the desert and factories). This new work is signed by the collective sound project called HBOL (acronym of Hermetic Brotherhood Of Lux-Or) involving different musicians and performers (in this record appears the names of Campostorto, Miroslaw, Varrs, Tonj). The work is also the second chapter of an interesting anthology entitled "Ethnographies - Musee de l'Homme Hermetique'.

We'll tell you immediately what I think. This double cd "Il deserto e le fabbriche", the first time I've listen it, surprise me like 'a couple of punches in the nose when the guard is low...!' Because all of its tracks have real musically force inside, have roughness and hardness, sound tribal and industrial at the same time. Are not surely easy to listening. But also are not easy to forget. And this strange feeling 'after listening' left me by the sounds and the noises of Hermetic Brotherhood Of Lux-Or is a really positive sensation was actually difficult to find, for me, even into the works of many groups of gray-area are surely most famous and popular of them. This disc breaks the nasal septum. And we bleed for its sounds but also for the important substance that contains, really conceptual and dense. The two CDs are in fact marked by a boundary line that is well described in the cover notes. The first disc is cryptically subtitled as "Jesus And John Wayne" and i read into that, and I seem to hear, all the red hot sounds of the desert and together all the sand in the eyes during a long ride through the American wild west. This sand in the eyes, for us, is the same Grand Canyon's red earth to get dirty and covered everything. Wagons, horses, cowboys and Indians. That sand was also a mirage and a dream, for us Italians. The sand of the myth of the great wild frontier, as seen through the innocent eyes of our little Italy. A distant mediterranean's country that was fed for a long time with the utopic imaginary by '60s western movies or with the fake and simple optimism of that classic 'american way of life' ever in black and white.

The second disc, entitled equally cryptic "... and Justice for Hollywood" takes us back to a different imaginary. A sub-urban and actual imaginary compound from other deserts of metal and dust. The urban deserts of much industrial archeology close to our cities. The inert metal of abandoned and disused factories and assembly lines broken. The place of human labor that have been broken by the unbridled capitalism that destroys men during its run, destroys cultures and ideas, leaving only rubble behind. Another imaginary, probably common to many provinces of the Western empire. Imagery that is common in this Sardinia Italy, and this affected by industrial decline like some poor distant provinces of the country which was certainly the most heavily industrialized long ago. The other conceptual element that characterizes all the works published by Trasponsonic is, in my opinion, its search for a new road. A road which is sound but it is also philosophical, to a neo-pagan mystical and anthropomorphic, combined with the primitive tribalism. Concepts that reinforce with the use of the raw material of the primordial elements, in a mixture of men and earth, water, air and fire. United by sound and noise.

Perhaps these aspects of his philosophy more intimate would be enough to urge you to look and buy this gem, which you can order directly online at Trasponsonic that sells and distributes on its web site all its work. But if philosophy is not enough you know that the sounds that come from this research are certainly no less profound. The two discs have a feeling old, long ago, but vital, modern and close to us. Almost hear them breathing and panting beside us. All the tracks seem filled with a sound that is tribal and violent. Sound that is material but also dreamy and distant. Sound hard and blood, near and maternal at the same time. This sound is a alien mantis, made of flesh and metal, which feeds on your blood and surrounds you giving you his warm milk.

Even the best trained ears to the post-industrial sound could be damaged hearing songs like "Hyperion Sunset" or "Gravity Sucks" contained in the first cd "Jesus And John Wayne" that could be called a disturbing and dark 'avant-psychedelic rock'. But you'll easily attracted by things that remind us that the best Current 93 chant mantras and eastern litanies with other sounds and atmospheres worthy of the best 'spaghetti westerns' with a soundtrack by Morricone.
If you open the second cd and listen to songs like "Violet Pride" and "Red Rage" will find stunning examples of epic tribal and industrial noise. But I doubt any free resist coming to the end of the last half hour of apotheosis song called "Yellow Avaritia". Because there are tracks in this record that sound like the Laibach, the Trobbing Gristle, and the Zero Kama with the Kranioklast had gathered, all together, inside a deep cave to play steel pipes and human hollow bones. And I must also tell you that the Hermetic Brotherhood of Lux-Or the sound really hollow bones! I saw them live in a M.S. Miroslav, and struck a magnificent skull of horse he assembled and electronically modified with effects and pick-ups to transform it into a modern electro-noise amplifier instrument.

I will stop here. And I want to use. to close this review, the words of Julian Cope, the well-known musician, who arrived here in Sardinia thanks to his passion for archeology of prehistoric megalithic that our land is rich. Cope has discovered the charm and sonority of the work of Trasponsonic and he on his website defines this disc enthusiastically in this way: ... a severe form of Kosmische Musik.... utter vocaleptic brainstorms, eternal drumclatter, caveholler, lo-lo-fi Neu 2-style thrash, epic sub-Faust mung worship and seething half-hour-long Zoroastrian ambulence of the dark stasis variety...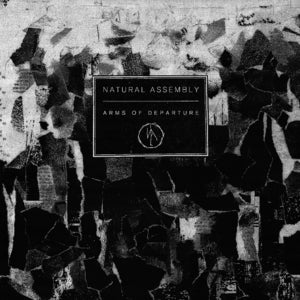 Artist:
Natural Assembly
Title:
Arms of Departure
Format:
12"
Label:
Avant! Records
Rated:
Coming from London and born the last year as a solo project of Jesse Cannon, after the release of the first demo, Natural Assembly became a duo with the arrival of Z. Zsigo and soon after made two other tapes. Now, thanks to Avant!, they are ready for their major release, a 12" vinyl EP titled "Arms Of Departure". Influenced by industrial electronic music and new wave, the duo packed six tracks where reverberated drum hits mark the rhythm while analog synth lines build the melodic background of the tracks. To the whole you have to add resounding vocals that sing quasi unintelligible lyrics. Being capable of making anxious atmospheres, the duo's lyrics are quite decadent and tormented. On "19.03.12" they sing: "The warmth of the springtide guides the blossoming of the child through the dull fog of life enduring the bright fractures of times existence" and on "Ruination": "Trapping me tight, the structure forces me down, our bodies entwine but our spirits will fadeout". They the right companion to the other label's bands Lust For Youth, War and Contrepoison. Nice...
This new dainty and introspective release on Hibernate has been signed by North London-based and flutist and FBox label manager Katie English with her elfin alias Isnaj Dui and offers an emotionally intense and naked abstracts on solitude like the title suggests and really delicate foreshortening on the interior world of the musician. Most of tracks are mainly based on bass flute sound, which seems to be the perpetual and liked presence accompanying Katie inside her walks over the paths of her flourishing inner gardens, which are costantly evoked during her listening. Plain textures of flute melodies, sometimes intertwined with light nylon guitar plucking (or maybe it's an harp one), outlines emotional upheavals as well just like in "What Lies Inside", a track composed while Katie was recovering from a panic attack, which according to friends who have listened the track by chance and experienced it perfectly describes that state of mind through a stifling bass tone and a sort of strangled chirrup. The folowing track "Quarter Wave" keep on sounding quite agitated, but all dark clouds seems to have scudded away on the placidlybliss induced by "Nature Of Light". Whilst "Peripheral Motion" could recall to mind a performance of a geisha at the court of some Japanese Emperor, the final "The Last Will Become A Darker Grey" melts together feelings of outward lull and livid thoughts, "silenced" like the muffled peals appearring after a while by sweet flute melodies till the mind finds some peace in a deep sleep, evoked by the recording of someone in the act of snoring!
One half of presumably ended project Birds Of Delay, Luke Younger, comes back with his solo project Helm on the appreciated PAN label, who hosted on its catalogue the personal project of the other half, Steven Warwick aka Heatsick as well. Helm's talent in noiseshaping merges with references to rich and psychotropic British post-industrial and ritual scene, which often resurfaces during the listening of this record since the first track, "Miniatures", where some listeners could perceive echoes of Coil together with sketches of a sort of psychogeographic documentary of East London, when noises of trains running on steel rails can be distinguished in the sonic obscure stagnant pond evoked by the track, which sometimes looks like a frightening collage of sounds grabbed by a microphone placed on connecting rods of a train or on switch locks of rail tracks (there's also a peep which could come from an accidentaly squelched mouse...). Whereas the following track stands by what title says - "Liskojen yo" is a vernacular Finnish way, meaning "reptile night", to name heavy hangover after massive consumption of alcohol - by a rich and suitable collage of sounds which could be associated to post-alcoholic giddiness, "Arcane Matters" is redolent of daydreaming nearby seashore as the combination of noises and sea rumble let the listener imagine an amount of noises coming ashore and piling up with slime, dead jellyfishes and rubbish till the disturbing final part where a sinister and violent hit on a gong fill the sonic space on a background which looks like grabbed from a kindergarten and "Stained Glass Electric" sounds recorded with microphones put inside flasks during the preparation of explosive acids. This visionary recording ends with disquieting rumbling and strongly piercing whispers of "Above All And Beyond", a mysterious way to sign off this adventorous listening experience.