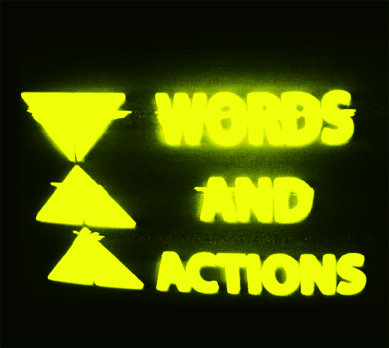 Artist:
Words And Actions
(@)
Title:
Time Can't Be Turned Back
Format:
CD
Label:
Final Muzik
(@)
Rated:
Coming from Alessandria, Italy, Words And Actions are a duo that in the last couple of years released two tapes (one album and a mini) and a video EP (you can check all the videos at their youtube channel http://www.youtube.com/user/cantfeelmyflesh). They recalled me some Italian bands I knew in the 80s (L.A.S.'s Crime that had a compilation of their stuff recently reissued and Thanatou Melos), a bit of DAF as well as nowadays bands that are influenced by those sounds (Martian Canterel, Staccato Du Mal, to name a few). "Time Can't Be Turned Back", issued by Final Muzik, is the first CD release by the duo and it gathers all the tracks from the two EPs ("Life Of Farewells" and "Imperfection") plus six out of ten from the album "Can't Feel". The tracks tend to mix few melodic elements (usually two or three catchy synth lines are alternated) with obsessive drumming and bass lines (they use long distorted synth lines) with the add of filtered cold vocals. Unfortunately I can't tell you more about the project, because also their website is kinda focused on few visual elements which remember me the solarization effect used on early 80s videos. Even if the sound and the visual are deeply linked to the 80s I can't tell that Words And Actions gave me the feeling to be mere revivalist. I think that their fascination isn't fake because if you check on their youtube channel the short video of a live they did at Ligera in Milan about a month ago, you can understand what I'm trying to say as they are able to create a dark atmosphere with few synth lines without sounding naive. It's like they are turning their influences into something new without being poseurs. Anyway, I enjoyed this compilation and it's worth your attention if you dig 80s cold wave.
This appetizer by Manchester-based producer Sam Walton is going to mouthwater the eardrums of many followers of the renowned Hyperdub label and its stable of beat-bucking nags and colts with a penchant for unusual compositional logic, as usual. It precedes the already announced release of his very first album "Beyond" and sets the stage by a coulple of amazing tracks: "Baby" has been built around an R'n'B acappella and bumping crackles of kick and snare drums, which sounds like enliven a proper construction site or supposedly a joiner's workshop as suggested by the tapping jam of noises of engines, hacksaws, alembics, gearwheels and so on, as if Walton discovered a "workbench" dimension and an inner savage order for R'n'b. After this bizarre (but really amazing) declension, which comes with an instrumental version, "Can't You See" increases salivation and appetite by hanging a billowing pad-synth over goading twists of bumping basses, dry snares and whirling 8-bits whetstones. Even if it's a strictly limited appetizer, "Baby" is a very efficacious teaser and a proper exhortation to move beyond.
Artist:
Displacer
Title:
Curse Of The Black Lotus
Format:
Download Only (MP3 + Lossless)
Label:
Crime League
(@)
Rated:
All those ones who remembers the first steps by Canadian musician Michael Morton aka Displacer on M-Tronic maybe will discern that his futuristic touch, which previously embellished ambient and downtempo-oriented stuff, has not perished even within the beat-thickening amazing muddle he flaunts on this tidbit, which comes on his own resurrected imprint Crime League. In spite of the solid rhythmical mould, which could remind some Beefcake's tunes or Gridlock's geometries by means of its mindblowing oscillations between IDM, breakbeat, drum'n'bass and analogue greasy sonorities, the four tracks and the remix on "The Curse Of The Black Lotus" exude whispering hues of the primordial sonic approach, which manages to carpet sounds with a charming air of mistery and a touch of electronic vintage: for instance, the whirling swishes of "Black Sun, Black Moon" starts and and develops around an hypnotic buzz which could recall the one Underworld widely used on some old tracks such as "Rez" or "Cow Girl" over a breakbeat carburetor, which could evoke some old stuff by Prodigy, the initial ignition on "Black Lotus" could be easily mixed both with some borderline tune by Proem and funked-up sci-fi breakbeat which some djs used to play 10-12 years ago and the scrampling airborne smoothness of Burned Mix of "RZLA" could activate some listener's aural memories related to some legendary moments of "space-odissey" techno age (Cyrus, Two Lone Swordsmen, CJ Bolland or Kevin Saunderson), but the casting of fused silica, post-industrial contrivance and "orchestral" charred coats by Displacer glow each track in a very charming way. It seems that Displacer is going to put a spell (or maybe a curse which will not easily get disabled) on a somehow groping scene.
Despite his recalcitrance in self-exposing on live stages and the mysterious veil on his identity, Tokyo-based electronic wizard Serph keeps on catching many listener's ears by means of this graceful brand new album, the fourth one of a hopefully big batch, which follows his acclaimed "Heartstrings" and renews and enhances all the distinctive features that justified the incredible sales of his past releases and recently fertilized the dry grounds of dance music by means of his new dance-oriented project Reliq. There's even a logical connection with his previous album , where he seems to describe an utopian world, as suggested by the title "El Esperanka" - a neologism, supposedly coming from the combination of "esperanca", Spanish word for "hope", and "ankh", the ancient Egyptian "key of life" -. Whatsoever blossom Serph is expecting to harvest, listeners will easily bask his musical efflorescences, which bud by means of gorgeous uplifting melodies which swing between jazzy tunes, childish roundelays, easier J-pop themes and springy overjoyed explosions (they could even surmise the hooking melodies of tv or radio jingles or pre-set songs of toy keyboards), breathtaking sparkling rhythm sections, twisting pinwheels and confetti of sonic slides (he reaches peaks of intriguing intricacy on tracks like "Vesta", "Wizardmix" or "Ankh"), refreshing whirlwind of popping splashes and chugs ("Shift", "Magicalpath", "Curve"), sudden chromatic and tonal permutations ("Felixz", "Rem") and the most amazing aspect lies in the fact that he blends so many elements with a built-in adroitness and a catchy vivaciousness which could be associated to nothing but a beating of wings by a butterfly or a fine-feathered bird. The reference to Ankh, the so-called key of life, could be a key for the access to the positive conceptual and "spiritual" (quixotic?) world, which Serph musically daubs, where a pell-mell dimension is no more a source for torment, which vexes a reasoning mind with the obsession for geometrical order, but a thrilling path to happiness!
image not
available
anymore
Artist:
Anatomia De Vanitats
Title:
The Anthropic Principle
Format:
Download Only (MP3 + Lossless)
Label:
Cryo Chamber
(@)
Rated:
Anatomia De Vanitats is Mercé Spica from ELDARs solo project, and this album is inspired by the Anthropic Principle stating that any valid theory of the universe must be consistent with the existence of human beings.
Musically speaking this an almost classic dark ambient album searching for a clearer sci-fi atmosphere than other release of this label.
"Reflector" opens this release with a slowly moving filtered noise with some small found sound for the creation of the atmosphere. "Igneus" moves on quieter territories for the first part while the second is on noisier ones. "Ether" is almost on dark ambient territories with sharp insert of noise above menacing layer of sound and a loop of didgeridoo. "Fluid" is an almost quiet atmospheric interlude based on found sounds to "Absolut" that opens quietly with careful sculpted sounds and is slowly colored by a drone and sparse metallic beats. "Material" is constructed on dark drones while "Geminal" is based on the noises similar to the ones used in the album until a sharp constructed slowly line close the track and serves as an introduction to "Atomic" that close the album in an almost sci-fi cinematic atmosphere in his uses of resonances.
This albums is based on carefully constructed atmosphere, with the aid of the mastering by Simon Heath, on the usual form of the genre and so, even if is not a ground breaking release, it reveal the search for a personal interpretation of dark ambient. A really nice release for fans.