Niklas Adam's first release on SOFA is a sparsely populated sonic space, decorated with soft and unpredictable percussion work that is sometimes complimented, tweaked and toyed with by analogue-sounding electronic processing. Other sound-effects noises make little cameos- occasional woodpecker-like noises, odd animalistic and sometimes vocoder-styled vocalisations, and some fleeting appearances from more traditional melodic instrument sounds.

The result feels somewhat old-fashioned, in a positive way- a throwback to the deliberately weird-sounding attitude of electronic experimentation of the 50's and 60's, grounded in bubbly analogue blips and beeps, but given an extra dose of breadth and open space to play in, across two long tracks (16 minutes and 19 minutes respectively).

The two pieces flow like one 35-minute whole, and while there is apparently no vinyl release for this, it certainly feels like an arbitrary split only caused by the need to divide it into two sides on an LP- otherwise the two pieces continue in mood and tone indistinguishably to any listener not deliberately watching the track number on their media player.

The most beautiful part of it is how it concludes. After a solid half hour of conscious abstraction that borders on random, soft gentle organ-style chords arrive, feeling like the gradual arrival of soothing calm and order into an alien space. It's handled rather simply, in a way, but the effect is surprisingly bold.
Artist:
Fredrik Rasten
Title:
Six Moving Guitars
Format:
CD & Vinyl
Label:
Sofa
Frederik Rasten's first solo release is simply built. Gentle acoustic guitar strumming, slow and steady, tracing gentle and unchallenging patterns between different chord progressions, is essentially the whole work. It's decorated by occasional found sounds and oddly scratchy atmospherics, but it is essentially a 38-minute collection of gentle acoustic guitar chord noodling that eschews virtuosity or complexity in favour of a calm reverence of simplicity.

Longest piece "Wandering" is, as the prosaic names suggest, the hardest of the tracks to predict and has at least a faint semblance of dynamic. The other pieces throw up some interesting chord contrasts, most notably on "Circling, Alternating", that sit somewhere between music-and-maths analyses of chord comparisons, and idle strumming.

It's mellow, and certainly relaxing, but it somehow fails to justify itself or generate more than the sum of its parts. If it is imbued with a sense of purpose, then unfortunately I missed it, because this just felt like faintly indulgent sonic wallpaper. Undoubtedly pleasant, but unfortunately I didn't find it either engaging or impressive. You can't win them all.
Artist:
Tegh
Title:
Unusual Path
Format:
12" vinyl + Download
Label:
Midira Records
Shahin Entezami's previous work as Tegh, "Downfall", gets returned to fairly frequently in our place, so a new work was very welcome, and "Unusual Path" doesn't disappoint. It's a similar flavour- twenty minutes of tense, edgy drone-ambient-soundscape work, constructed from a fairly thick layering of analogue pads and found sounds that unfold and evolve constantly without ever distinctly changing- as though taking the principles of a Shepard tone and applying them across the whole dynamic of a sinister, suspenseful sustain. As some elements fade, others have already arrived, leading to an incessant yet always interesting carpet of noise. It's nicely cathartic, and stops short of being actively difficult to listen to.

Unusually, there are two remixes here- giving a tracklist which looks more like a dance track, though you'll never hear either of these on a dancefloor. Siavash Amini's remix is a softer take on the material, a mellower and rumblier and less in-your-face cousin, while Zenjungle's mix keeps the tension at a more constant level and brings forth some of the more organic brassy instrumentation, that transforms into an odd sort of muted clarion call for an undisclosed desire. Both remixes are ten minutes long, filling the second side of an LP while the original track fills the first.

It's a very appealing and balanced bit of textured drone work, complex, moderate and cultured, and just the right amount of difficult.
Artist:
Véhicule
Title:
Le Temps du Chien
Format:
Tape
Label:
Midira Records
Sylvian Milliot's debut album as Véhicule is a very smooth, yet odd, hybridisation of classical instrumentation (ensemble-style cello and woodwind sounds) with jazzier elements, found sounds, a mostly-but-not-always-ambient approach and deft electronic touches, to form one of those releases that really is hard to categorise successfully.

It's a collection of ten sonic vignettes that stand alone, each of them with their own unique properties and moods. Some are fairly thick and semi-cinematic, but in unconventional ways, such as opening track "Rites", the tensely cyclical "Voila la" or the more sombre "Adolescence". Others, like "Test" with its tiny vocal noises and long warn notes, are both sparser and calmer.

There's plenty of room for playfulness and outright weirdness too- exhibited in the curious time signatures and prog rock virtuoso twistiness of "Tourne", or the pitch-bended angsty vocal noises of "Je-vous" that are contrasted against short spoken-word French poetic lines and an almost glib-sounding organ. The contrast of stressed vocal notes against almost daft- and random-sounding organ notes in "Tambour" is downright confusing in terms of how you as a listener are supposed to respond to it. Final piece "Pompe" draws certain comparisons to the jazzier side of French techno- but severely bent out of shape.

A really unusual debut showing from Véhicule, offering up an album with a genuinely unique character. It's been a while since I've listened to something so pleasant yet so puzzling.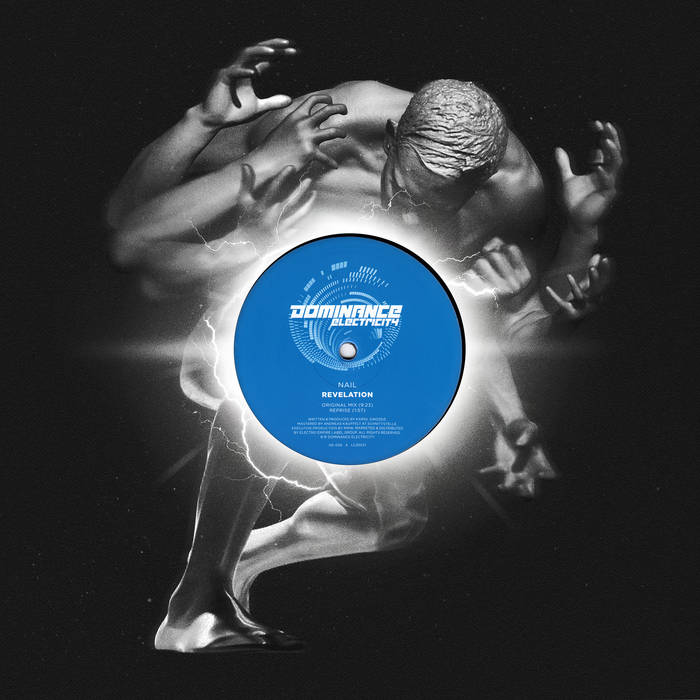 Artist:
Nail
Title:
Revelation
Format:
12" vinyl + Download
Label:
Dominance Electricity
Rated:
Released on vinyl and on digital format with a bonus track, "Revelation ", is the first 12" of the Polish-Silesian producer Karol Gwód a.k.a. Nail which has just been released by Dominance Electricity. It contains two main songs: "Revelation" and "1987", plus three minutes short reprises of both. The title track is an epic ten-minute Electro trip with biblical lyrics in Polish language. The track is driven by a cool robot sounding vocals, broken beats and hypnotic melody arpeggios. The second track, '1987', is more fast and energetic and it's based on arpeggios, blasting effects and nice drum patterns. The fan of classic Electro in the vein of Kraftwerk or Anthony Rother will be pleased to check this one as the tracks are really catchy. Compared to the vinyl, this version has a three minutes bonus track titled "Revelation (Vocoder)", which is focused on the effected vocoder lines of the track. This one definitely sounds like the recording of a threat coming from an alien spaceship.
https://dominanceelectricity.bandcamp.com/album/revelation