Artist:
Ale Hop
Title:
Apophenia
Format:
12" vinyl + Download
Label:
Buh Records
Across the 33 minutes of "Apophenia", Peruvian-born but Germany-based artist Ale Hop offers up an interpretation of her memories and impressions of Peru. It's presented as a landscape, but constructed from a diverse set of sonic sources- heavily processed or miniscule field recordings, electronic glitches, sombre stretched guitar tones, and gritty textures create landscapes that, like the artwork, are portraits thick with emotive interpretation rather than anything literal.

Across eight tracks, there's a broad range of approaches. Some are predominantly ambient, such as the thick claustrophobic texture of the title track, or drone-based like the brooding "Onomatopoeia". "El beso" adopts a subtle rhythm pattern to give a soft temporary backbone, that contrasts against the thick lo-fi drum rumbles of "Marches". The plucky guitar sounds of "Punales" make it sound positively folky.

Longest track "Lima" is the most complex, a self-contained seven minute minidrama that starts off with soporific, melodic calm and gradually builds through tension into a warlike percussive barrage. My interpretation of its meaning isn't subtle or complex, but emotionally these tracks certainly carry some deliberate weight.

Overall I would suggest that this sounds more like an interpretation of Berlin than it does like Peru, not least thanks to the English-language, German-accented spoken word elements in tracks like "Side Effects", and the prevalence of glitchy electronica and some borderline EDM elements.
Artist:
Loraine James
Title:
For You And I
Format:
CD & Vinyl
Label:
Hyperdub
"For You And I" is an intricate and complex glitch-electronica work that credits the multicultural character and musical diversity of London as its starting point. Rhythms ranging from relatively steady grime beats to thoroughly mashed-up, Aphex Twin-level distorted craziness are the core, a steady mix of gutpunching subbass and crisp distortion that always keeps you on your toes. On top sits a variety of decorative elements, odd melodic items, synth notes, short vocal noises and the like, but they always feel somewhat secondary- it's the beats that are the real meat here.

On tracks like "So Scared", it's almost purely a rhythm track for nearly two minutes before breaking into a truly twisted, Venetian Snares-esque broken-jungle affair, while "Sick 9" is a sort of glitchy techno, looping number vocalisations over bubbly bass oddness. "Vowel Consonant" opens as downtempo, almost electro-lounge, but builds up in steps over six minutes, gradually adding more frantic elements until by the time the screaming starts five minutes in, it makes total sense.

There are some mellower moments; the album is quite personal, according to the accompanying press release, but that isn't a vibe that cuts through all that strongly overall. The exercise in contrasts with which the looped grime-like vocal snippet demanding "step it up bitch" plays against the warm mellow synth chords in opener "Glitch Bitch" is becoming a bit of an old trick in electronica terms, but it's still powerful. "Sensual", adding near-kitsch jazzy organ sounds and a tripped-out vocal from Theo about drifting through space, is a really pleasant bit of post-triphop, if post-triphop is a thing; if it wasn't a thing before, it's a thing now.

Le3 Black contributes to two tracks and leaves you wanting more; "Dark As Fuck" is (predictably) the album's darkest point, a true delve into sinister grime, while on "My Future" he only arrives halfway through the track, rolling a more incredulous, weary lyric on power and having seen it all before.

If you like your beats heavy and seriously broken up, expressive and devoid of the usual posturing and over-masculine attitudes, and if you're looking for something fresh, you should definitely check this out.
Artist:
Kelly David
(@)
Title:
Meditation in Green
Format:
CD + Download
Label:
Spotted Peccary Music
(@)
Rated:
'Meditation in Green' is the fourth album by electro-acoustic ambient artist Kelly David counting his 2014 collaboration with Steve Roach. The theme here is a psychedelic journey deep into the heart of Viet Nam's Mekong Delta, with rich ambient textures, manipulated field recordings, traditional instruments, and a blend of cultural and electronic percussion. This is the first work I've heard from Mr. Kelly, and it is always a pleasure to discover something new and interesting in this genre. My first impression even before knowing anything about the artist or this album (I often listen before reading the record label's one-sheet so as not to prejudice the initial performance) was that there is a marked similarity to Steve Roach's work. I was also happy that I wasn't hearing any definitive melodies that so often puts ambient into the New Age category. Pure ambient multi-textured drones, some natural sounding incidents and minimal rhythmic passages works great for me.

Seven lengthy tracks gives each piece the time required to evolve but not overstay their welcome. At nearly an hour, time will pass before you know it as the line between active and passive ambient blurs in the realm of imagination. There is spaciousness without necessarily being "spacey", and natural sounds without necessarily being "environmental". Even if you didn't know about the Mekong Delta theme, the album sound Buddha-influenced; zen-like yet multifaceted in its realization. Tranquility and calmness is juxtaposed with turbulence, and the familiar juxtaposed with the mysterious and unknown. There is no aimless meandering on 'Meditation in Green' as its purposeful path guides the listener to experience their own form of enlightenment without prodding or provocation. Kelly stays true to his vision and avoids temptation to digress into self-indulgent excursions that could have made this a lengthier, yet less satisfying experience. Seldom have I heard an album in this genre that I immediately took to without reservation, and it only gets better after each listening. 'Meditation in Green' is Kelly's first appearance on the Spotted Peccary label, and I hope there will be more in the future. Highly recommended!

In his "Skeekit Doss" EP, Proc Fiskal pays homage to the Edinburgh club night he ran until last year. He describes the club as having an "ethos of genre-defiance", and being "ecstatic and transcendent", but also for balance, "fun and stupid". This is chinstroking yet danceable electronica, generally padding along at a fair tilt with crisp, light, complex beats, rubbery synth bass, and rapid micro-edit vocal and melodic sounds. It's instrumental, save for the odd sample, some of which are thoroughly Scottish. It's an upbeat distant cousin of various genres, with shades of grime, dub, old skool rave, drum-and-bass and others creeping in but never dominating.

"Pico" is a highlight, a unique take on micro-house with old jungle breakbeats that would somehow fit, yet sound out of place, in all sorts of genre DJ sets. "4 Minutes" is a form of grime-lite with interesting percussive sounds that feels like it's calling out for a skilled enough MC to pair up with it. Final track "Prop O Deed" ups the ethnic elements and brings the strongest melody of the set, again perhaps calling out for a vocalist.

It's a very Hyperdub 24-minute EP- intelligent, knowing and self-aware complex electronica that somehow manages to maintain dancefloor credentials. It's intriguing how it still works, but it does.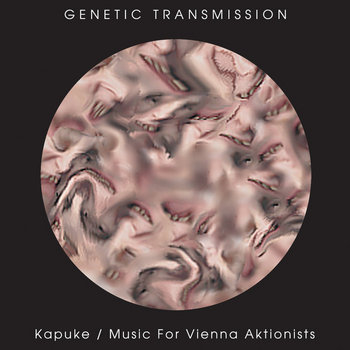 Artist:
Genetic Transmission
(@)
Title:
Kapuke / Music For Vienna Aktionists
Format:
CD
Label:
Zoharum
(@)
Distributor:
Alchembria
Rated:
This new step in the reissue of the music by Genetic Transmission started by Zoharum is made out of two releases: "Kapuke" originally credited to Twardawa and Jankowski and Music For Vienna Aktionists which is a proper Genetic Transmission CDr. Both releases are tied by the fact that are based on recorded performances.
"Kapuke" is a long track based on three improvisation session, made by Tomasz Twardawa and Piotr Jankowski, which were recorded and later prepared by Tardawa. The result is an almost surrealist collage where the relation between voices (notably there's also Barbara as a guest), noises and sounds generates a sort of narrative as it was the sound track of a movie.
"Music for Vienna Aktionists" is an attempt to create a soundtrack for the Kurt Kren's movies whose source materials were the performances of Otto Muehl and Gunther Brus. As the movies, all eight track are relatively short, and are arguably harsher to match the provocative situation which was devised by the Aktionists.
This album shows how the music of Tomasz Twardawa was able to evoke images to the listener using noise in its relation to everyday sounds rather to a way to have physical confrontation to the listener. Cinema for the ears.