image not
available
anymore
Artist:
Titans
Title:
For the long Gone
Format:
CD
Label:
Progress Productions
(@)
Distributor:
Broken Silence
Rated:
A 3-men-collective from Sweden/USA and I remember to be quite entertained by their first EP 'All There Is', which came out nearly at Christmas day 2010. Musically they can be generally sorted into the Synth-/Electropop-genre, although they here and there like to give some harder dancefloor-compatible stuff more focussing to present straight old-school EBM-like bass line sequences. Globally I like their skilful sound programming and the calm, nearly sedating vocal performance. That 16tel bass-line programming is one of their most remarkable abilities and more or less always present - it allows them to enter a more late-80s/early-90s-inspired Pop-/Wave-/ Romantic-affiliation instead to be inspired by too often repetitive newer hypes - and that is not a bad reference in my book. The production of course fulfils all needs of Audiophiles. 'All There Is' may also here counts to the more calm and melodic highlights asides 'My Sorrow' - while that compilation appearance ('Born/Evolve/Progress 3') 'Dried Out' deserves a mention as well. Titans are far away to be a renovator of the scene but I would recommend checking their album out at a long car trip - their calm and unobtrusive sound programming, the well sounding male vocals, the crystal-clear production with a top-notch mastering by Hakan Ãkesson at Mutidstudio results in a good album worth a check.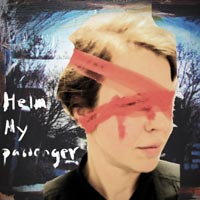 Surprising release by the Swedish cult-label Substream: This Swedish four-member outfit hailing out of Gothenburg and Eskilstuna, delivers a 2-track download-only release following pretty much the idea of a vinyl 7 inch release - and - damn it - I wish they would immediately release these both tracks on vinyl! An often used genre-description for them is low-key electro-trip-hop-synthie-grunge - in fact their music lives and falls with the influence of the compelling female vocalist. That female font woman does an awesome job and creates the needed mood and atmosphere between once fragile, and twice raw, if needed. 'My Passenger' and moreover the better-than-only-a-b-side-track 'When Romance Dies' draw both a perfect contrast between calm and romantic Synthpop and a raw, Grunge-like, with hefty guitar-riffs supported sound-massacre. Here hides the brilliance to be capable to manage totally different music-styles, and I'll highly recommend fans of the genres to give this music-project a check. In latest news they are currently hard at work for an upcoming new album to be released to the fall of this year. I'm curious about their efforts filled on album-length...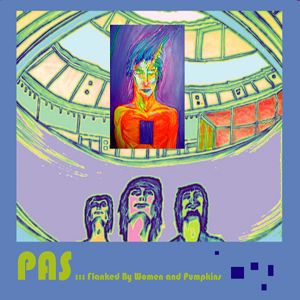 Artist:
PAS
(@)
Title:
Flanked By Women And Pumpkins
Format:
CD
Label:
Alrealon Musique
(@)
Distributor:
Plastic Head
Rated:
From subterranean corridors to ghostly '50s living rooms, NY 5-piece (and guests) PAS take you for an odd, auditory journey. Described by spokesperson Robert L. Pepper as "more soundscapes than "songs" in the traditional sense," there is still a dystopian sci-fi vibe that makes for a coherent listen.

Employing a battery of traditional band instruments - guitar, bass, drums, keys, trumpets, and percussion - PAS then illuminates these grooves with sonic bric-a-brac - found sounds, field recordings, and countless synthesizers. PAS flirt with atonal jazz, sound collage, doom metal, and '80s horror movie music during its sixty-minute duration. What could have been a stylistic clusterfuck ends up instead as an engaging auditory hallucination; a streak through the collective HORRORSHOW id of its creators. Don't get me wrong, this record is not cloaked in shadows and soaked in gore. If anything, its more polished chrome and burning red neon than cobwebs and candles.

The band claims that 'Flanked By Women And Pumpkins,' conceived during a tour of Poland in 2011, is "uncommercial". "There are no clearly defined melodies, no structural landmarks that give you any sense of traditional anchor," says Robert L. Pepper. The thing they may not realize is that many of us have spent the last 10 years blowing the dust out of our Eustachian canals with krautrock, harsh noise, drones, and field recordings. I have found, after repeated investigations, that 'FBWAP' falls nicely in line with the current Zeitgeist. Anybody that gets off on the endless grooves of classic cosmische jams, retro-futuristic techno, or John Carpenter-esque synthesizer scores, will find much meat on this bone.

I was all primed to hate this record, initially turned off by the glossy cardboard packaging, but the initial warm bass pulse of 'Electric Rain On Adams Bridge' seduced me. It comes off like a techno record, before degenerating into noisy crackling, then sluicing through some disembodied jazz. Its not as incoherent as it sounds; there is a universal pulse to this record. Its got a groove. It worked its way into my kitchen CD player for a week, before moving onto my headphones, making my trips to the bank and the shoestore far more futuristic and abstract.

'Flanked By Women And Pumpkins' was produced and mastered by Robert L. Pepper, dispelling the myth that a musician can't mix and master their own work. He has a deft touch; the recordings are full and well-rounded, and help to distinguish this record from the legions of bland noise imitators. Every sonic element is glowingly rendered in spacious reverb; all the pieces work as a whole. There are no jarring changes in volume, surprising considering the varied genres and instrumentation. The spell is never broken, and the listener is treated to 12 surreal, walking dreamscapes.

Purveyors of art-house classicism and bored-room jazz, take note. There may be clues here as to how 'high-brow' 20th-century Avant-Garde techniques can come together with current DIY-sweaty basement experimentation.

Uncommercial, my left ear. Go buy this.


Artist:
Grischa Lichtenberger
Title:
And IV (Inertia)
Format:
CD
Label:
Raster-Noton
(@)
Rated:
Someone could spontaneously echo the title of this amazing album by Duesseldorf-based sonic shrudder Grischa Lichtenberger by means of Massive Attack's notorious lyrics "Inertia creeps/moving up slowly", particularly after listening to some sonic contraptions included in this amazing collection, but the idea behind it according to Grischa's own words derives from a fictional "successor of the baksan neutrino telescope in the caucasus region", so that he seems to impersonate an astrophycist in the act of intercepting and following the route of some unknown microscopic particle in the outer space. If we take sonic particles, which have already appeared on our planet, into consideration, the most immediate link of sonic science by this German juggler could be with pearls from weaponry by Autechre (there are many echoes of their legendary album "Amber"), Vitor Joaquim, Claro Intelecto, Logical Disorder or Funkstorung (particularly when he assembles grooves - "1110_01_lv_1b", "1210_08_4+", "91028_v1" are definitively my favorite ones - which could be even interpreted by choreutics, if you don't suffer from discopathies or osteoarthritis!) due to the spotty digital suppurations combined with effected percussive elements, overstretched and overcompressed sounds, fractured breaks and rhythimcal polymers, but the most funny aspect of Lichtenberger's oeuvre lies in the integration of concrete sounds such as white broadcasting and so-called ant wars on TV connected to broken aerials ("0811_09_re_0211_08"), haywiring teletypewriters ("0112_01_st_rm") within his limpid (a)rhythmical ganglions, as if he's injterested in exploring those interzones where the seemingly perfect order of material structures gets dovetailed to seemingly chaotic combinations within an harmonious and balanced antinomy. "And IV (Inertia)" offers many moments which are going to tickle eardrums and sneaking in listener's mind to stimulate imagination in spite of his solid connection with "reality".
Artist:
Kid606
(@)
Title:
Lost in the Game
Format:
CD
Label:
Tigerbeat6
(@)
Rated:
Time waits for no one. Neither for fitness guru Jane Fonda and musical marketing guru Madonna, nor for other strenuous fighters of telomeres and free radicals in the name of eternal youth. One of the possible way to escape from nature is leaving some (possibly good, but not necessarily valuable!) trace through arts, science or ethics. Former prodigious boy of IDM, glitch and breakcore scene, the Venezuelan beat-juggler Miguel Trost De Pedro, known as Kid606 since the times when he used to find his ways into the hearts of fans of Aphex Twin or other IDM glorious forerunners, wittingly restrains himself from joking about his anagraphical ageing (updating his moniker into Adult606 could be equally ridicolous as if the above-mentioned Madonna would have turned her name into Holy MILF), but he rather prefers to refurbish his style by putting the punk aesthatics he enucleated in his sound aside. The novelty for Kid606's sound in "Lost in the Game" is the prevalence of melody over hotchpotches of samples and beats, as it's clear since the initial "Godspeed You African American Emperor" - a funny pun based on the name of the notorious Canadian post-rock band Godspeed You Black Emperor with a possible allusion to the forthcoming American presidential voting days, which will decide the leader of further butcheries for oil and money - as well as the suppuration of a more pensive mood as if ripeness would have broght more waggles for thought and soul than for muscles and bones, which have been digested by Kid606 with the same old caustic mood he use to express by the choice of titles ("Night Club vs. Book Club", "I Want To Join a Cult", "I Need to Start a Cult", "Big Black Ketamine Jesus", Left Hand Pathfinder" and so on). The function of beats sounds different than his past tracks: their stage presence seems to be aimed to furnish melodies, beats and other percussive elements are more like dots to join melodic lines, which often leaves a sonic trail in the tide of each track (as if they were the pleasant sensation of an awakening after a nice dream) and the loud and somewhat grumbling basslines, which shakes many moments of the album - , sound like absorbing the medicinal properties of blooming fluffy organs, flutey synths and arcade games' squeezing, so much as I'd say some of the better tracks are almost or completely beatless ("Cardamom's Gone Soft" or the feeble lovely paleness and the feeling of vanishing of the final "I'm Sick but I Ain't Dead") together with many brilliant rhythimical ones as well ("Baroque and Out of Money", "Step Into the Light You Fucking Idiot" and "Left Hand Pathfinder" are definitively my favorite ones). Regardless of the reasons, identity crisis or religious-tinged flashes of inspiration, I'd say this unusual (more adult-like?) garment is going to keep on divining his listener's tastes.