image not
available
anymore
Artist:
BOYWITHOUTMEMORY
Title:
Heights
Format:
Download Only (MP3 + Lossless)
Label:
Romance Moderne
Rated:
Coming from Berlin, Boywithoutmemory is the latest band that signed for Romance Moderne. The last time I talked to Coco she told me that Romance Moderne wanted to cover different styles of electronic music and with Boywithoutmemory they did it by picking up a band that differ from the 80s electronic sound of the previous releases. The four tracks of "Heights" mix the electronic wave of the 80s with synthpop, neo-dance and a bit of funk. Along with Simmons pads like sounds, the band build their sound on nice guitar riffs, catchy synth pads and lead solos. I don't know if you had the chance to check DFA bands like Holy Ghost! or Juan MacLean. Well, try to imagine that kind of atmospheres but with much more catchy melodies, upbeat tempos and cool synth sounds. After the summer Romance Moderne will release its first vinyl compilation. Don't miss it and stay tuned here for more great releases from this label... Check the whole release here http://romancemoderne.bandcamp.com/album/heights
Artist:
Sunn O))) meets Nurse With Wound
(@)
Title:
The Iron Soul of Nothing
Format:
2 x 12" vinyl
Label:
Ideologic Organ
(@)
Distributor:
Editions Mego
Rated:
The Iron Soul of Nothing finds two titans of the dronescape getting together, not to battle but to conjure; an unholy rite on a blank, featureless plain, two robed figures joined by two mad hatters, trailing broken clockworks and unraveling spools of tape. Originally released in 2008, famed experimentalist Stephen Stapleton, this time joined by Colin Potter to form Nurse With Wound, re-envisioned the source material from Sunn O)))'s second record, ÃÃVOID (that's pronounced double zero void, if you were curious), pulling the rumbles scrapes hisses and howls straight from the baked 2" reels. TISON is now given a respectable 2 LP treatment that it so richly deserves, on Stephen O' Malley's Ideologic Organ imprint: you could get lost in the umber forest of the gatefold sleeve and the luscious frequencies locked in the grooves will have you levitating, drooling, and chanting!

Nurse With Wound take Sunn O)))'s patented paleolithic death march, which Stephen O' Malley and Greg Anderson were still perfecting on ÃÃVOID, rips out the conceptual skeleton and makes it dance like some necromantic marionette. On 'Dysnstaxis (a chance meeting with somnus)' NWW re-invents the track 'Richard', ripping it apart to a gaseous purr, a single repetitive guitar hit, what sounds like an armenian duduk, to create the feeling of some alien race, watching holo-reels of gypsy priests from their basalt pyramid spaceship.
'Ash on the Trees (The Sudden Ebb of a Diatribe' could be a lost Coil out-take and it reminds me of Julian Cope's druidry off of Sunn O))'s White One, with Pete Stahl from DC hardcore band Scream leading the ceremony, a slow guitar dirge suddenly washed out in shards of digital glass and then grinded down with a belt sander.
'Ra At Dawn (Rapture, At Last, Numbered By Her Light' sounds more like Sunn O)))'s more recent material, like something off of Monoliths and Dimensions, 25 minutes and 25 seconds of ominous modern classical music; gothic strings and floating tones. Gavin Bryar's Sinking of the Titanic, Philip Jeck's crackle, Ligeti's sorrow. Here's where the quartet's black light really shines, and they show that the avant-garde, in all its forms, be they metal, noise, drone, or electronic, have passed the spark from one acolyte to another, and they unwittingly show how utterly fucking brilliant that they are. Honest to god modern composition, sub-bass slow motion Black Sabbath guitars with oscillators flickering like ghost lights and unquiet spirits, dancing around the standing stones. Heavy, brutal, intelligent... yet these guys are still regarded head-bangers, knuckle-draggers. Add to this ceremonial brew Stephen O' Malley's wicked sense of graphic design, and here you have the sights and sounds of the future. True Art.


Artist:
Machinefabriek
(@)
Title:
Veldwerk
Format:
CD
Label:
Cold Spring
(@)
Rated:
This interesting release signed by the renowned Dutch sound artist Rutget Zuydervelt aka Machinefabriek is a collection of different past recordings (even if they have been enhanced by studio remastering), mainly available on small edition vinyl or cd-r with the only exception of the previously unpublished "Floor & Radio", which stands as the nth proof of the fact he can be considered quite atypical compared to other similar artists dealing with field recordings whom someone could mistake for ghostbusters or paranormal investigators while grabbing sounds with those powerful microphones and portable recorders. His talent in turning field recordings into more immersive stimulations than normal is particularly clear in some sonic journey reports he included in this release: the combination of sonic snapshots with frequency modulations and manipulated sounds could put the listener under the impression Machinefabriek's allowing it to take possession of his exterior and interior ear so that you could feel the whirling stream of consciousness and its continuous mingling with the unfolding of scapes from windowscreen during a long journey on train in Russia in the track "Rusland", based on the mixing of field recordings and parts of live performaces made in that country, New Meuse breaking its banks and flooding over listener's consciousness in "The Breaking Water", a track based on some recordings taken from the notorious Erasmus Bridge in Rotterdam, the kaleidoscope of images and sensations as well as a certain disquieting feeling of dismay supposedly caused by the incomprehensibility of a difficult local idiom in the two halves of Slovensko, a sort of travel diary whose assembling and recording has been partially inspired by Chinese sound artist Yan Jun, a kind of astonishment in front of the contrast between the apparent immobility of a wintry environment rich of sounds close to the threshold of inaudible (the crackle of the surface of the frozen lake, the gentle blowing of the wind through the leaves of the surrounding forest) and the sense of liveliness inside a building in that environment in "Floor & Radio", a bizarre track based on the contrast between outdoor and indoor recordings in Radolfzeil (Germany), where Rutget was working with Steve Roden and video artist Sabine Burger for Gallerie Vayhinger and the obscure ascension in the deep space amidst radio transmissions, engine noises of the vessel and a sort of amplified deep humming in "Apollo", a very long entrancing live soundtrack for Makino Takashi's film "In Your Star", screened at Tokyo's Uplink Factory.
Artist:
Cyberpunkers
Title:
EPIC
Format:
12"
Label:
Freakz Me Out!
(@)
Distributor:
Groove Attack
Rated:
After many gigs where this Italian couple of masked electro-house animators where they should have noticed their music smashed away all paralyzing factors of the coldest audiences, Cyberpunkers decided to apply this attitude to every forthcoming ventures they announced so that they shattered their new EP Trilogie into three mini-eps and Epic is just their first one, which has been issued in conjunction with the beginning of their EPIC Worldtour in Europe, according to a prompt schedule intended to launch it with the track which is opening their gigs. On this appetizer, beside the above-mentioned track, there are also two incendiary electronic dance tunes, "Are You Ready?" and "Dungeon", where they unmask their light change of route towards more "rockish" sounds, even if they basically keep on champ those 8bit-like pulses and slides and that feeling I had about their past releases and their sound, which appears to my ears as the clubbish consecration of those hypnotical jingles some crackers normally add on little apps to cheat videogames or find hidden codes for activation of many programs, which sound like having been remixed by Noze, Glimmers or Chemical Brothers on Cyberpunkers'consoles. You can love or hate them, but what we're sure about are the enthusiastic feedbacks by all those who took part to their hellish exhibitions, where they normally manage to turn dancehalls into concrete funny bedlams.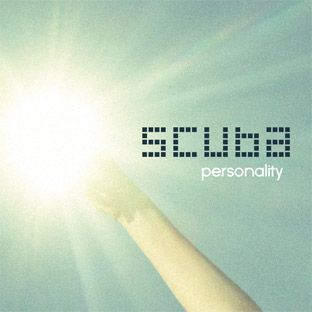 Artist:
Scuba
Title:
Personality
Format:
CD
Label:
Hotflush Recordings
(@)
Distributor:
Forced Exposure
Rated:
"We are unique, or are we? What is it about you that makes you different from other people? People say that dogs have a personality. So is that what you are? What makes you unique? Show me."

A limey voice with a grimey accent intones this at the beginning of 'Ignition Key', album opener from Personality, the third full length from Hotflush Recordings label head and dubstep pioneer Paul Rose, aka Scuba. Paul Rose has produced some of the darkest, dankest, most innovative and forward-thrusting dubstep producer out there, refining its cannon-fire bass drops and ratchety percussion to a deadly efficient machine. Imagine my surprise when i fired up Personality, expecting to find more midnight dub anthems and discovering instead a full-bore Techno record, destined to soundtrack 1001 laser-lit fog filled nights. Forsaking the monochromatic dread he perfected on previous albums Triangulation and A Mutual Antipathy, on Personality has created a more colorful, dare i say, FUN record.

Listening closer, Scuba's hallmarks are present, just reconfigured: the basketball bass thuds, the gear-shifting glitch textures, the crisp clear production, but this time around Paul Rose uses his bag of tricks as an aspect of the music, subliminally slipping them into 12 tracks of bangers and anthems. 'The Hope,' with its Fatboy Slim R&B vox and its deep dubby bass is the best example of this subliminal warfare, it could be a Daft Punk track. DJs are gonna love this one, with its surgically precise builds and breaks, its churning rave synths, its tectonic beats. I get the sense that Scuba is making fun of this sugary club music, but secretly loves it, and sees its potential as full-on body music! He is making music to drive dancers into a frenzy.

With the singles out of the way, Scuba gets down to business, a non-stop barrage of the best electronic music free of genre, picking and choosing from all of them. His experience as a producer, running a label, and as a DJ, has honed his music to a diamond's edge, and there is something here for every single person that digs dance music. I hear hints of early weird British dubstep, there's bits of Detroit techno, there's 90s big beat reverence. There's murky darkness, and adrenalized bursts of light. Personality is sexy, funny, thought-provoking; it will sound great at clubs, and works triply well on headphones.

With Personality, Scuba has shown us what makes him unique, what makes him special; an experienced musician and producer with no boundaries, who ultimately makes music that he likes and that he wants to listen to. Very highly recommended.