Unlike many other beatmasters, East London-based producer and dj Ossie Aneke doesn't suffer from artistic incontinence, but he mostly likes to ration energies in order to concentrate them and his remarkable panache on true sonorhythmical gemstones, so that he still manages to stand out of an overcrowded scene, which finds it hard to let emerge authentic talents due to the proliferation of releases, which normally tag along the sound in vogue. Ossie seems to prefer the "little but good" policy and after a couple of successful hits - "Tarantula" and "Set the Tone" -, he comes back with a pair of impressive tracks: both of them are still imbued with garage-house sonorities, but beside the captivating beat-juggling on wisely built rhythmical patterns, mainly lying on back-and-forth broken beats and amazing shuffles, Ossie dashes some catchy preciosities. On "Ignore (Yes I Did)", a song about the battle games between opposite sexes, performed by Tilz on mic, Ossie adds pungent acidolous basslines and rolling snare drums to rise dynamics, while on B-sided "Find It", he sticks a Balearic guitar arpeggio on the pan-fried sequence of chords and effected vocals, which let play at full gallop in the end after he tried to draw in the reins. Proper stuff to let dancehalls wiggle on.
Artist:
Fescal
(@)
Title:
Alchemical Wanderings
Format:
CD
Label:
Time Released Sound
(@)
Rated:
Fescal (real name David Suyeong) is an experimental musician and producer of audio, self-taught graphic designer, photographer and visual creator residing north of Seoul, South Korea. Classically trained as a musician, Fescal has worked with various forms of exploratory media for a number of years and plans to continue to do so in the future. The first thing you'll notice about 'Alchemical Wanderings' is the elaborate packaging. It comes in a see through anti static bag with hand-stamped metallic tag. (Something you'd expect to get an electronic component in, like a circuit board or hard-drive.) It also comes with a 5'³ screw capped pyrex test tube containing a secret TRS blend of semi precious and precious metals, glass and other transposed particulate matter, litmus paper, periodic table of elements, and instructions for 'Exercise 73,' Qualitative Separation of Lead, Silver and Mercury. The CD itself comes in a hand-worked black digipak. This package is numbered and limited to only 100. (Mine was #7, if you care.)

Science kit aside (although it makes a nice collectible) the album is ambient much in the way of Alio Die, Vidna Obmana, and maybe to an extent Brian Eno, and yet in places unlike them too. While not dealing strictly in drone, the album has an overall placid feel with elongated sustain of atmospheres that can be construed as drone-like. There is one long track (50:30) comprised of episodes with brief space between them. There is enough variety between these ambiences to keep things interesting and non-monotonous. In fact, as drone-based ambient albums go, this one leans toward the superb side. There is only one problem- throughout the album is the (faux) sound of vinyl on a turntable, as if you're listening to a record instead of a CD, or a record that was transferred to CD. Purists may find this quite annoying. On my first listen I found it so distracting that it was all I could think about. I remembered why I stopped listening to my ambient albums on vinyl, as over time the snap, crackle, pop just became a nuisance and distraction. I'm sure it was Fescal's intention to incorporate the vinyl listening experience into the sound of 'Alchemical Wanderings,' but to me it seems as though the purpose would have been better served releasing it on record rather than disc and let it occur naturally. The one advantage is that it won't get any worse or more predominant as it could on vinyl. If the music wasn't so subtle I could abide it, but there is no question that the stylus-on-plastic effect cannot be easily overlooked. Perhaps over time and repeated listenings one may become used to it, but I for one would have preferred a cleaner sound.

Still, this is a worthy effort, and probably worth owning as its limited release and unusual packaging will assure this one increases in value over time.

Artist:
Necro Deathmort
(@)
Title:
The Colonial Script
Format:
CD
Label:
Distraction Records
(@)
Rated:
AJ Cookson and Matthew Rozeik are back with another Necro Deathmort album titled 'The Colonial Script' traveling even darker and heavier terrain than they did in 2010's 'Music of Bleak Origin'. For those into doom metal, this is an extraordinary treat. First track 'Imperial' has no vocals but it serves as the perfect opening to this exercise in anguish. Beginning atmospherically, it rises into a tempest of torment before settling into a majestic pageant of saturninity. It lurches, stops, and starts again like some irradiated behemoth out of a Japanese sci-fi movie. The wailing vocals surface in the much slower 'Led to the Water' drowning in a roiling sea of sonic despondency. 'Endless Vortex' just builds and builds with creepy malevolence like an unstoppable monster stalker intent on crushing every obstacle in its path to get to you. You have no idea...

'Wretched Hag' is primarily a black ambient piece, cinematic in its spaciousness, yet oppressive in its atmosphere. 'Arrows' sounds much more band-like than some of the prior material on 'The Colonial Script,' and even Trent Reznor in his deepest fit of howling rage couldn't conjure this kind of wall of woe. Vocals and lyrics on this track come courtesy of Eliza Gregory. She ably proves she's no shrinking violet (shrieking violet might be more like it) easily going toe-to-toe with the Necro Deathmort boys. 'Shadows of Reflections of Ghosts Past' seethes with an undercurrent of doom, but pacing of the drums and the restraint exercised by Necro Deathmort on this track gives the impression of detachment, as if witnessing some truly ugly horror from afar. 'Theme From Escape' is nearly as traditionally doom metal as it gets on this album, but the next track, 'Starbeast' is somewhat its antithesis, exploring uncharted regions of hyperspace with moving percussion in nearly 'Set the Controls for the Heart of the Sun' fashion, and the electronics don't disappoint either, weird as they are. 'Insecto' ends 'The Colonial Script' with a bang rather than a whimper as the beast goes down not without a struggle. Wave after wave of sludgy distorted guitar keeps building on a monolithic riff as the screamed raw vocal swathed in echo-upon-echo bears witness to the abominable horror that is the track's title. All is laid to waste in the aftermath.

What makes this group really great is that they have the ability to temper traditional doom metal with a somewhat sophisticated grasp of black ambience while still managing to expand their experimental horizons and remain true to their vision never getting too far afield. If you've heard and enjoyed 'Music of Bleak Origin' you're very likely to enjoy this even more as they've gone from Titanium to Lutetium and show no signs of letting up. Highly recommended.
Artist:
Slow Listener
(@)
Title:
The Long Rain
Format:
Tape
Label:
Exotic Pylon Records
(@)
Rated:
An unaccostumed declension of darkest ambient comes from Robin Dickinson under his moniker Slow Listener on Exotic Pylon, the appreciated and quite eccentric label by Jonny Mugwump, whose unconvenionality for contemporary times is clear since its format: "The Long Rain" has not only been recorded entirely on tape, but the sound is so dirty and crackling that you could surmise the tape he used was overdubbed many times before getting so murky and was found in the forgotten archives of some abandoned loony bin. Sinister squeaks, pitched drones of claustrophobic extended bells, occasional field recordings, a disquieting mechanical meddling with metallic utensils on a sobbing engine and a job lot of other sonic incrustations playing over the somewhat obscure and periodic repetition of the expression "the light" (or was he meant to say "delight"?) by a male of voice before the deep breath of a sleeper on the first suite "And Nor Was He Mistaken" and the more abrasive and scraped drones, the "constipated" corrosions, the recording of a rain shower and unremittingly lo-fi loops and layering before the bizarre monologue on the second part of "Ondras Rising" depict a certain feeling of "enlighted" seclusion and alienation, which partially remind those cut-up stuff by various "esoteric" and majick-oriented industrial transmissions such as Coil's "How To Destroy Angels", Throbbing Gristle's "Hamburger Lady" or more recent dark ritual-ambient Psychick Warriors Ov Gaia's "Dust (At The Crossroads)". The association between the sound of "The Long Rain" and the weird atmospheres of William Hope Hodgson's "The Night Land" - a classic novel which traces the existence of survivors on a dystopian Planet Earth, living inside a huge metal pyramid after the Sun powered off and the only lights on Earth got produced by the glow of some active volcanoes - is quite guessed.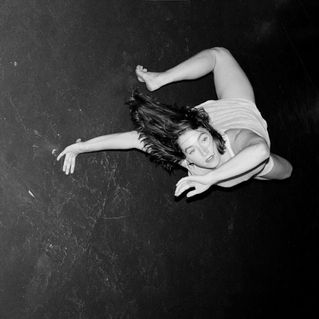 Artist:
Raime
Title:
Quarter Turns Over A Living Line
Format:
CD
Label:
Blackest Ever Black
(@)
Rated:
Imagine rain-slicked back alleys; haunted warehouses; a wooded clearing at night. These are some of the locales that Tom Halstead and Joe Andrews, collectively known as Raime, will guide you through, when immersing yrself in the blasted, decayed landscape of 'Quarter Turns Over A Living Line.'

Where lesser producers and weak imitators are content to pretend that the history of dance music is a logical, linear progression and work to perfect the perfect sugar-tweaked bass wobble, Raime draw lateral assocations across three decades of steely electronics, downtuned guitars, and horror-movie scores to create an inner nighttime world that is both menacing and optimistic. Owing as much to Earth and Sunn O)) as Regis and Burial, Raime (as one of the flagship bands of the impressive Blackest Ever Black label) have extracted viral DNA from a number of obscure sub-genres, such as Drone Metal and Doom Jazz, and combined them with the receptive and adaptable Industrial and Drum 'n Bass genes to form a dusty, lurching Golem of stately Techno. What could have ended up as another genre-splicing mishmash mess has ended up, instead, as an innovative album, full of impressive sound-design, finesse, and even some slow grooves.

'Passed Over Trails' kicks things off with some growling bass textures, before coalescing into a jazz-noir opium revery; it is plain from the start that this is not just another 'bass music' record. The closest corollary is Bong-Ra's amazing Mount Fuji Doomjazz Corporation project, that sounds like being followed down a lonely sidestreet by a car with tinted windows. Recognizable elements gradually dissolve, like reflections on oily water, to be replaced by the mummified Drum 'n Bass of 'The Last Foundry,' which wouldn't sound out of place in an afterhours set at a club, and the leaden bassdrop is one of 2012's finest moments on record. 'Soil And Colts' is a lumbering Techno track, crawling along at half-speed. Like some iron giant, complete with creaks, groans, and ominous shrieks, with an aurora of beauty surrounding and containing the scene; then seamlessly connecting with 'Exist In The Repeat Of Practice,' more skeletal d'n'b and '80s plasticine horror synth. By the time 'The Walker In Blast And Bottle' arrives, a model is nearly in place: start off with a minimal beat, then creep in ambiance and subtle sound design, which is like watching an image solidifying the air around you. Raime make mental movies, sure, but not the kind you'd see on a screen. 'Quarter Turn Over A Living Line' is more like a dreamstate that you get to explore for an hour, a direct connection to the superconscious of a couple of Scottish blokes.

The devil is in the details, when it comes to Raime. They're certainly not the first to make slow, crawling techno with surreal flourishes (again Regis, Monolake) but the way that they combine their post-Industrial electronica with doom metal, jazz, and other acoustic sounds, point a way forward for themselves, as well as the totality of dance music. With the machines that are at our fingers, we have control of songs and sounds to the almost molecular level, and we are beginning to see a race of sonic wizards that are constructing basalt mountain ranges of sound, out of thin air, just to see what they'd look and sound like. The way that Raime fills out their sound with the thickest, darkest dub echoes, like on 'Passed Over Trails' reveal 4 well-tuned ears, as well as some of the finest production and mastering money can buy. Everything is in place, and they never mis-step, 'QTOALL' gets more engrossing with each listen. This is Raime's first full-length, as well as the first LP of original material for Blackest Ever Black, so it should be interesting to see what this assemblage shall come up with in time, provided we're not all sucked into some galactic whirlpool, first.