Three solo works by Zachary Paul, performing violin with electronics, are gathered here for a fairly intensive and immersive bit of solitary performance in which lengthy violin notes and sparse moments of more impulsive playing are layered up, reverberated and droned until the single instrument source has transformed into a full environment you can bathe in.

First piece "Premonition" is an exemplary half-hour exercise in slow build and transformation, as the tension and texture grows and grows, almost imperceptibly slowly, resulting in an impressive self-contained journey where a relatively narrow range of sounds can hold your interest for far longer than ought to be possible.

Second piece "Slow Ascent" is almost inappropriately named then, as it's got a similar sonic outlay to the first piece, but dynamically it's more of a plateau, not featureless but devoid of any major changes.

Third piece "A Person With Feelings" was created as the score for a short abstract film that hasn't been released yet, and reflects an emotional journey that perhaps may make more sense with its associated picture; on its own, it feels more like a compressed version of the opening piece, but reaching a destination that's more tense and discordant in the end.

Since Ed Alleyne-Johnson's experiments with electric violin processing in the early 90's (before he side-stepped into weak crowd-pleasing cover versions), the idea of drawing grittier tones and electronic source elements out of a violin has seemed powerful to me, and these pieces explore the idea well. They may be steeped in anxiety but the result is a rewarding listen, and the fact it doesn't overstay its welcome is an impressive feat.
Artist:
Régis Renouard Larivière
Title:
Contrée
Format:
12" vinyl + Download
Label:
Recollection GRM
This LP collects together three of Régis Renouard Larivière's electroacoustic works, with the A side dedicated to the 2013 title track, and the B side featuring two slightly older works.

Despite being relatively recent, "Contrée" feels like it has fallen out of the 1960's and the boom in sound experimentation, electronic abstraction and radiophonic workshoppery. Twisting and turning source sounds that initially sound like rattling cutlery, though other elements appear later, there are pitch and tone shifts that feel akin to analogue tape playfulness, and particularly to begin with there's a simplicity and lack of overdubbing that also recalls a simpler, more mechanical sonic time.

The main piece "Contrée" is supposedly the middle part of an electroacoustic triptych when joined with two pieces not included here- 2011's "Sables" and 2017's "Nil"- but it makes a happy companion for the other two works that you do get here. As its name implies, "Allegeance volatile" is a punchier affair, with the sonic elements bearing similarities to the first piece, but with the more impulsive and dynamic feeling of movement, driven by some 'wake up!' percussive hits. "Esquive", by contrast, plays much more in the higher register, with some very squeaky sounds (sometimes gratingly so) meandering over the ever-present electroacoustic pulses.

An expression of "the void of sound", it's an insistent set of works with a texture that's harsh at times, yet not abrasive. It sounds older than it actually is, but it will appeal to appreciators of electronic and acoustic experimental sound design that's a touch more 'in your face' than the average.
By the corner of a living room, as Silent Dust (Andy Hobbs and Daniel Blishen), the folks behind the label none60 sadly (but proudly) describe their place, you can keep on transmit some good tunes throughout the known (and sometimes unknown) channels. This short and intense release saw many hands and many sound heads working on a couple of excellent tracks, sliding over the stylistic path tracked by label's previous releases (a sort of futuristic upgrade of bass driven music by means of smart grasps of old school jungle and dub seeds) into remarkably more energetic soup. The first one "Comfort Zone" - signed by respected Indianapolis-born drum'n'bass producer and DJ Dave Owen, the skilled phat beat forger Nikolai 'Calculon' Bordokoff and Tampa-based D'N'B dj Jaybee (featuring many impressive collaborative releases) - has many of the previously mentioned recipes such the tricky reaggae-dub ignition, a pad-driven bitonal melody reminding 90ies garage, a vocal sample grabbed by old jungle sound banks (but often used by gabber and rave techno makers of the first 90ies) and many stylistical clues in a bombastic rhythmical engine. A similar sonic strategy got followed by Calculon and Jaybee juggling together with Neve on "Leads", the second track, where they add impressive rhythmical stunts by sudden accelerations and decelerations to the pattern. Test it on dancefloors... or on the corners of your living room!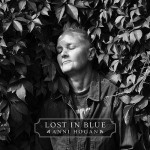 Artist:
Anni Hogan
Title:
Lost In Blue
Format:
CD
Label:
Cold Spring
(@)
Rated:
Blue is the color of sadness as well as the color of the sky and both things are making us feel overwhelmed: the first because of the weight of our contradictions and the second because we feel the beauty and the vastity of the nature and we feel small in front all this. I read "Lost In Blue", the latest Anni Hogan album produced by Dave Ball and Riccardo Mulhall, as the tale of lost souls which wander taking life as it comes: sometimes there are sparkles of joy which explode like a baby's smile, sometimes moments of doubt and if you're lucky there won't be many of despair. In this album Anni is like the owner of a cabaret where people is coming in to share their experiences. Lydia Lunch, Wolfgang Flür (ex Kraftwerk member), Gavin Friday (formerly of Virgin Prunes), Richard Strange (Doctors Of Madness), Kid Congo Powers (of The Gun Club, Nick Cave & The Bad Seeds andThe Cramps fame), Celine Hispiche, Scarlet West and John Fiddler are coming in, enjoining Anni while she's playing her piano with an orchestra. They are walking to the mic like their they're going to unload the weight of their lives by telling everything to a friend and they let themselves be carried away by the mood created by the music. Just to give you a precise idea, here's what the label's presentation is writing: "...dark cabaret and modern vaudeville, with Anni's trademark torch songs evoking the dimly-lit corners of bohemian Soho and reigniting the sordid torment of those illustrious Marc & The Mambas days". Anni is also singing some songs, joining her guests with the same sensibility they showed. The album has been released on CD (having a bonus track sung by Wolfgang Flür), blue and black vinyl. For the occasion four video have been released for "Blue Contempt" featuring Lydia Lunch, "Thunderstruck", "Ghosts Of Soho" featuring Celine Hispiche and "Angels Of Romance" featuring Gavin Friday. Lost but not damned!
Artist:
Amp
(@)
Title:
Entangled Time
Format:
CD + Download
Label:
Sound In Silence Records
(@)
Rated:
Sound in Silence always seems to come up with interesting releases (making it one of my favorite labels of late) and this one by Amp is certainly a pleasure. For those not familiar with the Amp project, it is the electronic/post rock duo of Richard F. Walker (aka Richard Amp) and Karine Charff, based in London, UK. Amp's lineup has changed numerous times over the years since its inception by Walker in 1992. Prior to that Walker was a member of a band in Bristol called The Secret Garden that incubated a number of groups including Flying Saucer Attack and Third Eye Foundation. Amp's permutations and collaboration members (not to mention its discography) could fill a page, but you can find that information elsewhere.

Having no prior acquaintance with Amp I took a brief tour through their discography to get a sense of what they're about and a feel for their evolution over time. Pieces ranged from droney-experimental and sometimes noise-based to exhibiting some [traditional] song structure, albeit somewhat loose. Rhythm was sometimes present, sometimes not. Vocals (where present) were often swathed in reverb and echo making them another hazy ambient element, some with lyrics, others wordless. While most of the instrumental elements are electronic, and keyboard based, guitar and other instruments were sometimes employed. Sometimes the motif is noisy shoegazer, ala My Bloody Valentine. Within the confines of their oeuvre there seems to be a fair amount of variety, although the drone and shoegaze formats remain constant. Nothing ever approaches anything even remotely mainstream; their improvisatory nature precludes that.

While a good number of their past works often feature the experimental and avant-garde, 'Entangled Time' is relatively straightforward and set with little deviation from its structure. Gauzy, gossamer drones and pads are employed throughout the five tracks in 43 minutes that comprises this album. Charff's ethereal vocals float over, under, around and through this haze like a shimmering, elegant thread in a sonic tapestry. Rhythm is used sparingly (on two tracks only - "Will-Oh Dreams," and "Will-Oh Dreams Extended Mix") and is minimal. While some might say that rhythm in predominantly ambient music of this type is just a distraction, I think it adds to the hypnotic effect. Karine's deliciously dreamy Ophelia-like voice is not omnipresent but when it does appear, it adds dimension and depth that makes this work a standout in the realm of ambient. While not breaking any new ground here, Amp solidified its approach and trimmed the rough edges often found in their previous efforts. A worthy album, limited to 200 handmade and hand-numbered collectible copies, the like of which Sound In Silence is typically known for.