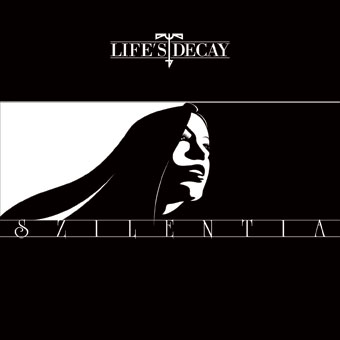 Artist:
LIFE'S DECAY
(@)
Title:
Szilentia
Format:
CD
Label:
Abstraktsens
Rated:
After last year's album, Life's Decay are back with a new one which shows a band with a most defined sound/tracklist. The twelve tracks of SZILENTIA have always that hybrid approach in balance between martial experimentations and electronic goth atmospheres but this time the tracks are equally distributed. Three or four instrumental tracks with orchestrations, drums and obsessive atmosphere are balanced by catchy dark songs with the female vocals of Alea in evidence (see "Inksterna", "Katalena", "Descence", "Claressa", "Lawsia" and "Ambvience"). These songs sound like dark ballads (with electronics and also some acoustic guitar sound) or more upbeat electronic ones. As far as I remember the previous album "Lysselia" didn't give me this impression or I remember it to be less immediately accessible. You can check some songs directly at the band's website. It's worth it...
image not
available
anymore
Artist:
Majdanek Waltz
(@)
Title:
Hamlet's Childhood
Format:
CD
Label:
The Eastern Front
(@)
Rated:
Active since early 2000s the dark folk band, Majdanek Waltz already released eight albums and a mini of which HAMLET'S CHILDHOOD is the latest one. Released in conjunction by The Eastern Front and the Russian label KultFront, HAMLET'S CHILDHOOD contains ten new tracks of spoken word dark folk where the male and female vocals along with the different instruments used (piano, acoustic guitars, violins and traditional Russian accordion) create melancholic but still evocative tracks where the lyrics (original poems of Symbolist poets Boris Poplavsky 1903-1935, Maximilian Voloshin 1877-1932 and translated poems of German Expressionist poet Georg Heym 1887-1912) are enriched by neo classical moments and folk approach. Unfortunately every title and lyrics are in Russian language so I can't catch the band's poetry in full. Anyway, I really appreciated the atmosphere created and I suggest you to check them!
Artist:
The-Pulsar
(@)
Title:
Revolution (Reloaded)
Format:
CD
Label:
Advoxya Records
(@)
Distributor:
Poponaut
Rated:
Already the third official release signed to the Hungarian-based Advoxya label for this prominent Russian trio consisting of Sergey Naan, Alexey Boitsov and Vladimir Sokoushin. The title may suggests it, "Revolution (Reloaded)" isn't a complete new studio album. "Revolution" was a successful early recording of band dated back to 1999 and so of course originally a hard-to-get-item. It may was simply published as a self-released demo, maybe only available on tape, but surely only available in Russia. The responsible people at Advoxya seemed to be astonished by the bands' early works, therefore they've decided to re-release this special edition completely revamped and new mastered. To forward the conclusion of this album – the audio result proves them right. "Revolution (Reloaded)" offers a stronger dedication on classic EBM tunes heavily inspired by the old Belgium-based school. 3 band members, a hidden fourth member responsible for production and mastering (Slava Arkhipov) – well, doesn't this remember you on the biggest EBM-invention ever? But not only for this I like to name 242, maybe asides SIGNAL AOUT 42 or/and AIRCRASH BUREAU, as possible quells of inspiration. The pressure this trio is capable to create out of their machinery is somewhat similar to 242, while THE-PULSAR may can't back up with that immense studio efforts of Belgium's veterans. "Revolution (Reloaded)" consist of 9 tracks, plus a special remix on the track "March" provided by the up and coming Russian talent DENERGIZED. As I've said before, this album deals with the rougher first period of the band, which may sounds a bit dated from its kind and production especially compared to their both predecessor releases "Awakening" and "Re-Wakening". But who cares, since old-school EBM currently regains ground and acceptance in the scene. No stuff for the Trancewhackedgoregalore-maniacs (copyright by electrofreak), but a MUST-HAVE-release for every EBM maniac.
image not
available
anymore
Artist:
Rapoon
(@)
Title:
Time Frost
Format:
CD
Label:
Glacial Movements
(@)
Rated:
Robin Storey aka Rapoon is a former member of Zoviet France and currently part of The Reformed Faction (of ZF). The concept beyond this one is awesome - Storey infected and manipulated Johann Strauss' "Blue Danube" to describe Europe under a new ice age, with all the culture buried deep beneath the ice sheet. He used a 1968 vinyl edition of Kubrick's "2001 A Space Odissey" soundtrack to obtain the loops for the five compositions of "Time Frost" and you can hear even some vinyl crackles here & there and not one of them exists out of context. Basically all the compositions are short and have lots of textures and subtle movements except for "Ice Whispers" that clocks in at 35 minutes. Storey has been developing his solo material for approx. 15 years covering many styles with some highlights like his 1996 classic "Darker By Light" or the awesome and criminally underrated collaboration with Nocturnal Emission's Nigel Ayers under the name Hank & Slim - and some disappointing episodes like the experiments with clubby stuff on Klanggalerie. I'd say that "Time Frost" is probably his best effort in the ambient field so far. Out on the Italian label Glacial Movements, "Time Frost" comes packaged in a great digipack with a remarkable artwork created by Alessandra Clini on a picture by Bjarne Riesto.
Artist:
Solar Powered People
(@)
Title:
Hibernation
Format:
CD
Label:
Three Ring Records
(@)
Rated:
Solar Powered People's peculiar name comes from the concern about global warming and the fact that, as explained from the band itself, there is the pro-global warming population VS the anti-global warming population. Cool. "Hibernation" is their debut album and can be described as a mixture of a slightly shoegaze and wave influenced dreampop. After the intro with a disquieting child voice and spooky sounds there's the first track called "They'll Never Know" with a guitarplay so cold and melanchonic that you'll hardly believe that the band comes from the sunny Central Valley - about an hour from San Fran - but the band states among the influencesThe Cure, Failure, Sunny Day Real Estate, Joy Division and Boards of Canada (argh...) among others. The third song is called "Commercial Flight" and it is a spacey track with a vocal line resembling the most inspired For Against - this is the standout track on "Hibernation": excellent pure rapture. The rest of the album is good but doesn't reach those heigths - contemporary dreampoppers of the new generation.