Artist:
NDE
Title:
Kampfbereit
Format:
CD
Label:
Cold Spring
(@)
Rated:
I'll be frank: I sometimes experienced some problems of comprehension of the literal meaning of this new act by this (really) mysterious Belgian act - it often happens that many projects with the intent of staying hidden gain more visibility than the one many exhibitionists manage to reach, but many clues such as the lack of a proper website and song titles as well as somewhat occult discretion on names and surnames behind it let think NDE (acronym of Near Death Experience?) have mainly chosen darkness for artistic purposes - due to the use of voice, which sounds close to the one of many black metal bands, and the huge load of distorted piercing noises which sometimes overwhelm it, so that it seems the voice must contend for the microphone against swarms of noisy insects and an assortment of obstreperous creatures of the afterworld, but it seems that such a stylistical choice has been pursued on "Kampfbereit". In spite of its title - some Front 242 fans could have been attracted by it -, NDE's style has nothing to share with EBM or electro: their style, which has been cleansed by the martial elements of their previous chapter "Krieg Blut Ehre Asche", focused on a crossbreed between so-called "death industrial" and stifling brutal electronics (you could imagine a beatless version of stuff from artistic identities such as 2nd Gen or Black Lung, revisioned and restyled by some devilish creatures) is so ferocious, extreme and virulent that most of black metal bands, which could come to mind while listening to the above-mentioned corrosive treatment of the voice many kvltists adore, could appear like a group of neatly combed altar boys. The initial track sounds tricky as it's quite similar to the experiments many tape-artists enjoyed with, based on slowdowns during dubbing, but the following tracks are full of very immersive ultra-low frequencies, which sound like grabbed from amplified recordings of explosions, drilling noises and obscure female choirs which are going to chill listener's blood. As you could imagine, the emotional set cannot but focus on misantrophy and the conceptual framework, evoked by some words on the inner side of artwork, where the idea of justice has been linked to the annihilation of mankind as its deserved punishment according to long-lasting and well-known religious beliefs as well as to a plenty of coming-of-age stories, which can easily belong to the collection of most erudite misanthropes, lends itself to the shadowy evoked images.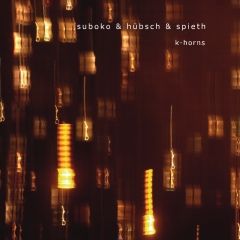 Artist:
Suboko & hubsch & spieth
Title:
k-horns
Format:
CD
Label:
Schraum
(@)
Distributor:
Staalplaat
Rated:
One of the coolest aspects of avant-garde classical music joining forces with experimental music and improvised noise is the way that the various instruments are taken out of context, forced to expand their sonic vocabulary and discovering new nuances and techniques along the way. On 'K-Horns,' Suboko, a trio of French percussionists, are joined by Carl Ludwig Hubsch on tuba and Roland Spieth on trumpet, to create five tracks of rumbling metal, hissing breath, and obscure sci-fi textures from God Knows Where. The overall effect is of listening to some mutant jazz festival in an old warehouse, while rain beats down on the corrugated tin roof, and a flying saucer smoothly descends into the vacant lot next door. Oh yeah, there are mechanical rodents running around in the walls, broadcasting slowed down Hitler speeches through tiny tinny loudspeakers, also. Sounds surreal? It is.

59 minutes of improvised symphonic textures may not be to everybody's liking. There's nary a melody or rhythm to be had. Instead, the players are intent on exploring the lengths and depths of their instruments: Hubsch's tuba blatts border on bass wobble, while Spieth settles on more of a trad jazz freak trumpet flavor, whose conventiality makes the proceedings seem more bizarre. The strength and adventurous spirit of these five musicians makes it seem like they are actually breaking new ground, instead of recycling hashed-over micro-genres, and what we're left with is a mixture of free-jazz fire sermon with a San Fransisco Tape Music Center backing band, or a mariachi quintet covering Lustmord. Its unlike anything you've ever heard; they will ignite odd movies in yr mind, if you give them the time of day.

The production is superb, giving equal time and temperament to both the higher and lower registers, making for a full, lush recording. You are practically transported to the small wooden rooms these recordings were inevitably made in. The blurry light photographs by Axel Haller on the cover are also quite lovely, and set you in the mood to travel to these Teatros Grottesco. If ever you were looking to sneak a peak at what improvised electro-acoustic could sound like, or if yr a classical or jazz buff and you'd like to hear what else yr beloved brass instruments are capable of, look no further. Highly recommended.
image not
available
anymore
Artist:
Rapido De Noir
(@)
Title:
Equidistant Lonelinesses
Format:
CD
Label:
15 Degrees Records
Rated:
Two years after their first EP, the French band Rapido De Noir are finally facing what represents the main step for each musician: the first album. Pat, Samag, Fab and Wil on "Equidistant Lonelinesses" packed ten new tracks that sound fresh and interesting. Influenced by 80s new wave (sometimes I thought that this album won't exists without the Cure album "The Top"), by English psychedelia (well, some people told that "The Top" was the most psychedelic album of the Cure to date) and a bit by electro, but only because of the use of synth sounds, Rapido De Noir on these tracks show their songwriting ability. There are tracks like the "He Could Be" or "Shaun" that are immediate and will make you wish for more. The sound is well balanced thanks to bouncy synth bass lines, dry upbeat rhythms, clean melodic guitar riffs and energetic vocals. The band mix dark atmospheres and pop melodic intuitions succeeding into creating, as I already wrote, a fresh mix. Out the 11th of September "Equidistant Lonelinesses" isn't an album which fits only 80s nostalgics as, in my opinion, could catch also fans of bands of the likes of Editors, Muse, The Killers, etc.
Artist:
Roberto Fega (@)
Title:
Daily Visions
Format:
CD
Label:
Creative Sources
(@)
Rated:
Roberto Fega's "Daily Visions" cannot be considered an easy listening both for the technique he uses to agglutinate a number of sketches and reprises and for the hints within his record, which looks like an attempt of saving from oblivion by "punching" ordinary dimension with political statements and urgent cultural battles, so that it seems that "Daily Visions" sounds like a plot whose unwinding runs parallel to momentuous events, inserted by means of what he defines "audio interludes" (voices from Occupy Wall Street, immigrants in Lampedusa, recordings and reports taken from Greek riots and Manchester turmoils, passages taken from an interview to Zygmunt Bauman and movie "Nowegian Wood" based on Murakami's book), and a gradual and sore consciousness rising, partially enfranchised just within intimate (still free) spaces like the ones evoked by the initial "Apnee d'amore/Breath-hold loving" and the final track "Ricordi mai sopiti/Unburied memories", the one I liked most for the daydreaming interaction of palpitating reversed liquid sounds by Fega with the entrancing sound of Francesco Lo Cascio's vibraphone. Whereas his style seems to be fenced by electro-acoustic improvisational music, sonic collagism (close to some cinematic stuff coming from Japanese scene, based on bizarre and somewhat disquieting sonic "hyphenations" - I particularly enjoyed the ones in "Per un finale diverso/For a different ending" and "In Exion", a track based on the reading of a poem by Jennifer Scappettone -, or small interesting labels such as Raabenstein's Nonine) and some jazz standards for trumpets - wisely turned into something mindblowing by talented trumpet player Ersilia Prosperi -, the conceptual framework could be summarized by Roberto's dedications (including the ones to Robert Wyatt, Berlin, Joe Strummer's "The Future Is Unwritten" and all political, cultural and artistic antagonisms of this world), which seal this sort of musical ekphrasis of something which has not happened yet overall.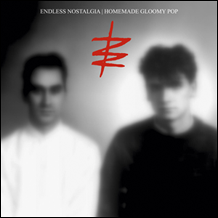 Artist:
Endless Nostalgia
Title:
Home Made Gloomy Pop
Format:
2 x CD (double CD)
Label:
Oltre La Nebbia Il Mare
(@)
Rated:
Endless Nostalgia are one of those bands that had an hard core following but that were unknown to most of the new wave followers of the 80s. The fact is that they released for Anemic Music (IRA Records) only one 12" in 1984, it was containing two tracks ("Me & My Alter Ego" and "Words And Silence") and they didn't exactly show what the duo was really. Those two were two nice italo dance tracks but Endless Nostalgia were also pop, electro and wave. Coming from Verona, Italy, Luca Rigato a.k.a. Bi Nostalgia and David E.H. (I don't know his surname, I only know that his name is Davide), run also their personal tape label called The League Of The Gloomers. With this label they released several Endless Nostalgia tapes as well as a Litfba live tape, an alternative soundtrack to Kenneth Anger's "Lucifer Rising" performed by Thelema, a tape by the Italian counterpart to Psychic TV, Rosemary's Baby, Hat Hat, etc, but most of the label's releases were dedicated to their own projects Endless Nostalgia and Bi Nostalgia. Recording their tracks at home, the duo was free to explore their melancholic feelings by giving an intimate touch to their sound. Using tiny synth sounds, upbeat drum machine rhythms and guitars here and there, they were able to channel their emotions building a particular sound. Sometimes they were recalling me Altered Images, sometimes Scritti Politti, then Paul Haig or Minny Pops. They also experimented Italian and English language mix on tracks like "Some Parts Of Me" or "The Correct Use Of Monuments". This double CD compilation released by Oltre La Nebbia Il Mare give to the band justice and to the listener offer tracks that span from 1982 and 1989 which include tracks from the aforementioned 12", others from "Two Days of Light", "Memories In Heaven", 'Lost" and "The Art of Nothing" tapes plus some unreleased ones. On some tracks you'll appreciate the cold wave atmospheres (check "Life Without Cushons" or "The Advance"), on some others the pop sophisticated approach to sound (see the late Associates) like on "Yellow Leaves Recover To Die", "Write A Letter" or "Tragic Beauty" or the dance freshness of "Memories Of The Night Before" or "Hidden In The Kitchen". This compilation will satisfy your will of sophisticated pop songs and it will do it helped by a nice package and a nice price!