Artist:
Hooved
Title:
Timeless EP
Format:
12"
Label:
AMAM
(@)
Distributor:
Intergroove
Rated:
The metronomic 2-step incipit of "TMLSS1" over a 15-minutes lasting pelting of sonic entities such as a sort of plastic rubbing, a small sample of vinylic hiss, which sounds like the first sparkle of a primer, popping claps whose mechanical sequence could let you think about the forcing of a deadbolt lock, occasional slackening swirls, spotty quavering high-notes which are often used in movies to announce an upcoming hazard and harmonic outcrops till the final and somehow unexpected parching, imprints a slight metamorphosis of the sound by Italian dj and producer Gaetano Vinci aka Hooved, even if such a mutation doesn't completely camouflage its devotional passion for some past Detroitesque sonorities (particularly Derrick May, The Martian and Richie Hawtin), which more clearly emerge on the lulling techno frame-up of the second movement of this EP as well as on the third one (a digital bonus), whose hypnotical looped vocals repeating "I think I might have something you would enjoy over at my house..." on a tolling of synth low-bells, subcutaneous kicks and nice bleeping clicks which emphasize the fourth beat of the rhythmical pattern reprise recurring stunts of Detroit tech-house. You'll also find a nice remix of the track by living legend of minimal techno Thomas Brinkmann, who manages to highlight "Timeless"' danceable prompts and turn it into a proper hit by inoculating a vial of symphony as well.
Artist:
Mountain Black
(@)
Title:
Closing In
Format:
CD
Label:
Moozak
Distributor:
A-Musik
Rated:
It's not so difficult to realize that Melbourne-based sound artist and sound designer Martin Kay in the guise of Mountain Black knows many fictional tools which belongs to movie soundtracks and narrations in general, but the lack of precise space and time handhold and visual references subtend the intent of remove any narrative plot from its sonic art, which stands on an amalgamation of processed found sounds, field recordings and drone by means of cross-synthesis processing techniques and digital editing programs. Such a choice could floor many followers of this branch of sonic experiments since many sound artists who deal with field recordings are trying to render a sort of narrative line or let their arts move within the fences of conceptual frameworks at least, so that this purge by Martin could be the best invitation to sharpen ears as if they got outfitted by powerful receptors which can grab the slightest vibrations of resounding particles. However many listeners could fall into temptation of building a sort of narration due to the sonic clues that Martin Kay's astonishing sound modelling and the interceptions of his contact mics provide such as the intriguing dichotomy between "Diegetic" and "Non-Diegetic", a couple of tracks which refers to the role of sounds in films: when a character of the movie or a fiction in general can listen sounds, you can say that sound is diegetic, while on the other hand when the sound (for instance soundtrack itself) cannot be heard by the character, it is termed non diegetic or extra-diegetic. Mountain Black's translation of this concepts is absolutelly interesting: while "Diegetic" features the "usual" well-recorded insects, birds, burning pyres and other almost imperceptibles sonic elements that the "storyteller" can listen, "Non-Diegetic" seems to have been recorded while the key player falls in a light and disturbed sleep while watching TV. The above-mentioned temptation could be fed by some logical and sonic chains as well, such as it happens for the two parts of "Glass Eaters" (a sonic translation of hyalophagia?), the two detached sonic inputs of "Waiting Room" (a distant vocal noise and a white squall), which flow into the following "Messin", and the almost silent "Bind", which seems to be a sort of preface of "Non-Diegetic", but any chance of narrative cohesion cannot be but delegated to the imagination of listeners. I recommend a closer look (and a closer listen) to Mountain Black's website in order to understand both aesthetics and "poetics" as well.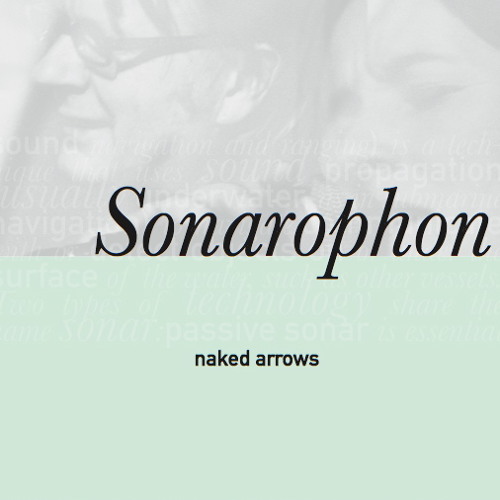 Artist:
Sonarophon
Title:
Naked Arrows
Format:
CD
Label:
Zang:
Rated:
Recorded live at the Tou Scene in Stavanger the new second album of Sonarophone, titled 'Naked Arrows', is about to be released after three years from their debut 'De Frie Elementer' always on Zang:. Sonarophone is a duo formed by Alf Terje Hana (at CHAIN D.L.K. we reviewed different releases of his main project Athana) and Line Horneland. Containing eight tracks, the album is a melting pot where guitar experimentation (Alf is a master of this field) and jazz meet, transmute and rise to new life. Line vocals are captivating and hypnotic and pass from jazz classic atmospheres to whispers. On tracks like 'Oldtidsstrid' we have the sum of their sound with a spacey guitar introduction which is joined by vocal chants, breath noises and screams. It just sounds evocative and convincing. Also the following 'Short Song' is particular one as it's formed by a mix of distorted rhythms, guitar short arpeggios and little vocal chants. I imagine how it would have been being at that show when at a certain point the audience find itself in front of a woman who sings like in reverse and looks at a guy who seems to play a guitar but the speakers spread a fragmented strange sound (like on the track 'Samtea'). Inspired and beautiful this is an album I'm suggesting you to check and you can find so by visiting the band's sound cloud page at www.soundcloud.com/sonarophon
Babi's voice seems to flutter about and go through a musical hotchpotch where a sound of a drawing pencil, a pot-bellied horn, an adventourous childplay-like toy piano melody and a joyful metronome on the initial "Passiflora", which rings up the curtain that hides the enchanted world of this brimful Japanese female musician, whose delightful twine of toy-music, poppish commercial cosmetics and a delicate razzmattazz manages to emphasize her lovely dreamy view of the world. Funny instrumental arabesques and pirouettes, which seem to have been tweely formalized on the atonal track "Lesson", got spread on differen stlistical slices of fragrant bread with the support of many performers on saxophone, fagotto, viola, violin, cello and clarinet after the invitation of this precocious - biographical notes say that she started leearning piano when she was just 2 and professional composition at the age of 5 - musician, who has been helped by Cornelius sound programmer Toyoaki Mishima for mixing and mastering as well: there are no traces of "adult" strategies inside her gracful cameos, even when she plays on triple times such as the amazing "Fancy Witch", a sort of minuet on a funny harpshicord, the daydreaming waltzing march of "Praeparat" and the more ephemerl one of "Passepied", the electro-pop scherzo of "Insect Collecting", which features a triangle and many insects (!), the staggering puppets evoked by the tidbit of "Zaubertheater" and the carilloning "Parade". On the final tracks, Babi let surface a "Pierrotesque" melancholic side of her fanciful personality, but tracks like "Owl" and above all "Atelier" reveal that gentility, which could have been by the overjoyed vivaciousness of previous playthings. This record, which has been co-produced by Noble and Babi's imprint Uffufucucu, will let you easily realize the reason why she gained deserved praises by Ryuichi Sakamoto.
Artist:
Response
Title:
Surveillance/One Nation
Format:
Download Only (MP3 only)
Label:
Ingredients Recordings
(@)
Rated:
A release which groups two tracks named "Surveillance" and "One Nation" together could be mistaken as a reference to the umpteenth poor figure of Obama and his predecessor's US Administration which peeked at their own allies and prosecute against the brave Snowden instead of quitting their delusions of grandeur and omnipotence and their shameful plans, but I can guarantee that for instance the inspiring siren chant on "Surveillance" doesn't resemble Angela Merkel's Saxon accent and these two tracks by Mancunian talented dj and producer N.Owen aka Response aren't sleep-inducing as I could surmise that the stoolie who listened the chats of some European politicians could have fallen asleep at the wheel on their empty words, if they daily use the same paltry dialetics they flaunt during public speeches or panel discussions! The ignition of the above mentioned track "Surveillance", which gained massive support by Fabio, and the straight percussive lines of dry claps, metallic pit-a-pat and kick-drum raps over subcutaneous basslines, aural choirs and a menacing sequence of 3 tones on a surly synth-brass runs along the lines of "Resistance", the track we previously reviewed on this space, while "One Nation" manages to ingratiate ear-drums of those listeners and dancers who like that kind of viral agglomerating bass that producers like Intalex or Aphrodite usually implement in orer to coagulate all different percussive elements of their blasting tunes. My response on this Response's? Good shots!