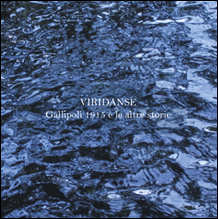 Artist:
Viridanse
Title:
Gallipoli 1915 E Le Altre Storie
Format:
2 x CD (double CD)
Label:
Oltre La Nebbia Il Mare
Rated:
I think that the first time I listened to Viridanse was thanks to the fanzine Amen and to the split tapes they were selling with their issues. Viridanse were on one of their tapes along with The Art Of Waiting (band coming from Bari that did only a MLP and that I hope someone will reissue soon). Viridanse were coming from Alessandria, Italy and they were active from 1983 to 1987. They did only two releases, both for Contempo: a MLP titled "Benvenuto Cellini" and an LP "Mediterranea". This double CD compilation "Gallipoli 1915 E Le Altre Storie", gathers both of them plus seven songs recorded live in Alessandria in July 1984 (unfortunately it wasn't possible to get a decent copy of the Amen tape to use) and a selection of four songs coming from the "Psycho Session" recorded in 1987. The first CD is the one that will please new wave and post punk lovers as on tracks like "Benvenuto Cellini" or "Vaso Cinese", the band was giving form to a personal mix made of razor blade guitars, punching bass lines and tribal drums. Another cool track is "Ultimo Canto": on this one, they used an atmospheric piano intro just to start a great energetic post punk song with drum, bass and guitars building a wall of sound. Lyrically the songs of this EP talk about freedom of expression (the title track), freedom of choice ("Ultimo Canto"), frailty of human relationships ("Vaso Cinese") and the fear of diversity/prejudice/marginalization ("Justine"). The seven live tracks are a historical document of their first years and are sounding like the ones of "Benvenuto Cellini", as they have been composed on the same period. The recording isn't perfect as the vocals are a bit low, but they testimony the energy and the impact Viridanse had on live gigs. "Dolce Vita", for example" recalled me band like A Certain Ratio and "Gallipoli 1915" is so aggressive that on some parts it seems a punk song. For "Mediterranea", the band changed slightly their approach to songwriting. The vocals are now more melodic and sustained at the end of the words (if you know early Litfiba, you know what I'm talking about), the rhythms are always upbeat and rich, also the bass lines are more sophisticated (Flavio Gemma was playing a second melodic line which enriched a lot the final result) and help sustaining the rhythm line very well. The overall atmosphere is less tense and here and there you can hear middle-eastern melodies. Recorded in Torino and produced by Marziano Fontana, "Mediterranea" is the natural consequence of a process of a band that wanted to grow, detaching themselves from the post punk spontaneity, creating a music that was also a challenge as songwriters. On this album they focused their lyrics on freedom like on "Sulla Strada", "Terra Di Sempre" (this one talked about the Palestinian people and about the feeling to being part of a stolen land), "Frontiere" and "Notte Chiara" or generally on a feeling of peace that could be felt on particular places or situations (like the sun warmth and the breeze of "Mediterranea"). The four closing tracks "Morgana", "Guarda La Balena", "Fronte Del Porto" and "Al Centro Del Mondo" were part of a recording session for an unreleased album. On these ones Viridanse recalled me the latter Denovo or Diaframma: the tracks were more influenced by Italian 70s music rather than post punk and I think that Antonello De Bellis, Enrico Ferraris, Flavio Gemma and Paolo Boveri could have joined the I.R.A. label hands down, with this kind of sound, but this never happened and you can only enjoy these tracks on this nice double compilation.
Artist:
Sleep Research Facility
(@)
Title:
Stealth
Format:
2 x CD (double CD)
Label:
Cold Spring
(@)
Rated:
Most of Cold Spring releases stands out not only for the remarkable sound quality but also for the mysterious allure of concept and this record signed under commission of Cold Spring itself by Scottish sonic craftsman Kevin Doherty, who named his dark ambient project "Sleep Research Facility" to underline his personal research about sleep-conductive beatless music, is no less fascinating both for the concept, based on one of the most mysterious military secret, the so-called Stealth (the development of its technology, which makes it invisible to radars and other detection devices, is so mysterious that someone argues its invention could be related to the finding of some alien starship), and for the sonic result, whose source (available for free on a bonus cd for people who will manage to buy one of 1000 copies of its first edition) comes from intercepted field recordings inside the hangar environs of a US Air Force base in Cambridgeshire (England) during the maintenance of a Northrop-Grumman B-2 Stealth Bomber provided by Si_COMM. Kevin emphasizes the mysterious aura of such a place all over the long-lasting five untitled tracks with a bunch of ultra-low frequencies (the ones in the first track are so low that they could shake windows and objects of your room), clouds of spooky drones (the ones in the third and fourth track sound particularly magnetic), electronic chirps, disquieting echoes, muffled roars, sonic sediments, radio signals and distant hisses, which sometimes are close to the threshold of perception. The nebulous and somehow uncanny atmosphere Kevin creates could be associated by some listeners to sonic repertory by Andrew Lagowski or Robin Rimbaud (Scanner). In order to appreciate even the most imperceptible variations and details of this record, the artist itself recommends the usage of good headphones.
Artist:
S.P.O.C.K.
(@)
Title:
The Best Of The Subspace Years
Format:
CD
Label:
Artoffact
(@)
Rated:
Artoffact wisely thought that the time for setting US coordinates of the starship which carries this funny Swedish synth pop band mainly inspired by Star Trek saga (but there are many references to other notorious sci-fi movies as well - is ripe, so that SPOCK - acronym for Star Pilot On Channel K! - come out from their capsules to spread their music in the States with this limited deluxe edition, which includes 19 of their most successful tracks, including some authentic club hits such as "Dr.McCoy" (if you followed Star Trek you should know who's this character), "Klingon 2000", "Alien Attack", "E.T. Phone Home", "Not Human", "All The Children Shall Lead" and many more. The circulation of bizarre and somewhat odd theories about human origins, alien role in the development and building of civilization and technology, fake religions or conspirational theories (think about David Icke's list of alien races such as Reptilians or Greys, Church of SubGenius, Illuminati and other subcultures which argue some external intervention, which could explain the collapse of human civilization and its spread over Internet during last years, particularly in times when the discrepancies between people needs and policies adopted by governmeents are getting so wide that someeone could believe they came from some malevolent alien race!) will make the understanding of the caustic and amazing irony of S.P.O.C.K.'s songs and lyrics whereas the evergreen liking for synth-pop (it's so evergreen that Depeche Mode still manages to fill arenas even when they issue mediocre releases), which this Swedish guys wondrously interprets by adding some piquancy with a considerable dosage of irony, meaningful vignettes and nice sounds as well, is going to facilitate rocket-propelled dances engineered by these lads.
Artist:
Konx-Om-Pax
(@)
Title:
Regional Surrealism
Format:
CD
Label:
Planet Mu
(@)
Rated:
Scottish graphic artist and 3D film director Tom Scholefield, who could justifiably be considered a sort of man-behind-the-curtain due to his prolific videomaking for some famous fellow citizens such as Ross Birchard aka Hudson Mohawke and post-rock band Mogwai - he also toured as a dj with them - as well as Jamie Lidell, Martyn, Kuedo and Lone and his graphical tribute for sleeve artwork of many releases. His closeness to talented musicians as well as his passion for music he usually composes for personal pleasure and for scoring have been poured in this debut album, where many similarities with his own personal listenings (particularly some tracks follow traces left by cosmic fugues and lullabies by Ash Ra Tempel, alien technoid ambient or liquefied electronic ambient stuff by Arpanet, Sprawl or Drexciya or sound like Aphex Twin's primigenial ambient works or sonically neutralized versions of Richard James' acid soups) he didn't hide when speaking about "Regional Surrealism" as well as a certain stylistical homogeneity - that kind of homogeneity which make glimpse a sort of surrounding narrative polt-line within a record - as well as with notorious countrymen such as Boards Of Canada, whose dark melancholic sketches often come to mind during the listening of this intriguing recording, or some nice crossbreeds between techno and ill ambient from Scottish labels such as Soma (such a stylistical national - or I'd better define it as "regional" - imprint cannot but please!) are quite easy to recognize, but its saccharine cogency makes so many quatations acceptable. Its hook to scoring (or rescoring) appears confirmed by the inclusion of "Glacier Mountain Descent", a track intended as a sort of OST remake of the opening scene of "Aguirre - Wrath of God", a movie by Werner Herzog, whose notorious multiphonic OST was composed by Popul Vuh, but a "cinematic" feeling rises all over the album: the every-day life mentalism evoked by "At Home With Mum And Dad" (the stylistically closest track to Aphex Twin's ambient weaponry), the disquieting atmospheres of "Sura-Tura-Gnosi-Cosi", where the dim vocal distortion by Steven Retchard in the middle of a religious rave ("I am Jesus, I am the lord, I am everything") combined to a surface noise or a tape-hiss looks like the tape recording of some inmate during a religious brainwave taken from the archives of a lunatic asylum, or "Chambers", whose supple sine-wave on metallic light hits make me think about a mystical and pensive moment of a frustrated housewife while brushing a dirty frying pan, the stateliness of the crystalline humming of a celesta in "Pillars Of Creation", the enchanting solipsism of "Silent Reading", the sweet swin in an ocean of nostalgic memories of "Let's Go Swimming" and even the childish electricity of "Zang-Tumb" (the guitar in the funny web of toytronics has been played by Mogwai's Stuart Braithwaite). Even if sometimes you could feel the impression it's based on vintage electronics, washed with bleach, "Regional Surrealism" could offer some pleaseful meditative moments. Konx-Om-Pax sounds like pure (led) light in extension!
image not
available
anymore
Artist:
Parade Ground
Title:
A Room With A View
Format:
Tape
Label:
Other Voices Records
Rated:
Formed by the brothers Jean-Marc and Pierre Pauly in 1981, in Brussels, Belgium, Parade Ground channelled their energies into energetic music made of hard beats, paced synth lines and the melodic voice of Jean-Marc. In 1982 they participated to the Nationale Rockmeeting LP compilation and soon after they met Daniel B. and Patrick Codenys of Front 242, beginning a collaboration that is still active. In all these years, the band has on their back only two full length releases. Their first album "Cut Up" was released by Play It Again Sam Records, as well as their following singles released on 1987/88. For they second official album "Rosary", we have to wait until 2007, but a couple of months ago, Minimal Maximal, released the band's 1989 lost album, titled "The 15th Floor". Their real second album. This tape "A Room With A View", gathers songs recorded in 1988 that, as far as I know, were unreleased. The eight tracks mix e.b.m. atmospheres with new wave songwriting structures. It's like they felt the urge to release their energy without forgetting to give to the songs something more to the "in your face" approach. In this way, we have semi synthpop tunes with upbeat hard rhythms, melodic vocals, strong bass lines and some dance moments like on "Cursed By My Name". They sometimes recalled me Fad Gadget but with more melody. You can check the whole release here http://othervoicesrecords.bandcamp.com/album/vox-15-mc-a-room-with-a-view.