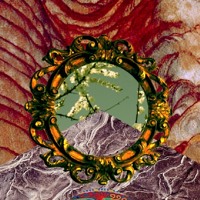 Artist:
Metzengerstein
(@)
Title:
Albero specchio
Format:
Tape
Label:
Sonic Meditations
(@)
Rated:
Metzengerstein is a jam band aiming to develop a form of improvised experimental rock based of the ritual form developed by kraut rock in the '70 with juxtaposed the research for sonic details derived from electronic music. The result of this blend could be immature at some point but has some ideas of undoubted interest.
The side A of this cassette is opened by "1", the longest track of this release, and his almost quiet guitar drone colored by voices and metallic percussions and the sparse drums and what is seems a saxophone gives a quiet ritual flavor to the whole musical structure until, in the second part, it develops in jazz jam and it ends with a ritual guided by drums. "2" starts with a gentle guitar arpeggio and drums and some distant voices until a synth loop introduce the listener to the final noisy part. The side B is opened by "3" that is based on an oriental mood being driven from a sitar until the guitar drive the track in psychedelic fields. "4" is quiet static and meditative track whose first part is based on the juxtapositon of the drones made by the various instruments and the second features the drum trying to develop the piece in more rock-oriented form. "5" close this cassette with the drums above some guitar noises and a flute loop quickly developed by a flute line and ending quietly in an almost free ritual form and ending with a guitar drone.
The repetitiveness of the musical form, typical of this ritual oriented music, is balanced by a careful choice of musical timbres trying to balance the fact that some track seems longer than necessary. However, as is a debut release, it reveals quality that ask the attention of all fans of this genre. It really worths a listen.

Artist:
Monique Jean
(@)
Title:
Greffes
Format:
DVD
Label:
empreintes DIGITALes
(@)
Rated:
Coming on the uncommon format of DVD-audio to exploit the sonic cinematic quality of 5.1 surround, this second solo release by Montreal-based composer Monique Jean succeeds in enmeshing listeners by means of meticulously moulded reticulums whose intrinsically intricacy seems to have been unravelled in order to make every graduated shading more appraisable and enjoyable by the adoption of a sort of modular laying of sonic flagstones or, to reprise the title chosen by Monique, a series of grafts and insertions. After the immersive long-lasting first track "Givre" (French word for "hard rime", the crystallization of water drops, caused by the so-called supercooling of fog), which renders this freezing process in an extraordinarily vivid way by means of electroacoustic weaponry, granular sounds, thin whishes an withering sonic entities, Monique elevates the concept, abridged in the title of her album ("Greffes" is the French word for grasps), by three impressive grasps of traditional acoustic instruments into acusmatic offshoots: "Ricochet" sounds like the tuning of a saxophone into a complicate system of dampers and shock absorbers, "Misfit" - my favorite sonic game - seems to represent the transplant of electronic and electric circuits and belt sanders within the body of an electric guitar while on "low memory 3", Monique seems to trace the adventourous journey of clarinet sound over a route of tension pulleys, trip hammers and rusty wheelbarrows. On the final "low memory 1", a windmill of viscous drones, woody burrs and metallic creaking gropes into electric gusts in a streamlined way which will make it easy to metabolize even for listeners, who are not accustomed to this kind of sonorities and are invited to explore the interesting sonic research of tensions and ruptures of sonic matter and the transmutation of concrete sounds into a poetic dimension by this composer.
Artist:
VV.AA.
Title:
The Aftermath
Format:
CD
Label:
IM:Ltd
(@)
Distributor:
Triple Vision
Rated:
The end of the world is not just nigh. It has already arrived and according to the surprisingly scouting Parisian dnb label IM:Ltd, the revealing signs are not related to some killer virus, uncontrollable porcine pathologies, crushing collisions or even the questionable likings of garment and the collection of dildos and dongs of Nicki Minaj (too tremendously unpredictable even for the most plausibly insightful doomsayers!), but they are rather to be found in the dangerous old-fashioned arsenal by Dr.Strangelove. This bizarre preface condones the excellent sonic prophylaxis of this collection of fine tunes, which are less booming and violent than it's suggested by the post-(or pre-)apocalyptic unreal (or maybe not so unreal...) fears its references spade and definitively more contemplative and somehow thought-up. The track which gives the name to the compilation by talented American dj Adrien Smadbeck aka Flaco and Portland-based producer Glen E.ston sets the mood by means of air raids of metallic ticks and vitriolic laser cutting of soldering guitars, carpet bombing of hard snares and clear-cut kicks, whose dust clouds rise together vocal samples and sequenced laments of baby phantoms, whose withering echoes is more clear in the following freezing track "Winteria" where Es.tereo and Marlyn seem to enhance their drum-machines with icicles to build their adventurous song. The following tracks seem to describe a series of inner journey which erect over this imaginary emotional setting with remarkable stylistical pinnacles, reached by means of a carousel of great tunes: the clicking sounds and sweet chimes which disengage heavenly transmissions on "Black On Ice" by Glen E.ston, the engaging blurs of hypnotic pinwheels on Silent Dust Remix of Es.tereo's "Have A Dream" and the game of light and shade by liquid sounds and descending tones over episodic electronic sizzles, stretched flutes and piano strokes on Hibea's "Butterfly" precedes the very first vocal track "All Inside Myself" by Ukranian producer Pavel Kuzmin aka Physical Illusion where the fluoroscopic and emotionally intense song by MC Flava ominously rises over desolate sonorities. The bewitching sonic spell keeps on the somehow melancholic chiming tune of Mortem's "Recall", whose slow pace sound emphasized by 56k modem typical tone, on the relaxing intertwining of sprawling pad-synths, crackling beats and fizzing samples of Atom's "Analog Books", on more vintage jungle-oriented whispering ghosts of Calculon's "Hold Back", before the final tip-top spurts of melodic energy on "We feeling what we doing" by Physical Illusion, whose bounce got emphasized by gloomy and hopeful words of Mc Kryptomedic, whose repetition of sentence "I had a dream, a new foundation" strikes an uplifting chord to the entire selection.
image not
available
anymore
Artist:
Stress
Title:
The Big Wheel
Format:
CD
Label:
Other Voices Records
Rated:
The first time I listened to Stress' "The Big Wheel" I had the feeling I already listened to them, but I'll tell you later about this. This compilation I'm reviewing has been compiled by Other Voices records and contains thirteen tracks recorded by Strees for their six tracks MLP issued in 1985 by Alan Rider's own Adventures In Reality and other seven bonus tracks recorded during the 1984/1991 period. "The Big Wheel" is a nice track that reminds of early Portion Control, a bit more melodic mixed with 80s e.b.m. Gathering industrial attitude, dancey intuitions and catchy elements, a bit of cinematic atmospheres (like on "Elizabeth Selwyn"), Alan Rider and Phil Clarke, packed a MLP that contains good songs. Check "Get The Most" or "No Sane Alternative" and you'll be projected back to the years when bands like Attrition, Bushido or many other Third Mind bands. Listening to these tracks you'll get a hint about who influenced labels like KK Records or Zoth Ommog. Anyway, personally, I got a stroke to my heart when I arrived at track seven. The time I listened to "The Prayer Clock" I recalled when I was a kid and my brother Marco came back home from one of his UK trips and brought back "Life At The Top" LP compilation. I liked so much that compilation: it had Coil, Bushido, Attrition and that Stress' fantastic track. I like it as much as Portion Control's "Chew You To Bits". Both are energetic, have dance rhythms and catchy minimal melodies. Withing the bonus tracks you'll find here there are some surprises like "Under Blue Skies" (a melancholic e.b.m. ballad) or the mellow synthpop of "Another Rainy Day" (it could fit the first The The album). This compilation is worth your attention if you are a fan of early e.b.m. or if you are eager to find out some forgotten band of that period.
Artist:
T.A.C.
(@)
Title:
Chaosphere
Format:
CD
Label:
Old Europa Cafe
(@)
Rated:
Fifteen years after its completion, "Chaosphere", the "lost" album by Italian industrial act T.A.C. recorded between November 1997 and February 1998 in New York as a sequel of their previous album "Apotropaismo", has finally been released by band mastermind Simon Balestrazzi on renowned label Old Europa Cafe. Simon didn't dissemble the fact it was heavily influenced by Andrej Tarkovskij's masterpieces "Solaris" and "Stalker" or it's better to say by the impressive soundscape based on a wise deployment of music, diegetic sounds, dialogues, their sonic representation of internal psychological and emotional processes and crisis of characters and the osmotic emphaty they succeed in establishing with viewers, coming from the strict collaboration between Tarkovskij and the genial composer of scores Edward Artemyev. The cover artwork itself quotes both movies: the original Soviet poster of Solaris, where psychlogist Kris Kelvin (performed by Lithuanian actor Donatas Banionis) was portrayed inside a triangle, whose vertex coincided with the centre of the central sphere, replaced by heartless and acephalous character (maybe Porcupine, Stalker's predecessor of the main character of the other plot) on T.A.C.'s artwork, and the dark waters of the subterranean tunnels the protagonists of Stalker had to cross to reach the so-called Zone or maybe the ones which appears when Dr.Kelvin shows the film about his life to fictional Hari, related to Peter Bruegel's painting "The Hunters In The Snow", after the notorious levitation scene, on the background. The deformation of the typical noise of a movie camera on the introduction of the mindblowing "Ocean Sonique", the haunting drones of laminar flow on the hypnotic initial track "Despite", the obliqueness of claustrophobic wide-open transitions of "The Sluggish Larvae Of An Antique Syntax" or "Imperceptibility", the nightmarish aspic of sonic clues on "Non Form" and "This Language Of Flesh and Blood", the sinister stroboscopic quivers on "Crystallize", the quotation of Oriental flutes of Stalker's theme on "Nodal Points" with sonic clues which recall the sequence of dream of that movie and many other elements over the album have many hooks to the abstract and somehow surreal journeys of Tarkovskij's movies, whose grip on viewer and adimensional wriggles seem to have been emphasized by T.A.C.'s exploration of Chaosphere, which resounds within a really visionary halo mostly by means of Balestrazzi's glorious rescued VCS3 synthesizer and other few devices.