Artist:
Rekord 61
(@)
Title:
Kaskad EP
Format:
12"
Label:
Konstruktiv
(@)
Distributor:
Triple Vision
Rated:
Well begun is half done, as the saying goes, and Moscow-based Russian producer Alexander Babaev in the gise of his stage alias Rekord 61 must know that quote after this first brick of his newborn label Konstruktiv, whose name well summarise its underlying music policy. The release number 1 includes a couple of excellent tracks and a remix by renowned Berlin dj and producer Phon.o, which transpose some compositional techniques of IDM, based on the deconstruction of beat patterns, to make something which will make you think about the building of a monumental skyscraper. Softened hammering, muffled snare drum, bleeping ticktocks, a slowly rising synth-brass portrays an intense activity or a big construction site (or an imaginary electronic anthill) on the initial "Kaskad", whose source of inspiration came from monumental art and technical aesthatics of giant industrial constructions in the middle of the last century. It got wisely remixed by Phon.o, who rehashed pulleys, levers, cranes, concrete mixers and other tools by drier hits and effects on buzzing bass and synth-brass which accentuated the epic aura of the original version. The second track on B-side, "Prostor", lies on the catchy sound of a slapped bass, banging claps and joyful breaks, which gradually become stronger and stronger while rhythmical synths climb over unutterable heights.The foundations have just been laid.
Artist:
Adaya Godlevsky
Title:
Seam
Format:
CD
Label:
Interval Recordings
(@)
Rated:
The frail and extremely delicate beauty of a porcelain ballerina, who's doomed to spin inside a carillon, which sometimes jangle after some smashes against a poky jail where it was boxed in, and secretly carries a tune or sing the pang for her condition from the utter darkness of her velvet-covered cloistered cubicle, could be envisaged while listening to this lovely release by Tel Aviv-based harpist Adaya Godlevsky, who partially spikes the platitudinous image of harpist's crouched repetition of enchanted harmonies, resoundign from some imaginary fairyland, by means of quick dynamic changes, sudden paws, strums, scratches, staccato tone clusters, unexpected "latin" spurts and guessed tonal faltering which crack and recast conventional harp harmonies. Such a contrast resurface with catchy afflatus on tracks like "Seam", the almost claustrophobic "First Light", the magnetic "Wondering My Way To You" and "Field", where thespian Adaya's canto intertwines with celtic harp's strings and assuages the arthritic plunks on them after her voice effused catchy isolated vocals on the first three "fragments", where her voice sounds like emitting prostrate palpitations. Intriguing and crepuscular music.
Artist:
Marsen Jules
(@)
Title:
The Endless Change Of Colour
Format:
CD
Label:
12k
(@)
Rated:
A fortyseven minutes lasting one-track album by German ambient producer Marsen Juhls, mostly known as Marsen Jules, Falter and Krill.Minima, which has been titled "The Endless Change Of Colour", could be easily considered as a sort of suite for contemplation of those led lamps which gradually cast different colours. Its very slow graceful and intrinsically sumptuously somber movement could corroborate such an assumption, but if you consider the manner of playing and the imaginary vector followed by this refined chiselor of frequencies this release seems one of the last phase of an implosive process which seemingly seized his sound since his last release "Nostalgia" on Oktaf. The entire suite has been moulded from the elongation of three overstretched audio streams taken from a single phrase of an old jazz record. Marsen explains the underlying process by his own words: "These streams are transformed into loops which break the original instrumentation down into sound resembling pure waves, harmonics and overtones. These loops play to different time signatures to create phasing patterns that continuously move and dance around each other in a constantly-evolving lattice of sound. Despite it being based on a very strict and limited set of rules the music could, in theory, be endless and ever-changing". Such a compositional process results into a daydreaming and entrancing listening experience which could be easily associated to the generative ambient works by Brian Eno or the emotional dilutions by William Basinski, but you could even imagine it as the possibly missing fourth part of "Somnium", the hypnagogic masterpiece by Robert Rich. If you manage to cope with the subtly hypnotic mickey-like effect by sharpening your eardrums, more trained listeners will easily enjoy the fineness of almost undetectable sonic variations of this beguiling lulling suite.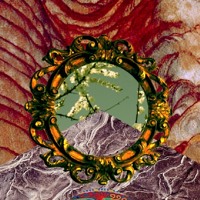 Artist:
Metzengerstein
(@)
Title:
Albero specchio
Format:
Tape
Label:
Sonic Meditations
(@)
Rated:
Metzengerstein is a jam band aiming to develop a form of improvised experimental rock based of the ritual form developed by kraut rock in the '70 with juxtaposed the research for sonic details derived from electronic music. The result of this blend could be immature at some point but has some ideas of undoubted interest.
The side A of this cassette is opened by "1", the longest track of this release, and his almost quiet guitar drone colored by voices and metallic percussions and the sparse drums and what is seems a saxophone gives a quiet ritual flavor to the whole musical structure until, in the second part, it develops in jazz jam and it ends with a ritual guided by drums. "2" starts with a gentle guitar arpeggio and drums and some distant voices until a synth loop introduce the listener to the final noisy part. The side B is opened by "3" that is based on an oriental mood being driven from a sitar until the guitar drive the track in psychedelic fields. "4" is quiet static and meditative track whose first part is based on the juxtapositon of the drones made by the various instruments and the second features the drum trying to develop the piece in more rock-oriented form. "5" close this cassette with the drums above some guitar noises and a flute loop quickly developed by a flute line and ending quietly in an almost free ritual form and ending with a guitar drone.
The repetitiveness of the musical form, typical of this ritual oriented music, is balanced by a careful choice of musical timbres trying to balance the fact that some track seems longer than necessary. However, as is a debut release, it reveals quality that ask the attention of all fans of this genre. It really worths a listen.

Artist:
Monique Jean
(@)
Title:
Greffes
Format:
DVD
Label:
empreintes DIGITALes
(@)
Rated:
Coming on the uncommon format of DVD-audio to exploit the sonic cinematic quality of 5.1 surround, this second solo release by Montreal-based composer Monique Jean succeeds in enmeshing listeners by means of meticulously moulded reticulums whose intrinsically intricacy seems to have been unravelled in order to make every graduated shading more appraisable and enjoyable by the adoption of a sort of modular laying of sonic flagstones or, to reprise the title chosen by Monique, a series of grafts and insertions. After the immersive long-lasting first track "Givre" (French word for "hard rime", the crystallization of water drops, caused by the so-called supercooling of fog), which renders this freezing process in an extraordinarily vivid way by means of electroacoustic weaponry, granular sounds, thin whishes an withering sonic entities, Monique elevates the concept, abridged in the title of her album ("Greffes" is the French word for grasps), by three impressive grasps of traditional acoustic instruments into acusmatic offshoots: "Ricochet" sounds like the tuning of a saxophone into a complicate system of dampers and shock absorbers, "Misfit" - my favorite sonic game - seems to represent the transplant of electronic and electric circuits and belt sanders within the body of an electric guitar while on "low memory 3", Monique seems to trace the adventourous journey of clarinet sound over a route of tension pulleys, trip hammers and rusty wheelbarrows. On the final "low memory 1", a windmill of viscous drones, woody burrs and metallic creaking gropes into electric gusts in a streamlined way which will make it easy to metabolize even for listeners, who are not accustomed to this kind of sonorities and are invited to explore the interesting sonic research of tensions and ruptures of sonic matter and the transmutation of concrete sounds into a poetic dimension by this composer.