Artist:
Phill Niblock
(@)
Title:
Touch Five
Format:
2 x CD (double CD)
Label:
Touch
(@)
Rated:
One of the living legends of the early minimalist generation and universally recognized as one of the authentic master of drone music, 80-years old Phill Niblock keeps on feeding his musical hobbyhorse, the develoment of a music whose sole engine is the gradual sedimentaton, juxtaposition and layering of microtonal dilutions from instruments in very slow motion, where the real instrument is tape recorder and other computer-aided, electronic or digital devices, which makes this refining easier, and this is the approach Phill followed to build the two long-lasting pieces of the first cd: "Feedcorn Ear" - the title is the anagram of Belgian-Dutch cellist Arne Deforce, which provided the instrumental inputs, even if the final result could let you think about a flugelhorn slotted in some pulmonary alveolus of a giant - is the last and maybe the most otherworldly and somewhat celestial part of a trilogy that Phill begun to mould in his Experimental Intermedia studios in New York after the recording in Piethopraxis - the studios owned by Marcus Schmickler in Cologne - where he used a Brauner microphone, while the unrecognisable departure point of the following "Cage Of Stars" - a drone suite commissioned by Rebecca Shatwell and the AV Festival 12, an International Festival of Art, Technology, Music and Film and premiered on the 3rd of March 2012 at the Sage, Gateshead - were the clear-cut pitches on an e-bowed harp by Welsh harpist Rhodri Davies, who got aided by an oscilloscope visualization in Max MSP software which gave him the possibility to check if he was drifting sharp or flat while bowing. Both of this long-lasting suites are really mesmerizing and will render the impression of movement inside a static but slowly changing cloud, which will probably cause a temporary tinnitus for the minutes which will follow their listening. The second cd includes three different version of "Two Lips" for guitar quartets, whose score has been based on a graded sequence of microtonal steps - 10 divisions of the equal-tempered semitone (100 cents) - where a couple of guitars imperceptibly descends, ten cents a time, from a G tone to a F diesis, while the other two guitarist rises from a G diesis tone to an A. In spite of the conciseness of its score, the three different performers (NY-based electric guitar quartet Dither - Taylor Levine, David Linaburg, Joshua Lopes and James Moore -, Belgian/Dutch quartet Zwerm - Kobe Van Cauwenberghe, Matthias Koole, Toon Callier and guest guitar player Guy De Bievre - and Coh Da Quartet, made up by Niblock veterans David First, Seth Josel, Robert Poss and Susan Stenger) achieve quite different outcomes. Intended for masterly eardrums.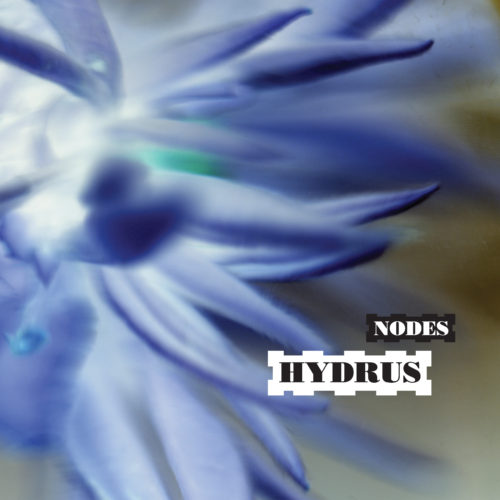 Artist:
Hydrus
Title:
Nodes
Format:
CD EP
Label:
Narrominded
(@)
Rated:
In their press release this band is presented as a band whose 'name suggests rationally conceived music' and 'they program their own patches for electronic software and they love to work on their sounds endlessly'. The result is a classic IDM album with declared influences by Autechre and Plaid but with personality and a clear music direction.
'Vertex' opens this release with a classic IDM beat pointed by a dreamy synth. 'Micronaut' is based upon the Autechre-style juxtaposition of two rhythm in a loose predictable way. 'Black soap' is a synth based track upon an almost drum and bass layer. 'Bato' tries to calm the atmosphere while 'Raim' features the most complex drum pattern. 'Drose' seems almost a 'tri repetae' track as is based upon a synth loop and a beat.
This EP sounds as the most logical release Autechre would do if they didn't decide to change their sound, and a whole musical career, and for some fans this is one of the best compliment available. The critic says three, as is nothing new, but the fan says five so the average is four. Only for fans of IDM but recommended.
Artist:
Max Cooper & Tom Hodge
(@)
Title:
Fragmented Self - Part 1
Format:
Download Only (MP3 + Lossless)
Label:
FIELDS
Rated:
Disquisitions about the possible lack of complementarity between the stylistical field of London-based pianist and composer Tom Hodge, who's not stranger to this kind of musical crossbreeding - you could check the pleasing collaborative project Piano Interrupted together with Franz Kirkmann -, and electronica producer Max Cooper require more theoretical efforts than it's worth, meaning that many nodes have formerly been made and succesfully tested by a number of musicians. I'd rather say that the most interesting aspect of this collaboration is the framework where they wedge respective sonorities in since the initial "pedagodical" piano drops by Hodge on "Fragments Of Self" - the first of a series of EP (second part has been recently dropped out), which preceded a tour, which is drawing to en end with their last show at Plus Music Festival in Mexico - sound permanently balancing to mutating equilibriums of the electromechanical expectorations and glitchy suppurations from Cooper's laptop. You could imagine an imaginary remix of learning piano sessions by Funkstorung or Telefon Tel Aviv, the possible soundtrack of those commercials which try to sell "smart" devices, credit cards or fast cars by linking them to the progress or the formation of a baby or for awareness-raising campaign about sorted waste collection or environmental conservation in order to have an idea of what kind of sound is going to hit your eardrums and a similar balance resounds from the following "Quantet" where some uplifting strings got synched on a balanced techno roller. The chipper, breezy and somewhat cherubic remix of "Fragment Of Self" by Cafe Oto stalwart Petrels and the elegiacal bonus track "Von Der Klippe Fallen (transl."Fallen from a cliff"), which melts blues, euphoric technoid dance and electronic butterflies, integrates this graceful release.
Following a couple of appreciated delicacies we've already talked about, the album, which crowns and honors an impressively fecund year for one of the leading edges of Chicago footwork and chief member of Teklife crew Rashad Harden aka DJ Rashad on Hyperdub and the concurrent spread of a genre which could be considered the upgraded soundtrack or, as more "romantically" suggested by cover artwork or maybe by the reference to the recreational drug quoted by the title - double cup is another slang name of so-called purple drank, a mixture ("drop a 4 in a 20 oz and call it 24s") of promethazine-codeine and sprite, whose original recipe came from H-Town, TX - the nocturnal street lighting, of the quivering Illinois' capital city by crossbreeding ghetto-house and juke styles, has finally been released. The antitussive recipe of Rashad's sound isn't just a combination of Chicago footwork and "something else", as you could take for granted and all those listeners who tasted his previous tidbits knows that. Its sonic energy-boosting toffee may contain traces of techno, jungle, tribal, ghetto-house, r'n'b, hip hop has been lusciously covered with creamy expectorations of 808 and flipping polyrhythms. I keep on preferring acidolous blast or darker waves of tracks like previously released "I Don't Give A Fuck", the stunning shock treatments of title-track "Double Cup", "Leavin" (ft.Manny) or "Acid Bit" (featuring Addison Groove) as well as the unusually tuneful hiccuping divas of tracks like "Everyday of My Life", "Only One" or "Show U How", but I'm pretty sure many listeners will be delighted by more soothing stuff where the sensually sizzling breaks of "Let U No" or "I'm Too Hi" and the soulful aftertaste of collaborative tracks with Spinna really stand out.
Artist:
Gabriel Saloman
(@)
Title:
Soldier's Requiem
Format:
12"
Label:
Miasmah
(@)
Rated:
One of the wings of D.Yellow Swans (where the meaning of that "D" constantly changed...del, die, deterioration, disk, damaged, demonic, dove, drownerd, dusk and so on), Vancouver-based musician Gabriel Saloman shuffle the cards of his previous self-signed release "Adhere" by giving prominence to instruments, changing the function of electronics in his soup and embroidering a sort of narrative structure to his sonic weaves, where one of the most interesting aspect is the handover of different evoked emotional states by intriguing sonic dynamics. It sound clear since "Mine Field", the first long stage of this "Soldier's Requiem", where the initial vaguely enchanted piano, which lets listener imagine the temporary toughening relief after some pitched battle before that subdued melody and the delicate electronic wavelets got stuck on lower frequencies which seems to dry the tonal ocean out. When the water becomes shallower and shallower, an abstract awareness of tragedy, diquietude and solitude seems to increase over a peeping drone, which fills the sonic sphere before fading out and let the melodic piano resound again, but its initial enchantment got broken as if it has been fatally impaired. The piano misfires and cannot evoke that vague idyll, which transmutes into a sort of sinisterly premonitory tolling and fells silent on the following "Marching Time", where the percussive march and its clunky and burdensome advance absorbs the aphonic noise of machine-gun fires. The battle could have deleted any human memory in the soldier, but the rain and the retake of solitary rueful march, which got evoked by field recordings and a low-key sad guitar of "Boots On Ground", instist on that dichotomy before the unexpected attack from a seemingly dead enemy - the listener will decide if this enemy, which revives on the percussive reprise, rises from some forgotten frontline or from within the anti-heroic soldier -. The funereal snigger of fate, which resounds from tthe sinister strings of the final "Could Haunt", discloses the destined content of the war chest.