Artist:
Papillon
Title:
s/t
Format:
12"
Label:
Discrepant
(@)
Rated:
"Unquestionably the greatest adventure of escape ever filmed", the stentorian voice for the trailer of Franklin J. Schaffner's screen adaptation, starring a young Dustin Hoffmann and a magnificent Steve McQueen, of the notorious memoir "Papillon" by Henry Charriere about his incredible escape from a penal colony in French Guyana after he was wrongly convicted of murder in France. Besides the dispute regarding the truthfulness and the authenticity of that story, as many critics argued that some episodes could have been the fictional adaptation of other fellow fugitives of the alleged author, Discrepant label manager Goncalo F.Cardoso takes a stab at turning that best-seller into sound by means of his lo-fi synthesizers with the precious support of edited acoustic recordings by Laurent Jeanneau aka Kink Gong, Cedric Stevens' raw and digitally treated analogue modulators and David Naan, who sprayed his drums on the visionary "La Cavale Des Chinois" after the psychedelic recordings of a sung poetry from Khmu, Laos by Kink Gong. Many moments of that fascinating and fantastic quest for freedom, its dramatic turn of events, the incredible vicissuteds and the (treu and simulated) psychological fallouts of the fugitive Papillon who tried to escape from confinement whose exotic location sounds like the better paroxysm of the assumed moral preening of Western civilization got rendered by a wide selection of cracked noises, augmented field recordings, amazing foley art effects, sudden synth jams, modular synthesis and sinister echoes, which reaches remarkably high peaks of quixotic and visionary power, so that listeners could feel themselves like having been immersed into a mesmerizing pool where shamanism, esoteric hallucinations, fever deliriums, lucid dreaming and near death experiences have been blended into a sonic cauldron or a possible sensory overload, which is going to hold your breath and feed your imagination from the initial claustrophobic feeling of reclusion of "Un Radeau Dans Un Tombe" till the final illusory emancipation of "Le Chemin De La Pourriturre".
Another next big thing from fibrillating Mancunian drum'n'bass scene, which is recently kicking up its heels, comes from newborn label NB Audio again, which fires a good shoot by enlisting the debut release of Nian Dub, a two-headed project by O'Neill brothers, Rory aka Runes and Tim aka iLLtone, who showed an excellent four of a kind down by means of four talented collaborators on this special occasion: the venomous mc and lyricist Mr.Fox, who spits fire over the flagged title-track on a foggy dub-spotted tune, whose knappering sonorities could remind some stuff by Stereotyp and The Bug, Gareth "Semiotix" Leeds, who coals the fast-running percussive train of "Antaeus", Dan Tasker, who paws the gorgeous "Jazz Craft", the typical dnb tune which let your hands in the pocket before straining knees and neurons, and, last but not least, rasta singjay Kuntri "Lion King" Ranks, who brings his voice on the markedly dub song "Almighty Dub", but dancehall lions will loudly roar on dnb arena on the tracks with no feats such as the massive "Deliverance" where Nian Dub sounds like having passed the mic to an angry neurasthenic cat after surrounding him by means of a deluge of breaks, which evoke those golden age when people like Goldie or Bad Company melted dnb with furious junglism soups, and "Step Out", where haunting electronic dub primers trigger an interesting miscelleanea of sonic contaminations.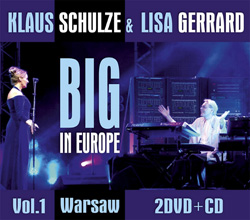 Artist:
Klaus Schulze & Lisa Gerrard
Title:
Big in Europe Vol.1 Warsaw
Format:
CD + 2 x DVD
Label:
Mig Music
(@)
Rated:
I can't really tell you shortly what Klaus Schulze achieved in his 44 years career. He played a big part into Germany's krautrock history by playing with Psy Free, Tangerine Dream, Ash Ra Tempel, The Cosmic Jokers (to name few) as well as having a huge solo career that started in 1972 with his 'Irrlicht' album and produced about forty albums since then. In the 1990's Schulze recorded several electronic interpretations of works by classical composers (most notably Wagner) as well as collaborating with opera singers and other classical music performers on his own albums. He also started collaborating with German ambient/techno artist Pete Namlook in the series "The Dark Side Of The Moog" on the latter's Fax label and steered the Wahnfried project into a more modern techno and trance inspired direction. In 2007 he contacted Dead Can Dance's singer Lisa Gerrard because he was a huge fan of the band and proposed her a collaboration. She visited him and, without rehearsing, in few days, they produced their first album 'Farscape' which have been released on Synthetic Symphony the year after. In 2008, when Lisa knew that Klaus was in the line up of the Germany's "Loreley" festival, she offered to sing without being paid as she wanted to live that experience with him. On 2009 they collaborated again and released 'Come Quietly' for Gerrard Records. In brief these are the facts and I can start to write about this first out of three volumes of the 'Big In Europe' live series. This first volume contains the entire performance they did in Warsaw, Poland on September 17 2009. It was a concert dedicated to the 70th anniversary of the Soviet invasion of Poland during World War II. The package contains two dvds and a CD containing the whole concert (on the first DVD and on the CD) and a documentary titled "Moogomentary" which shows the different stages of the preparation to the event with interviews to the Klaus Schulze crew, the press conference, the gear packing, etc. The track list contains five tracks: 'Voices Of Wielun', 'Kampania Wrzesniowa', 'Selbsterkennende Ganzwerdung', 'A La Recherche Du Printemps Perdu' and 'The Da Varsaw Code'. Lisa Gerrard sings on track three and five and she arrives on stage dressed and acting like an opera singer by improvising her chant following Schulze's melodies and arpeggios with ease and passion (on these tracks Schulze used few rhythm sequences and mixed synth pad layers with synth arpeggios). She doesn't sing as she uses her voice as an instrument by making the solos that he didn't play. Into the interview Schulze explained their alchemy by telling that they didn't never talked about music or about what to play and how. They only did it and he was amazed as much as the audience was. This is one of the few occasions you have to watch a live concert by Schulze as after the 2010 Japanese tour, he decided to quit on touring. A note: at this event, a promotional disc was available, containing a new studio Klaus Schulze and Lisa Gerard track titled 'Hommage A Polska' which isn't included on this release.
Artist:
Reeko w/Architectural
(@)
Title:
The Blue Album
Format:
CD
Label:
PoleGroup
(@)
Rated:
Spanish producer and member of PoleGroup collective (a proper institution of Spanish techno scene) Juan Rico decided to intersect the sonorities of his alter-egoes Reeko, the most popular one, and Architectural, the less known one he used for a number of side-projects, in order to sign one of the best techno album I had the occasion to listen this year which displays a sort of pleaseful intrinsic duality without coining a new moniker: the mechanical oppressive pressure of rhythmical elements, which Juan usually deploys on Reeko's harder tunes, got mostly tempered by fluffier pad-synths, uplifting infusions, airy effects and an unceasing interference as if his sonic artifacts got assembled inside a strong magnetic field, which taints both the more stifling industrial-spotted bangers such as "Force Carriers", the poisoned refulgence of "Melted"or the high-tension-driven "Startling Idea" and the more "melodic" ones such as the initial "Blue", whose dubbed echoes and hovering textures get listeners ready for the upcoming journey, the sidereal flotations of "Sex On Kepler" and the friction of ambient and drones on the supercharged engine of "Dualities", but the most surprising tracks of this album spring when he commutes the rocket fuel to arpeggiated hanging pulses on the cosmic and vaguely Tron-ique ride of "String Theory", whose linking with Tangerine Dream's "Phaedra" is not an overstatement, or when he switches beat-box off for the final and somewhat melancholic space trip "The Universal Dream". I could say this album has what it takes for the admission ticket of this Spanish producer to lusher yards of wide techno gardens.
Artist:
KK Null + The Noiser
(@)
Title:
s/t
Format:
CD
Label:
Monotype Records
(@)
Rated:
The cover artwork of this impressive release on Monotype seems to have been taken from those black and yellow stripes which delimit dangerous or contaminated areas which should not be accessible, but such a tempting invitation to trespass should not be declined as it combines the renowned skills of Zeni Geva's member Kazuyuki Kishino aka KK Null, who doesn't really need any introduction as he's one of the most appreciated noise guitarist and noise forger from the world-known Japanese noise scene, and French mediactivist, artist-researcher, musician, poet, anarchitect, experimental film-maker, Apo33's founding member and one active principle of Formanex group Julien Ottavi aka The Noiser. Recorded in 2011 when these two master craftsmen of louder noises, the most remarkable aspect is the way they "organized" avalanches of their cherished raw material over crumpling percussive structures and labyrinths of feedback and distorted sounds: for instance, noise seems to belong to a possible horror-movie score in order to highlight the sudden attacks of a furiously insane assassin rising from dark escoriating corridors on the first track - all tracks are untitled so that I have to point them by ordinals -; it sounds like coming from the innards of some imaginary slimy monsters which survives by finding nourishment into an abandoned powerhouse on the second track; it fans the mystical flames which got kindled by some hypnotical tribal percussions on the third track. The noise of a pneumatic drill blemishes a resounding piano on the short fourth track, bursts into a jungle by means of piercing clips and corrosive rumbles on the sitxh one, sounds like disturbing interferences on the fifth one, turns into looped savagely abrasions of melting timing chains in the seventh track. The final 25-minutes lasting track seems to combine all the previous suggestions into one absorbing and loudly sublime suite. Please trespass!