Following the mouthwatering EP "Baby", the release of the debut full-length album of the talented 22-year old Manchester-based producer Sam Walton suddenly elucidates the stylistical mission of this young producer. On the initial title-track "Beyond", he seems to sketch a sort of intent, which focuses on the attempt of dovetailing past, present and future sonic clues, which are tangible in each song due to the concision of his snap-fit tiles, and go beyond by outdoing such an amazing time-travelling sonic patchwork and possibly finding something new. Walton said about his album: "I just wanted there to be a contrast betweenbright and dark, I didn't want to stick to a specific genre either. Just a vibe", but the contrast is not only chromatic or tonal and within every vibe, he intertwines filaments of Detroit house and techno, Chicago house, funky basslines, old eski grime, old fashioned garage and other elements and he manages to sashay over different musical sparks, whose appearance is so fine and elegant that you could imagine them as delegations of evoked music scene breezing in a gala dinner. The abrasive textures, the clashing claps, the rusty skips of "Gnit", which sometimes got oiled by a pad-synth-based typical garage spell, the sizzling intersection of ambient atmospheres, garage woodblocks and funky licking basslines on "Need To Feel", the somber mood and the beatless ominous boredom of "City of God", which grafts into the emotional fields of grime and dubstep, the abstract collision between "conventional" and futuristic elements in tracks like "Can't You See", "Memories" or the dancefloor-winker "Every Night" are just some assays of the funambulatory stunts of Walton. I'm pretty sure many listeners will get a glimpse of the kernel of some forthcoming new style during a careful listening of Walton's modelling.
Artist:
Frank Bretschneider
(@)
Title:
Super.Trigger
Format:
CD
Label:
Raster-Noton
(@)
Distributor:
Kompakt Distribution
Rated:
This collection of nine rhythmical pleasantries by Frank Bretschneider, co-founder of the appreciated Raster-Noton label and maybe its most "mechanical" soul, differs from the conceptual framework and the somehow romantic and emotional hooks of many previous releases by this brilliant beat-juggler. The fact it derives from different moments of amusement which got crystallized into a series of nine collected improvisational studio sessions is clear from a "funkier" crispness which seems to have been spontaneously grafted within the great wheels of scrupolously chopped beats, masterful cuts, crumbled percussive elements and plushy effects as it happens on the meowing distorted basslines of "Flicker.Funk", the bouncy specks of "Machine.Gun", the bevelled abstract electro-hop of the title-track "Super.Trigger", which close to the one by Funckarma, Funkstorung or Ltd.Noise), the heady whistles of "Over.Load", whose amazing syncopations could surmise a dehydrated hybrid between Meat Beat Manifesto and some old tunes by Fat boy Slim, electric sprains and occasional glimmering gurgles of "Black.Out" - the one I enjoyed the most - and many amazing sonic flips, variations and protease. Its inner concision and terse sonorities clashes with the complexity of the rhythmical structures, but this is the distinguishing feature and the secret of the appeal and the magnetic attraction of Bretschneider's engines. Good headphones are highly recommended.
Artist:
rlw
Title:
Fall Seliger Geister
Format:
CD
Label:
Dirter/Black Rose Recordings
(@)
Rated:
I never ceased to be amazed by finding so many artists who have been making music back to the 90's and earlier that I have never heard of, yet have prolific output and have garnered solid reputations. Ralf Wehowsky is one such artist. As far back as the early 80's he was in the groups P.D. and P16.D4 (the output of the second being great and more long-lasting than the first); has collaborated with Merzbow, Aube, Tomas Korber and numerous others; has about 24 or more albums out plus collaborations, EPs, singles, etc. Granted, he's not much known on the U.S. scene, but must certainly be a notable figure in the Euro avant-garde music scene. Then again, Wehowsky seems to like to keep a very low profile. I barely was able to find the website with his profile on it. Email address? If he has one, he ain't sharing. Yet he's done interviews has all these releases (most under the name rlw) and shows no sign of stopping. Amazing.

In a sense I am lost for frame of reference in Wehowsky's body of work since I've never heard anything by him previously. I can tell you though that 'Fall Seliger Geister' is definitely avant-garde and experimental, and no, it's not noise, although there are plenty of noises throughout. Roughly translated, the title would be 'Event of the Blessed Ghosts' and I suppose there is somewhat of a ghostly theme running throughout, but it seems more like a 'ghost in the machine' to me. The album begins with a couple individual sound effect samples then something sounding like an old motorboat idling, and some ratcheting. There are deep groans and squeaks that I could imagine emanating from an old ship as well as other plinks and plunks, rumblings, noise interspersions, etc.. The sonics are very foley-oriented (as in film), sometimes minimal, sometimes multiple events taking place. There is also an undeniable mechanical aspect to this, although I wouldn't say what I'm hearing is at all strictly mechanical. Sometimes things seem like they're being stretched to their limit, sometimes you get bit of generally unintelligible sampled voices, sometimes what sounds like whales, or moose or elephant calls, fast modulation oscillations, woozy frequency modulated struck tones, more bursts of noise, revving chainsaws, strange reedy-sounding instruments and undefinable sounds interspersed. There really is no way to catalog all of what's going on in 'Fall Seliger Gesiter,' but I do believe there's a method to the madness in here somewhere. This certainly isn't musique concrete as it seems planned and not random. One can only use their imagination as a guide for this trip. As for what it all sounds like ' Weird? Absolutely! Dark? In places. Musical? Depends on your definition of music but for the most part, no. Difficult to listen to? For most people, I'd say yes, but for those who like experimental, it's rather easily digestible. Replayable? Well, I've listened to it 6 or 7 times and I'm still finding new perspectives in it. What does it all mean? I haven't the foggiest notion. 'Fall Seliger Geister' is an enigma just waiting for you to puzzle through. When you figure it out, please let me know.
Artist:
Stephan Mathieu
(@)
Title:
The Falling Rocket
Format:
2 x 12" vinyl
Label:
Dekorder
Rated:
When we had the possibility to interview the self-taught German composer and Schwebung label owner Stephan Mathieu on the occasion of the release of 'Un Coeur Simple', in addition to his passion for early instruments and obsolete media, an increased sensibility for arts and aesthetics was clear from the way he spoke about his background and that release and got even clearer to my ears while listening to this recent release for Dekorder, whose building came after Stephan dusted down most of the sonic equipment (a mechanical gramophone, a Hohner Electronium and Radio, the legendary Farfisa VIP 233 organ and Caro Mikalef's e-bowed Phonoharp) he used for "Ablation", the resurrection of Main with Robert Hampson on Editions Mego, which have been launched into very distant orbits. As many amateur astronomers and stargazers will easily recognize by reading titles of the tracks, "The Falling Rocket" quotes stars (as well as astronomical measures if you check the length of each track...), but the most fascinating aspect of the record lies in the equivalence between some features of the mentioned stars and some emotional aspects of the tracks. Even if the general sound focuses on dilutions and over-stretching of instruments within a sort of extended continuum, Stephan succeeds in shaping curves and molding frequencies in a masterly manner, which renders the fascinating cosmic objects which give name to the nine tracks of this album: for instance a quiet and magnificent pastoral perfectly fits for "Deneb" - one of the brightest star of the firmament and vertex of the so-called Summer Triangle -, the initial feeble organ and rarefied blows could mirror the faint light of "Lacaille 8760" (the brightest red dwarf star visible in the night sky in spite of faintness) and you could almost feel a more mysterious and enchanted glance when tracks refer to binary ("IK Pegasi" or the fascinating "55 Cancer") or triple ("Keid") star system. Even if listeners don't know anything about constellations and cosmos, I'm pretty sure that the aural and sidereal journey on this awesome release is going to ravish many eardrums and musical brains.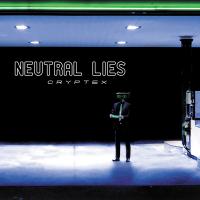 Artist:
Neutral Lies
Title:
Cryptex
Format:
CD
Label:
Boredom Product
(@)
Rated:
Jean Francois Dean and Nicolas Delbarre are back three years from the Neutral Lies' debut "A Deceptive Calm", they are back with their second album "Cryptex", always on Boredom Product. On this album the duo delivers eleven new tracks in balance from 80s/90s synthpop/e.b.m. where danceability and melody meet the need to have a powerful sound. Mixing atmospheres a la Nitzer Ebb of the early 90s period (check the distorted "Stink Bombs" or the musical parts of "Mobile Transplant") or some a la Covenant of the late 90s (check "Ransack Your Dignity" or "Glitter Ball"), Neutral Lies focus their sound mostly on analog synth sounds using gritty leads and pads, powerful bass lines and drum beats. Also Nicolas, to pursue the aim to give energy or color to the songs, changes his way of singing, passing from a semi shouted way of singing to a melodic deep register. Nice one...