Artist:
LOOPer
Title:
ματτer
Format:
12"
Label:
Monotype Records
(@)
Rated:
I cannot but reaffirm that the recent batch of vinyls from the appreciated Polish label Monotype hold many interesting avantgarde music and sonic stuff, including the fourth collaborative release from LOOPer, a very interesting project from the whimsical Greek cellist Nikos Veliotis, the protean Sweidish saxophone player Martin Kuchen, who modulated a pocket radio on this album in addition to his instruments, and the brilliant Norwergian improviser and percussionist Ingar Zach. They seem to dig the ground of the narrow stripe between silence and noise since the initial "Slow", where a very low overstretched frequency, which sometimes got thickened by a slight distortion, sets a mesmerizing tone where the suffocated tapping by Ingar and the sawing sound let the listener imagine about the tuning of a mysterious electric generator. Their sonic strategy becomes clearer on the following "In Flamen", where stiffed strictures on strings and air ducts of saxophone silence the claustrophobic drone which opens the track before the metronomic muffled steps and the tape hiss asymptotically tends to total silence. Whereas the misty cloud that LOOPer generated seems to encumber an high-speed train and the transmission of an electric signal on "Alignement", the only moment when they emerged out of the silent and silencing blanket occurs on the final "Our Meal" where clicking percussions, air embolism within sax, glasses under imaginary planing mills and other unknown sonic sources gradually overheat the sonic sphere by means of a startling crescendo. This record often requires attention to details, particularly when these musicians keep instruments under vacuum-seat, but the way they kneads sound has something to share with the impalbable matter of dreams.
image not
available
anymore
Artist:
Olivier Briand / Bertrand Loreau
Title:
Interferences
Format:
CD
Label:
Spheric Music
(@)
Rated:
The last year Spheric Music released a selection of Loreau's 80s tracks titled 'Journey Through The Past' (check my old review to know more about him), this year 'Nostalgic Steps' and now we have a new album that Bernard Loreau composed with Olivier Briand. Their friendship started in Nantes, back in 1985, because of their passion for synthesizers, Klaus Schulze and Tangerine Dream. During the eighties and the nineties they often played in the same electronic music festivals and also organized concerts and musical events. In 1995 they started an association of electronic music fans called 'Patch Work Music' and produced a compilation album titled simply 'PWM' that compiled tracks by few of the best French musicians passionate about the Berlin sound. They started to release their solo albums in 1993 and collaborated ever since. Now some informations about their album 'Interférences'. Lasting about an hour, it's divided into seven movements characterized by spacey pads, synth arpeggios and lead solos (which sometimes sound like melodic improvisations). We pass from romantic/dreamy atmospheres (like the first or the third movement), to cold scenarios of the second movement (the one I prefer), where dilated sequences are alternated to hisses and noises creating a sort of melodic and experimental mix. The fourth movement, just like the third, has a mid tempo drum machine rhythm and has lead solos, arpeggios and space pads and its atmosphere recalls the Berlin sound of the early 80s. The sixth movement it's more 70s sounding and it's also influenced by the synth French school of that decade. The last tracks is a fifteen minutes monster which starts as a ambient track with fields recordings (here produced with synths, I suppose): After a while a couple of relaxing melodies are added. After few minutes, a delayed arpeggio revive the atmosphere and little by little, pads and leads join, making the track's sound grow. After twelve minutes, there a change of atmosphere and the track turns into a dark slow one which little by little 'dies' creating a very good effect. Nice.
Artist:
Phill Niblock
(@)
Title:
Touch Five
Format:
2 x CD (double CD)
Label:
Touch
(@)
Rated:
One of the living legends of the early minimalist generation and universally recognized as one of the authentic master of drone music, 80-years old Phill Niblock keeps on feeding his musical hobbyhorse, the develoment of a music whose sole engine is the gradual sedimentaton, juxtaposition and layering of microtonal dilutions from instruments in very slow motion, where the real instrument is tape recorder and other computer-aided, electronic or digital devices, which makes this refining easier, and this is the approach Phill followed to build the two long-lasting pieces of the first cd: "Feedcorn Ear" - the title is the anagram of Belgian-Dutch cellist Arne Deforce, which provided the instrumental inputs, even if the final result could let you think about a flugelhorn slotted in some pulmonary alveolus of a giant - is the last and maybe the most otherworldly and somewhat celestial part of a trilogy that Phill begun to mould in his Experimental Intermedia studios in New York after the recording in Piethopraxis - the studios owned by Marcus Schmickler in Cologne - where he used a Brauner microphone, while the unrecognisable departure point of the following "Cage Of Stars" - a drone suite commissioned by Rebecca Shatwell and the AV Festival 12, an International Festival of Art, Technology, Music and Film and premiered on the 3rd of March 2012 at the Sage, Gateshead - were the clear-cut pitches on an e-bowed harp by Welsh harpist Rhodri Davies, who got aided by an oscilloscope visualization in Max MSP software which gave him the possibility to check if he was drifting sharp or flat while bowing. Both of this long-lasting suites are really mesmerizing and will render the impression of movement inside a static but slowly changing cloud, which will probably cause a temporary tinnitus for the minutes which will follow their listening. The second cd includes three different version of "Two Lips" for guitar quartets, whose score has been based on a graded sequence of microtonal steps - 10 divisions of the equal-tempered semitone (100 cents) - where a couple of guitars imperceptibly descends, ten cents a time, from a G tone to a F diesis, while the other two guitarist rises from a G diesis tone to an A. In spite of the conciseness of its score, the three different performers (NY-based electric guitar quartet Dither - Taylor Levine, David Linaburg, Joshua Lopes and James Moore -, Belgian/Dutch quartet Zwerm - Kobe Van Cauwenberghe, Matthias Koole, Toon Callier and guest guitar player Guy De Bievre - and Coh Da Quartet, made up by Niblock veterans David First, Seth Josel, Robert Poss and Susan Stenger) achieve quite different outcomes. Intended for masterly eardrums.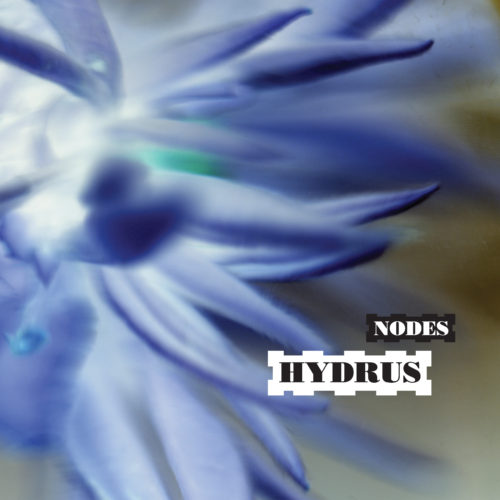 Artist:
Hydrus
Title:
Nodes
Format:
CD EP
Label:
Narrominded
(@)
Rated:
In their press release this band is presented as a band whose 'name suggests rationally conceived music' and 'they program their own patches for electronic software and they love to work on their sounds endlessly'. The result is a classic IDM album with declared influences by Autechre and Plaid but with personality and a clear music direction.
'Vertex' opens this release with a classic IDM beat pointed by a dreamy synth. 'Micronaut' is based upon the Autechre-style juxtaposition of two rhythm in a loose predictable way. 'Black soap' is a synth based track upon an almost drum and bass layer. 'Bato' tries to calm the atmosphere while 'Raim' features the most complex drum pattern. 'Drose' seems almost a 'tri repetae' track as is based upon a synth loop and a beat.
This EP sounds as the most logical release Autechre would do if they didn't decide to change their sound, and a whole musical career, and for some fans this is one of the best compliment available. The critic says three, as is nothing new, but the fan says five so the average is four. Only for fans of IDM but recommended.
Artist:
Max Cooper & Tom Hodge
(@)
Title:
Fragmented Self - Part 1
Format:
Download Only (MP3 + Lossless)
Label:
FIELDS
Rated:
Disquisitions about the possible lack of complementarity between the stylistical field of London-based pianist and composer Tom Hodge, who's not stranger to this kind of musical crossbreeding - you could check the pleasing collaborative project Piano Interrupted together with Franz Kirkmann -, and electronica producer Max Cooper require more theoretical efforts than it's worth, meaning that many nodes have formerly been made and succesfully tested by a number of musicians. I'd rather say that the most interesting aspect of this collaboration is the framework where they wedge respective sonorities in since the initial "pedagodical" piano drops by Hodge on "Fragments Of Self" - the first of a series of EP (second part has been recently dropped out), which preceded a tour, which is drawing to en end with their last show at Plus Music Festival in Mexico - sound permanently balancing to mutating equilibriums of the electromechanical expectorations and glitchy suppurations from Cooper's laptop. You could imagine an imaginary remix of learning piano sessions by Funkstorung or Telefon Tel Aviv, the possible soundtrack of those commercials which try to sell "smart" devices, credit cards or fast cars by linking them to the progress or the formation of a baby or for awareness-raising campaign about sorted waste collection or environmental conservation in order to have an idea of what kind of sound is going to hit your eardrums and a similar balance resounds from the following "Quantet" where some uplifting strings got synched on a balanced techno roller. The chipper, breezy and somewhat cherubic remix of "Fragment Of Self" by Cafe Oto stalwart Petrels and the elegiacal bonus track "Von Der Klippe Fallen (transl."Fallen from a cliff"), which melts blues, euphoric technoid dance and electronic butterflies, integrates this graceful release.