Artist:
Koji Asano
(@)
Title:
Polar Parliament
Format:
CD
Label:
Solstice
Rated:
As I said while reviewing "Solstice Eclipse", a title who can be misinterpreted as a possible elegant way to wriggle out of the scene, Koji Asano's game is not over at all and "Polar Parliament", his 46th release, is the best proof this fecund Japanese sound artist could produce. I could say Koji looks like having polarized this release not only as he splitted it into two very long drones, so that setting two opposite polarities, but it seems that these two drones have different physical-chemical properties so that someone could imagine he carried out a rheological experiment or a sort of electrophoresis on his sound-machine's viscous exudates. The first drone has been built on tiny variations of a single sound, which could remind some listeners of their recent scaling and root planing to remove plaque from teeth, as it's similar to the sound produced by an energic brushing on teeth but it could also be associated to different images such a strong pressure during a convulsive drawing with a pencil on a sheet of paper or deposit removal from water pipes by acids; such an hypnotic sonic homogeneity has been just occasionally broken by extrusions which sound like surfacing this corrosive stream. The second movement features bubbling liquid sounds, which rises trepidation of listening experience till the moment when after some hits which are similar to the noise of locked doors they are transformed into something close to effected train chuffs or helicopter's blades, so that its dynamics are aybe more catching than the ones in the first movement. "Polar Parliament" could be interpreted in a different way as well, as suggested by some clues of the release: many reviewers had some troubles in explaining the choice to put the wheels of a garbage bin on the cover artwork as well as the one to enclose a packet of kleenex with a sized portrait of Mr.Asano inside. A possible explanation could be based on some references to the urban riots occurring in reaction to the way some governments controlled by bankers opted to afford financial, economical and social crysis and consequent "polarization" of societies so that those garbage bins could refer to the typical way protesters use to build barricades and that packet of kleenex an help by Koji against tear gas!
image not
available
anymore
Artist:
Diamondback Kid
(@)
Title:
Action Reaction
Format:
Download Only (MP3 + Lossless)
Label:
Diamondback Recordings
(@)
Rated:
DBK's 'Action Reaction' is the 3rd release on his own label Diamonback Recordings. EP features 4 brand new tracks and 3 remixes by The Men Who Knew Too Much, Embryonik and the... truly yours ;)
Opening track 'Frontier' is a wonderful piece of electro, built around dreamy pads, clever hooks and solid beats, a perfectly balanced between a sweet dream and a nightmare sonic equivalent. 'Ghosts' is a strange hybrid of hip-hop, p-funk and... new wave. It also features a vocoded nursery rhyme and it's definitely the most charming (and interesting) track in this EP, along with the following one, 'Blue Sky', a new-wavish piece of nu electro, highly addictive after a few listens. 'Action Reaction' is the last of the original DBK tracks, a quite experimental electro-techno instrumental with a little theme that brings echoes of 808 State (at least to the ears of an old man like me-lol).
The Men Who Knew Too Much transform 'Frontier' to a haunted ambient track and this is perhaps the most attractive of the remixes. 'Action Reaction' gets the Embryonik treatment ie a strong electronic disco injection and the result is a truly great club track based in a Moroder-ish groove and built around George's analogue madness. Simply irresistible! Last (but not least ;)) there's a remix of 'Ghosts' by the truly yours and DBK (actually the man added a few but crucial for the consistency of this remix overdubs and i thank him very very much for this!). Take a listen and... review it yourselves ;)
Overall 'Action Reaction' is a truly great EP although not your average electro/bass release (and that's good, very good!). Variety, that's the key word and 'Action Reaction' is a real winner in this field. Available as a digital-only release by Wednesday, Feb 29, first on Junodownload (http://www.junodownload.com/products/action-reaction/1917574-02/), then, by the 7th of March, at all the digital outlets, including DBK's Bandcamp. Grab it!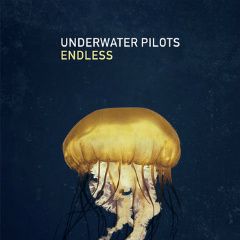 Artist:
Underwater Pilots
Title:
Endless
Format:
Download Only (MP3 + Lossless)
Label:
self-released
Rated:
Underwater Pilots are Manuel G. Richter and Gregoire Vanoli, from Hamburg/Leipzig Germany. They are creating a new, New Romanticism, heavily indebted to classic synth-pop and old-school goth, but revised with a modern sheen. How their press release puts it is, "(Underwater Pilots) create a blend of Synth-Pop with subtile melancholy and a unique trance feeling."

Endless is their first record since 2004's Tranquil Places, although Manuel Richter stays busy with an ambient side project called Xabec; they are not trying to re-invent the hover car, merely calling upon the strengths of the various origins they spawned from, and prone to some of the same genetic defects too, unfortunately. Manuel Richter is eerily reminiscent of early 90s Dave Gahan: same rich tenor and honeyed delivery, a romantic croon over the chrome beats from Gregoire Vanoli. They sound like 'Songs of Faith and Devotion'-era depeche mode, remixed by Ulrich Schnauss, with the slick modern psychedelia they refer to as a 'unique trance feeling'. Seeing as how i like both of these divergent styles, i like this band, it sounds good to my ears, it feels good in my body. Manuel G. Richter is a sound engineer, and has also done remixing work, so his sonic mastery is apparent; the beats are full and rich. In short, the production is sweet on this record. It could use a little grit, in my opinion, the sheen is a little too blinding, but its bound to sound great through a PA! All you DJs out there, grab this one for yr upcoming goth night.

There is nothing horrible about this record, and a few truly outstanding moments, truly great songs. I get the sense of a human being, trying to navigate his way through this perplexing modern world, over-stimulated, over-saturated. Trying to cope. It is romantic and mournful, it is like staring the window of a moving vehicle; emotional, reminiscent, and ultimately, detached. The lyrical content is prone to melodrama, at times, which is a hazard of the trade with gothy music, but the overall effect is worthwhile. They seem like they work hard, putting a great deal of effort into making their records, and making sure that people hear them. That care will continue to pay off, i foresee them honing their craft and finding their own voice, in times to come.

Endless is worth yr time and attention, especially if you already like the romantic New Order/Depeche Mode/Erasure hue of darkness.
Artist:
Mental D-Struction
(@)
Title:
Extrapolation of Human Perspectives
Format:
CD
Label:
Contagious Programm
Rated:
Mental D-struction's 'Extrapolation of Human Perspectives' is a relentless sonic assault on the senses that leaves one both ravaged and thoroughly satisfied, craving more. The album opens to an almost serene soundscape of pads, complex cymbal rhythms and if you listen carefully, samples of children beneath it all, creating a false sense of security, with just a hint of forboding, foreshadowing what's to come. Almost as soon as it comes, that warm fuzzy feeling is stripped from the listener with schizophrenic electronics and odd meters full of distorted rhythms and frantic beats layered with both dialogue samples and beautiful string arrangements. As the disc progresses, so does the destruction; in its wake lay synthetic screaming banshees, growling monsters of beauty, an almost carnevallian disasterpiece and a brutiful epic whose orchestrations channel the likes of Mozart et al; though I'm sure they'd roll in their graves were they to experience the invasive, destructive, harsh beats and distorted vocals just screaming in agony that lay on top of the aforementioned orchestrations. This record is a brutal journey into the depths of the most twisted parts of the human mind, with only quick pauses to catch one's breath before being thrown right back into it all. The only slight relief comes at the very last track, whose tempo is just below that of its predecessors, though she still makes devastatingly good use of every beat per minute. From its beautiful string arrangements, to it's machine gun rhythms; from it's razor-like synths to it's distorted vocals and samples, this offering from Mental D-Struction has not a single dull moment and will shake you to the core. It is a beautiful and hauntingly destructive demonstration that you wont want to pass on, that is of course, if you can keep up...
Artist:
Marjolaine Charbin - Frans Van Isacker
(@)
Title:
Kryscraft
Format:
CD
Label:
Creative Sources
(@)
Rated:
It seems the listening space gradually takes on a dark grey hue in the first track, where tonal tumbles on keys of Marjolaine Charbin's prepared piano, broken by sudden piercing musical syllabes and high-pitched stridor by Frans Van Isacker's alto saxophone and violent hysterical outbreaks on piano as well as pauses where silence seems to be violated by sibilating sonic veils, till the moment when all voices sound like getting dumb and swallowed up by a bubble of silence. The listening experience these Belgian improvisational musicians build looks like centered on tenuous modulations of noises, which are close to the threshold of imperceptibility just like a stifled emotions whose repression can turn it in a deafaning shriek, which manages to talk to the listener and stimulating its imagination through intriguing and somewhat disquieting gauges of asphyxiating noises, sounds and silences in plaster. Some recordings seem to mirror and report a kind of sleep disorder as suggested by some sonic clues, such as the confused nightmare evoked by piano dissonance and a breathe close to the one of a strong snoring in the fourth track or the squeaking not so dissimilar from the one made by some rusty links of a bed base in the third track. Even if it sometimes could sound too odd and clumsy, Kryscraft includes many really immersive and interesting cues.