James Cooke's debut album as Graintable is a sifted collection of ten late-night one-take synth experiments, made up of slow single-chord pads and drones mixed with analogue pulsing and bass thrumming that owes a lot, by Cooke's own admission, to a Roland Juno 106. From a producer with a background in house and hip-hop, this is an interesting sideways move into more mellow and ambient territory, but at points it does sound like somebody new to the genre, revelling in long atmospherics for the first time, rather than the work of somebody who's been waist-deep in these sound for a long time.

At its best, this is strong, semi-symphonic slow synthwave soundtracking (alliteration not intended), moody and expansive. The opening track is strong and the arpeggios on "Odysseus" recall Tangerine Dream circa the 90's, while of the mellower tracks, "39" is strong thanks to its simple but determined melodic loop.

At its worst, it sounds like somebody who's discovered that keeping keys pressed down on his Juno results in long wavy New Age-y noises and that it's easy to make ambient music that way. "610" is on the wrong side of the fence between ambient and aimlessness while "Lighthouse" sounds like an attempt to mimic one of Brian Eno's classic ambient works without quite enough of either inspiration or perspiration.

Overall though there are more positives than negatives, and across its 67 minute span it's consistent and measured enough to be quite engrossing. It doesn't push any envelopes, but if your collection of sombre moody synthwave is feeling a bit overplayed, this will give you another option.
Artist:
Felix Blume
Title:
Death in Haiti: Funeral Brass Bands & Sounds from Port au Prince
Format:
LP
Label:
Discrepant
Funerals and memorials in Haiti are certainly handled in a very different way to how I'm used to as a Brit. Every emotion is clearly worn more openly on the sleeve- both the grieving and the happy memories- and a collection of layered field recordings from a variety of Haitian funeral processions, services and wakes is an extremely emotive experience, but not all of it sad.

The album is built around six live recordings of brass band processions- some of them bright and celebratory, others more conventionally funereal, some quite jazzy. In keeping with the idea that Haitians put more effort into making a remembrance service a more jovial event, some of it is actually good fun.

But it has to be pointed out that there's lengthy agonised and uncontrolled screaming and wailing here, and some of it is quite rightly difficult to listen to. There are elements more recognisable to Western Europeans- hymnal chanting and spoken-word eulogy snippets. A carnival album, this is not, and the layering up of some of the brass band performances with the gut-wrenching howling of mourning family members is truly macabre and unsettling to my stoic traditions.

The sound recording quality is fantastic- everything has the atmosphere of a crowd underpinning it, but the sonic quality of some of the solo saxophone work is studio-quality and very impressive. It's a well-produced and nicely constructed work. But unless you're actively seeking the sound of genuine bitter-sweet grief, whether for entertainment or your own personal catharsis, I'm not sure you're going to enjoy it, nor should you.
Artist:
Guillermo Pizarro
(@)
Title:
Three
Format:
Tape
Label:
Flag Day Recordings
(@)
Rated:
This is a score for a short film that is making the rounds at several festivals across the country. I have had the joy of seeing Guillermo perform live one time and he puts on a very dramatic disturbing show. I didn't expect anything less from a film score produced by him. This tape has an excellent disturbing feel to it which I'm sure lends an overwhelming feeling to the film. Guillermo is one of those artists to keep an eye on in the future and he is putting an equal amount of time and detail into his label Flag Day Recordings. I highly recommend anyone who enjoys noise or cinematic music, in general, to check out his music as well as his label.
Lukas Rehm, who describes himself as a visual artist before the word musician, opens up a new alias here. The Lybes Diem project is integrally built to be a synergy between sound and 'moving image artwork' (or 'video' as plebs like me might call it), designed for installations, spatial sound experiences and "synesthetic shows".

But ignoring all that, what do you get if you buy the LP or the download? You get eight punchy tracks of loud, often aggressive distorted techno and electronica instrumental built on complex and often slow kick rhythms.

"Tachy" is a noisy, abrasive opener that borders on white noise at times, and while "Horizon2020" allows for sparser breathing sections, the noise is never too far away. "Auto Alternative" offers a dark electronic thrum that probably does sound fantastic live.

The second half of the album settles down somewhat, with "Nascent Tenet" a collection of low faintly industrial drones mixed with long synth pads and odd atmospherics. "Double Bound" uses chord patterns that are odd-sounding but more conventionally structured. "Da-Jiang Innovations" reintroduces noisier elements but over more settled pads, before "Powerset" wraps things up in a predictably dark and industrial rumbling manner.

Either cathartic or unwelcoming depending on whether you can get into the sound or not, "Syncleft Chronem" takes some of the sonic qualities of IDM and reworks them into the world of immersive installations and disorientation. The result is one of those albums that manages to be not particularly likeable at times, yet really tempt you to turn the volume up up up nevertheless.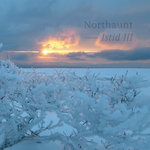 Artist:
Northaunt
(@)
Title:
Istid III
Format:
CD
Label:
Glacial Movements
(@)
Rated:
This release is presented in the liner notes as a reaction to modern lives imaging a place without any stress or noise in an uncontaminated icy place. Hærleif Langås, the artist behind this project, is from Norway and shares with other projects this sort of nostalgia for a silent nature before man; more importantly, it's a reflection on the role of man as a member of its environment and not a sort of his deus-ex-machina.
This opus is a single track in five parts: "Part I" is based upon a quiet loop while the underlying soundscape ebb and flow in audial field creating an immersive introduction for the listener. "Part II" is more focused on the development of an environment using a sort of field recording, or foley sounds, with a continuous tone to focus the listening attention. "Part III" tries an hint of melody with gentle notes of the piano and "Part IV" doubles this framework using instead a drone creating an atmosphere of surreal peace. "Part V" closes this release with a solemn and solar drone surrounding the listener as a sort of sonic depiction of the cover image.
It couldn't be anything ground-breaking but the quality of sonic construction is sometimes mesmerizing and this is a sure pick for fans of quiet and canonical ambient. It's really worth a careful listen.