Artist:
Jason Van Gulick
(@)
Title:
Entelechy
Format:
CD
Label:
Idiosyncratics
(@)
Rated:
The almost instantaneous match of the experimental drumming that Jason Van Gulick explores could be made with Z'EV, but a release like "Entelechy" could be useful to pinpoint some differences. Both of them seem to have a mania for "spacialized" resonances (particularly from tapped or scrubbed cymbals), which lends a more hypnotical nuance to each drumming session, but if you chiefly consider latest solo and collaborative workouts by renowned American percussionist, you'll easily perceive that Jason focuses on more traditional drumming techniques: you'll have the somewhat alienating impression of getting rolled over the metallic surface of an obscure watertight chamber - and I can just imagine that live performances by this skilled drummer, who carefully chooses locations on the basis of their acoustic specifities, cannot help but amplify such a suggestion - while listening this release, which has been entirely recorded in resonant spaces in Brussels such as RTT squat and new underground concert venue HS63, but Jason's sessions are shorter and less "ritualistic" than Z'EV's ones. Moreover they seem to be focused on the grafts of assays of drumming techniques that Jason masterfully inserts into his electroacoustic logs by kneading a limited number of percussive raw material. I particularly enjoed those tracks - the second and the firth entelechies! - where he worns his wrists out by very fast thrilling tapping, but lovers of electroacoustic suggestions are going to be captivated by other-wordly resonances which this performer, who already shared the stage with meaningful people of the contemporary less conventional music scene such as Chris Corsano, Stephen O'Malley (Sunn O)))), DEGA!, Carla Bozulich/Evangelista, Y.E.R.M.O., N.U.Unruh (Einsturzende Neubaten), extracts from cymbals on tracks like the fourth or the sixth entelechies.
Guided trips through ruins or a visit to Thor's hammer at sunset point or some paradise in the pines...! That's not the beginning of a raving review, but I'm just quoting some bizarre slogans to advert some U.S. national parks between 30ies and 40ies by drawings and images, which sometimes seems to have been designed by cartoonist, who were fully aware about the importance of images after the Great Depression. This specific branch of advertising poster art, which got unavoidably influenced by rather conservative arts whose "cultural" role was the amalgamation of conservative feelings under the delicate historical period of the New Deal and its external anti-capitalist "turbulences", has been the bizarre inspirational forage for Postmarks, an interesting improv/avant-jazz duo, whose capricious legs - the Chicago-based American pianist D.Bayne and Austrian saxophonist Boris Hauf contrived a way to translate those iconic posters into a style, which sometimes seems to reprise single clauses of old jazz tunes (even if the main jazz icon who comes to mind are mainly Ornette Coleman and Eric Dolphy) as well as the tuxedoed "feel" of those strange years in-between two world wars. Hauf's saxophone jumps over reminiscent motifs and moody ditties (cult bluesy jazz followers will recognize many topical melodies in tracks like the nice "Hubbell Trading Post at Dawn", "Gila Cliff Dwellings" or the stunning final track "Capitol Reef at Dawn", the one I like more) where Bayne's piano seems to loom over it by strokes, which interchange oppressive, wiry, somber or histerically lightweight moments. Occasional anomalies such as puffs, electric squeaks, almost stressful or ominous tonal stretches, melodic burns by screeched guitar strings and other sonic obliquities pleat the musical stream by turning the listening experience that Postmarks and guitar-experimentalist Martin Siewert (Trapist, Efzeg, The Year Of), who took part to recording sessions in Wien as a precious accomplice, offered somehow adventurous and noir-spotted!
image not
available
anymore
Artist:
Blastromen
Title:
Reality Opens
Format:
CD
Label:
Dominance Electricity
Rated:
Available on 2x12" vinyl edition (transparent red with a super size poster or black), digipack CD and digitally at the major stores, "Reality Opens" is the second album by the Finnish electro duo Balstromen. They released their previous album in 2010 always on Dominance Electricity and with this new one, they continue where "Human Beyond" left off. The theme of this album deals with the interaction between human beings and computers, thing which allows us to spread our physical world blending it with computer controlled content. The eight tracks album opens with the short main title introduction. It sounds epic and you can already feel what is about to come as arpeggios, pads and lead solos are there to warm the atmospheres. If you already know the Blastromen, you already know their massive use of vocoder filtered vocals and on the following track, "Vision Control", they are ready to give to the listener their vision of the next to be reality. Augmented reality, software integration, digital manipulated visual perception, everything is part of their lyrics and the track sounds powerful and cinematic. "Infiltrator Unit", sounds menacing and mysterious. Powerful drum beats, many arpeggio layers and syth stubs help into keeping the sound catchy and dancey. The following "Sidtroen" has a spacey feeling thanks to reverbered pads and leads. There's also a chirpy solo, which is really nice. "Sense Of Ears" is really influenced by later Kraftwerk, is less focused on blasting drums and it's really well balanced. With "Glacier Planet" we have a sort of hybrid between 80s and 00s electro with stops and go where the atmosphere is dilated and then, all of a sudden, the beat rules again. "Transportation Nonstop" brings you to a sidereal ride made of hard beats and pads backgrounds. The closing, "Lost Dissent", is fast, breathtaking and precise like a laser cut. All the album contains tons of melodic arpeggios, paced rhythms and cool sounds and if you loved the Blastromen's previous releases, you won't be disappointed. Check here the album's teaser http://www.youtube.com/watch?v=OghgtqUpVMY.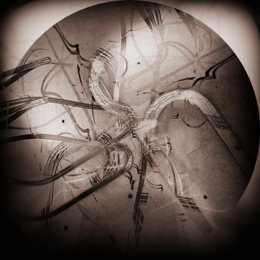 This album is of the not so common cases where the title is a key to understand his construction principles. The title is from a track that, according to the linear notes, 'amplifies and recontextualises the musicality of natural sounds' so the result is an album as subtle his development as estetically engaging.
The quiet field recordings of 'Battery set up in a forest clearing' open this release slowly evolving in a quiet and bright drone colored by a synth line. 'Blanket and radiator', made with Henry Duclos, is based upon the juxtaposition of small noises and glitches and a quiet soundscape. 'Attaching softness to a shell', with Andrea Polli, is something between field recordings and soundscape being neither of the two as it starts quietly as an ambient track, then it evolves with field recording filtered to exalt his spectral properties using his clean version to color the track and it closes with a sort of child voice or a bird song, an amazing and demanding listening. 'Blue stem sister', with Calika, is a rhythmic interlude to 'Projections from a prayer' and so they seem to form a single track as they share formal similarities. 'Meditation on distance' closes this release with a quiet soundscape made out with a drone and small noises and it's something between ambient and lowers cape quietly culling the listener to the end of this release.
This album marks a milestone in the production of this artist and is one of the best releases this year in this field. Highly Recommended.
Artist:
Jóhann Jóhannsson
Title:
Prisoners OST
Format:
CD
Label:
NTOV / Cobraside / NTOV9
(@)
Distributor:
Cobraside Distribution
Rated:
After I saw Prisoners, a tragedy/thriller by Alcon Entertainment directed by Denis Vileneuve and starring Oscar nominees Hugh Jackman (Les Miserables, Oklahoma!, Australia, X-Men) and Jake Gyllenhaal (Brokeback Mountain, Donnie Darko, Spider Man), I wondered why the soundtrack by talented Icelandic composer Johann Johannsson received nothing more than some positive feedbacks in spite of several awards and nominations the movie and in particular the excellent cinematography by Roger Deakins. According to Johannsson own words, the score should have two features and must be fit for a duble purpose: "one is to serve as a kind of lyrical and poetic counterpoint to the horror of the events in the film", as its plot focuses on the abduction of two young girls in a small town in Pennsylvania and the tragically anguished attempt to find them where the father of one of those girls, well interpreted by Hugh Jackman, becomes almost unhinged and comes to the point he decides to torture till the fatal moment he manages to discover the unsuspected kidnapper."The other purpose is to keep a certain tension and a sense of unease. [...] The keyword throughout the writing was to avoid anything that sounded like thriller music, but to still convey a sense of tension, coupled with these moments of melancholy and delicate beauty". The way he followed these interesting compositional approach is really brilliant: despite the recurring melodic theme, which is typical of soundtrack, Johann often sounds like inserting a second fainter melody where the tonal sequence sounds often inverted, whereas the main melody slowly and intensely descends, the ancillary one ascends, but the element which makes the listening of this OST really engaging is the sound chiselling and the accurate attention to timbre. Besides the precious contribution by fellow cello player Hildur Gudnadottir and Norwegian composer Erik Skodvin, the guessed secret recipe is the instrumental addition by Thomas Bloch, who dosed sounds from the legendary Ondes Martenot and the Cristal Baschet - a sort of glass harmonica with metallic resonators) - in order to create a sort of organ-like sound, which immediately puncture listener's emotional sphere by means of celestial fragile textures, which could sometimes evoke the sonic tension of other OST composers (some tracks reminded "Angels Of The Universe" OST by Hilmar Orn Hilmarsson and Sigur Ros for instance), which wisely balanced orchestral music and electronics for scoring.